It's no surprise that Scarborough Beach, with its shiny new redevelopment, is one of Perth's most popular oceanside spots. There's just so much for families to do – it's easy to spend the entire day there. The biggest draw for kids at Scarborough has to be the huge whale themed playground. There's lots of free fun to be had – a skatepark, rock climbing, and of course the beautiful beach too. Stroll along the wide promenade, enjoy an ice cream or even go bowling! Wherever you hang out – your family's guaranteed to have a whale of a time in Scarborough. See the kid-friendly guide to Scarborough here…
Whale Playground
The $1.4 million Whale Playground is found overlooking Scarborough Beach. Inspired by Noongar culture, the play area features a blue whale skeleton as its main theme. Climb the nets in the body of the whale, or jump onto the log swing and sway with your friends in the belly of the whale.
Children of all ages and abilities have opportunities for play – with elevated wheelchair accessible sand tables and soft fall surfacing with ramps between play spaces. Read more in the Buggybuddys review.
Skate Park
Scarborough's Skate Park, also known as "The Snake Pit", is one of the biggest and most diverse Skate Parks in Australia. The competition grade skate bowl, rails, ramps and jumps are certain to please little skater boys and girls. Scooters are a popular choice for little kids, and there's plenty of fun to be had for all skill levels.
A climbing wall is a challenge for all ages and has a handy padded floor all around the base. Be sure to take along a ball to dribble at the half-court basketball court too. Read more in the Buggybuddys review.
The Beach
Scarborough Beach itself is a brilliant place to dip your toes into the ocean. The lifeguard patrolled beach is wide and 2.5kms long, and there's plenty of powder white sand to relax, build sandcastles and play. Once you've finished swimming there's also an amphitheatre, which is home to live entertainment in summer.
The 30 million dollar revitalisation has provided excellent facilities, with plenty of changing rooms, showers and toilets, as well as free WiFi (on the main central beach and foreshore areas). Stretching along the grassed foreshore area are free BBQs and picnic tables, making it a popular spot for a sunset picnic.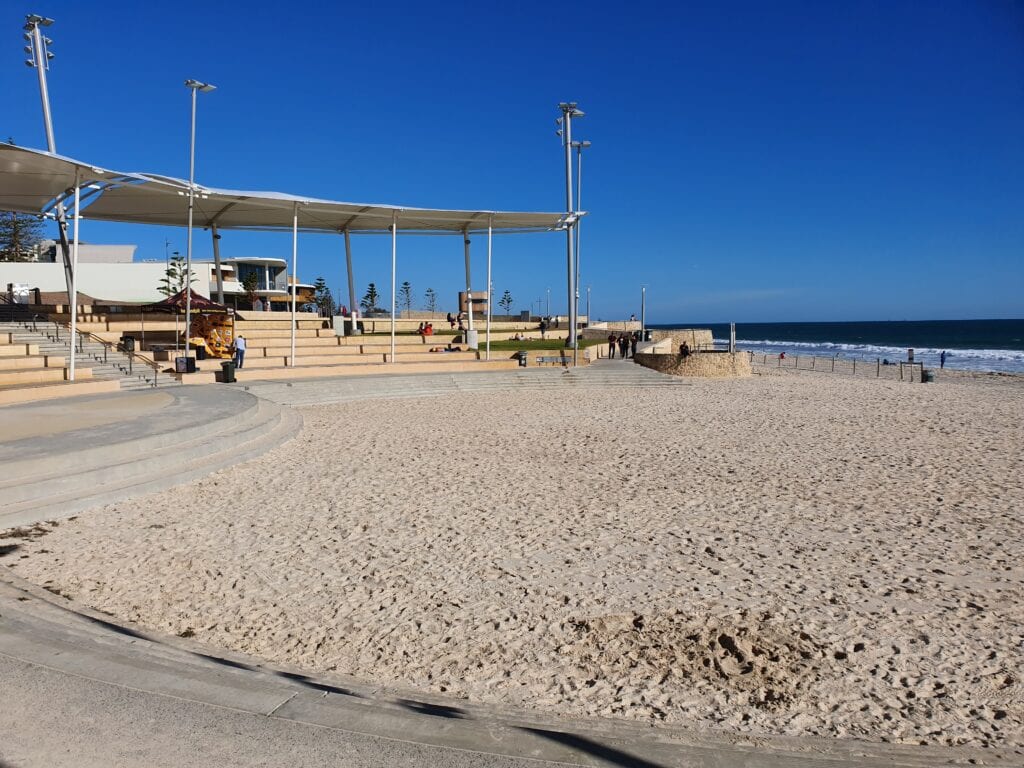 Eating Out in Scarborough
There's a tonne of delicious dining options at Scarborough – many cafes, bars and restaurants welcome kids. The popular night markets on a Thursday evening in warmer months are perfect for cheap eats from a big range of food trucks. Or why not book a table at one of the many tasty venues in the area – there's the Local Shack, Dome, plus many more:
The Wild Fig is open for breakfast, lunch and dinner. The popular restaurant is deceptively large with plenty of seating options including an alfresco area with sea views. Colouring in and a kids menu will keeps the little takers happy. Read more in the Buggybuddys review.
If you grew up in Perth's late 90s, you may have been to The Lookout nightclub. After a long hiatus, The Lookout is back, and during the day it is a family-friendly venue. Tables at the venue's street end have a coast view. The Lookout also offers pool tables, giant Connect 4, colouring in and even a bowling alley! Read more in the Buggybuddys review.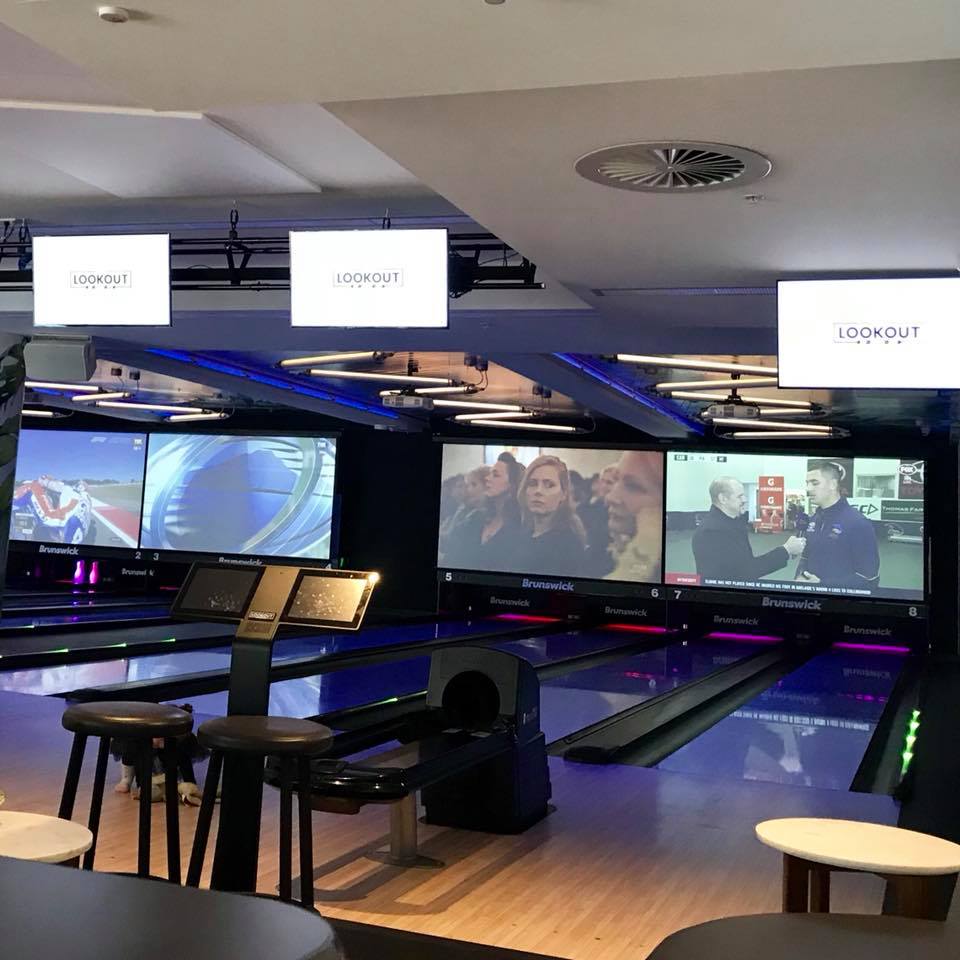 Sweet tooths should check out Cocolat which overlooks the Scarborough Beach Pool. The impressive dessert menu features fancy cakes, waffles, gelato, sundaes and lots of other sweet treats, with a range of vegan and gluten free options. Read more in the Buggybuddys review.
Lady Latte Cafe is two blocks from Scarborough Beach, making it an easy walk from the foreshore. The cafe serves up breakfast, brunch and lunch, freshly baked cakes, slices and raw goodies. A stand out on the menu is a big range of savoury and sweet gourmet jaffles. Kids don't have to miss out and the cola backed thick cut ham toastie, with 3 cheeses is a hit. Be sure to treat the kids to an EPIC babycino – only $2.50 with free refills. Read more in the Buggybuddys review.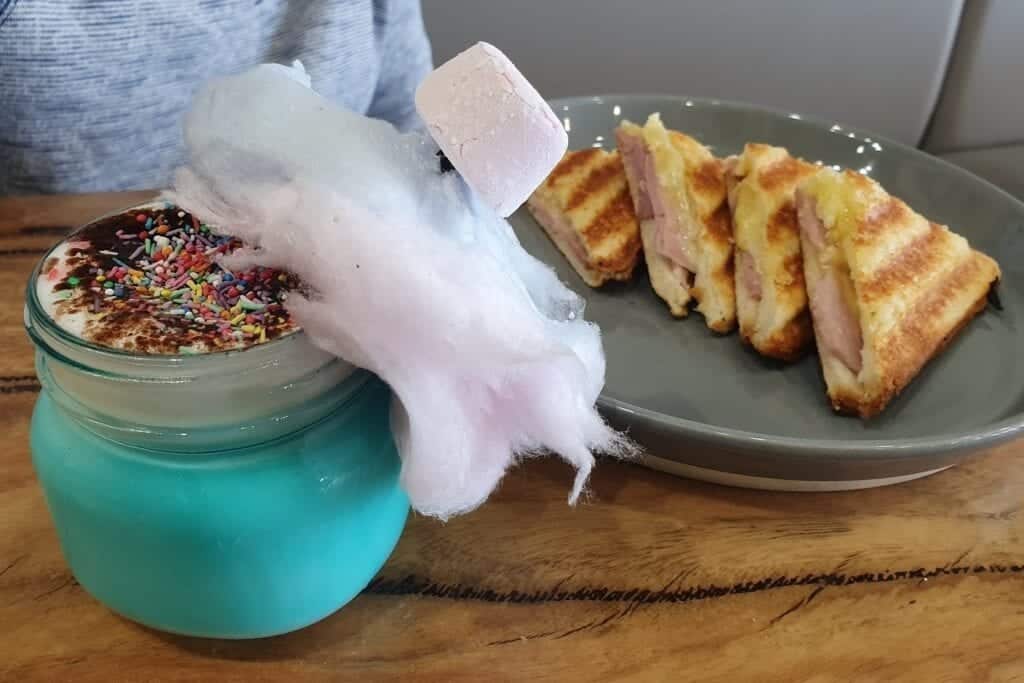 Scarborough Beach Pool
If the waves are too rough, that's ok! The Scarborough Beach Pool offers a cool alternative to ocean swimming, and overlooks the stunning coastline. There are two pools, one for small children, while the other is used for swimming laps. The kid's pool has a gently sloped entry point and small fountains. The water is geo-thermally heated making the lap pool a lovely 27 degrees and the kids pool a comfortable 32 degrees. Read more in the Buggybuddys review.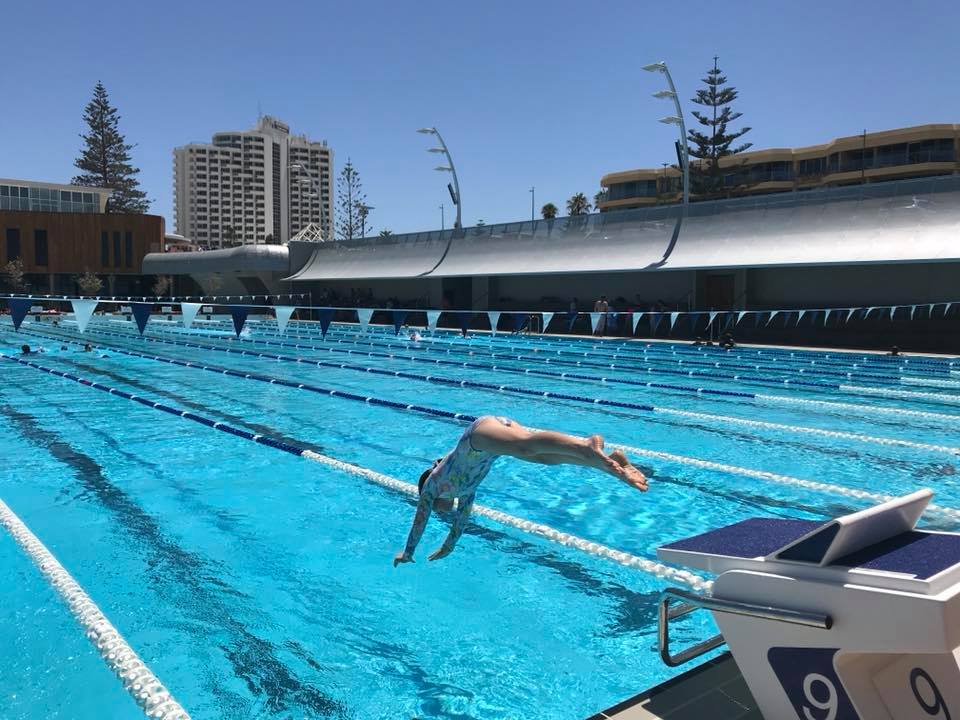 Stay in Scarborough
With so much to do, Scarborough is a brilliant spot for a family staycation! There are a lot of options and the biggest hotel in the area, Rendezvous, has plenty on offer. The resort boasts a tropical style swimming pool with a large waterfall, as well as a tennis court and dining options. Read more in the Buggybuddys review.
Getting There
There are about 1400 free parking bays along the foreshore, which sounds like lots, though they soon fill during busy summer days. Paid parking is available in the multistorey Manning Street Wilson carpark (first 2hrs are free), or underground at Rendezvous Hotel. Alternatively, why not catch public transport! Regular busses stop at Scarborough, many via Glendalough Train Station.
What your favourite place to visit, dine at or stay in Scarborough? Let us know in the comments below!