While some may not look forward to chilly winter days, you've got to look at the silver lining and that's WATERFALLS! The Perth Hills are packed full with Perth's best waterfalls. Best of all, many are very accessible by children, so make for a fun winter/early spring adventure! Here's our round up of the most impressive waterfalls in Perth.
Lesmurdie Falls, Lesmurdie
Lesmurdie Falls is one of the most easily accessible waterfalls in the Perth metro area. You don't need to travel very far to see the spectacular falls – just a 30-minute drive east from the city. Lesmurdie Falls, great for a family picnic and bushwalk, is found on the escarpment of the Perth Hills in Mundy Regional Park.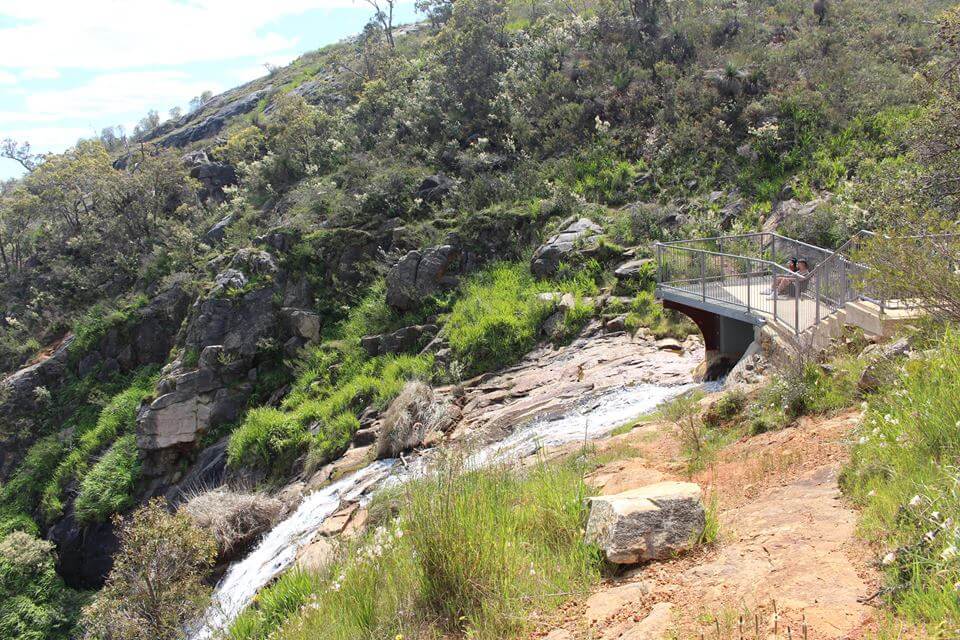 If we've had decent rainfall over winter, then the falls will be flowing and early spring brings a host of wildflowers too. From the main carpark on Falls Road, it's an easy stroll along concrete and gravel paths to the stunning 50-meter waterfall and the two main lookout points. It's fine for younger children and very sure-footed toddlers that can walk about 800m.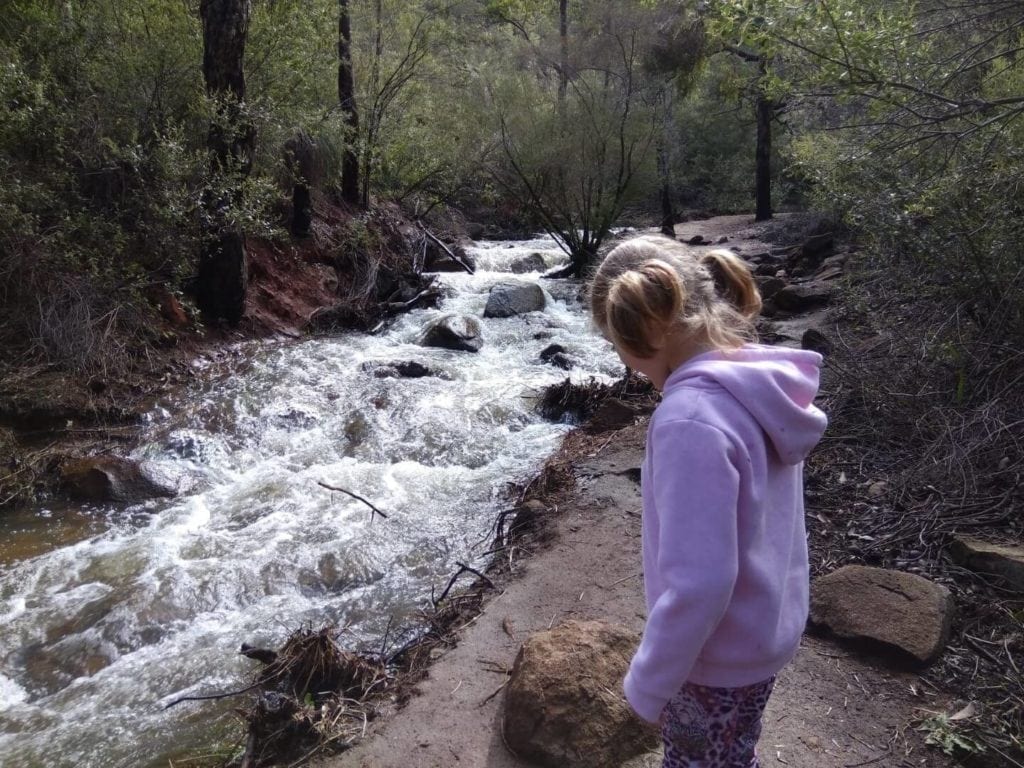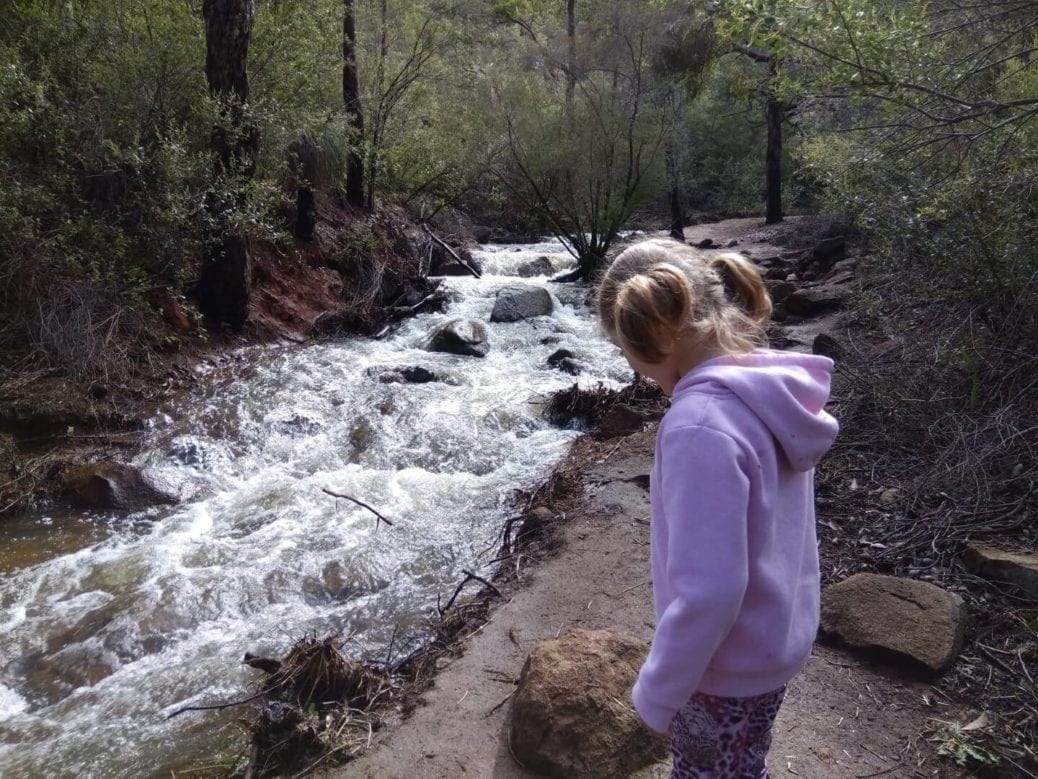 You can take a picnic along and make use of one of the large stone picnic tables, which have some shade. Pram access is available to the toilets and picnic tables only. You will need to take your own drinking water as there is none available on site.
Read more in the Buggybuddys review.
Find Lesmurdie Falls at Falls Road, Lesmurdie.
Whistlepipe Gully, Kalamunda
Whistlepipe Gully, is found in Mundy Regional Park, north of Lesmurdie Falls. The tranquil spot is best from June to October is when the bush is lush, the stream and waterfalls are flowing, as well as an abundance of vibrant wildflowers all around.
Along the track you'll come to a clearing, with what appears to be building foundations around the creek. In the 1960s, this area was a private property the "Wallace Greenham House". It was a stunning Japanese style house, built right over the creek, complete with a water wheel. It's best to park on Lewis Road, at the bottom of the hill, in Forrestfield. Here there's a handy car park. There are only a few parking spots at the top end of the route in Lesmurdie, and they are often full. The Whistlepipe Gully Walk Trail is also dog-friendly.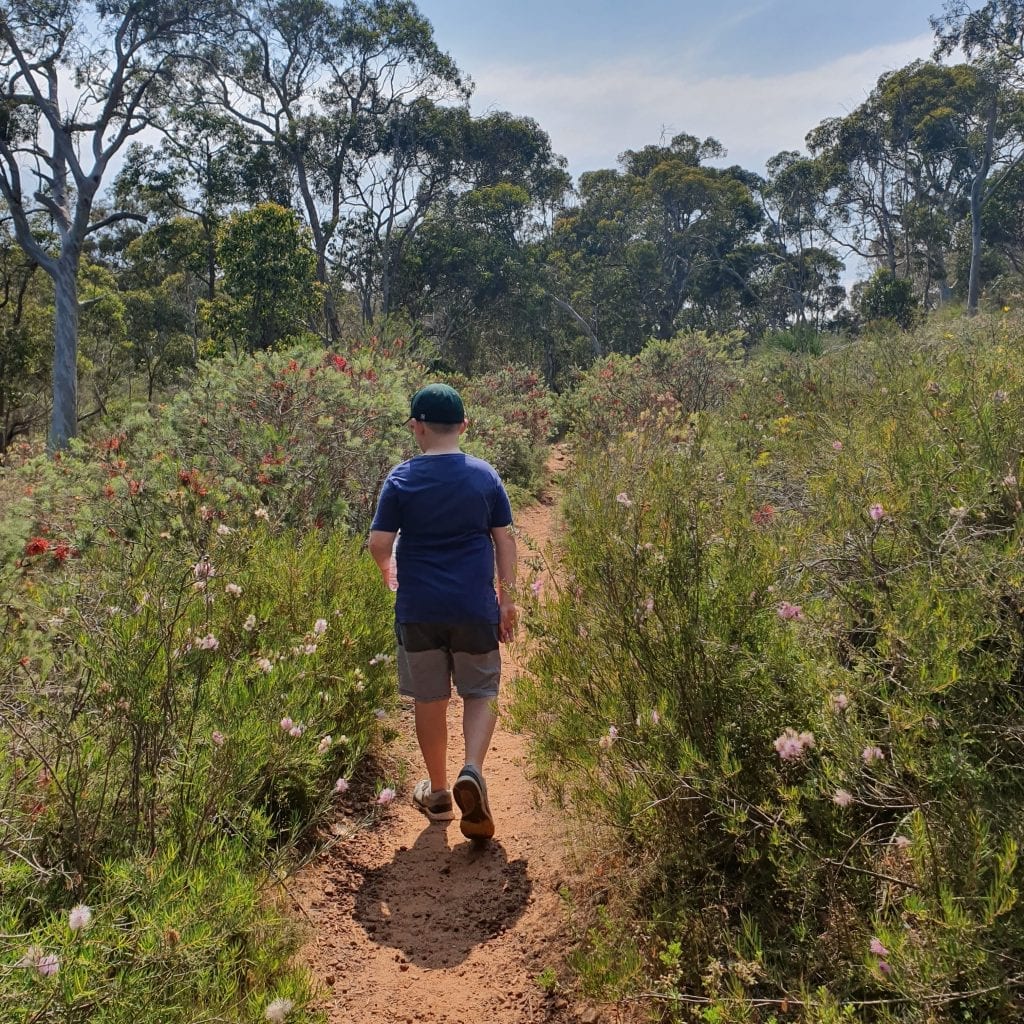 Read more in the Buggybuddys review.
Find Whistlepipe Gully at Lewis Road, Forrestfield
John Forrest National Park, Hovea
There are not one, but two wonderous waterfalls at John Forrest National Park! The beautiful spot, which has to be one of the best for spotting waterfalls in Perth, is perfect for a family picnic. After you pay the entry fee, you're free to explore the national park's nature play area, trails, and wildlife – the kangaroos like to hang out by the tavern.
National Park Falls is just over 1km from the main picnic area, the top of the falls is stunning – overlooking Jane Brook and beyond. The water tumbles over large boulders, there are no rails and it is about a 20 meter drop, so you'll have to keep a very close eye on little ones.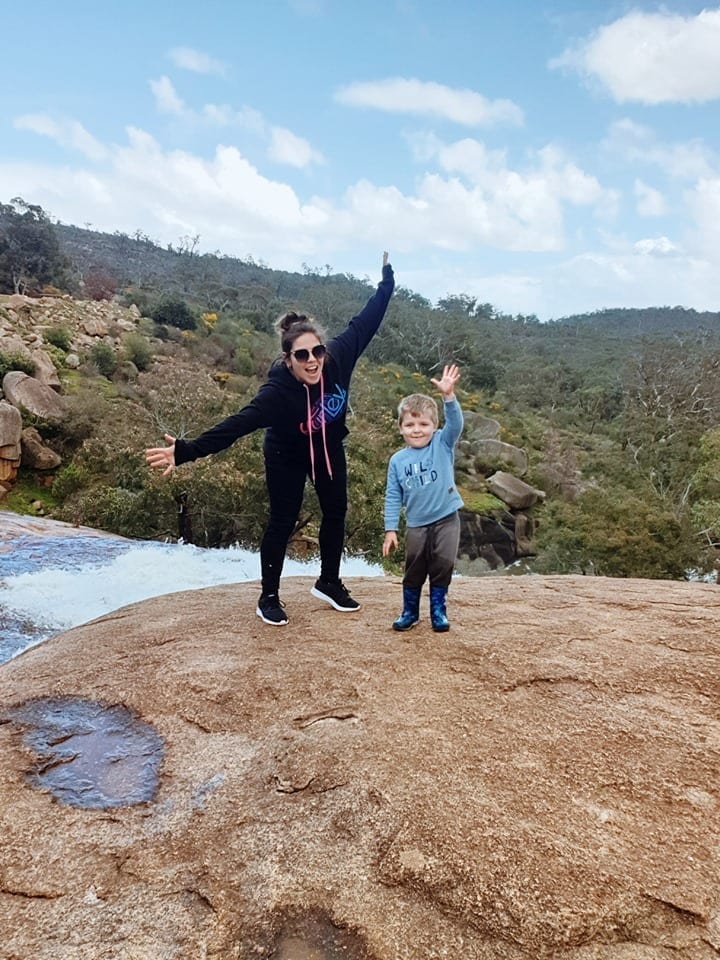 Hovea Falls is an easy 2km return walk or cycle from the main picnic area, the falls are seasonal and dependent on rainfall it usually flows from the winter to around the end of October. The water is usually freezing but it is the perfect spot for a cheeky dip or just get your feet a little wet.
Read more in the Buggybuddys review.
Find John Forrest National Park at Park Road, Hovea.
Ellis Brook, 60ft falls
If you love a hike with the whole family, fur babies included, Ellis Brook Valley Reserve is an absolute must! Not only is it recognised as the richest wildflower location in the Perth metro area, Ellis Brook Valley is home to a 60-foot waterfall too.
There are four walk trails of varying degrees of difficulty, ranging from the Easy Walk Trail, which provides wheelchair/pram access to the bushland, to the more difficult Sixty Foot Falls Trail, which takes you to the top of the waterfall with spectacular city views. The waterfall flows seasonally from about June to October, depending on rainfall.
Read more in the Buggybuddys review.
Find Ellis Brook Valley Reserve on Rushton Road, Martin.
Araluen, Roleystone
While Araluen is known mainly for its spring show of tulips, there are also stunning native bush areas, alongside babbling streams and little waterfalls. Take a bush walk with the kids at Araluen It's well worth discovering for yourself. There is a cafe and toilets onsite. Read more in the Buggybuddys review.
Nobel Falls, Gidgegannup
If you are looking for a gorgeous spot for a picnic then make sure you check out the picnic area at Noble Falls. Noble Falls is located just past the town of Gidgegannup (which has a great country bakerybtw). The falls has a well equipped picnic spot with plenty of picnic tables, free electric BBQs, a basic playground, toilets and a drinking fountain.
Kids will have fantastic fun getting into nature and paddling in the falls. The waterfall itself is quite small and easy to cross (when not in full flow). If you didn't fancy getting your feet wet wading across the falls there is a bridge a little further down the stream. Why not explore further with the Noble Falls Walk Trail, it is suitable for people of abilities as it is generally flat with a good surface. You can opt to do a short walk which is 1.3km and takes approximately 45 minutes or go for a longer walk which is 3.5km and takes approx. 75 minutes.
Read more in the Buggybuddys review.
Noble Falls Picnic Area is located on Toodyay Road, Gidgegannup.
Serpentine Falls
Found in the Perth Hills, Serpentine Falls is a great place to visit year round. While winter brings the flowing falls; Summer is perfect for swimming. The walk to the falls is fairly short and pram friendly. Like many of these spots in the hills, it is a popular picnic place, great for bushwalks and other adventures in nature.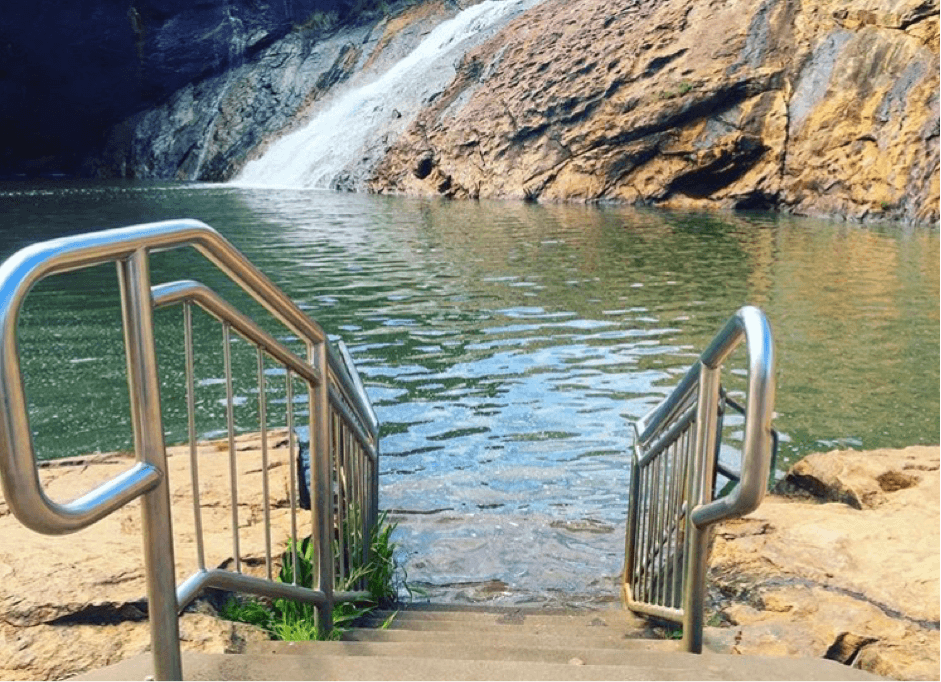 Read more in the Buggybuddys review.
Find at Serpentine National Park at Falls Road, Serpentine
Have we missed any of your favourite waterfalls in Perth? Let us know in the comments below!
Find things to do on a rainy day in Perth here.