Piccolo's Corner, West Leederville
Piccolo's Corner is a quiet, quirky cafe in a leafy part of West Leederville. It features colourful wall art, a pleasant garden area and entertainment for kids.
The cafe's building appears to have once been a corner store, which has now been converted to a cafe filled with vintage furniture and seating. Miss 5 and I settled in the quiet backroom area. This is reminiscent of a Nanna's sitting room, with big comfortable armchairs, tables and dining chairs. It would be a great spot for a quiet one-on-one chat with a friend while baby sleeps.
For larger tables with more seating, the main cafe area is the best spot, with several larger tables available. This area is also closer to the kids books to keep toddlers to slightly bigger kids like Miss 5 busy.
During our visit, we decided to grab some lunch. Miss 5 opted for the pancake stack with everything on the side and a babycino. The pancakes came with some strawberries as a garnish, but Miss 5 asked that they be removed. The serving included three good sized pancakes with a big scoop of ice cream and some maple syrup. The babycino came in a plastic kids cup with a small straw, so you don't have to worry about good china getting dropped and broken.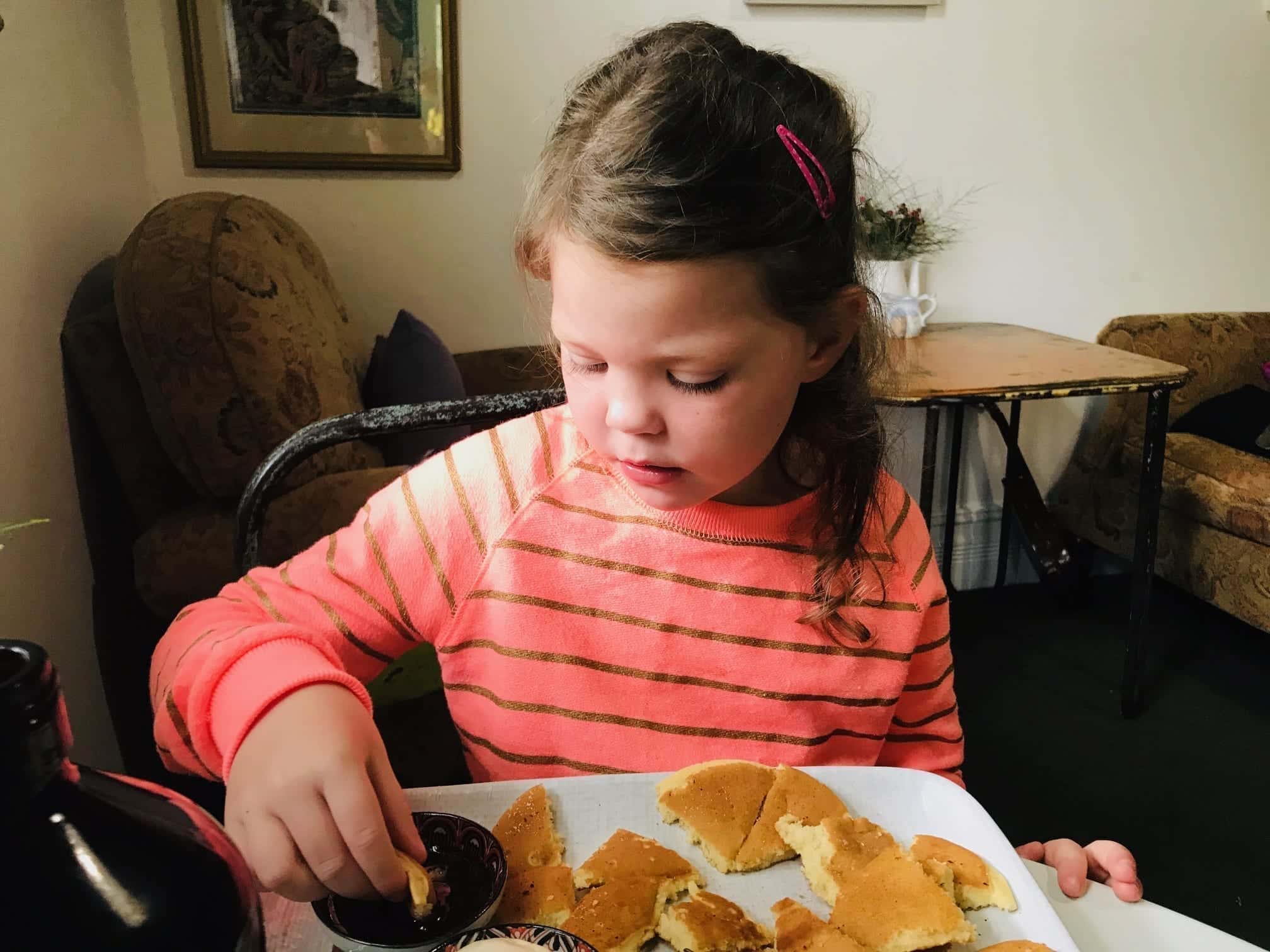 Meanwhile, I chose the gnocchi with ragu and a dirty chai. Unfortunately the ragu had run out, but the staff offered to substitute for a napolitana sauce instead. I love gnocchi, so I thought why not? It was excellent and I was not disappointed with the change. The sauce was rich and the serving of my meal was also generous.
My dirty chai came in a teapot, which was a bit unexpected. However, I got three cups out of it, which seems like good value.
While Piccolo's Corner doesn't have a specific children's menu, there are items kids would still enjoy. In addition to pancakes, options such as the waffles with pears and honey, smashed avocado or Piccolo's homemade meatballs would be great for kids. Nothing too spicy or fussy. Just good, wholesome food. On the other hand, there is also fresh fruit, homemade cakes and muffins, wraps and pastries available at the counter.
In addition to hot drinks, Piccolo's Corner also makes fresh juices, smoothies, milkshakes and more.
Looking around inside the main part of the cafe, it features bright art and shelves of knick knacks on the walls. It has a warm, homely feeling.
Heading outside, we found a coffee window and outdoor seating under the verandah. It's a lovely spot to watch the world go by either with friends or family, or just your dog. It was in this area we also found a selection of Fairy Tale branded children's clothes for sale. There were tagged from baby sizes up to kids size 6. Miss 5 had a lovely time looking through them.
The former backyard of Piccolo's building has been transformed into a charming alfresco area. This is shaded, and it's also where we found a number of high chairs stacked. There's a ramp for easy access and lots of space to park a pram or two.
During our time exploring the outdoor area, we found Piccolo's resident cat. Miss 5 was so excited and gently petted the animal whilst it napped under a chair. She felt this was the best part of our visit to Piccolo's Corner. She even asked to go back to see the cat over an hour after we'd left!
In conclusion, if you're looking for a cafe with friendly service and tasty home-style food for the whole family, Piccolo's Corner ticks the boxes. It's conveniently located within walking distance of two playgrounds, a couple blocks walk in either direction along Woolwich Street. The playground to the west on the corner of Woolwich Street and McCourt Street is shaded, and completely fenced and gated. Piccolo's Corner also close to St John of God Subiaco, so could be a convenient stop along the way for lunch or coffee if you have an appointment.
Piccolo's Corner, West Leederville
Located at 58 St Leonards Avenue, West Leederville, on the corner of Woolwich Street.
Piccolo's Corner is open 7am to 4pm Tuesday to Friday, and 8am to 2pm Saturday and Sunday.
Free parking is available on both St Leonards Avenue and Woolwich Street.