Love them or hate them! It is time for the elves to come out and play! Keeping things new and fun can be hard so we have put together 50 Easy Elf on the Shelf Ideas, as well as a couple of tips and tricks to get you through the festive season. So if you are asking yourself "What can I do with the elf tonight?" then read on!
Tip number one, add wire into your elf's arms and legs, this is a super easy hack that allows your elf to be more flexible and sit in different positions. The wire can easily push through the end of the hands and feet, so no sewing is required!
1) What do you do on the first night of Elf on the Shelf? You welcome Your Elf Back!
Our elf always brings the kids their advent calendar and a gift for the Christmas tree. He also leaves the children a little note to remind them he is watching and not to touch him otherwise he will lose his magic!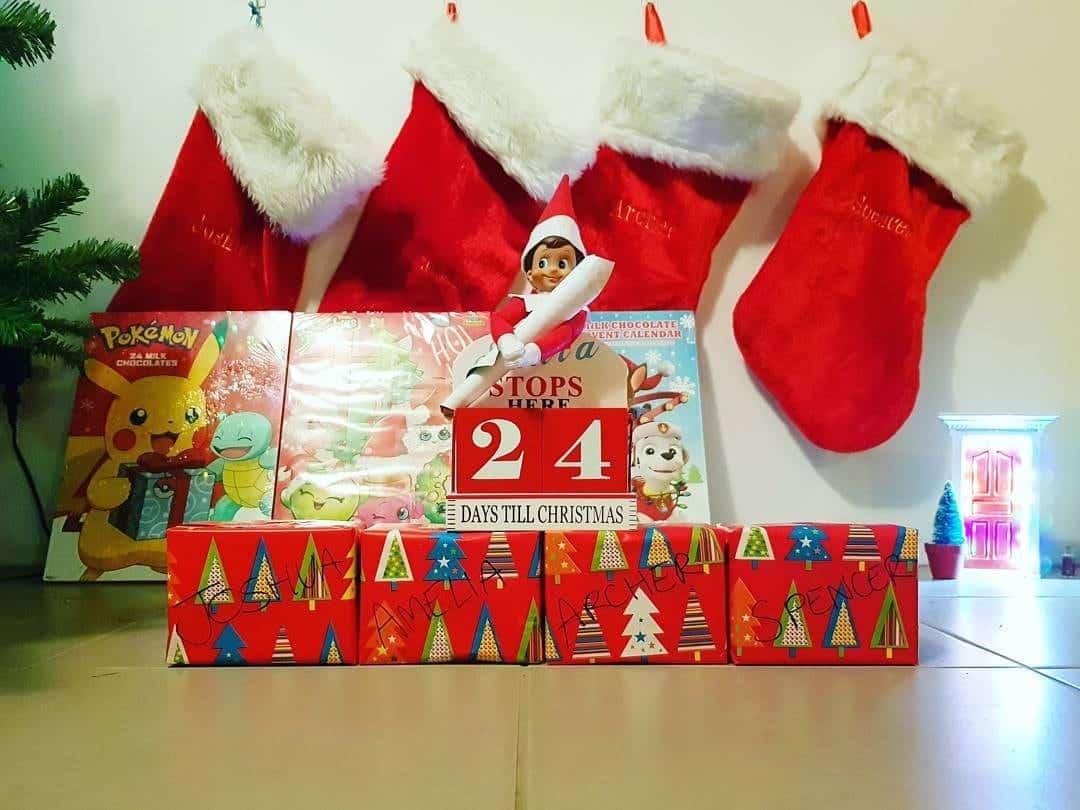 2) Elf Angels
Elf angels can be made out of anything! Sprinkles, flours, coconut, sugar… whatever you have in the cupboard! I have even seen it done with cornflakes.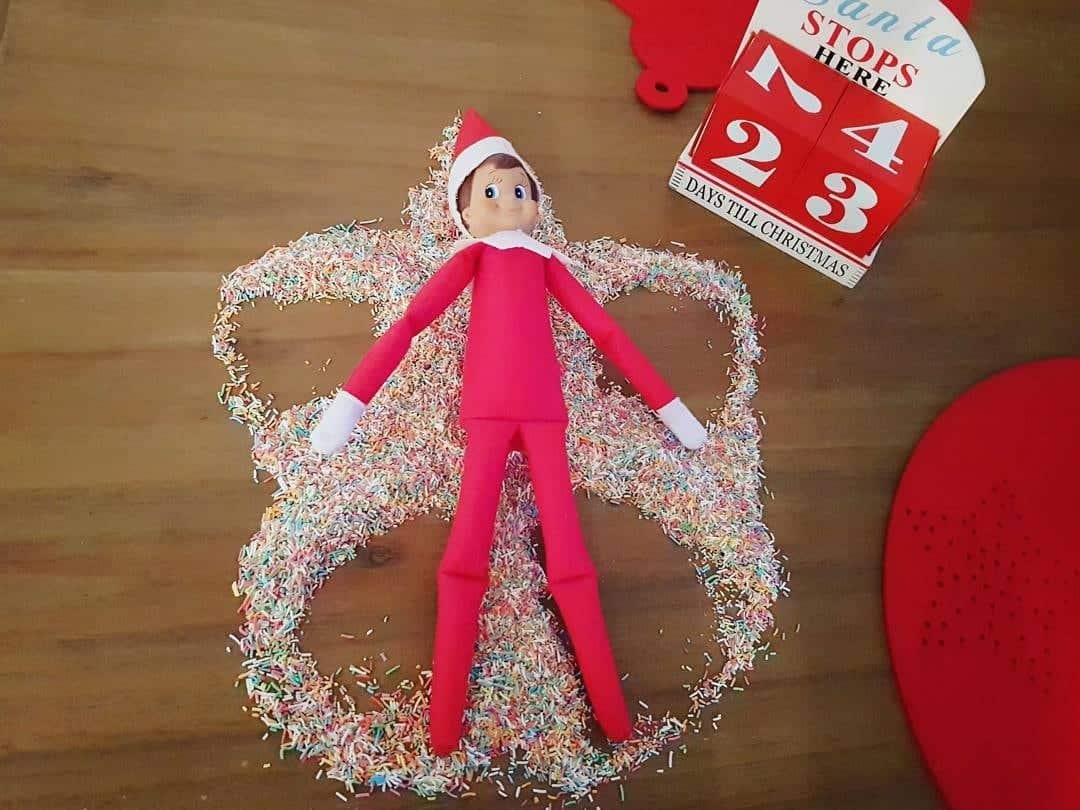 3) Help Your Elf
Your elf doesn't always have to make a mess… sometimes they might just need a helping hand.
4) Hide & Seek
Play hide and seek with your elf, the most obvious spots are sometimes the hardest to find.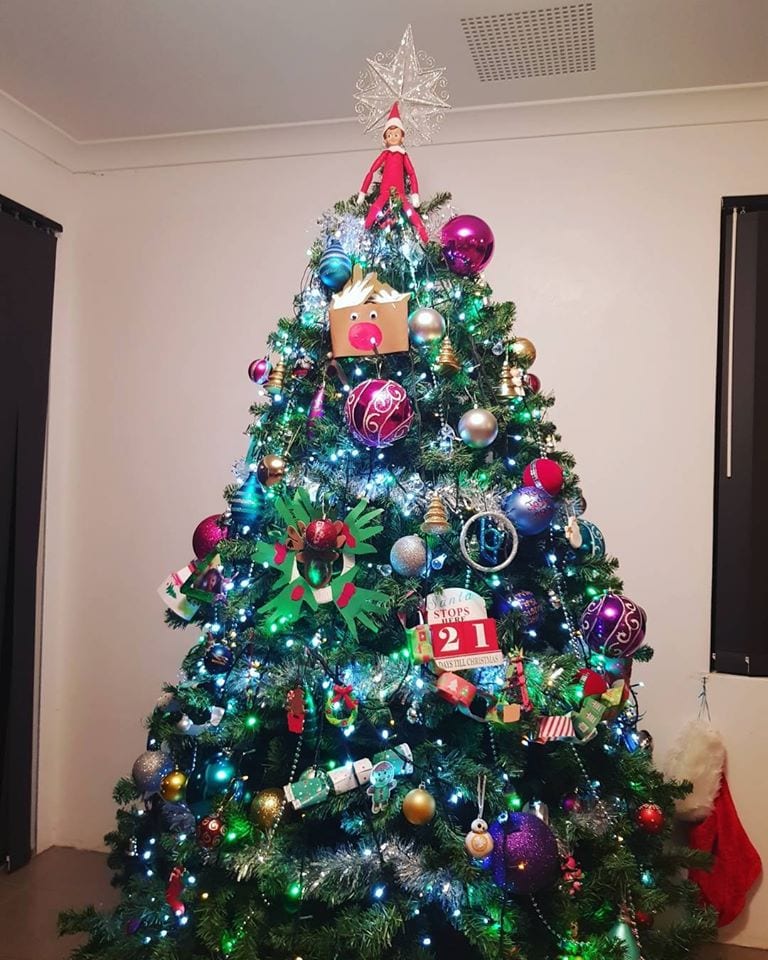 5) Netflix & Chill
Kids aren't the only ones who enjoy a bowl of popcorn and a good movie.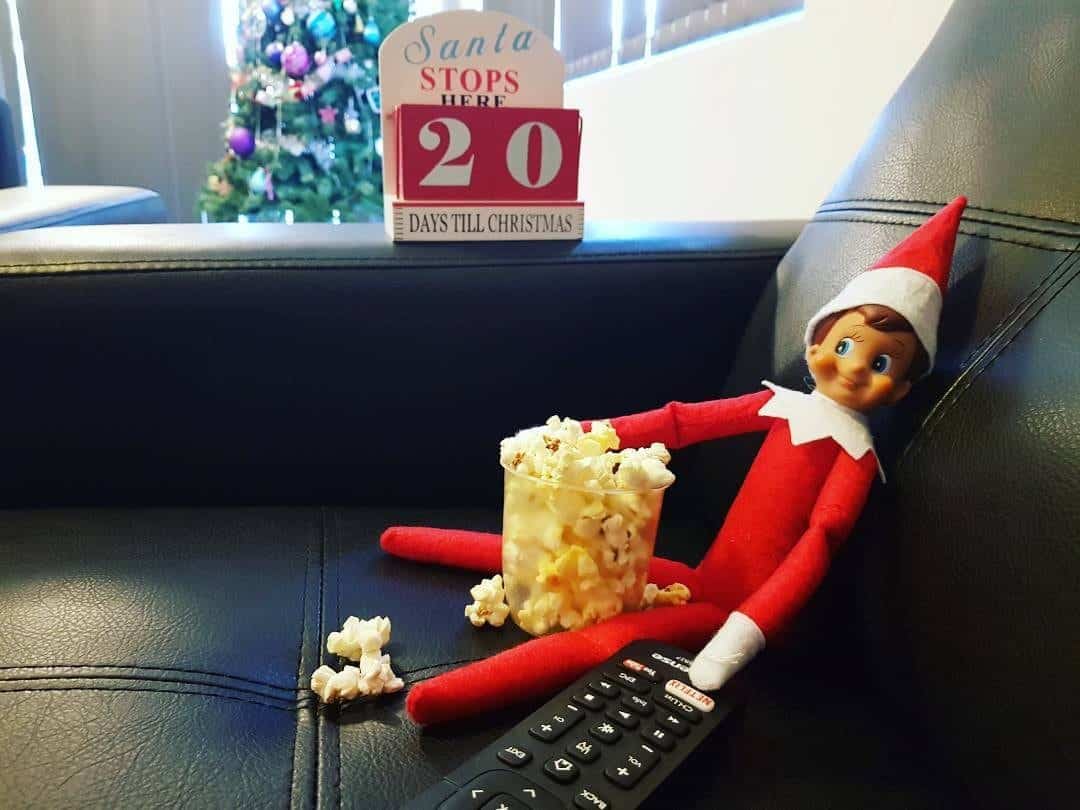 6) School Camp
Have a child going on their end of year school camp? Do something special just for them.
7) Brush Your Teeth
Sometimes it is all about sending the right message… good dental health is a pretty important message your elf can help teach your child.
8) Barbie Dream House Elf
Barbie makes a great best friend for any Elf on the Shelf… HINT make sure Barbie is dressed first 😉
9) Stuff the Elf in a Balloon
The kids will love popping their elf free from a balloon! If you don't mind the mess add some confetti in the balloon with him or her.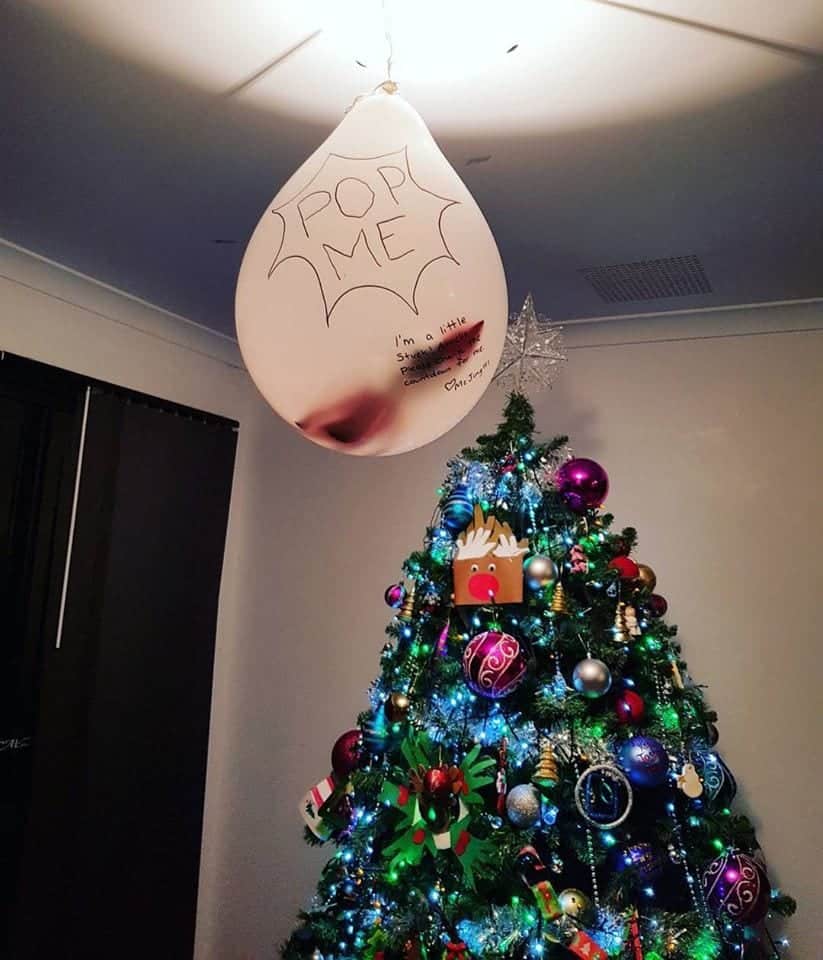 10) Have a ball
Something a little easier for those late nights.
11) Minecraft Elf
This one is worth the little bit of extra effort and glueing! Free templates are available online. Minecraft Santa. Minecraft TNT. Minecraft Creeper. Minecraft Sword.
12) Scanning Mischief
Have your elf do some different poses on the scanner. My kids loved this and took the scanned copies to school for news.
13) Graduation Elf
Have a child graduating this year? Create your own origami graduation hat for your elf to mark the special occasion.
14) Last Day of School
Even your elf will want to celebrate the last day of school!
15) Warning Notice
Have a naughty child? Put them on notice and let them know their elf will not return until bad behaviour changes!
16) Do You Want to Build a Snowman?
Build a snowman out of toilet paper.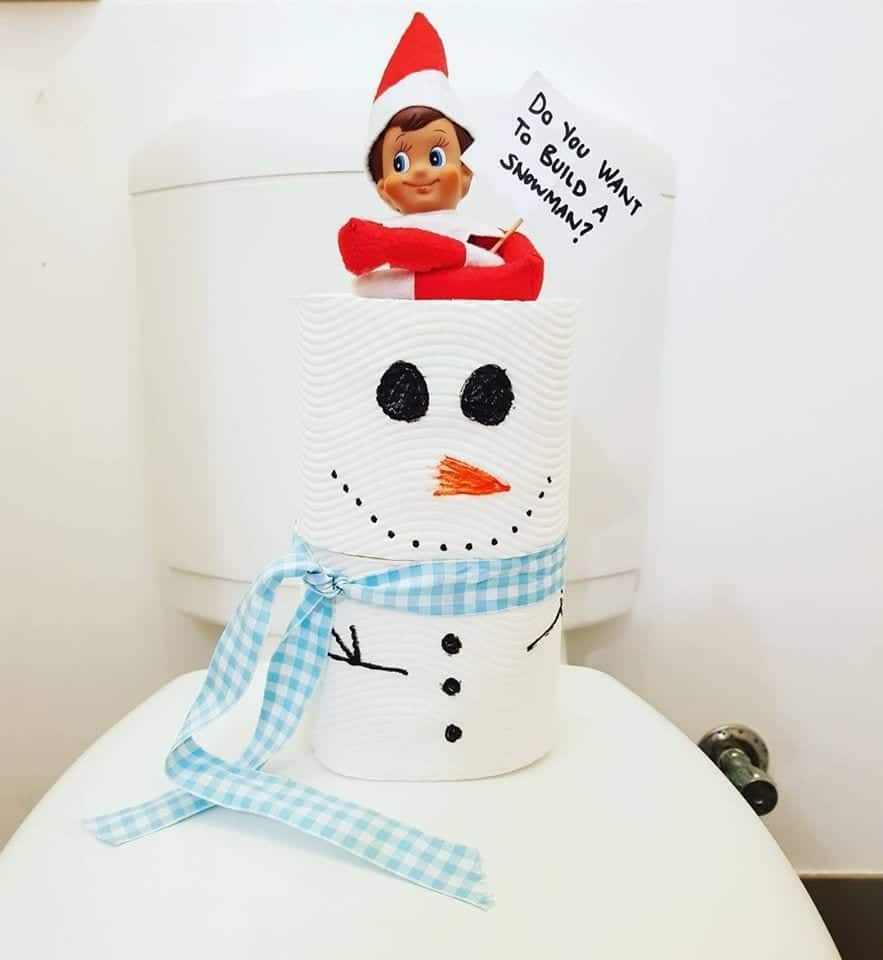 17) Rainbow Magic
Do a little science experiment with the kids by adding some hot water to skittles.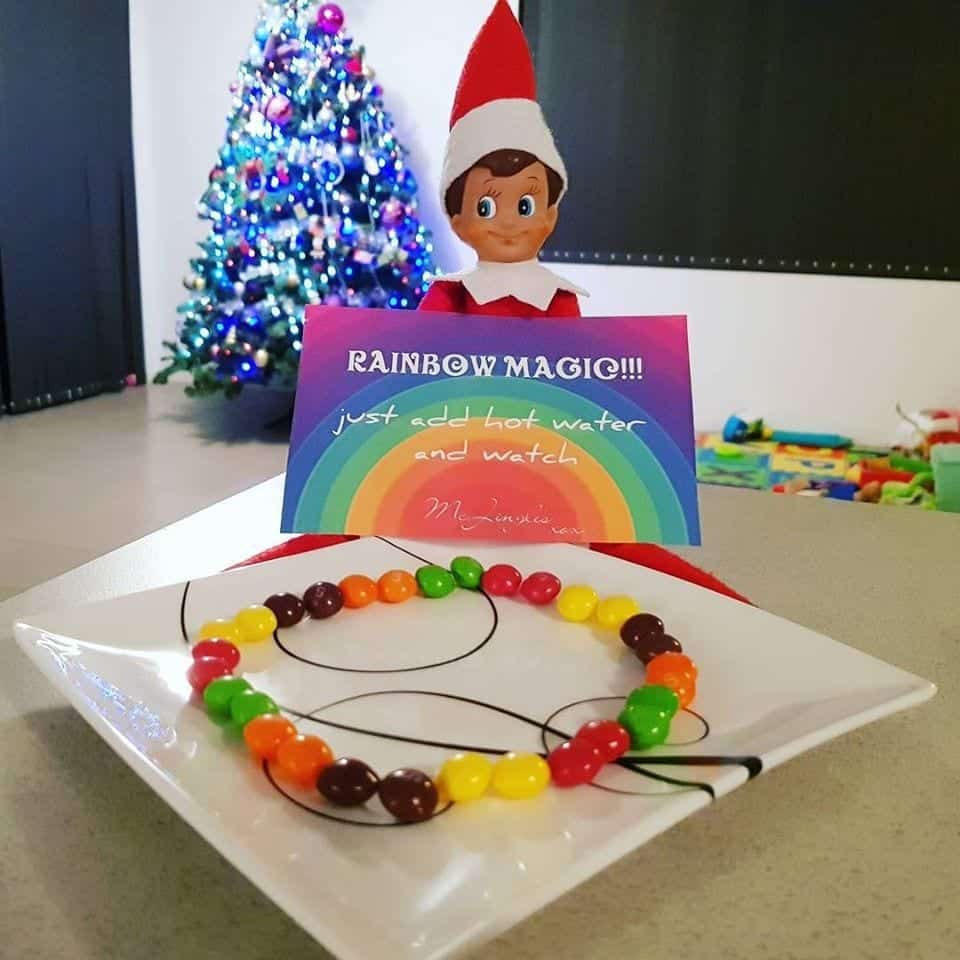 18) Unexpected Gifts
Wrap something they already own, our elf wrapped the TV, remote & iPads.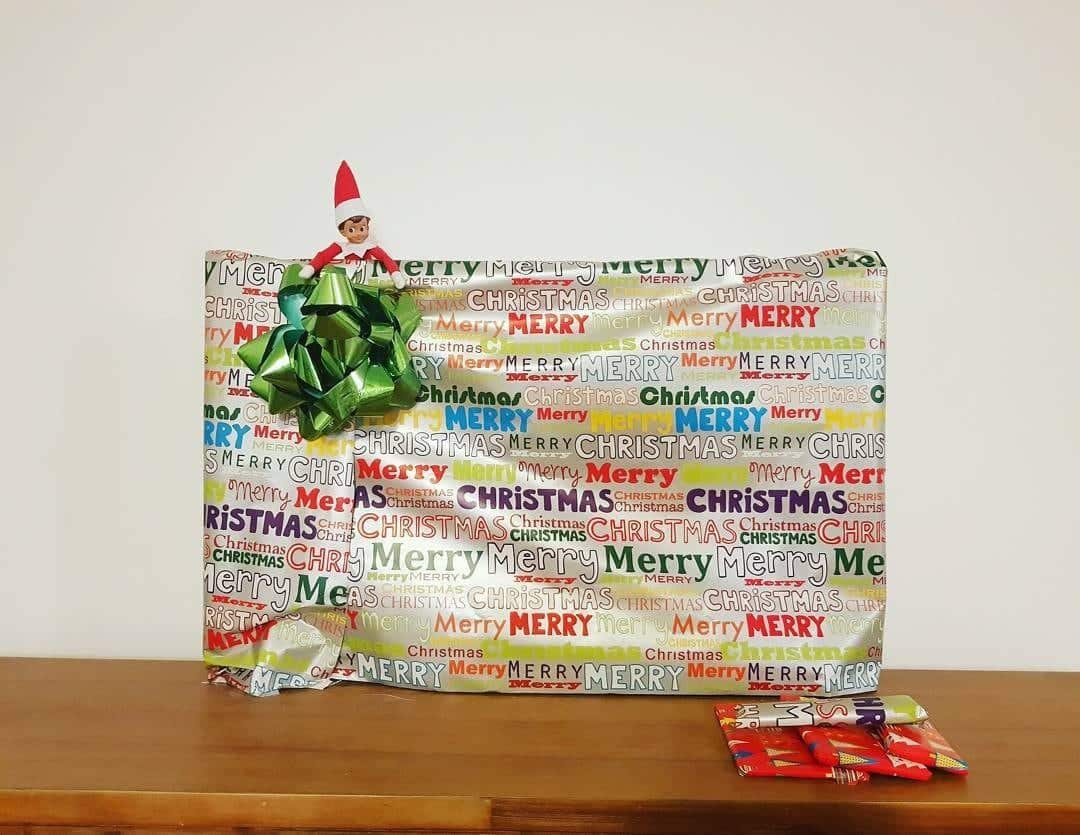 19) Cheeky Moustaches
Have your elf draw moustaches on the kids while they sleep. TIP use a whiteboard marker so it washes off easily.
20) Head Cold
Freeze your elf's head in a cup… just make sure you wake up before the kids 😉 and defrost him and dry him out ready for his next adventure.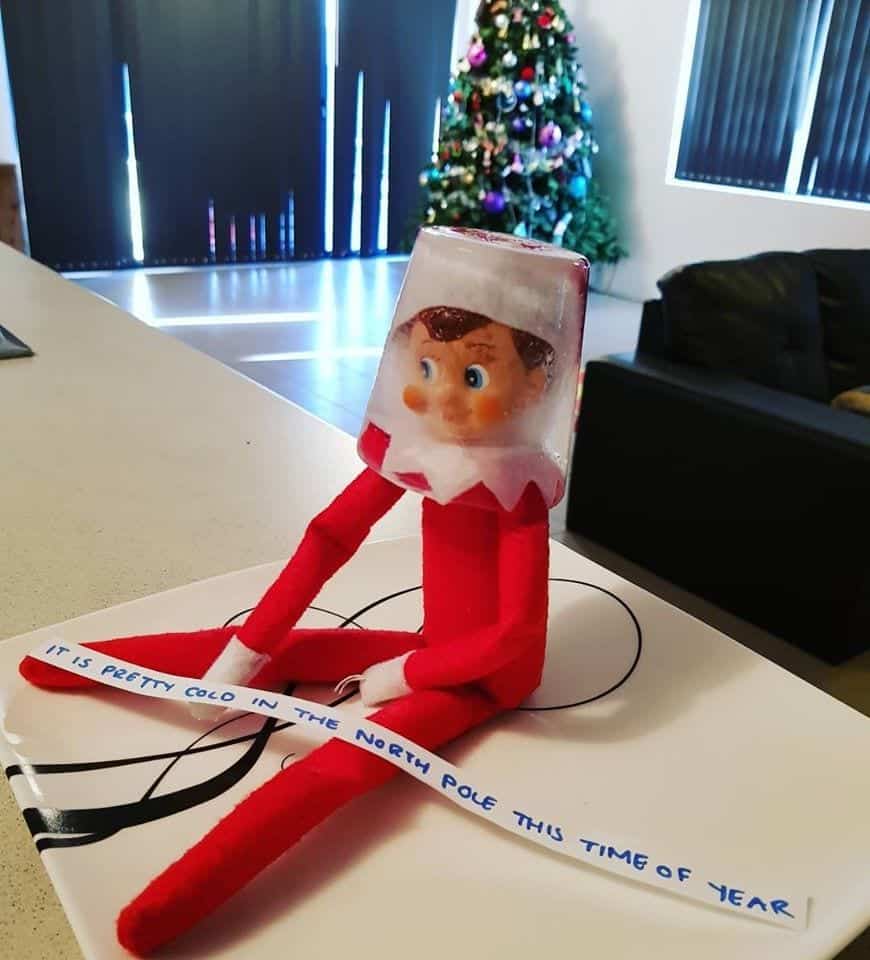 21) Does Your Elf Like Cake?
Have your elf help himself to a slice of cake. Your elf can even gift the rest of Mrs Claus' homemade cake to the family as a special treat. Also, a great idea if you have a December birthday in your family.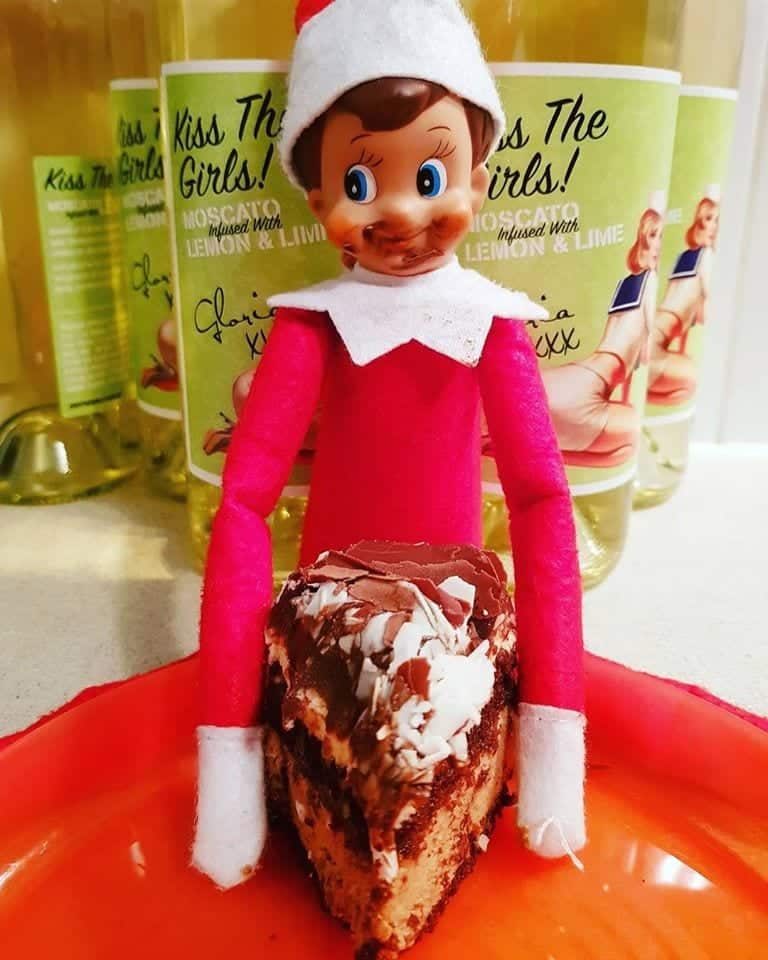 22) PiratesAhoy!
This boat and pirate costume are from My Magical Moments. The inflatable drink holders from Kmart would also work really well. TIP add a splash of food colouring to make the water blue.
23) SpiderElf
Hang your elf from the ceiling wearing a Spiderman mask, if you have a white rope to hang him it looks like a web.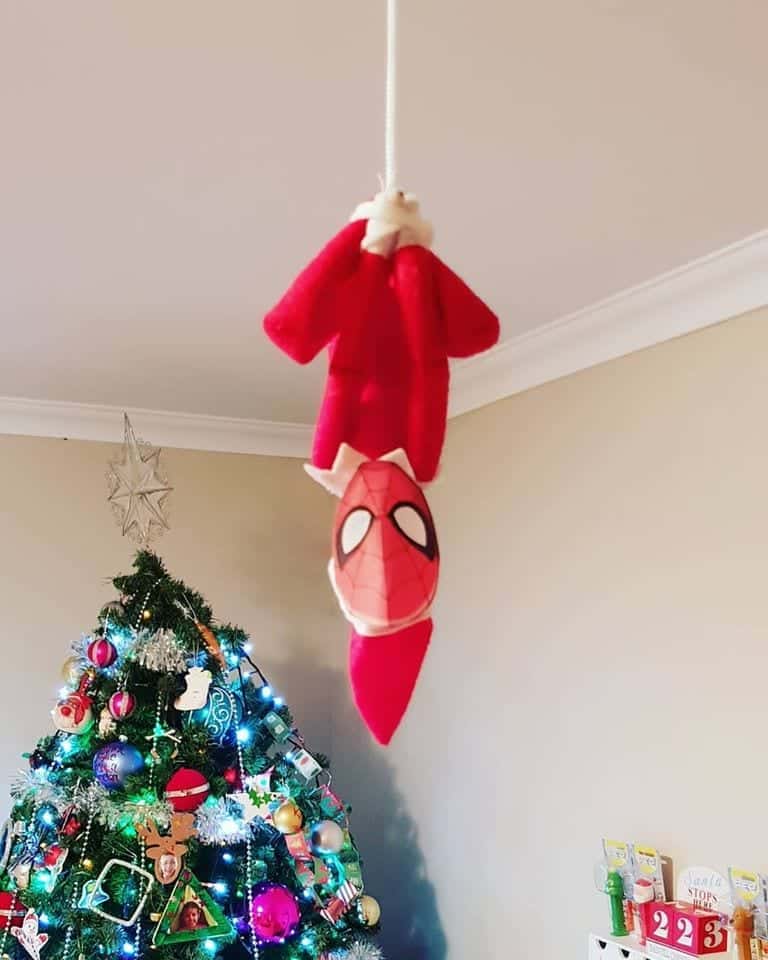 24) Elf's Menu Planner
Ever wondered what elves eat for dinner? Have your elf do a meal plan.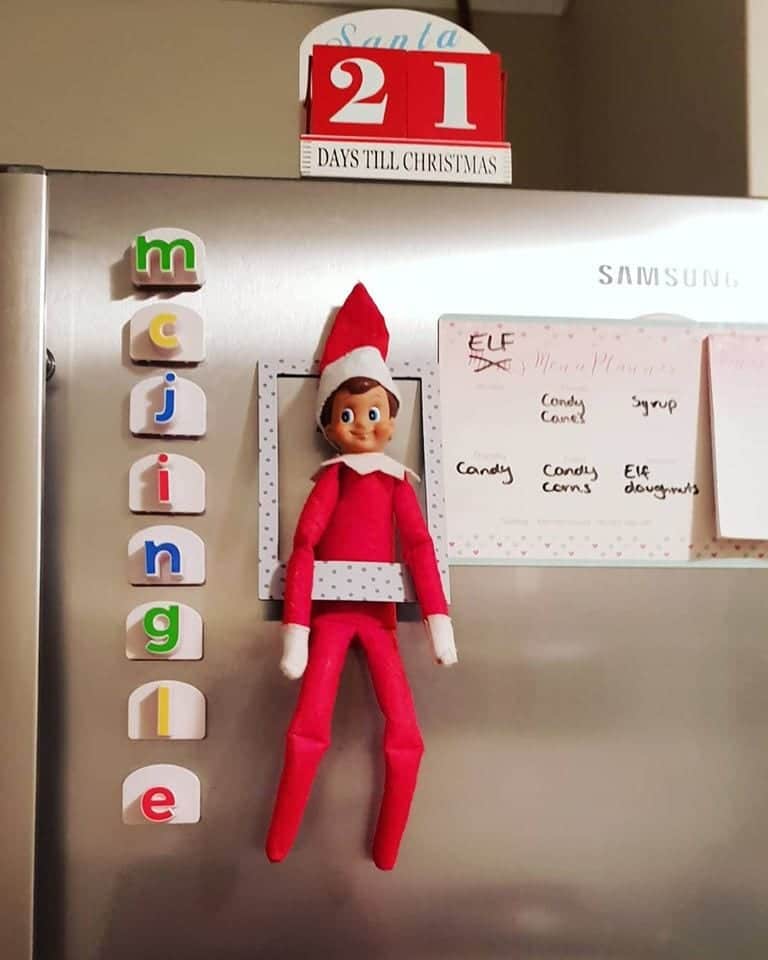 25) Cup Stacking
Have your elf stack a tower of plastic cups. The cups are reusable or great for playing a game of Speed Stacks with the kids.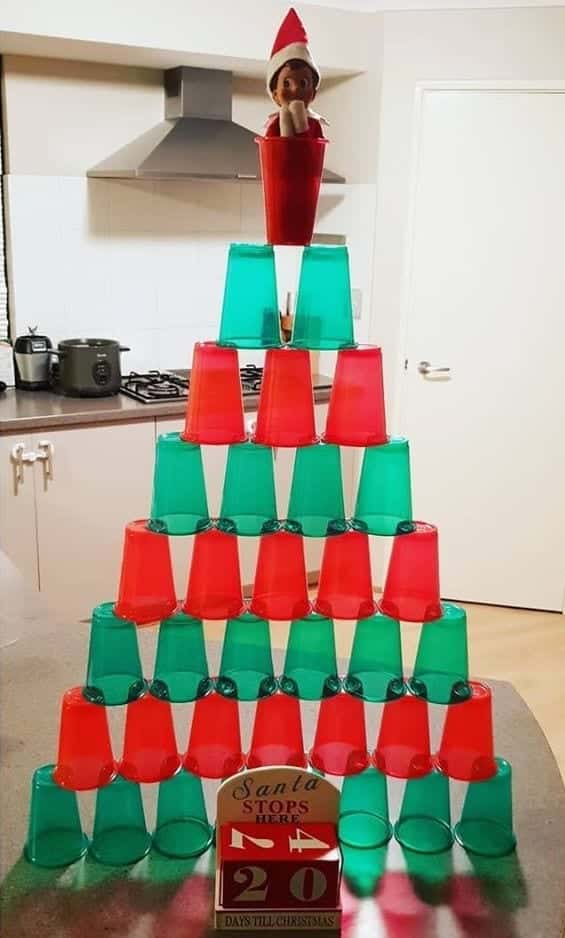 26) Troublesome Toddlers
Have toddlers who can't keep their hands off the Christmas tree? Have your elf leave a note reminding them the Christmas tree is for looking not touching. Christmas tree costume from My Magical Moments.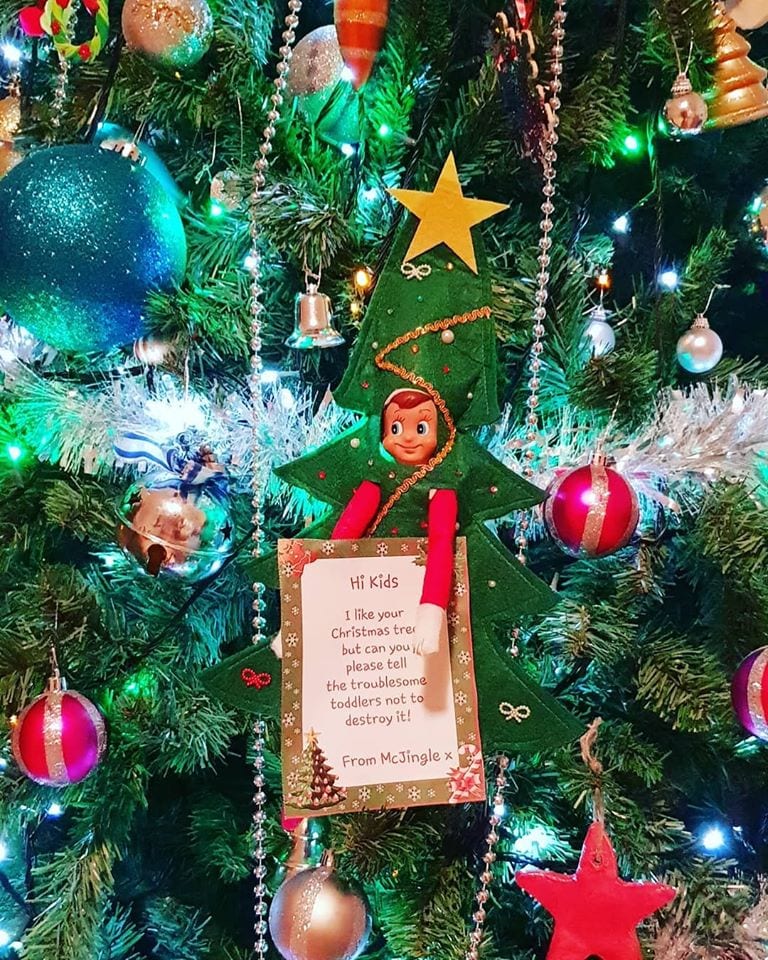 27) Time For a Shave
Have your elf shave his beard with daddy's razor!
28) Farts in a Jar
Are you kids brave enough to sell an elf fart?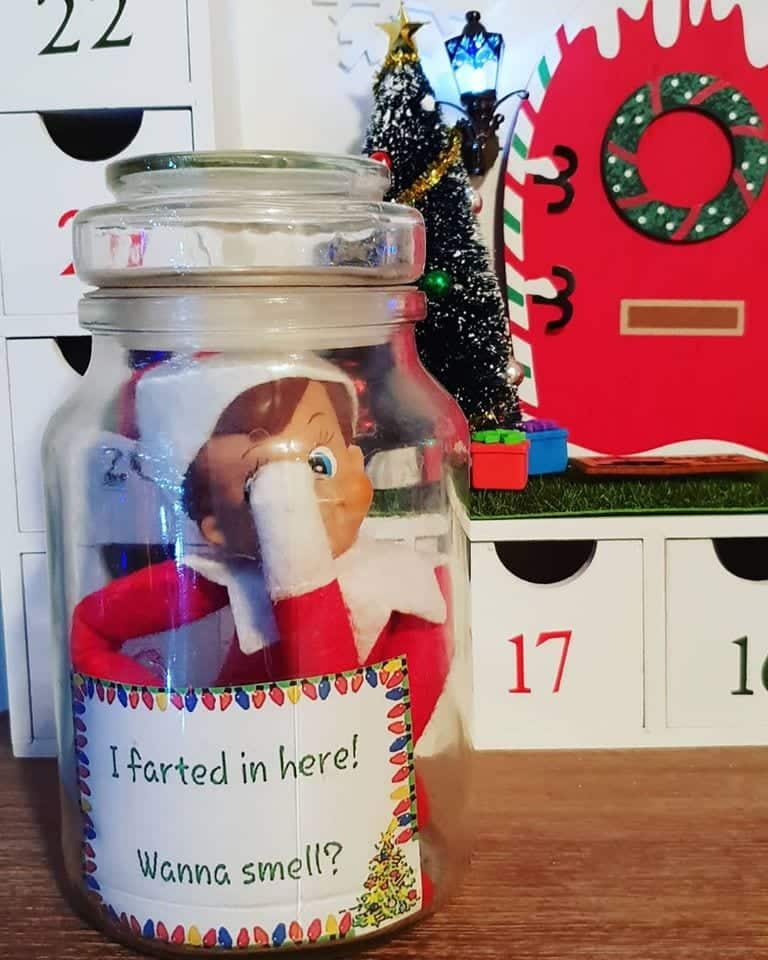 29) Oops!
Did you forget to move your elf? A sorry note fixes everything!
30) Treasure Hunt
Hide some candy canes in a room, set the timer and challenge your kids to find them all!
31) Sticky Situation
Things might get a little sticky if the toilet roll is replaced with a roll of sticky tape.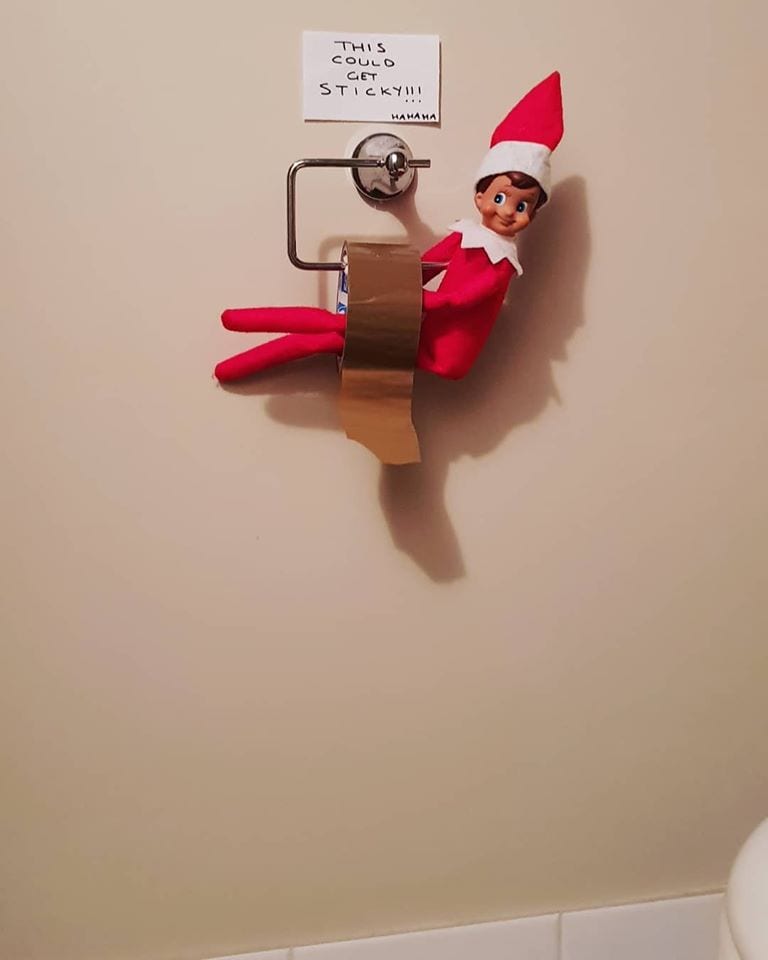 32) Santa's Favourite Milk
On Christmas Eve make sure the fridge is stocked with Santa's favourite milk!
33) Beans on Toast
A different type of beans the kids are used to I'm sure.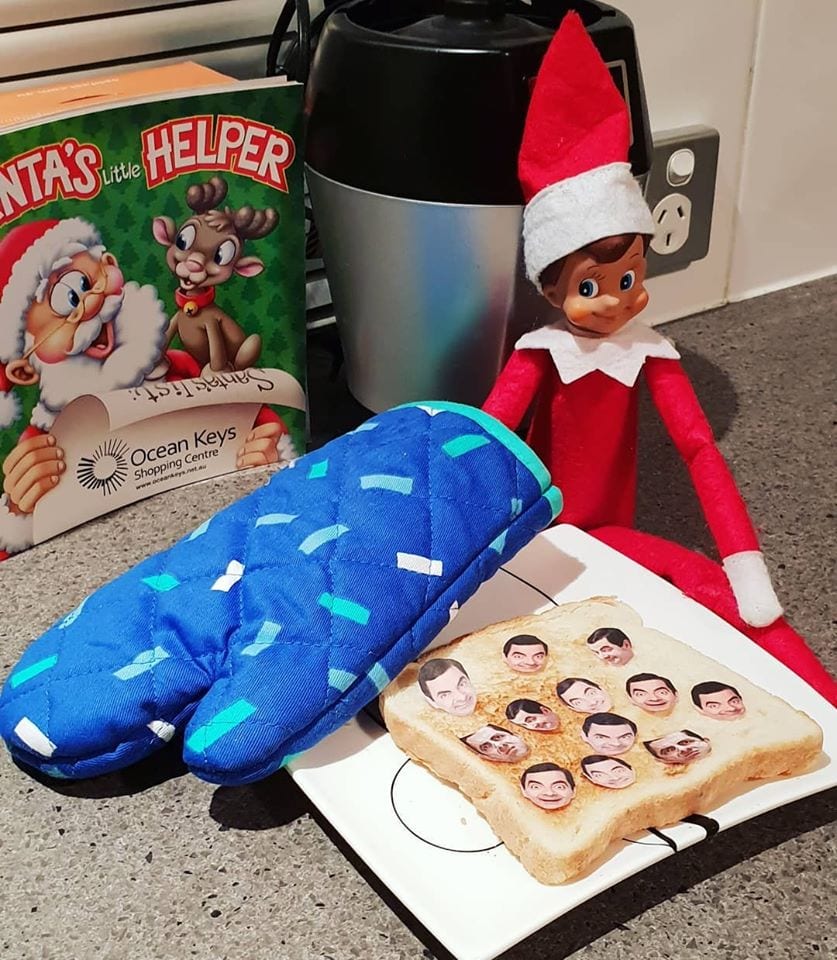 34) Reindeer Poop
Yum! Reindeer poop tastes just like chocolate-covered sultanas 😉
35) Funny Faces
Sticking a funny face on your elf is another super easy one when you're time-poor.
36) Dinner Date
Enjoy a burger and chips with a friend. Accessories from Kmart.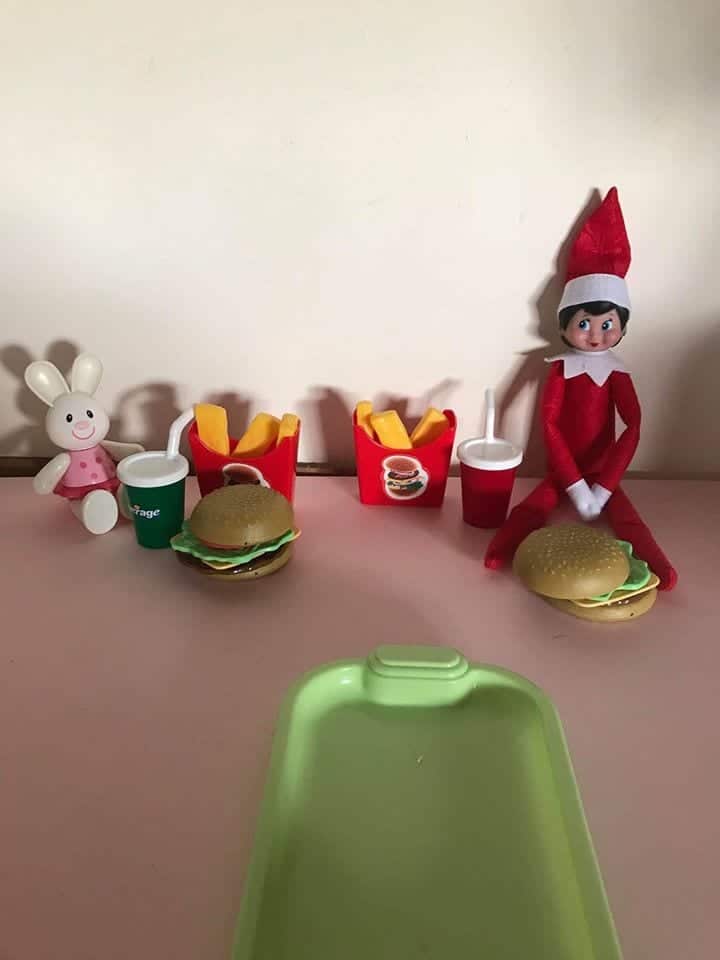 37) Snowball Fight
Have your elf find some friends around the house for a snowball fight. Mini marshmallows, scrunched up paper and cotton balls all make great snowballs.
38) Grated
A grated carrot is a sad carrot!
39) Feeding Ducks
Feed some rubber duckies in the bathroom sink.
40) Snowman
Water + carrot + chocolate buttons + googly eyes = a melted snowman all the way from the North Pole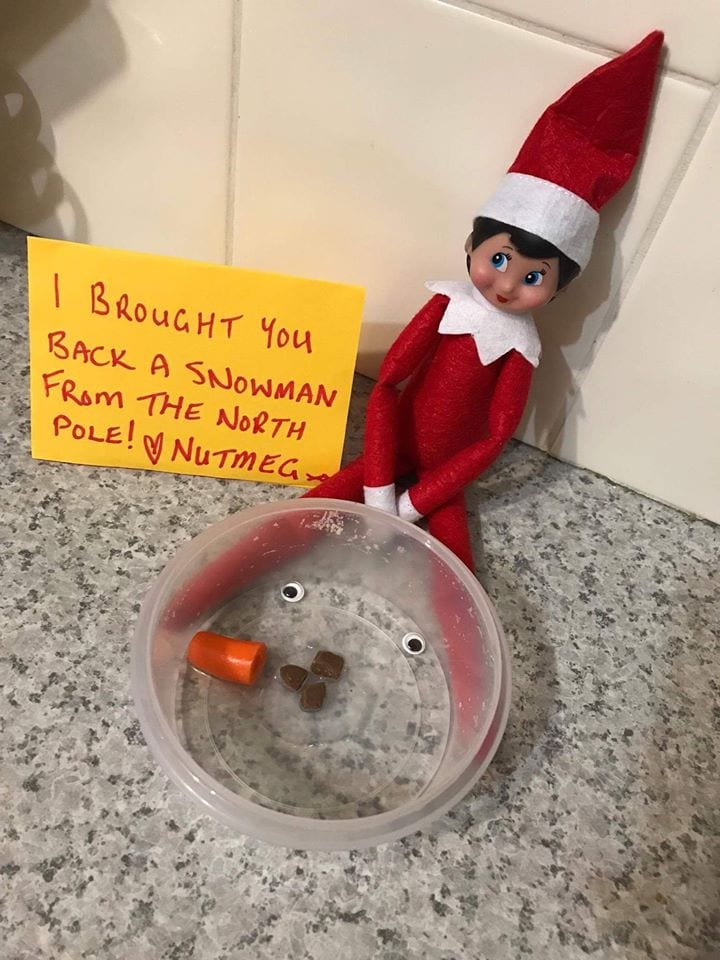 41) Shoe Train
All aboard the shoe-shoe train!
42) Bubble Bath
Even elves enjoy a relaxing bubble bath!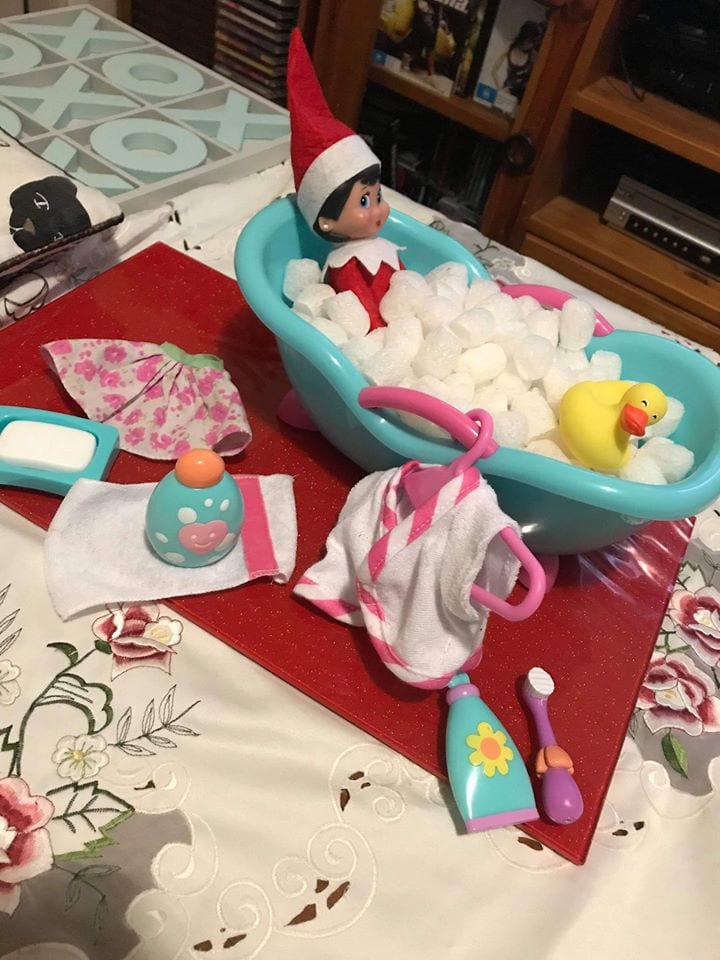 43) Guess Who?
Challenge Batman to a game of Guess Who?
44) Mechanic
Grab some tools and fix Barbie's car.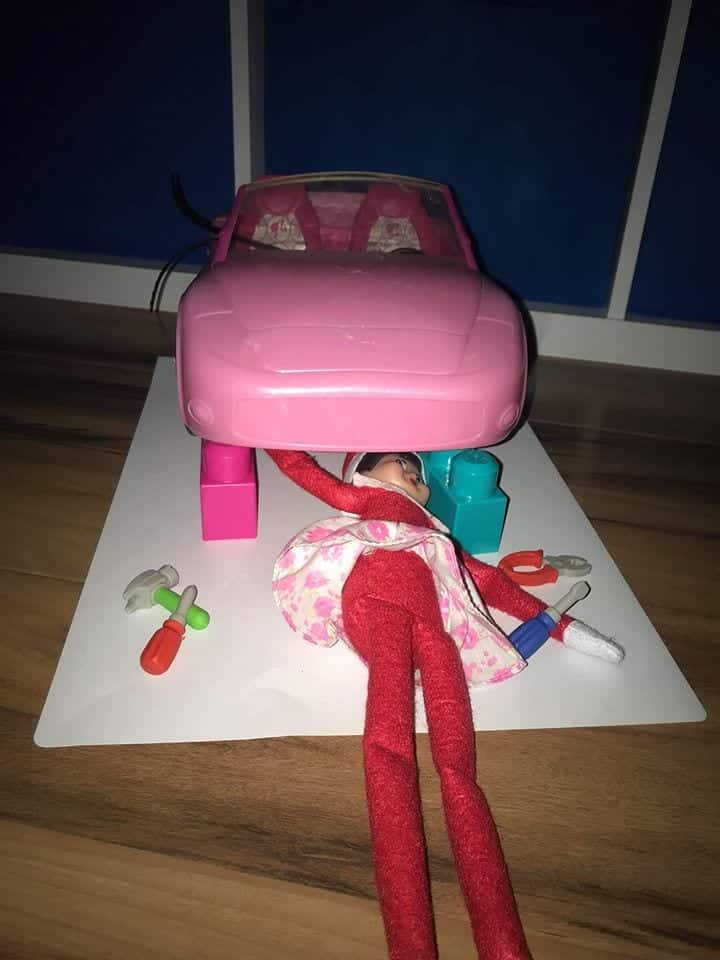 45) Toastie
It is cold outside… but it is toastie in here!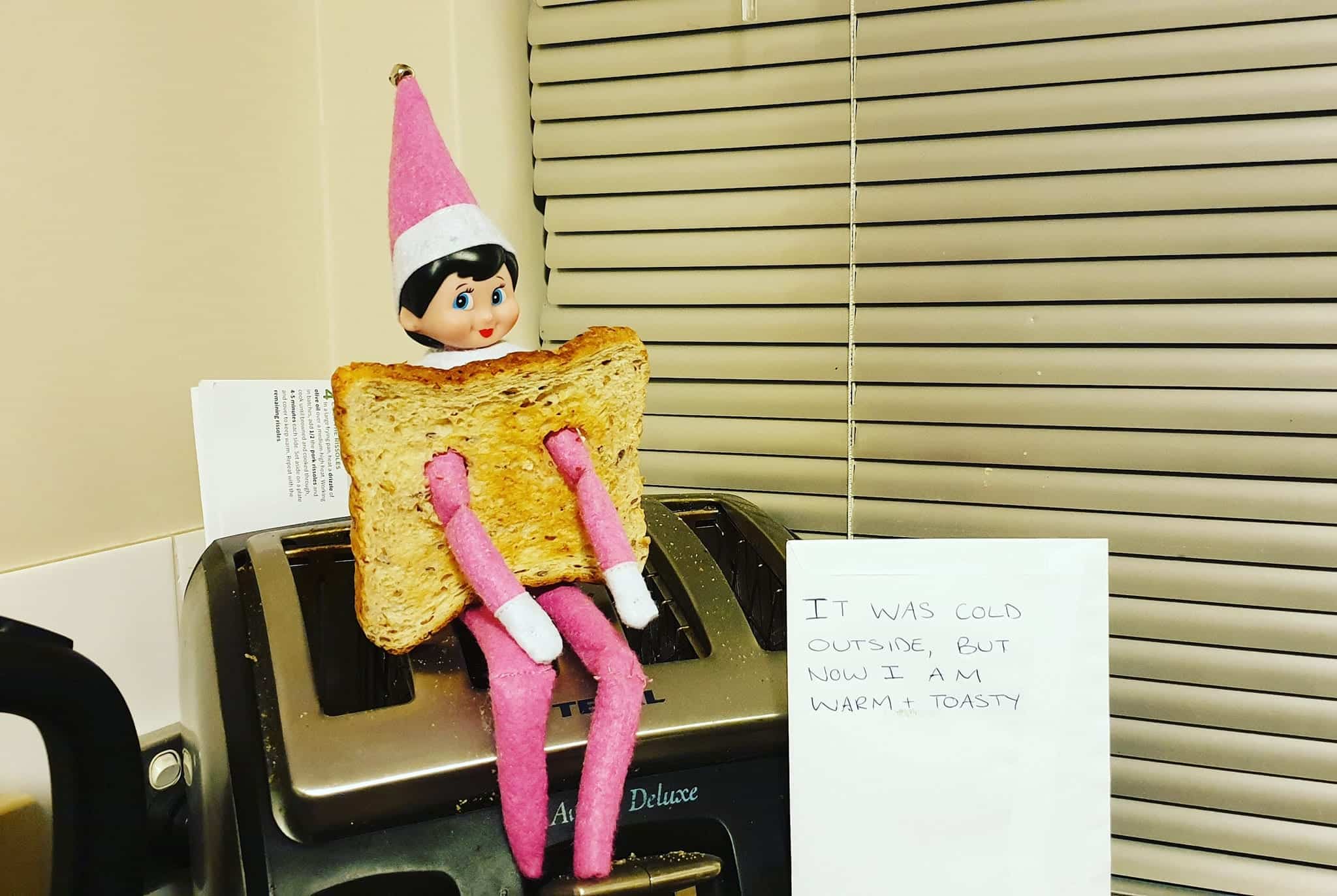 46) Nutella
These Nutella jars are only $2 each and make for the perfect elf size late-night snack.
47) Peppermints Poo
When you eat a lot of candy canes… what else do you expect your poo to look like?
48) Hubba Bubba
Blow some giant bubble gum bubbles with a whole roll of bubble tape!
49) Give to Get!
Teaching our children the concept of charity from an early age is an invaluable gift that lasts a lifetime.
50) Balloon Shower
Fill the shower with balloons, pop your elf inside one for an extra surprise. Click here for video reaction.
You can purchase Elf on the Shelf from Amazon and other retailers.