Little T's Café, Balcatta
Little T's Café is the newest family friendly cafe on the block in Perth's northern suburbs. Complete with a kids menu, a coffee window and a playground, Little T's Café in Balcatta has you covered for those coffee catch ups and lunch dates!

The playground was the first feature that caught our eye. Miss 6 loves a cafe with a playground, and has been eagerly awaiting this one being finished. This playground features a slide, a tunnel to crawl through, two steering wheels for imaginative play and more. This is surrounded by artificial grass, so it's soft if the kids kick off their shoes.
We've visited Little T's Café three times this week. Miss 6 keeps asking to go back. I must admit, I've been only too happy to oblige as the service here is fantastic and friendly, and the coffee is excellent.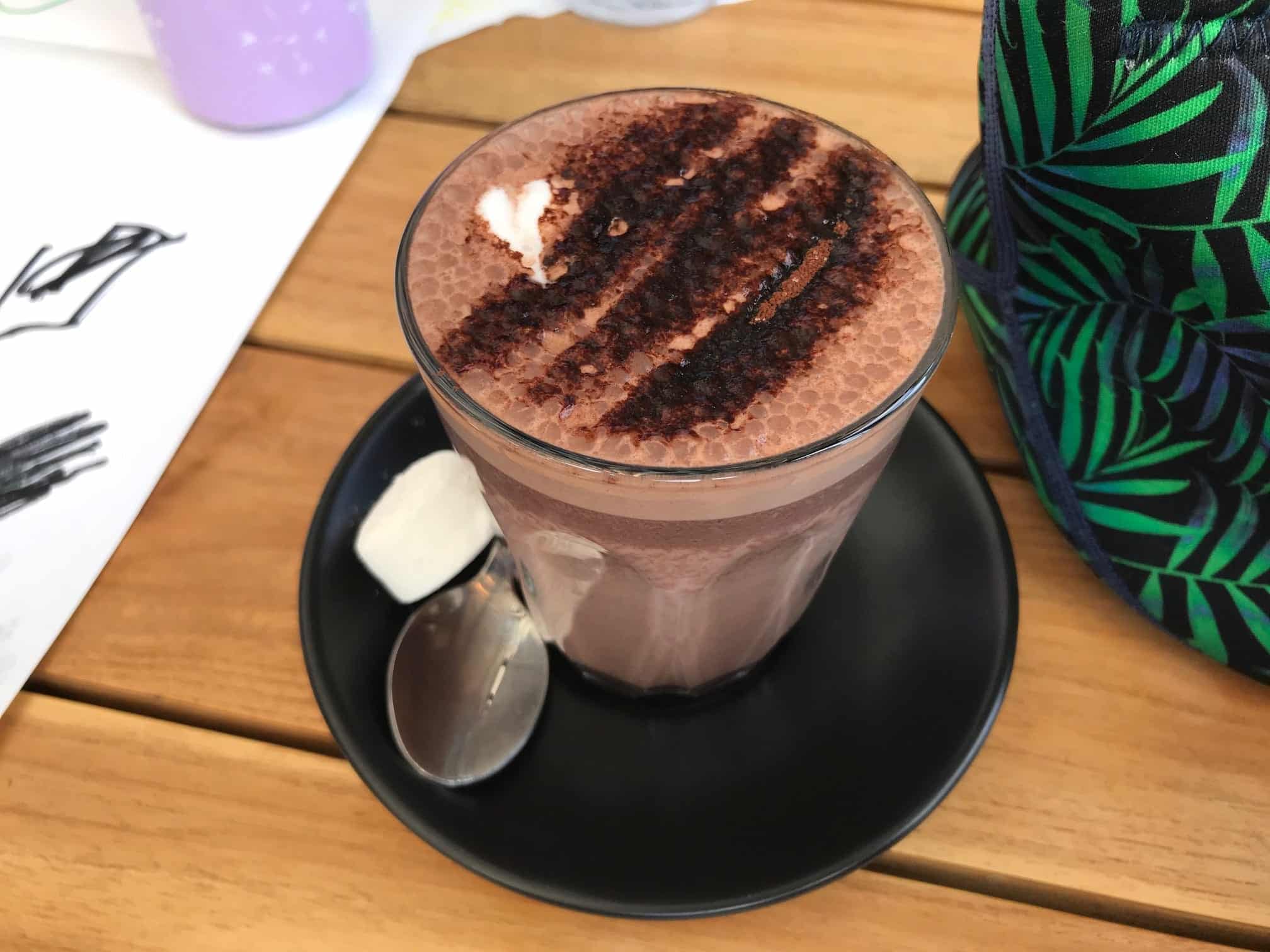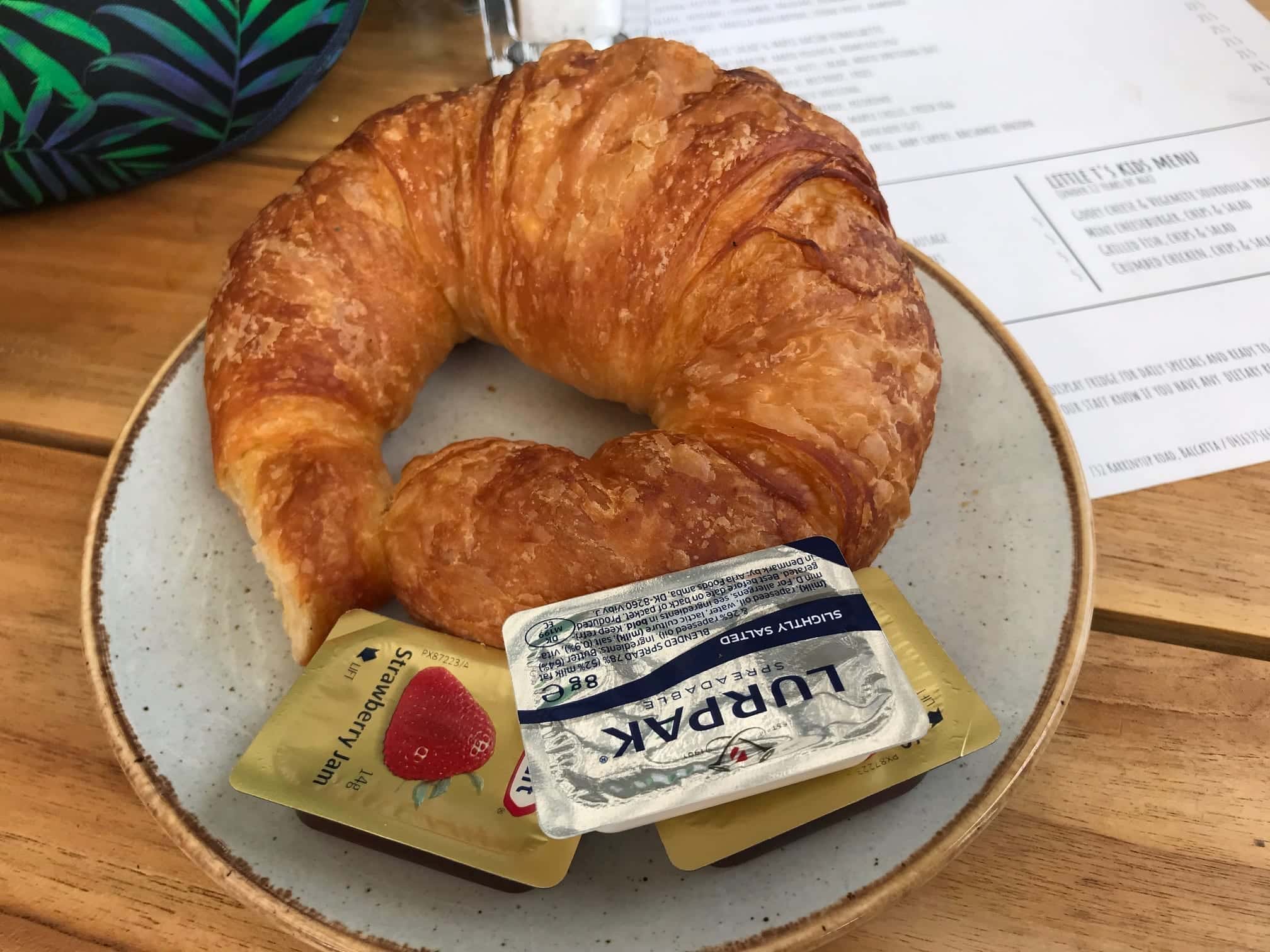 Our first visit was a lunch date with Nanna and a family friend with her two girls. We enjoyed coffee, cake, scrambled eggs and a panini. Miss 6 tried the hot chocolate with marshmallows and a croissant with jam. She then tried a cinnamon scroll because her bestie was having one. We sat in the alfresco area so the kids could be close to the playground, although it wasn't open on this day due to work being completed.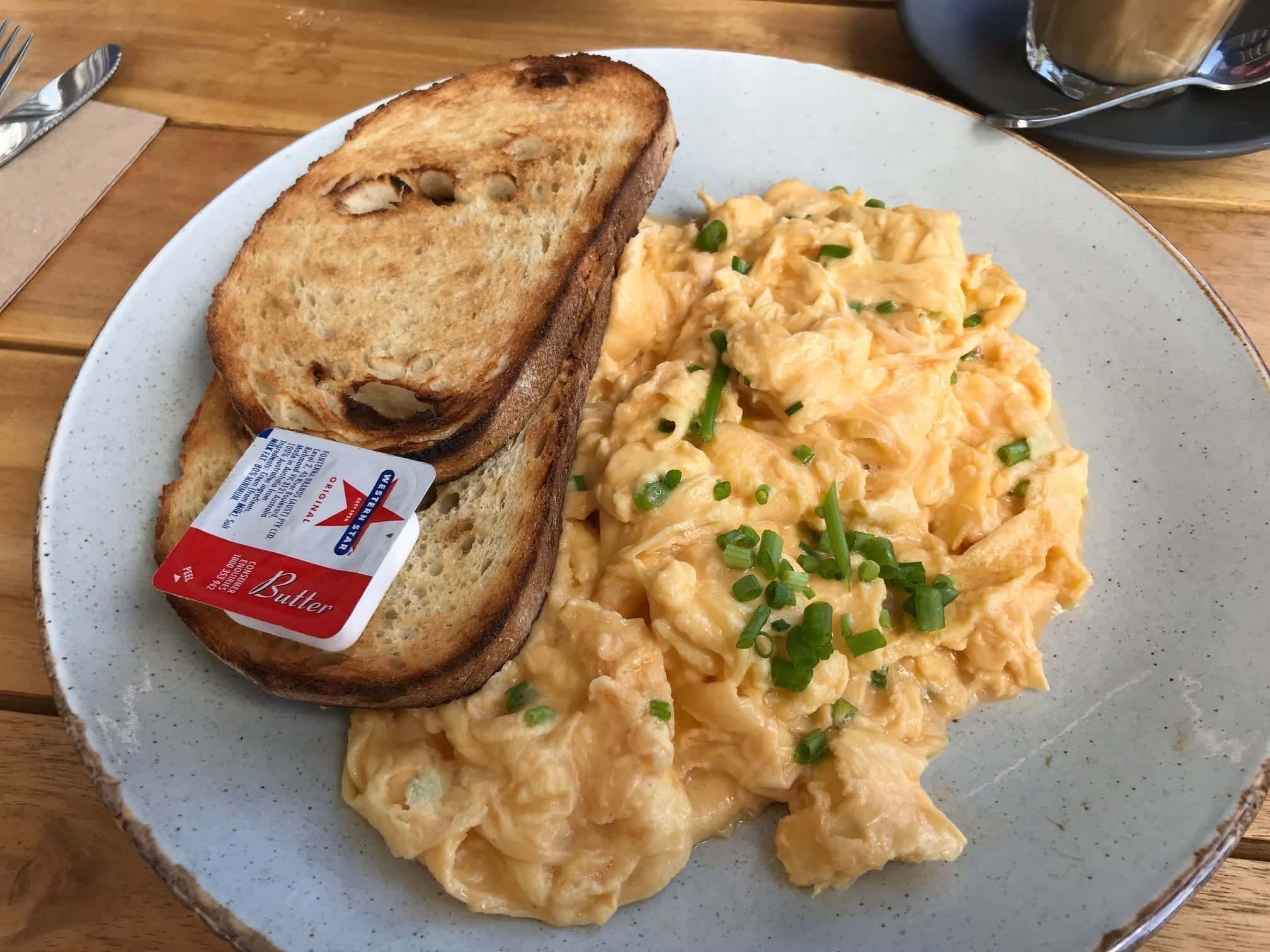 Our second visit was a coffee date, just Miss 6 and I. I had a latte and a slice of lemon meringue slice, and she had a chocolate milkshake and a cinnamon scroll. We sat outside near the playground as the weather was fine. The food and drinks came out quickly.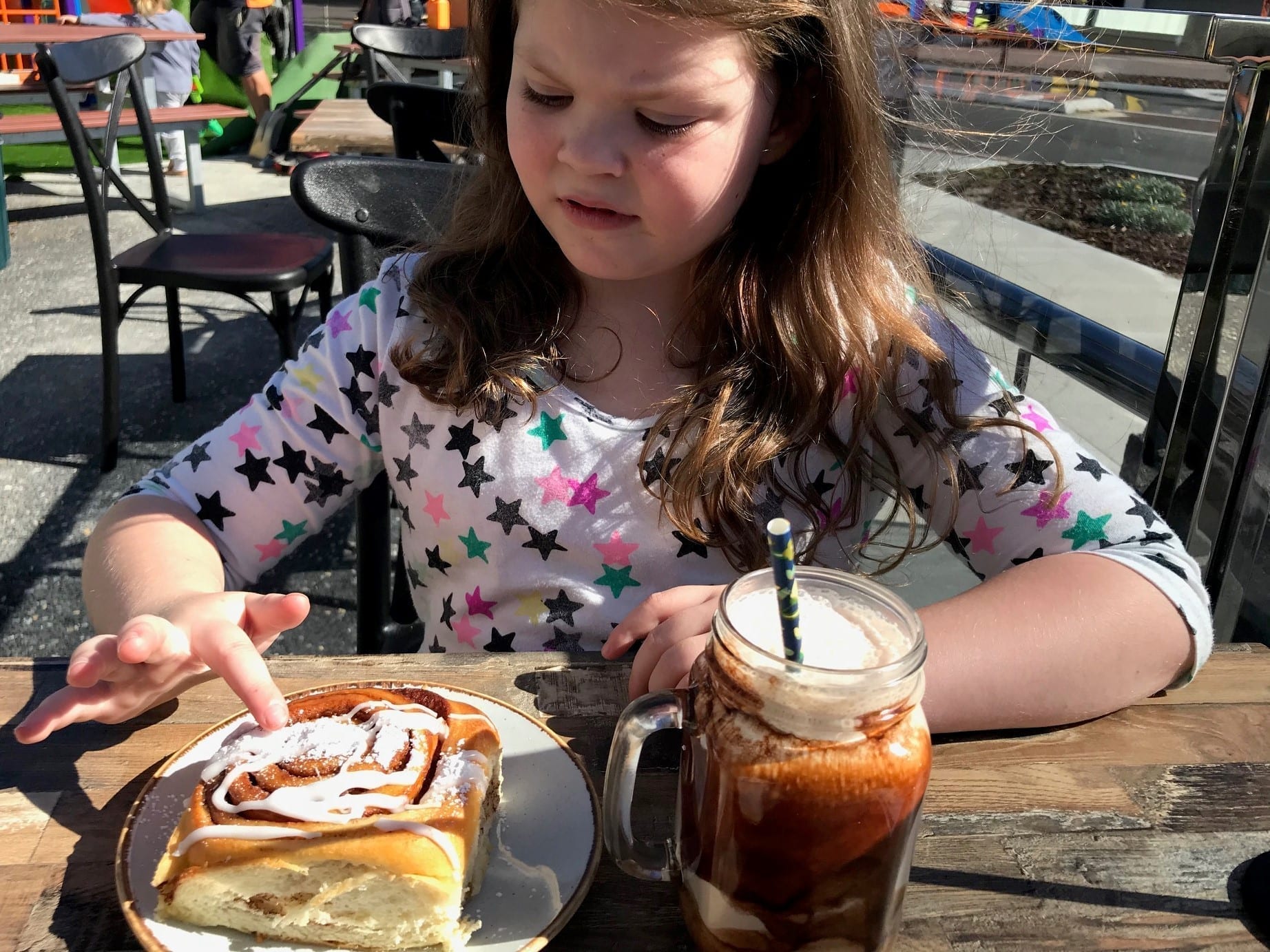 Our third visit, we'd already had lunch, so it was just coffee, a milkshake and a shared cinnamon scroll (sensing a new favourite?). It was sunny and quite warm, so we sat in the undercover alfresco area. I could see the playground and keep an eye on my little monkey, but still relax and enjoy my coffee.
If you're looking for something more substantial than coffee and cake, the kids menu offers four options: A gooey cheese and vegemite toasty on sourdough bread, a cheeseburger with chips and salad, grilled fish with chips and salad, or crumbed chicken with chips and salad. Overall, a good selection to choose from. These options cost between $8 and $15 each at the time of writing this.
The majority of the menu is made up of All Day Brunch, including vegetarian and gluten-free options. I tried the eggs on toast your way for lunch. This is one of the my go-to options when trying somewhere new. I ordered scrambled, and what came was a generous serve of eggs sprinkled with chives, with two pieces of sourdough toast and butter on the side. It was so generous I couldn't finish it all! My mother-in-law enjoyed a panini which was packed with salad. Other options include for example salted caramel French toast with vanilla mascarpone and stone fruit, Little T's beef burger with fries, calamari panzanella salad, and a poached tiger prawn cocktail salad.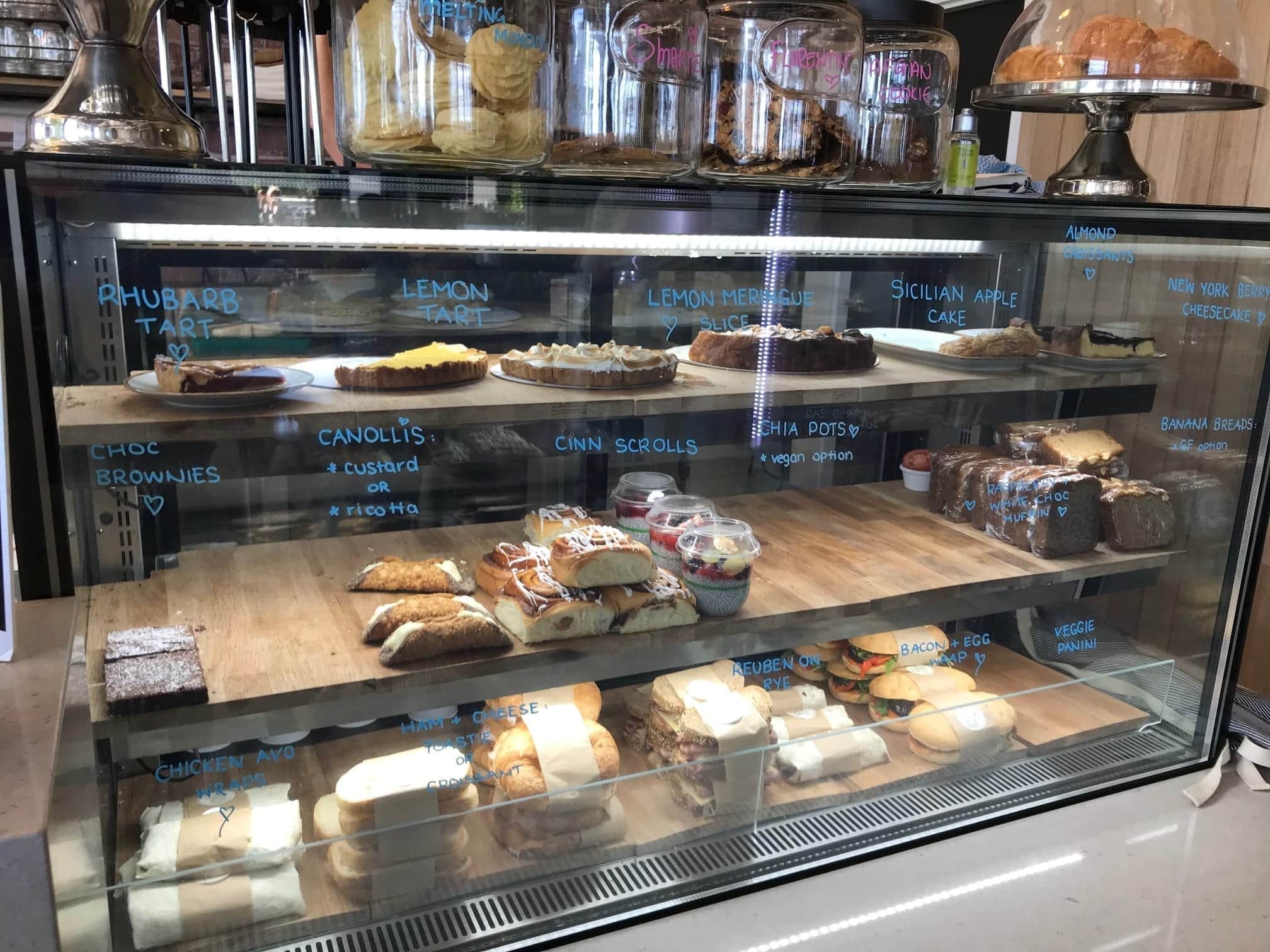 In addition to the menu items, there are also readymade options in the cabinet next to the register. These include wraps, paninis, tarts and cheesecake. There's three different croissant options, and a number of cookies. Items such as cannolis and Sicilian apple cake for example are a nice hat tip to the area's Italian community.
In terms of where to sit, lots of indoor seating. These are mostly tables of two or four. It's cozy and feels a lot like visiting an Italian restaurant. Likewise, there is the alfresco area. This is undercover and has plastic blinds to protect from damp weather. It is otherwise a more open air experience, and I'd suggest bringing a jacket on cooler days. It's convenient for keeping an eye on the kids and letting them feel a bit more independent. There's a mix of larger tables that can comfortably seat up to six in addition to groups of four. After that, there are large picnic style tables and tables of two to four outside adjacent to the playground.
The seating is also arranged in such a way that children can't easily escape out of the cafe on onto the road. There is a ramp entrance near the playground and another out the side of the cafe. With either option, children would have to pass groups of adults to get out.
In conclusion, Little T's is a great location to meet up with friends or with family. Furthermore, there's even a bowl of water and dog treats available to purchase if your pooch comes along. The cafe is pram and wheelchair friendly. There's a ramp in from the street and from the shopping centre. Everyone can enjoy a cafe outing. So if you're looking for a cafe with a playground in Perth, I highly recommend giving Little T's Cafe a go. I know we'll definitely head here for a coffee and a scroll again.
Little T's Cafe, Balcatta
Located at 732 Karrinyup Road, Balcatta, attached to the rear of Rosalea Shopping Centre. Off-road parking is available at the shopping centre, and along Market Avenue.
Little T's Cafe is open 6.30am to 4pm seven days a week.
If you're looking for other entertainment options in the Balcatta area, why not check out The Motion Academy, Balcatta or organise a playdate at The Beach House Play Centre? On the other hand, if the kids are busting for a bigger playground to explore, Little T's Cafe is less than 10 minutes drive to Yokine Reserve Playspace.