Gateway Games Activity Zone
During July school holidays, Cockburn Gateway Shopping Centre is hosting the Gateway Games Activity Zone, a fun sports-based activity for kids. The activities include bowling, basketball, a beanbag toss and a craft table. These activities are suitable for preschoolers through to tweens. Even teenagers will enjoy the challenges!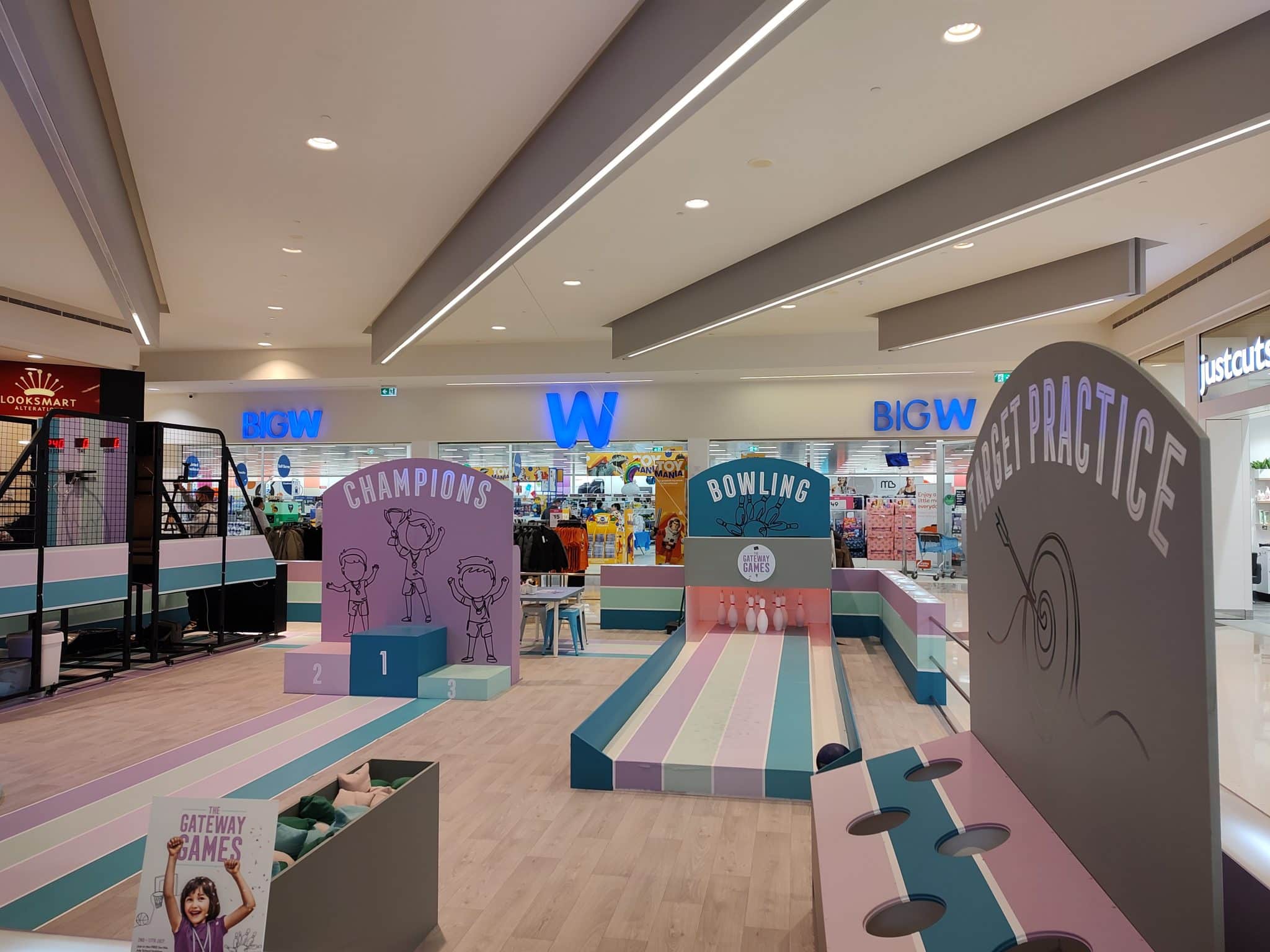 Miss 8 is always full of energy in the school holidays, and this was a great way to get out of the house for a couple of hours. So we headed along to check out these free shopping centre activities.
On entering the activity zone, Miss 8 went straight to the craft tables. Kids receive a cardboard medal on entry which they can decorate and colour in. Miss 8 wore this proudly on the podium for a photo later.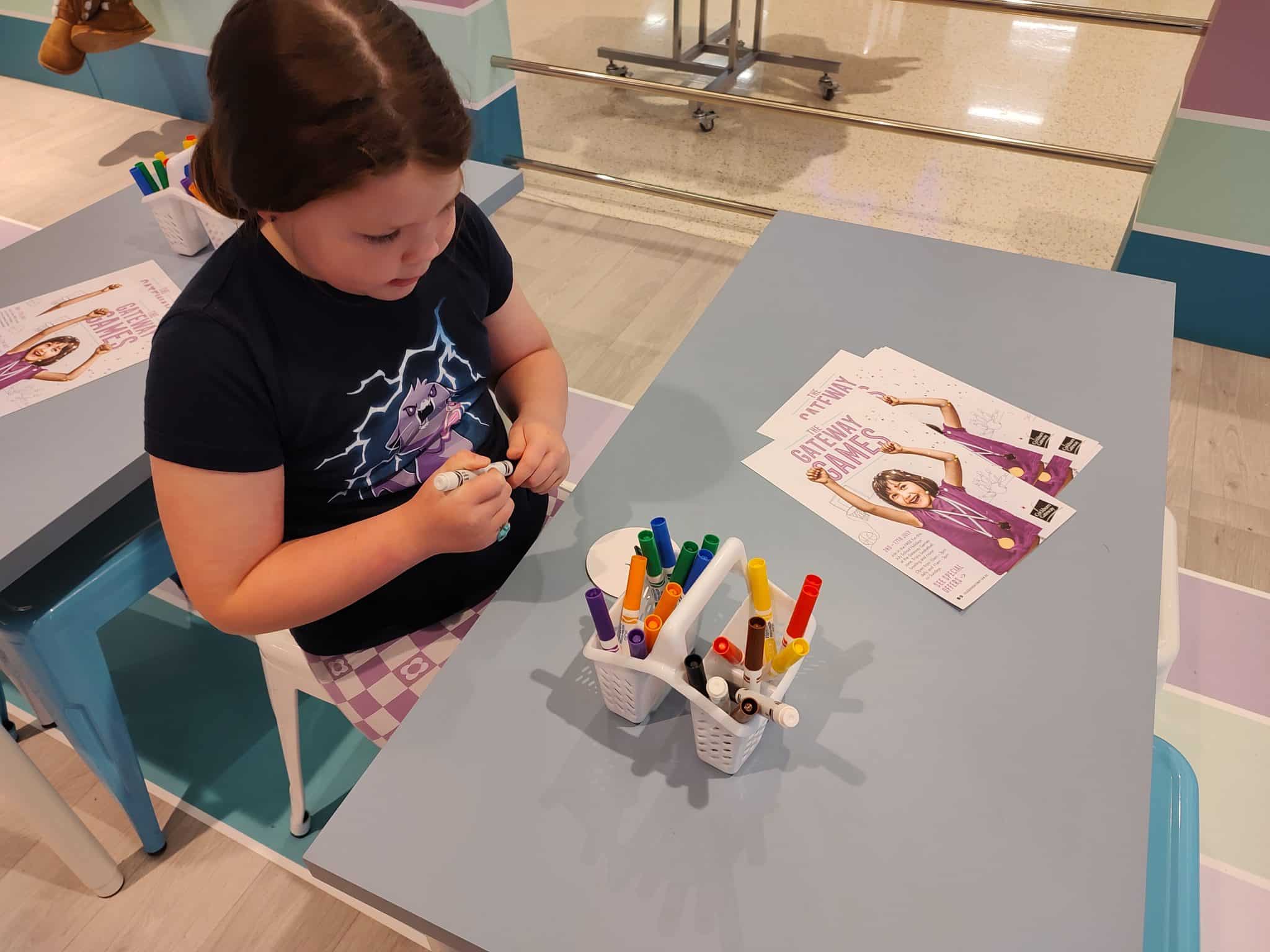 Following this, Miss 8 decided to try bowling. The bowling lane is an easy length for small children with a gutter for easy return of the ball. The pins are easily reset by one of the assistants with a simple pull cord.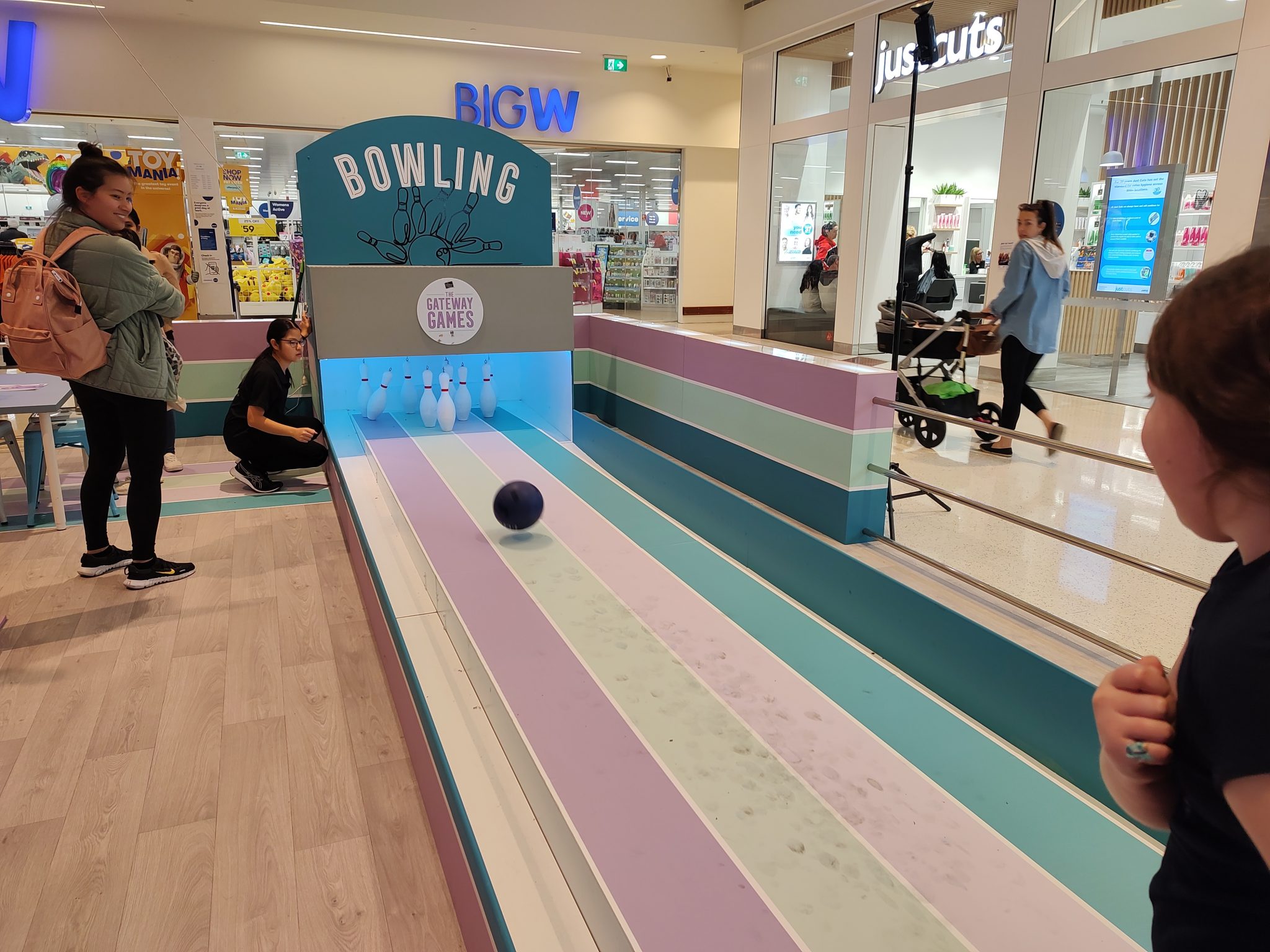 The basketball games are contained to caged machines. There's a sensor below the basket that keeps score and count down the time. The balls return automatically after each throw. Miss 8 loved this fast paced game! The bowling ball is a lighter ball, so all ages can lift and roll it.
The challenge with both the basketball and the bowling was to then beat the highest score Miss 8 had set.
In addition to the basketball and bowling, there is a Skill Test and a Reaction Test. The Skill Test involves moving a hoop on a wand along a bendy length of thick wire. If the two touch together, lights flash and a buzzer sounds. Miss 8 found it a bit exciting and challenging, and also had fun being silly and making it deliberately buzz. How steady are your hands?
The Reaction Test has two curved arms with rods held by magnets. These periodically, randomly drop. The idea is to catch as many as possible before the time counts down and they hit the floor. I lost count of how many times Miss 8 had a go at this. She enjoyed the challenge. The assistant manning the Reaction Test was lovely. After each go, she patiently helped the children replace the magnetic rods.
Finally, the last game in the Zone is a beanbag toss. Do you remember this game from sports days at school? Now your little ones can test their throwing skills. Miss 8 started with around 20 beanbags. She managed to toss around 16 through the holes. She came back for another go later and tried to beat her record.
For a fun photo opportunity, there is a podium in the centre of the Activity Zone. Kids can pose with the special medal they've decorated and parents, carers or grandparents can grab a fun happy snap.
These shopping centre activities are conveniently located next to the food court. So, while at Cockburn Gateway, why not grab a bite to eat? For example, we grabbed a coffee and a slice to finish up and recharge. This would be a good spot to meet up with the grandparents for a catch up. Why not grab some lunch for the family at any of the centre's
great dining options
?
The Gateway Games Activity Zone is great for kids of all ages. We spent probably an hour going from one activity to another. Miss 8 would happily go back another day for another play.
Gateway Games Activity Zone
Located outside Big W and the Food Court at Cockburn Gateway Shopping Centre, 816 Beeliar Drive, Success.
The Gateway Games Activity Zone is available daily from Saturday 2 July to Sunday 17 July, 10am to 3pm daily, 11am to 3pm on Sundays. These school holiday activities are free to attend. No booking is required.