Spend a day exploring a MEGA playground south of Perth city! Whether your kids love an adventure or you'd like a change from your regular local playground, there's plenty of choice, from boat themed parks, trains, immense nature play parks and more. Check out the Buggybuddys ultimate guide to the best mega parks south of Perth that are all well worth a visit:
Chevron Parkland, Burswood
Did you know there's 2.6 hectares of nature-based playgrounds alongside Optus Stadium? The Chevron Parkland is made up of six Noongar inspired nature play areas, all designed to encourage children to explore and participate in unstructured play. There are BBQ areas and picnic facilities too. With the Optus Stadium Sensory Playground also close by, why not combine a visit to both for a day of fun! Read more in the Buggybuddys review.
Find Chevron Parkland at Victoria Park Drive, Burswood.
Faulkner Park, Belmont
Fully fenced Faulkner Park is perhaps better known as "the Volcano Park" as its biggest feature is a rumbling volcano. The large park has enjoyed a recent addition of climbing forts and huge blue slides. There's also a toddler area, water play, sand play, a flying fox and plenty traditional equipment and facilities. Read more in the Buggybuddys review.
Find Faulkner Park at Progress Way, Cloverdale
Mills Park, Beckenham
The Mills Park Nature Play Space is an awesome playground for all ages. The play space has plenty of space for families to throw down a picnic rug and spend the whole day. The park includes slides, balancing logs, a climbing net, bird's nest swing, a flying fox, a roundabout, water play and more. Bring your bikes and scooters to explore the wetlands area of the park via the path network. Read more in the Buggybuddys review.
Find Mills Park at Brixton Street, Beckenham.
Woodbridge Riverside Play Space
This playground has so many play areas to explore – sand, nature and water play, slides, flying fox, tunnels, swings and even a large expanse of green grass for games of chasey or ball sports. Kids can spend hours exploring. And what makes this playground even better is the onsite café – making it perfect for a coffee catch up in the park! Read more in the Buggybuddys review.
Find Woodbridge Riverside Play Space at First Avenue, Woodbridge.
Newhaven Robot Park, Piara Waters
Kids will need to recharge their batteries after an energetic play at the super fun Robot Park! They will spend hours exploring a flying fox, climbing walls (on a giant robot head!), balance beams, and more. Water play is popular, while the big kids love the basketball court to run off steam with friends. Read more in the Buggybuddys review.
Find Newhaven Robot Park on the corner of Mason Road and Doryanthes Avenue, Piara Waters
Kwinana Adventure Park, Calista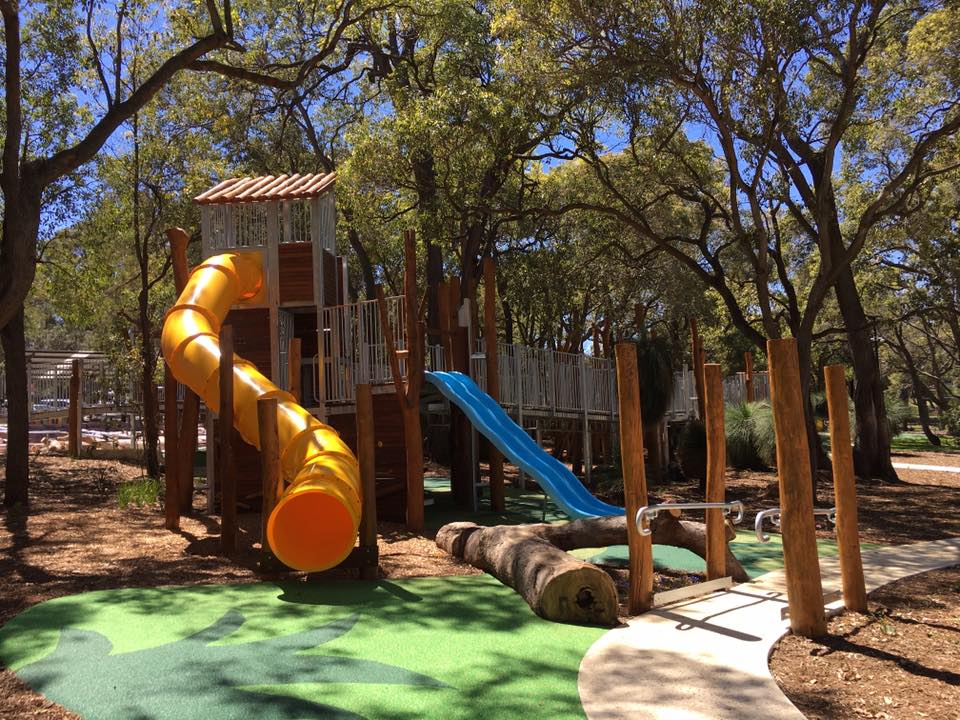 Kwinana Adventure Park is AMAZING! Some say it's the ultimate playground with water play, nature play a maze and everything else kids could dream of. Costing $5.2 million to create, the Kwinana Adventure Park features an enormous 11,000 square metres of play space under a large canopy of mature trees. Read more in the Buggybuddys review.
Find Kwinana Adventure Park at Walgreen Crescent, Calista.
Bibra Lake Regional Playground, Bibra Lake
The fenced Bibra Lake Regional Playground is jam packed with unique features designed to be accessible for people of all ages and abilities, including a WA-first tree-top aerial rope walk. Find the secret chamber in the grassy hill tunnels, explore climbing equipment, and hunt fossils! Be sure to pack a change of clothes to make the most of the splash pad and water play areas too. The huge playground also has a picnic area, BBQs and public toilets. Read more in the Buggybuddys review.
Find Bibra Lake Regional Playground at Progress Drive, Bibra Lake.
Bullrush Park XL Adventure Playground, Wellard
Bullrush Park XL Adventure Playground offers something for kids of all ages – a 8m rope climbing tower and big tube slide, plus a more slides, swings, sandplay tunnels and much, much more to explore! Read more in the Buggybuddys review.
Find Bulrush Adventure Playground at Irasburg Parade, Wellard.
Explorer Park, Haynes

Sienna Wood's Explorer Park beautiful feature is the 'Tree of Life', an 8m high climbing structure with very fast tunnel slides. Climbing nets, swings, a wheelchair friendly merry go round, nature play and a toddler area complete this impressive playground. If your family loves a ball game, they'll enjoy the half basketball court, which includes a basketball hoop, netball ring, and a target practice wall. Read more in the Buggybuddys review. 
Find Explorer Park at the corner of Silverthrone Road & Duarte Way, Haynes
Brightwood Adventure Park, Baldivis
There is no shortage of  amazing playgrounds in the suburb of Baldivis! Brightwood's Adventure Park is an EPIC $3 million playground that certainly lives up t it's name with vibrant yellow and orange play equipment. Kids will love to clamber over the adventurous climbing structure, ride the slides, race friends on a double flying fox, explore the nature play and more. Be sure to pack the scooters/bikes in the car to make the most of the track too. Read more in the Buggybuddys review. 
Find Brightwood Adventure Park at Solis Boulevard, Baldivis.
Steam Train Adventure Playground, Baldivis
The Steam Train Adventure Playground at Millars Landing Estate in Baldivis celebrates the area's train and timber milling heritage. The huge "water stop" tower, with 12m slide, has climbing nets and ladders, as well as an impressive view! A gorgeous, climbable steam train engine will let kid's imaginations run wild! Other fun features include a double flying fox, musical play and a big grassed area. Read more in the Buggybuddys review. 
Find Steam Train Adventure Playground at Kulija Rd, Baldivis.
Rivergums Adventure Park, Baldivis
The monster-inspired Rivergums Adventure Park is a nature-based playground and is the perfect place to let your child's imagination run wild! Follow the huge monster feet to the "monsters nest" climbing tower with a 6-metre high slide and rope bridge. Kids will be roaring with excitement at this playground! Read more in the Buggybuddys review. 
Find Rivergums Adventure Park at the corner of Avoca Chase and Crinia Drive, Baldivis.
Adventurescape, South Yunderup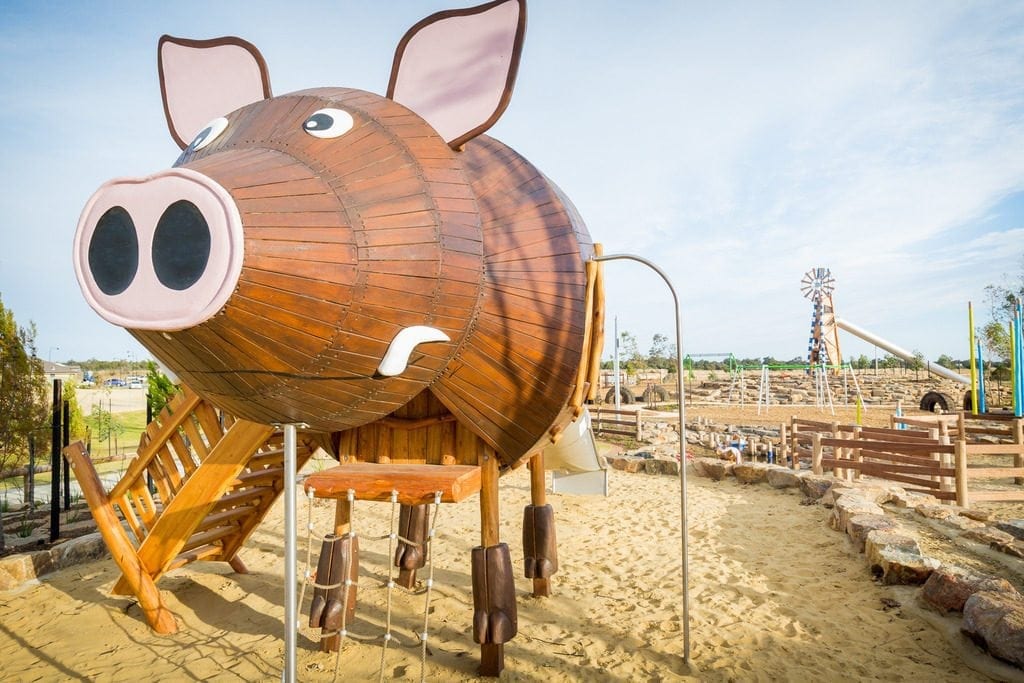 It's a whole lot of farmyard fun at Adventurescape. A huge 9-metre tall climbing windmill tower and slide dominates the park, as well as a large pig that is part cubby, part slide, a huge double flying fox (perfect for racing!), tractors, wooden farm animals, a maze, a 5-way swing and so much more! Pack a picnic lunch and spend the day. Read more in the Buggybuddys review.
Find Adventurescape at Inlet Boulevard, South Yunderup.
Shipwreck Park, Sienna Wood
Shipwreck Park has it all – a fully fenced play area with pram and wheelchair friendly gates, toilets and parent's room, shade and lots of parking! The main attraction has to be the huge shipwreck with easily accessible stairs, ramps, ladders and ropes. There is something here for everyone with a flying fox, nature-play, water-play, musical equipment and a toddler friendly area too. Read more in the Buggybuddys review.
Find Shipwreck Park on Eleventh Road, Hilbert.
The Harbour Playground, Secret Harbour
With big, bright colours, the Harbour Playground resembles an underwater coral wonderland. The fully fenced, inclusive sea themed play space has seaweed climbing ropes that hang from top to bottom of the sea cave, a whirlpool net to climb, pack a towel for water-play, and explore the toddler friendly equipment with little ones. Read more in the Buggybuddys review.
Find the Harbour Playground at Secret Harbour Foreshore, Secret Harbour.
Osprey Waters Foreshore Reserve, Erskine
The possibilities for fun at Osprey Waters Foreshore Reserve are endless, with a nature based playground, log maze, big tree house nest, and sand play. Bring along your bikes or scooters to further explore the foreshore. Fishing, kayaking and swimming are also popular ways to spend a few hours here. There is a sheltered BBQ area, with tables and toilets located nearby. Read more in the Buggybuddys review.
Find Osprey Waters Foreshore Reserve at 62 Egret Point, Erskine.
Mundaring Community Sculpture Park, Mundaring
At Mundaring Community Sculpture Park kids can run amok under the gum trees, splash in the water play area, climb on rocks and logs and explore the traditional play equipment. Sculptures all around the park encourage imaginative play. Facilities include 2 undercover BBQs, toilets and grassed picnic areas. Read more in the Buggybuddys review.
Find Mundaring Community Sculpture Park at Jacoby Street, Mundaring.
Have we missed your favourite mega playground in Perth (south)? Let us know in the comments below!
Find more playgrounds in Perth here.