One of Perth's most loved burger joints has recently become a whole lot more family friendly. Alfred's Kitchen has been a Guildford institution for over 70 years. Previously, the takeaway didn't provide much seating, apart from a few benches around the fire pit. Perthies were happy to stand around munching on their burgers, though it was a bit of a juggling act.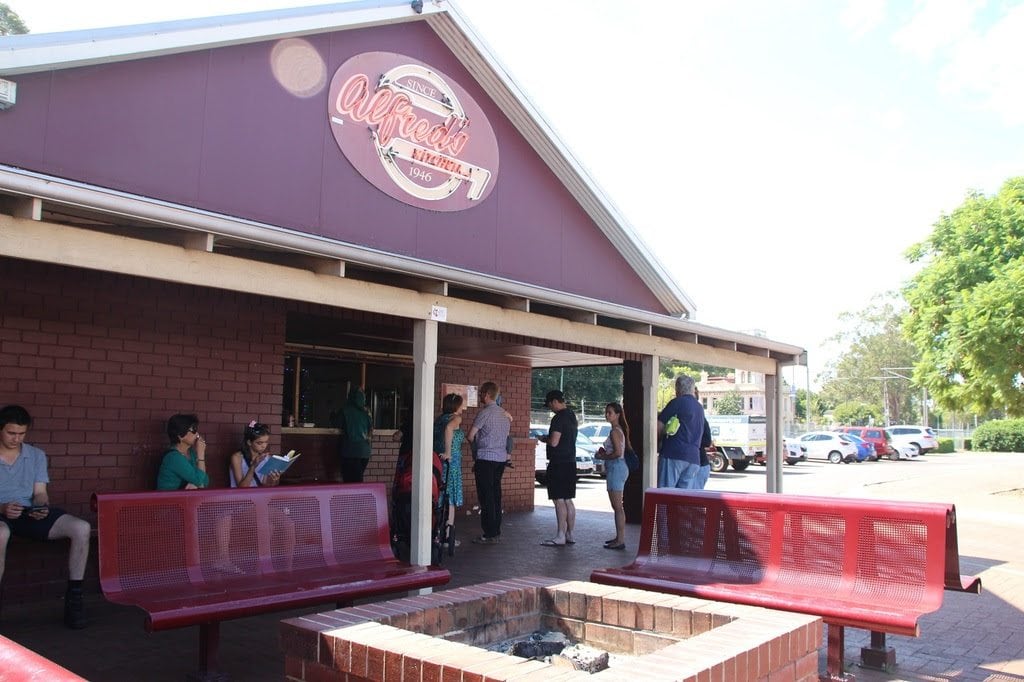 Now there is another alternative – Alfred's Kitchen have added a restored train carriage and courtyard which have loads of seating to eat your burgers and chips in comfort, making it much easier for little burger lovers too.
There are not many of these hole-in-the-wall 1940's style eateries left in Perth. As a child I often went to "Bernies Burger Bar", in the city on Mounts Bay Road. That's long gone, like Hamburger Hill, EATS and so many more. It's no wonder that Alfred's Kitchen is the longest running roadside burger kitchen in Perth (since 1946!).
When we arrived for lunch, giant pots of their famous pea and ham soup were bubbling away on the old wood-burning stoves. We ordered at the counter, then we found a table in the historic 1906 train carriage, where there's plenty of seating (including high chairs).
Alfred's is very popular with families, but we didn't have to wait too long until our buzzer went off, signalling that our food was ready.
The carriage sits along the Perth-Midland train line. Trains regularly pass by, just meters away, so kids can enjoy a bit of trainspotting and it adds to the feel that you're sitting on a real train!
Chef enjoyed the hamburger with bacon and cheese. It was super fresh and the bacon was nice and crispy. I can imagine they are exactly the same as what our grandparents ate, on their way home from work (or the Rose and Crown!) in the 1950s, cooked the old-fashioned way.
While there is no dedicated kids menu, we were advised that kids usually choose a simple hamburger, which the kitchen can cut in half for them for easy eating.
Little Chef pretty much inhaled his burger, he really loved it.
At the moment I'm on a gluten-free diet, so I chose the steak, cheese and bacon burger without the bread roll, which upset me a little. I really love their burgers. The friendly lady at the counter told me that some of their customers choose to bring their own GF burger buns for the grill chefs to use. I pinched a few chips from the boys too. The steak was really tender and I didn't feel like I was missing out too much!
There are SO MANY different burger choices – hamburgers, steak burgers, bacon burgers… There's veggie & lentil burgers too for non-meat lovers. The tummy-warming Pea and Ham soup is really delicious too.
Alfred's juicy burgers have been a Perth icon for over 70 years. Let's hope their wholesome, hearty food is around for another 70, it's a great spot for a cheap and tasty family meal!
Find Alfred's Kitchen on the corner of Meadow Street and James Street, Guildford
More on Alfred's Kitchen here.

Find more family-friendly restaurants in Perth