Adventure World is situated on Progress Drive opposite Bibra Lake.
On entry to Adventure World you are issued with a wrist band. If you are planning on spending the day in your swimmers enjoying the water park areas you may not want to carry a wallet with you then your wrist band also acts as a payment facility called 'Aqua Cash'. Simply charge it up at the gift shop at the start of the day (minimum $5) then the barcode can scanned every time you wish to make a purchase of food, drinks, games and merchandise anywhere within the park. Any remaining credit at the end of the day can be refunded at the designated Aqua Cash refund station.
There are lockers available to hire for $8 for you to store your belongings in. Lockers will fit 2 regular sized sports bag. You create the pin and you can access your belongings at any time during the day. I found it useful taking my stroller along with me as that acted as a cart for our towels, picnic and other paraphernalia that we brought with us.
One of the things I had heard about Adventure World was the apparent lack of shade. As soon as we walked through the entrance we were greeted with a big grassy area covered by shade sails. There were lots of families hanging out under the shade sails in their swimmers enjoying a picnic. I saw many families had also brought along their own shade tents and camping chairs and set themselves up in a spot for the duration of the day.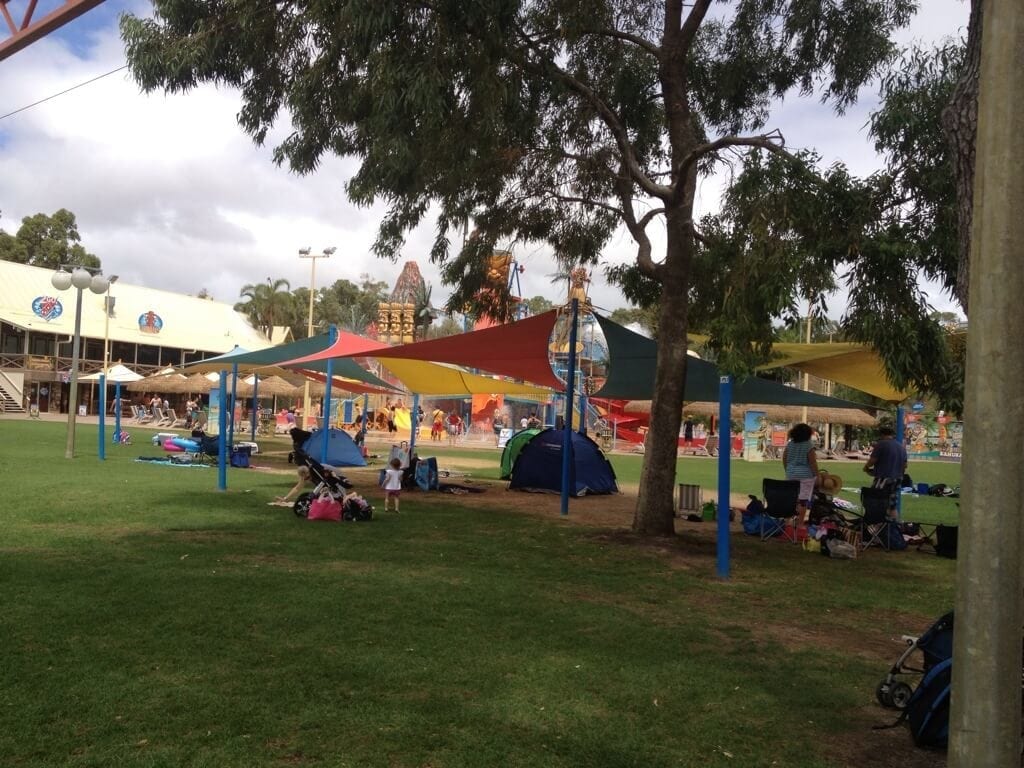 Being the parent of a 4 and 2-year-old we keen to check out what the park has on offer for preschoolers. We headed straight to the "Dragon's Kingdom'.

The Dragon's Kingdom is home to several rides which are suitable for little people. With the majority of rides, you needed to be 90cm to ride alone, any height could ride accompanied. The only exception to this was the "Dragon Express" which is a small roller coaster where you need to be 90cm and over to ride. I did nearly take Miss 2 on this and I am thankful I didn't as it's very fast and bumpy and she would have hated every second of it!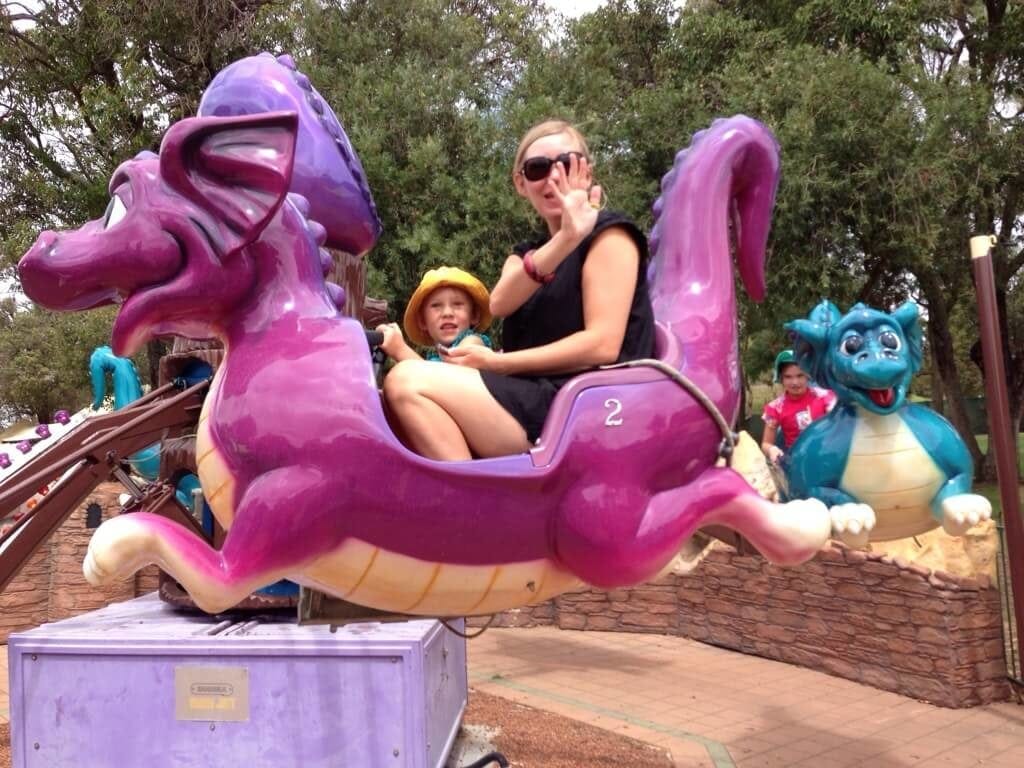 Both Miss 2 and Miss 4 loved the two newer rides which opened in 2013 – "Yarli's Barrel Spin"; a version of spinning tea cups and "Yarli's Jeep ride" where roles were reversed and I become the back seat passenger. Other rides in this area are the "Little Leaper", "The Barnacle" Pirate Ship and the "Dragon Flyer" – which was a big hit with both the girls.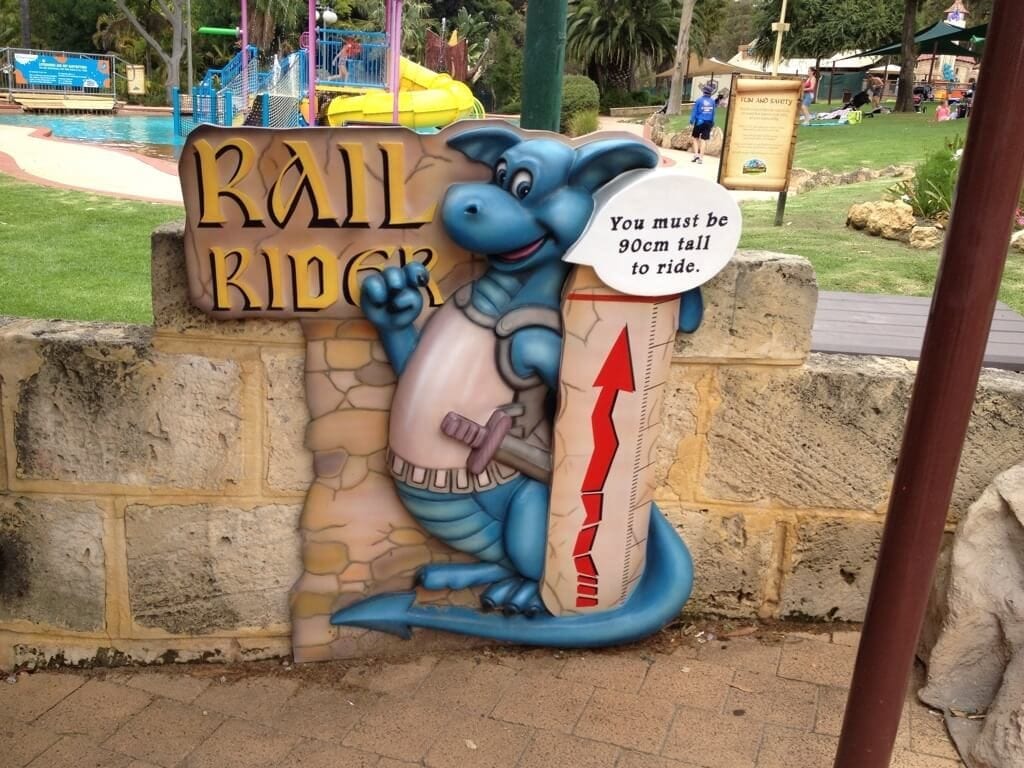 During low season several of the rides in this area are run every other hour as they share their operator with another ride. On entry, you are given a list of ride operating times so that you can plan your day.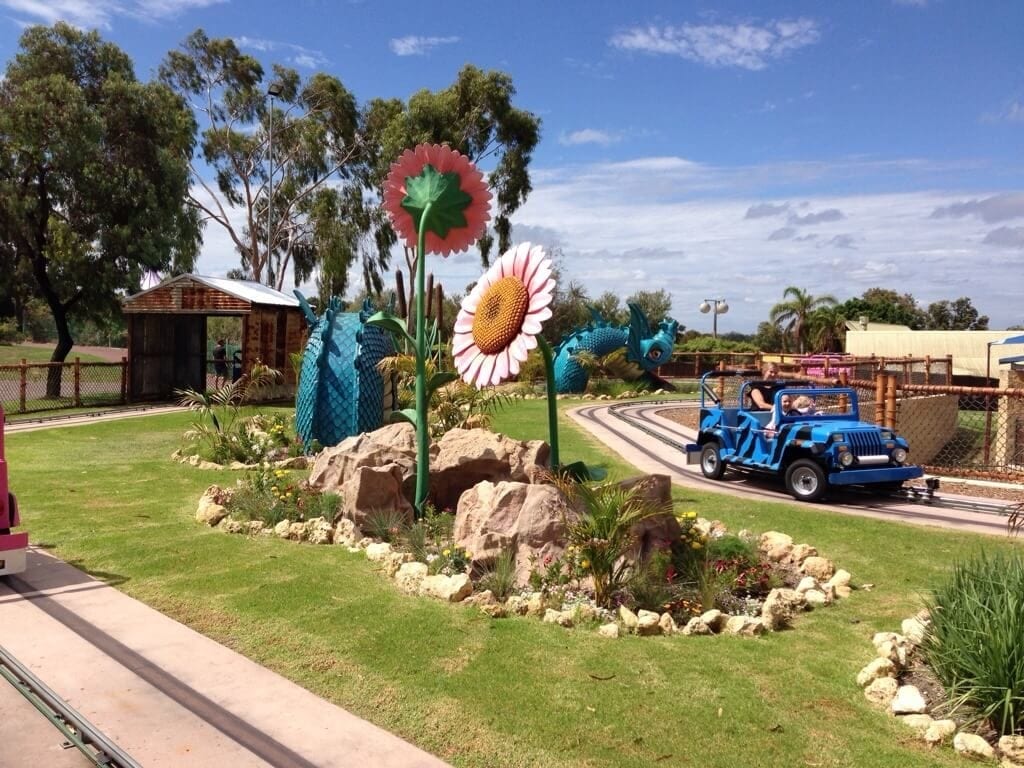 Also within "Dragon's Kingdom" is the "Aussie Wildlife Experience" – a mini wildlife park. Here you can get up close with Koala's, Dingos, Alpacas, Emus and Kangaroos. You can purchase food at the gift shop to hand feed the Kangaroos. There is usually an animal show time at 2pm and you can also make a booking to have your picture taken with a Koala Bear.
The main feature of "The Dragon's Kingdom" is Kingdom Falls – an interactive water playground designed for younger kids which opened in 2010. If you require an Aqua Nappy for your little one they can be purchased from the gift shop. There are two pool areas which both have a depth of 0.3 metres – perfect for paddling around in.
The top pool area has a great water play structure complete with water jets, scramble nets and a slide. Miss 4 loved it.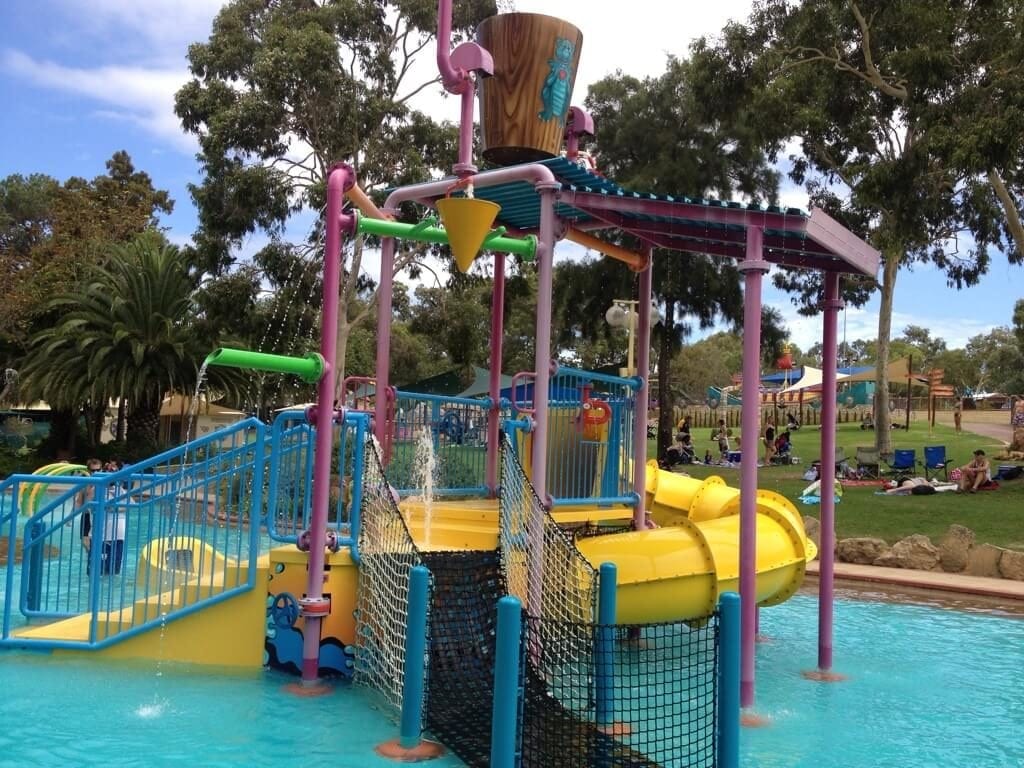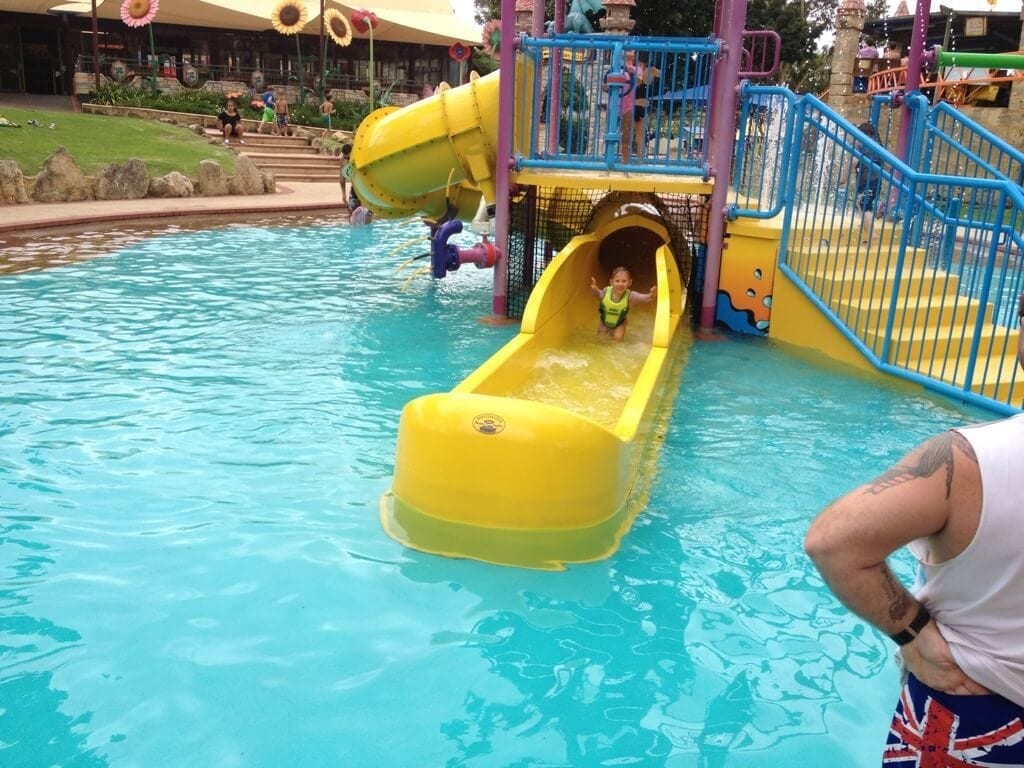 A large bucket situated at the top of the structure slowly fills up and every so often the alarm sounds and the bucket tips allowing 600 litres of water to cascade down the play frame.
The top pool is connected with the lower pool through a series of small, gentle water slides and pools. You can follow your little one through them via the accompanying path way. In the lower pool you'll find a mushroom water fountain, water arches and more tipping buckets.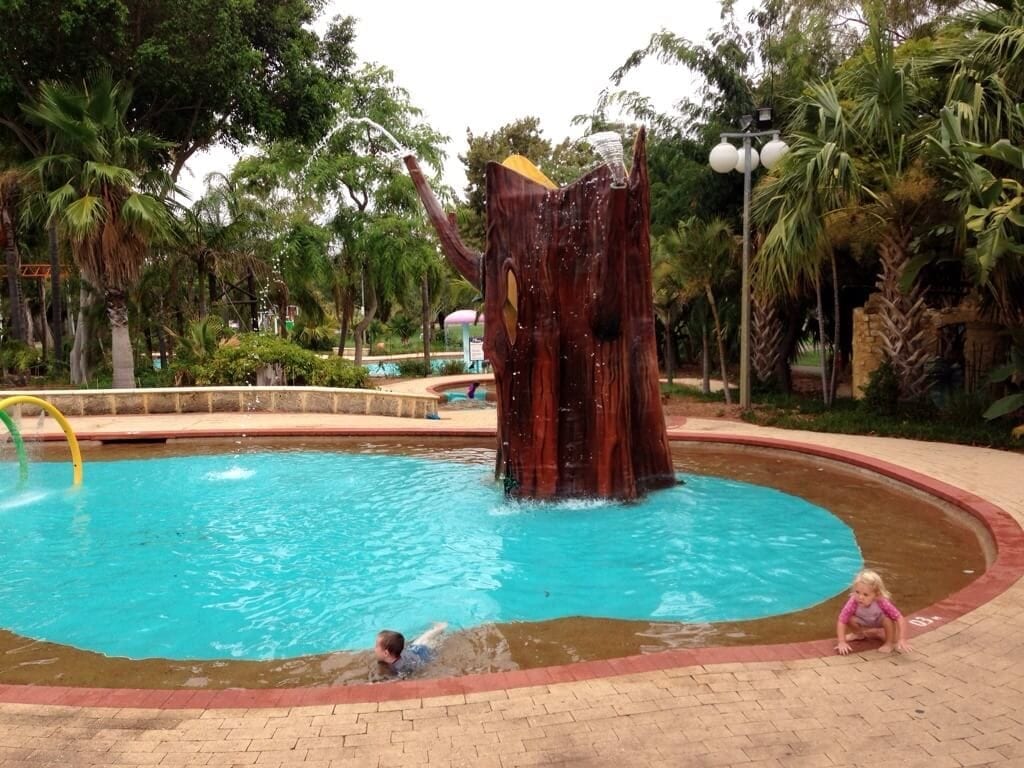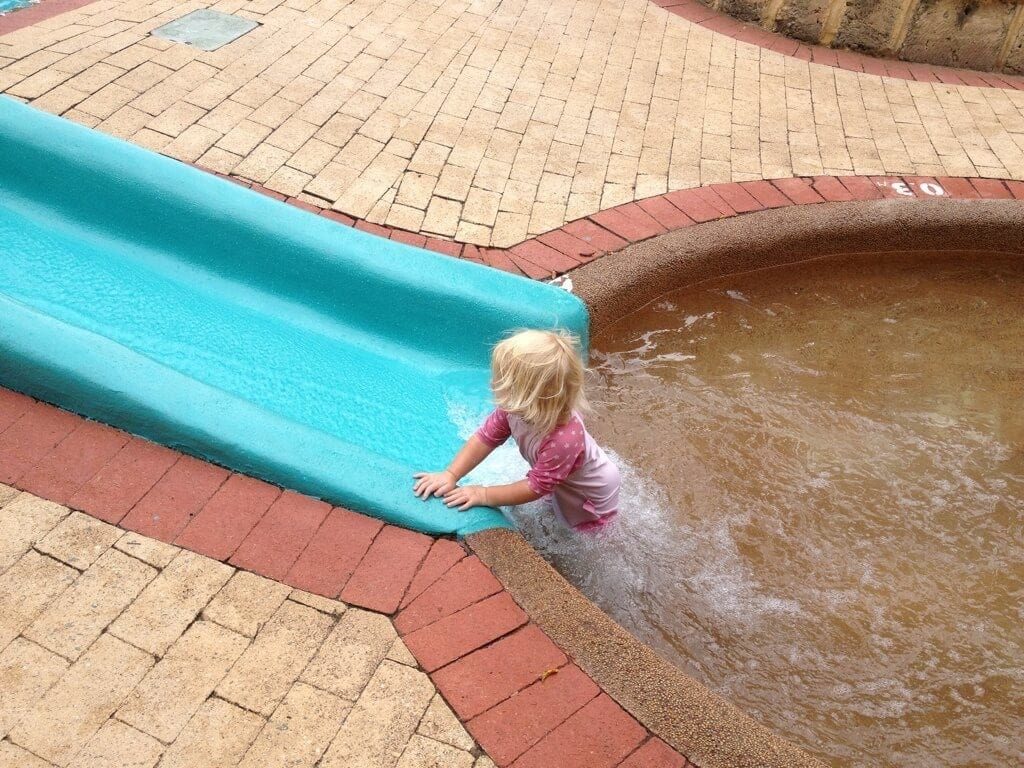 Next to the top pool is a large grassy area shaded by trees and shade sails. There were lots of families hanging out here enjoying a picnic. A lifeguard is on duty in this area to monitor any bad behaviour and to provide assistance when needed. The "Dragon Bites Cafe" is situated next to the grassy area. It is a self-service cafe selling burgers, baguettes, wraps and salad. Unfortunately, it was closed when we visited so we couldn't check it out.
After a while of splashing around in the Dragon Kingdom pool Miss 4, a renowned adrenalin junkie decided that she would like to try out the big water slides of Kahuna Falls which she spotted when we arrived.
Kahuna Falls opened in 2011 and reports to be the biggest themed aqua play attraction in Australia. It is Hawaiian-themed and features eight water slides, water-jet guns, giant tipping buckets and over 100 other features including a couple of small slides suitable for small people. The main feature of Kahuna Falls is a large bucket that tips 1000 litres of water out every so often. An alarm sounds before it tips so you can get out of its way if you don't want to get drenched.

Around the Kahuna Falls area are sunbeds complete with shade so you if water slides are not your thing you can sit back and relax whilst the kids have fun. That's what Miss 2 and I did whilst Daddy and Miss 4 braved the slides. The slides are closed tube and you need to be 100cm tall to ride them. You can only go down one at a time so riders need to go it alone. That wasn't a problem for Miss 4 – she loved it!
Around the Kahuna falls areas are the main eateries of the park. There is Domino's 2Go serving … you guessed it – Pizza! Kahuna Cafe serving an array of burgers, hot dogs, chicken nuggets, chips, baguettes and salads and the Surf Shack serving doughnuts, fairy floss, popcorn and a selection of various drinks. We didn't try out any of the eateries as we had brought along our own picnic. One thing I was disappointed with was the distinct lack of water fountains. I didn't see one whilst I was there so make sure you bring plenty of water with you if you don't wish to fork out money for a bottle whilst you are there.
After all that fun on the slides we decided to calm it down a little with a sedate family swim at the Lagoon. The lagoon has sat in the heart of the park since 1982 and when it was built it was the largest freeform pool in the country at just over 1.5 Olympic sized swimming pools. Again there are several sun-loungers with shade around the edge of the pool and also a large grassy area behind it. Perfect for lazing around on a hot summer's day.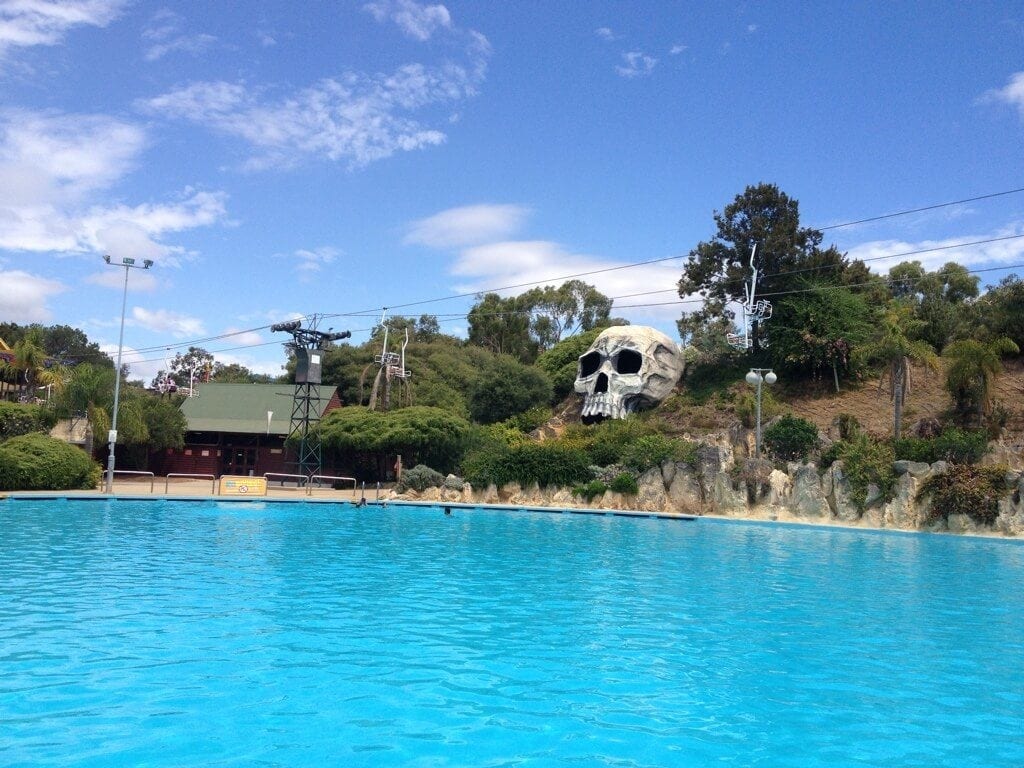 Again Miss 4 started to get restless as she had spotted the Water Mountain slides and desperately wanted to have a turn on them. So off she went with Daddy whilst Miss 2 and I stayed splashing about in the Lagoon. You need to be 100cm tall to ride the Water Mountain Mat Slides and 110cm to ride the Rocky Mountain Rapids with an inflatable tube.
The Water Mountain was one of the first rides to open at Adventure World back in 1982. You ride a mat down the slide from the top to the bottom of the mountain. According to Miss 4, it's very, very super fast and scary! So scary so had to go on it again!
We were starting to get a little chilly in the water so decided to seek out what else the park had to offer for pre-schoolers. After consulting the map we headed to the Bumper Boats
Miss 2 was too small to ride on the Bumper Boats so that left Miss 4 and I to try it out. It took a while for me to get the hang of how to steer it but once I got it we were away. Each boat is fitted with a water cannon so you can shoot at your fellow boaters.
With all that fun we were getting pretty tired out and Miss 2 was getting grouchy so we decided to call it a day. We loved Adventure World! We didn't check out any of the 'big kid rides' but what was on offer for preschoolers was a lot of fun. We really enjoyed having fun as a family and I would definitely go again. If I lived closer I would almost certainly buy a season pass as the pool areas are a great hang out on a summers day. There seemed to be a lot of groups of mothers who had done just that. We visited on a weekday outside of school holidays and there were no queues for any of the rides, plenty of space to throw down a rug in the shade and no crowds in the pools.
A new addition to Adventure World is the 10 Cabanas that are available to hire from $100 per day. There are 7 located at Kahuna Falls and 3 at Dragon's Kingdom. Each cabana includes 2 Sun loungers, 2 deck chairs, a mini fridge with 5 bottles of water, a safe and food service. You can book the Cabanas online in advance.
For current opening times visit their website www.adventureworld.net.au
Find more places to visit with kids in Perth