Set in the heart of beautiful Roleystone, Borrello Park has something for everyone! Only 15 minutes from Armadale and yet it feels like you've travelled hours down south!
The park has actually kept part of its original structures which are a little old school but nice for the children to experience. A lovely walkway fort and slide crosses over the running brook below. The equipment is high up so probably accompanying very little ones is best. There is also a seated area underneath for children to gather and ponder!
The main park has a huge modern play fort with ramps, slides, stepping stones, rockers, diggers and swings just to name a few. 

While Borrello Park caters to the traditional playground goers, nature-based play enthusiasts won't be disappointed. There is a running brook that provides hours of fun and entertainment and children can have a splash, catch tadpoles, leaf races or just meander alongside the stream. It's not deep but with all bodies of water and children, supervision is the best precaution. 
The park has wide open grassed spaces so there is plenty of room for running and frolicking or just relaxing under the beautiful shady spots created by the magnificent trees.
This is also a popular picnic spot with one bbq available and some tables and chairs nearby. There is also a gazebo opposite the park further up from the toilet block.
There is ample parking in two sections and thanks to community appeal, there is now an eco-toilet adjacent the carpark off Billeroy Rd.
Borrello Park is on Orchid Drive and Billeroy Road just off Brookton Highway. 
Find more playgrounds in Perth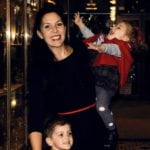 Stephanie Rae - Mother of Dragons, Writer, Bollywood Dancer
Stephanie Rae - Mother of Dragons, Writer, Bollywood Dancer
Location
No Records Found
Sorry, no records were found. Please adjust your search criteria and try again.
Google Map Not Loaded
Sorry, unable to load Google Maps API.
Member Reviews