Prevelly Caravan Park is a simple but idyllic caravan park just 10km drive away from the Margaret River Town Centre and a 3-hour drive from Perth CBD. Prevelly is renown for its excellent surfing beaches and conditions, namely Surfers Point which offers stunning views of the West Australian coastline.
Prevelly Caravan Park is just a short walk away from the local beach, Riflebutts Reserve Playground, Surfers Point and The Sea Garden Cafe. Parking is available at the local beach and Surfers Point if you want to take canoes, fishing rods, paddle boards etc. down for the day. Further afield Gnarabup Beach is a great option for a well sheltered beach and shoreline which is great for kids. There's a pontoon with slides further out which the older kids loved racing out to. Also at Gnarabup Beach is the White Elephant Beach Cafe which is an excellent option for breakfast, brunch, lunch, fresh juices, coffee and cakes. There's plenty of look-out points and walkways around this area to explore. If you're looking for dinner options you can't go wrong with The Common Bistro which offers ocean views, sports bar, restaurant and alfresco dining area.
The park itself is a mix of sand/grass sites nestled amongst mature leafy trees providing plenty of shade for most sites. They offer many cabins which are scattered around the park, caravan sites and a large grassed area for the non-powered sites suitable for big groups and tents.

The park has its own shop selling alcohol, hot and cold food, snacks, basic groceries, water, ice and fishing bate.
The playground is VERY basic and not shaded, most of the equipment is heavily rusted and broken, but the kids still find a reason to play in this area of the park.
The ablution blocks are very basic and not the cleanest we've experienced, but the showers were hot and had more power than most I've stayed in!
There's a shared kitchen area with tables and chairs, microwave, TV etc..
The park does allow open fires during the fire season, check before booking to make sure.
One of the many cabins tucked away around the site. Lots of privacy for those wanting to keep themselves.
Our friends stayed in a cabin which was in the main area of the campsite which allowed a big group of us to stay together in our caravans, camper-trailers and tents all in one place with plenty of grassed areas around for the kids to play games. At one point we had most of the campsite involved in a friendly game of cricket.
The cabins are basic and small with only 2 rooms in this one.
Bunk beds were in the main kitchen area and then a separate room for the main bedroom.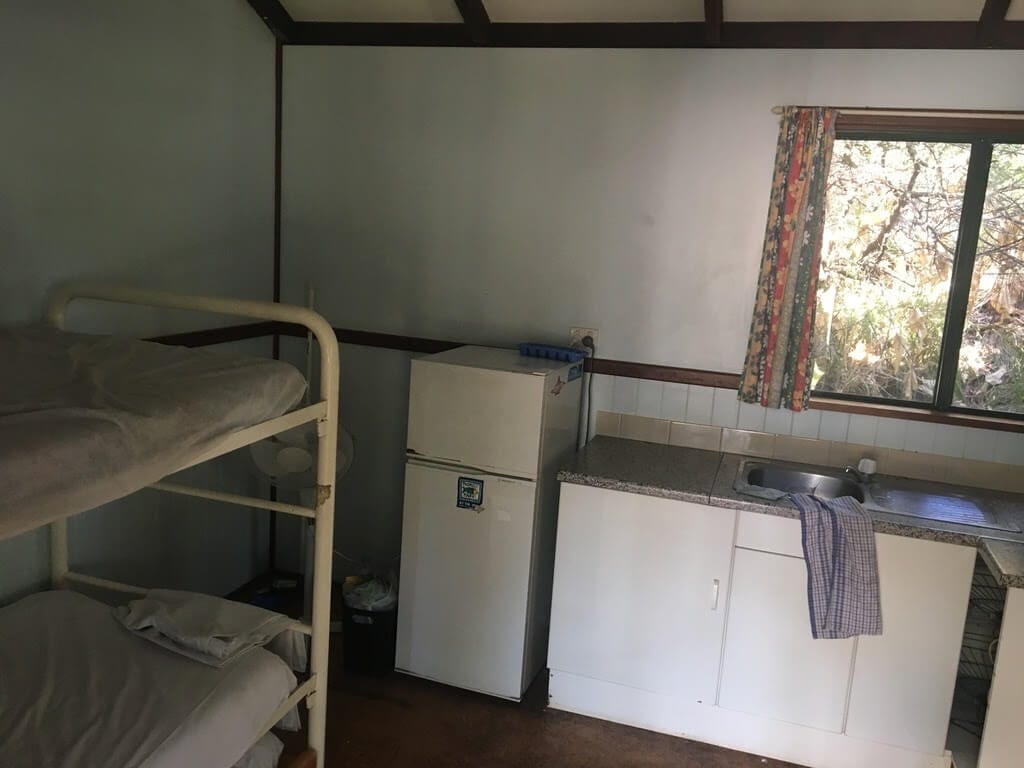 There is a dirt track around the caravan park which is suitable for bikes and cars but not for scooters.
This is the area with the cabin and plenty of sites around for large groups.
Non-powered part of the park with tree shade only at the fence line. It is close to the entrance and road that runs up to Surfers Point so can get busy.
The local beach which is only a short walk from Prevelly Caravan Park
Plenty of rocks to explore for a sunset family walk.
Gnarabup Beach and boat ramp overlooked by the White Elephant Cafe. This is a busier beach as it's very sheltered from the wind, shallow entry and usually lapping waves. It's also a great spot for snorkelling around the rocks.
If you fancy a walk check out the look-out at the top of the hill and take a leisurely stroll along the cliff tops around the cove. You'll be pleasantly surprised with a boardwalk down to an endless and deserted beach with waves and rock pools to explore.
Riflebutts Reserve Playground is dog-friendly and great for a family picnic and play. It's only a few minutes walk from Prevelly Caravan Park and very sheltered from the wind. There are toilets, BBQs, picnic shelters, tables and benches and a water bubbler. It's a great little spot for skateboarding and scooters, with plenty of grassed areas for games.
The park has a few climbing structures, slide, baby swing and birds nest swing, all shaded under sails. Although when we visited they didn't provide much shade from the early morning sun.
You'll find a plethora of interesting and fun sculptures around Prevelly, the main focus of the park is the man and dog with a stick. The kids had lots of fun playing with them both.
About a 5 minute walk up a very steep hill and you'll reach Surfers Point. It's fully boarded so great for prams, scooters and cyclists.
Surfers Point – blind folded girl in knickers on a skateboard sculpture!!!?? Don't ask!
At Surfers Point you can spend the day just watching everything that goes on, surfers carving lines, foreign visitors trying to surf on a camping mattress and having to be rescued by the local life savers….yes this actually happened!! It's also a great place for rock pooling but do be careful as they're very slippery and the waves do have a tendency to splash over the rocks on the edge.
And of course another sculpture, this one was a naked lady holding a rather large fish and we thought her feet were quite large as well.
Margaret River Mouth – where the ocean meets the famous Margaret River. We planted ourselves here for the day as the kids could enjoy a good swim in shallow waters and canoe up the river.
We also enjoyed an evening of fishing in the river, fish were aplenty which is usual for this spot. Another beautiful sunset after spending the day frolicking in the Margaret River, great family holiday!
Find out more by visiting prevellycaravanpark.com.au

Find more things to do in Margaret River