If like me you have a child who likes to get grubby and explore the world through hands-on experiences, then I recommend a visit to the Herdsman Lake Wildlife Centre, a not-for-profit educational centre for kids of all ages.
Herdsman Lake Wildlife Centre features a number of natural displays regarding the WA local wildlife and ecology. It especially focuses on the creatures living in and around the lake, which is a unique ecosystem and one of the few lakes of its kind left around Perth.
On walking in we were greeted by one of the friendly WA Gould League volunteers. Miss 4 spotted frogs in the tanks by the front door. These included a splendid tree frog and two motorbike frogs. She was excited to see frogs so close up. Further around the Centre, we found a big blue tongue lizard hiding under a rock, a brilliant blue gilgie (freshwater crayfish), and an oblong turtle.
Children are invited to gently touch and examine many of the touch tables and displays. A large touch table towards the back of the centre is full of nature items such as seed pods, bones and shells. There are also jars with preserved animals such as a scorpion and a lizard.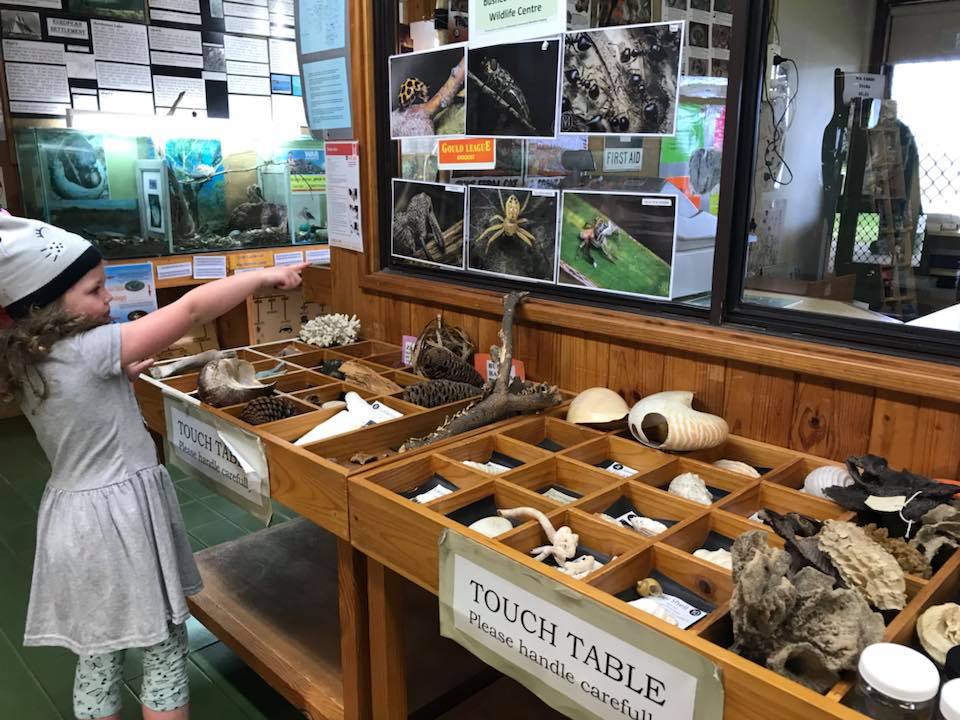 More bones and preserved animals can be found at the front of the centre, along with a taxidermy cat, a fox, a small crocodile and a tawny frogmouth. If your child is a bit sensitive, you may want to scoot around and avoid these. Miss 4 was slightly concerned what had happened to the cat as we have a cat at home, but was otherwise ok.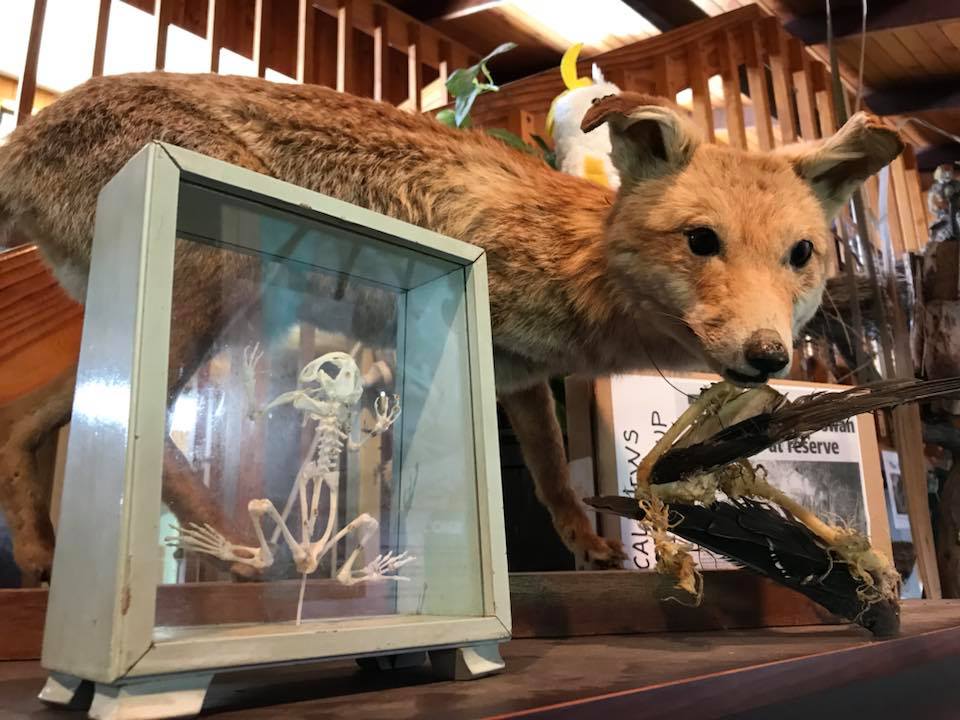 Other displays talk about the symbiotic relationship between plants and fungi, honour our First Nations people and their relationship to the land, and discuss the ecological impact rubbish has on our environment. There was a beautifully made Mia Mia, aboriginal shelter, made by a school group on display and some aboriginal words for different animals.
The "What's in the box?" activity was good fun, trying to guess from the clues and from feeling what's inside before opening them up for a look. In one we found a tiger snakeskin and a turtle shell in another.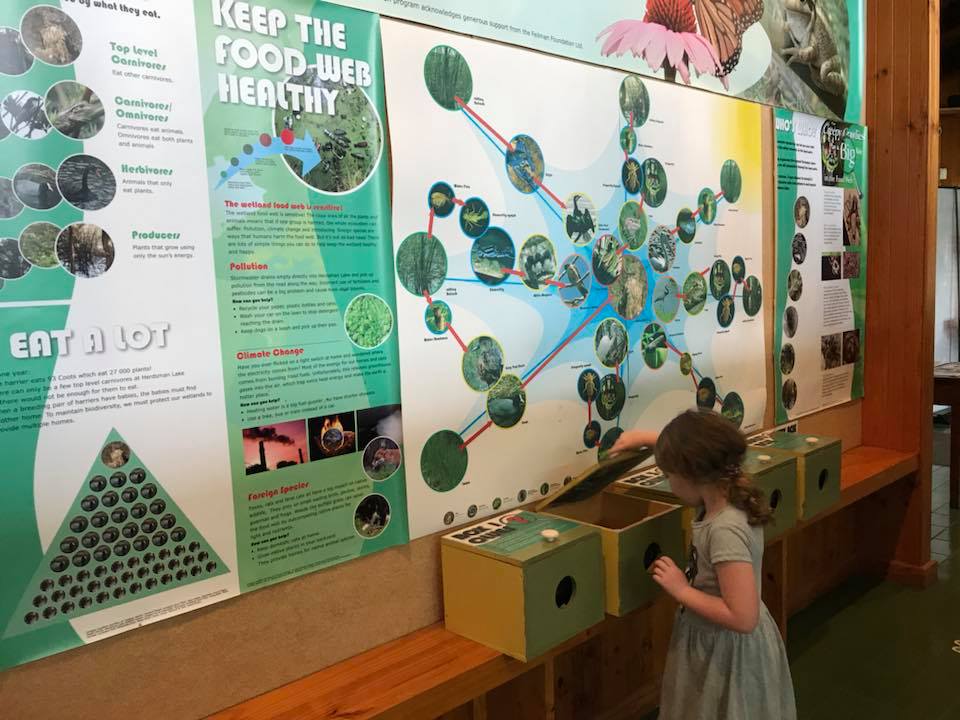 Our visit to Herdsman Lake Wildlife Centre ended up being during the school holidays for the Swamp Safari School Holiday Program. This involved taking scooped samples from the lake, and the children going through them with a spoon to find tiny creatures. Bring a hat and closed in shoes, and be prepared to get messy! It was a great opportunity for the kids to work together with other kids to catch little shrimp, fish and bugs. The friendly volunteer helped identify the creatures and move them into a bigger examination table. The highlight for the kids was definitely finding a small gilgie.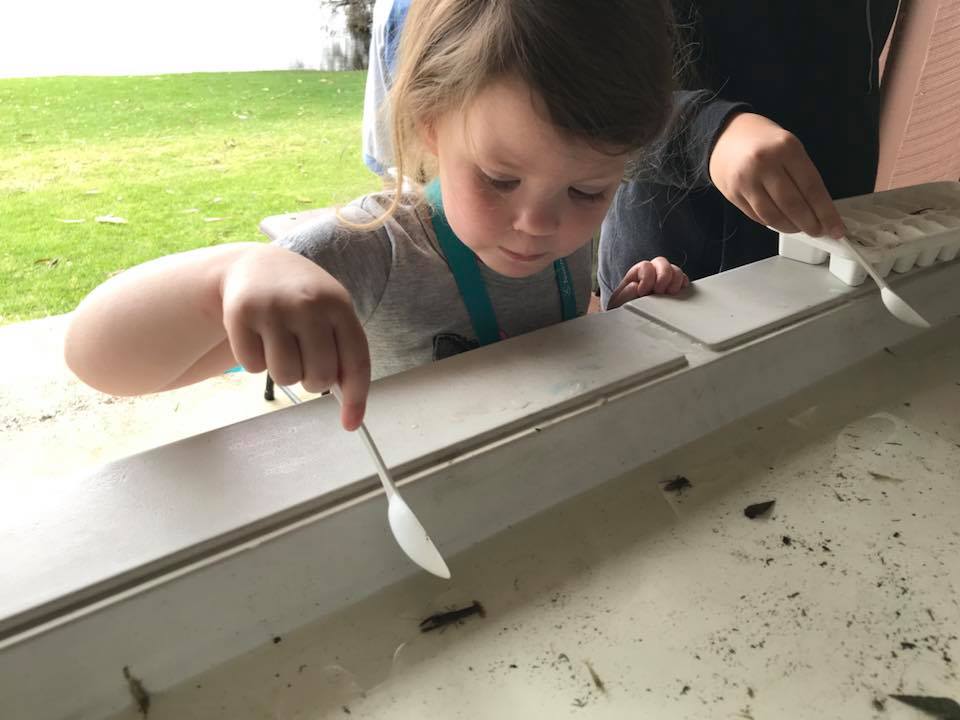 Younger children will need to be watched during these Swamp Safari sessions as the lake is open, not fenced, and it's around a 1 metre drop into the water in places along the edge, as Miss 4 found by dipping in a big stick.
We also took a short walk around the lake on Olive Seymour Walk to see the birds and other life around the lake. It's easy to spot large shambling birds nests about 6 feet up from the water level, and Miss 4 loved seeing the water birds out on the mini islands in the lake getting ready to nest and the tiny fish swimming amongst the tree roots. It's a peaceful walk and it's easy to forget how close you are to the city.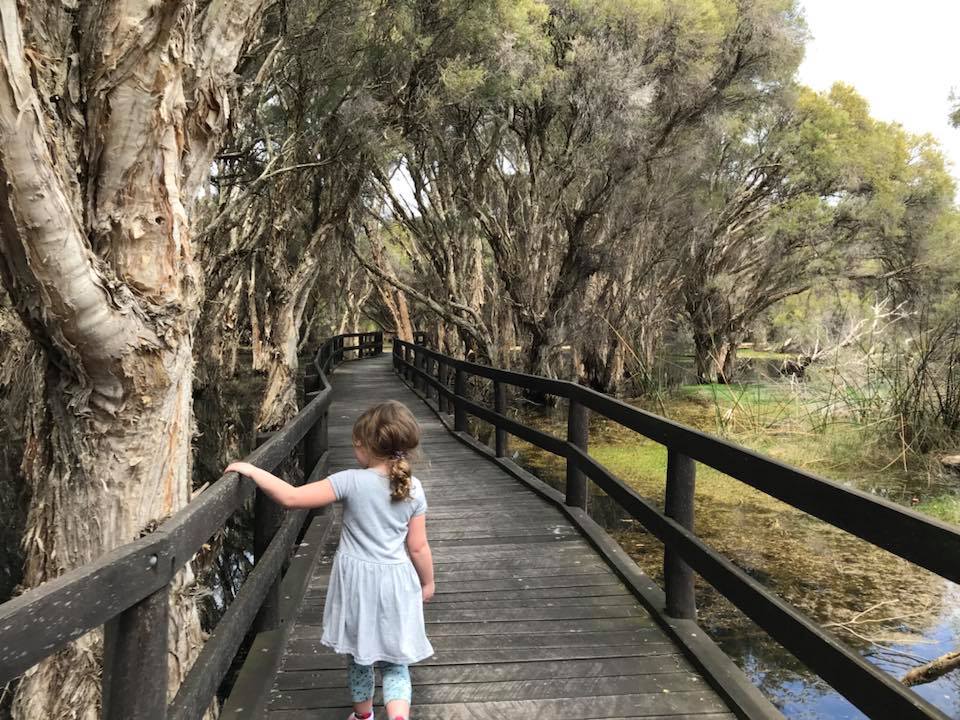 If you bring along some binoculars, you can also view the birds on the lake from the mezzanine floor upstairs inside the Wildlife Centre. This is a great spot for colder or wetter days when you may not fancy the walk. Please be aware that there is no pram or wheelchair access to this floor though.
All in all, Herdsman Lake Wildlife Centre was wonderful to visit, a great place to get in touch with nature. I was only expecting to be there for about an hour and it was more like 2.5 hours in the end! It is also super cheap to visit, costing just $1 per kid, $2 per adult, $2 for seniors, or $5 for a family. Pack some lunch or snacks, and it would be a great morning or afternoon out on a budget. Picnic by the lake or make use of the shelter in the parkland near the carpark.
Other events such as Wildlife Wednesday run during school term, and registration is essential. Wildlife Wednesday sessions run from 3.30pm, and involve a range of hands-on experiences such as discovering bush tucker, scats, tracks and nests with other wildlife explorers. Wildlife Wednesday costs $5 per child, with parents and kids under 3 years free. Children under 12 must be accompanied by an adult.
Other upcoming events as of October 2018 include at Nature Night Stalk and Creeping Critters. Each event costs $16 per child, with kids under 3 years old and parents admitted free. Tickets for these events are essential as places are limited. Both events include food and drink such as a sausage sizzle, a guided talk from a wildlife expert, and children's activities.
Herdsman Lake Wildlife Centre also works with school groups and children's organizations, so talk to your school, scout group or other organization if you think your kids would enjoy a group visit.
Herdsman Lake Wildlife Centre
Located on the corner of Flynn and Selby Streets, Churchlands.
Herdsman Lake Wildlife Centre is open for general visits from 8.15am to 4.30pm Monday to Friday. The Centre is closed weekends and public holidays.
Check out the WA Gould League website or follow WA Gould League on Facebook for more information and for Herdsman Lake Wildlife Centre's upcoming events.