Fremantle Market is a must do for anyone visiting Freo. Just like the obligatory Fish and Chip lunch at the Fishing Boat Harbour, no trip to the port town is complete without a wander around the markets.
The 120 year old markets are a vibrant hub of activity during the weekends. There's always a fun busking show happening outside the Fremantle Market main entry and inside is bustling with families and tourists browsing the many stalls and shops.
Eight year old Little Chef knows the Fremantle Markets are full with all sorts of goodies, so he excitedly brings along his pocket money each time we visit. There's plenty of stalls children will want to blow their cash at, lolly shops, toy shops and more.
Little Chef always checks out "Mak Collection" which sells tiny block sets.
I love looking in the Stunned Emu Designs shop, by Wendy Binks, a local Artist, Author and Potter. There are loads of vibrant items based on her children's books about Stripey the Emu.
There's children's clothing stalls, crafts, homewares and much more. The markets are a great place to find a unique or handmade gift.
There's lots of music too, adding to the lively atmosphere at Fremantle Market.
Even some little buskers!
Each weekend you'll find children's activities and entertainment at the markets like a wildlife zoo, a baby animal farm and more. Check out their website for more information about what's on when you visit. The day we were there, kids were happily lining up for face painting by the Market Fairies who also deliver random acts of kindness and balloon twisting.
Strollers are welcome, but it can be a little hard to navigate with a pram on busy days.
In recent years, the Fremantle Markets have become quite the foodie destination too.
In the main hall and "The Yard" a real melting pot of cuisines and wacky foods are found – perfect for an Instagram shot!
Muffle & Co's waffle and ice cream creations have to be seen to be believed! A freshly baked waffle is rolled into a cone and filled will anything and everything from fresh fruit to soft serve and more. This Ferrero Rocher muffle was to die for.
You'll find candy floss with a twist, delicious bao, by "What the Bao", fried chicken and traditional yrios at Authentic Souvlaki, Bratwurst, doughnuts, Honeycake, gozleme, cupcakes, sushi and much, much more.
There's not a lot of seating, but most of the takeaway food is easy to eat on the go.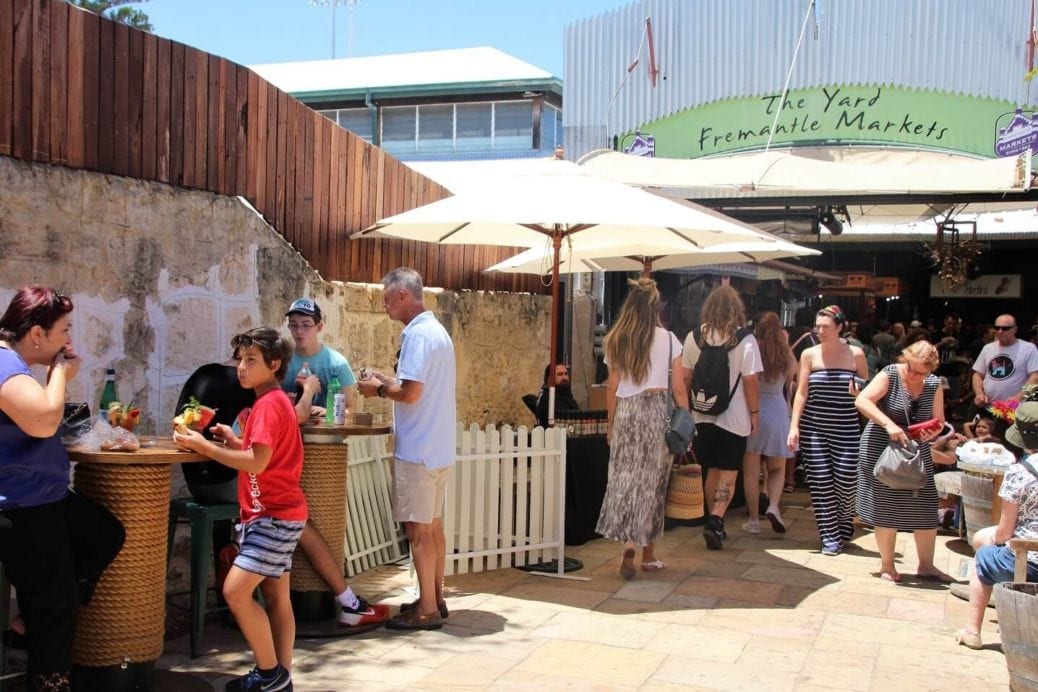 There's also a large fresh fruit and vegetable section at the Fremantle Market, as well as cheeses and meats for sale. So you can support local growers and artisans while you do your grocery shop too.
Fremantle Markets are found on the corner of South Terrace and Henderson Street, Fremantle. They are open Friday, Saturday, Sunday and Monday Public Holidays.
Fremantle Markets
https://www.fremantlemarkets.com.au/
Frequently Asked Questions
What day is Fremantle Market?
The Fremantle Markets are open on Friday, Saturday, Sunday and Public Holidays.
Are dogs allowed at Freo markets?
No dogs are not allowed in Fremantle Market
Find more things to do in Fremantle