The City of Perth Christmas Lights Trail is back! From the 19th November 2021 until 2nd January 2022, the city will shine brighter this Christmas with 26 mesmerising light installations and vibrant Christmas decorations bringing Christmas joy and lighting up the evenings.
Click here for Buggybuddys list of Christmas Lights across Perth 
The 2021 Christmas Lights Trail includes favourites from last year, as well as new installations. I have to admit, I was happy they scrapped the West and East Perth trails this year, leaving just the two main trails to follow.
THE BLUE TRAIL
#1 HOPPY CHRISTMAS, WA Museum Boola Bardip
Hop through Northbridge and find this golden kangaroo shining bright at WA Museum Boola Bardip.
#2 REINDEER WELCOME, Perth Cultural Centre
As you continue on your Christmas Lights Trail journey, be greeted by two friendly reindeer standing at over 4 metres tall.
#3 CONSTELLATION TUNNEL, Northbridge Piazza
Enjoy an immersive music and light show under a constellation of 16,000 lights. The 23-metre long tunnel in the heart of Northbridge creates the ultimate Christmas-themed sensory experience and is always a fan favourite.
#4 RAINBOW CHRISTMAS, Kings Square
Standing at eight metres high and covered in over 10,000 lights, this dazzling tree will have you captivated as it transitions through all the colours of the rainbow.
#5 GOLDEN GIFT, Wellington Gardens
One of Santa's gifts has fallen out of his sleigh! Standing at over 4 meters tall, immerse yourself in the giant present that has dropped right in front of the beautiful Wellington Gardens.
#6 GIANT SNOW DOME, RAC Arena
Peer into the dome to see what wonders are inside, then hit the button to bring the installation to life!
**COMING SOON
#7 PRANCER, Yagan Square
Santa has lost one of his reindeers! Can you find Prancer checking out Yagan Square? At 7 metres tall, he's hard to miss.
#8 FAST & FESTIVE, Raine Square
St. Nick is busy preparing his sleigh but he has parked his vintage car at Raine Square! See how Santa shines every other month of the year in his second favourite ride – it's looking Fast & Festive!
#9 ILLUMINE, 140 Perth
Watch as the impressive Beastman x Vans the Omega mural springs to life at sunset with mesmerising festive patterns and bright pops of colour. You won't be able to look away!
#10 CITY OF PERTH CHRISTMAS TREE, Murray Street Mall
This stunning, 14 metre tall Christmas tree covered in over 13,000 lights is the tallest installation on the Trail and is sure to knock your socks off! Can you count all the gifts tucked away under its branches?
**COMING SOON
#11 GINGEY, Forrest Place
Catch a glimpse of this eye-candy, standing at over three metres tall! A giant gingerbread man has found his way to Forrest Place and he is sure to give you a sugar rush.
#12 NUTCRACKERS, Forrest Place
Standing to attention for Forrest Place visitors, the Nutcrackers bring a classic Christmas story to life in the heart of the city.
#13 MONTY'S WORLD, Forrest Chase
Travel with Monty as they pass through magical lands. This immersive display is one not to be missed up on Padbury Walk, Level 1.
#14 FESTIVE FRAME, Murray Street Mall
Snap a festive group picture with your family or friends in the giant photo frame illuminating the Murray Street Mall.
THE PURPLE TRAIL
#15 ARCADE CHRISTMAS, Piccadilly Arcade
Experience the wonder of Christmas in the newly renovated Piccadilly Arcade.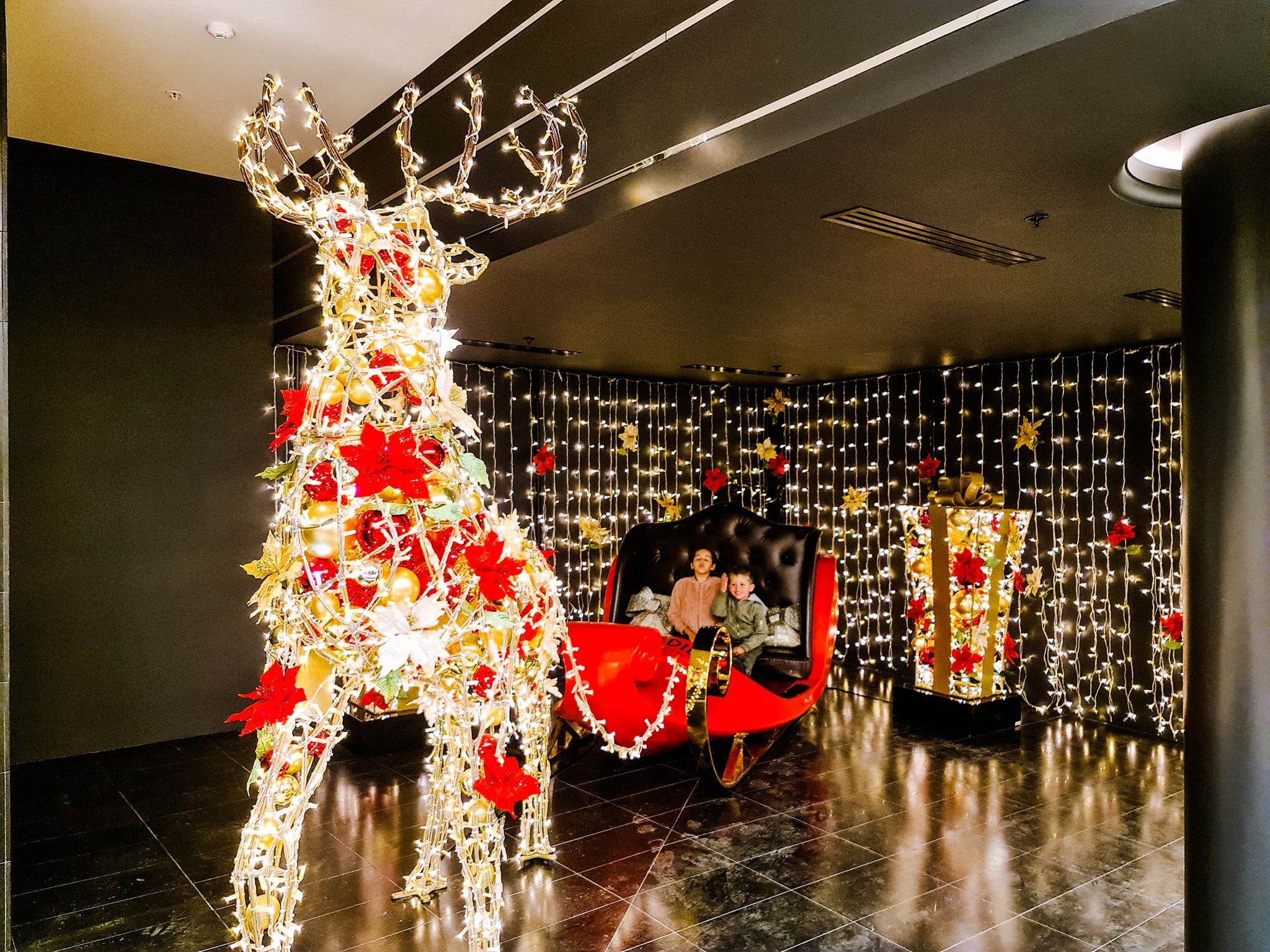 #16 VERY MERRY CHRISTMAS, Hay Street Mall
Discover a glistening stack of presents next to a tree, shining bright and awaiting Christmas Day.
#17 JOLLY SANTA, Hay Street Mall
Ho, ho, ho – Santa is back visiting the Hay Street Mall! Standing at over 5 metres tall, you won't be able to miss him shining bright with over 10,000 lights.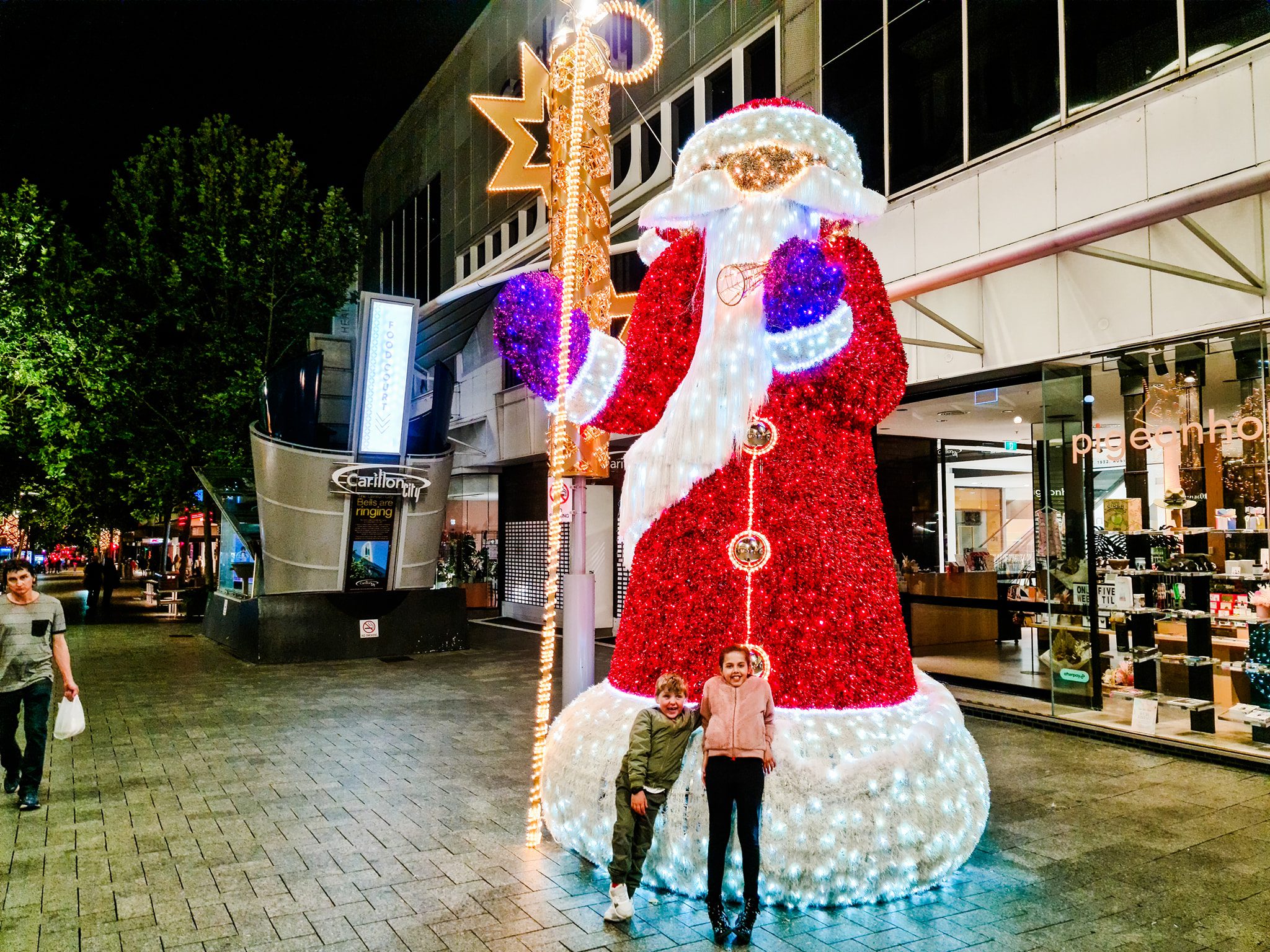 #18 WISH UPON A STAR, Hay Street Mall
This giant star forms the perfect backdrop for your selfies this Christmas. Don't forget to make a wish!
#19 LIBRARY LIGHTS, City of Perth Library
Stand under the bright cascade of sparkling lights hanging around the outside of the beautiful City of Perth Library City of Perth Library.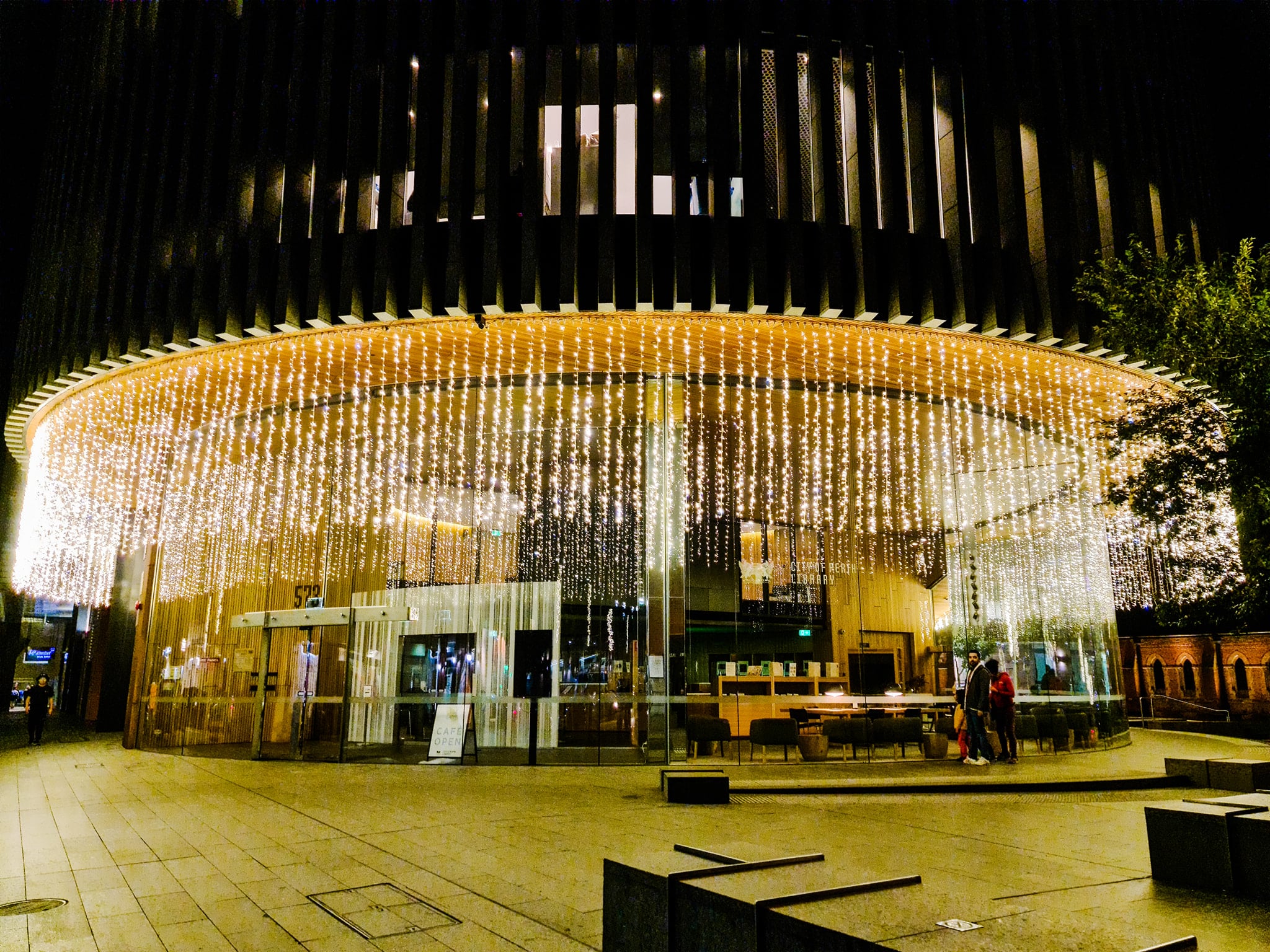 #20 CHRISTMAS PROJECTIONS, St George's Cathedral
They're back! Captivating animated projections will light up the façade of this beautiful historical building with a traditional nativity scene and snapshots from a classic Aussie Christmas Day. The projections will be sure to add Christmas spirit to St Georges Terrace from 7.30pm to midnight, with festive music concluding at 10pm.
#21 MOODITJ YONGAS, Council House
A Christmas Lights Trail Tradition! The family-favourite mob of illuminated, festive kangaroos have found their way back into the city just in time for Christmas.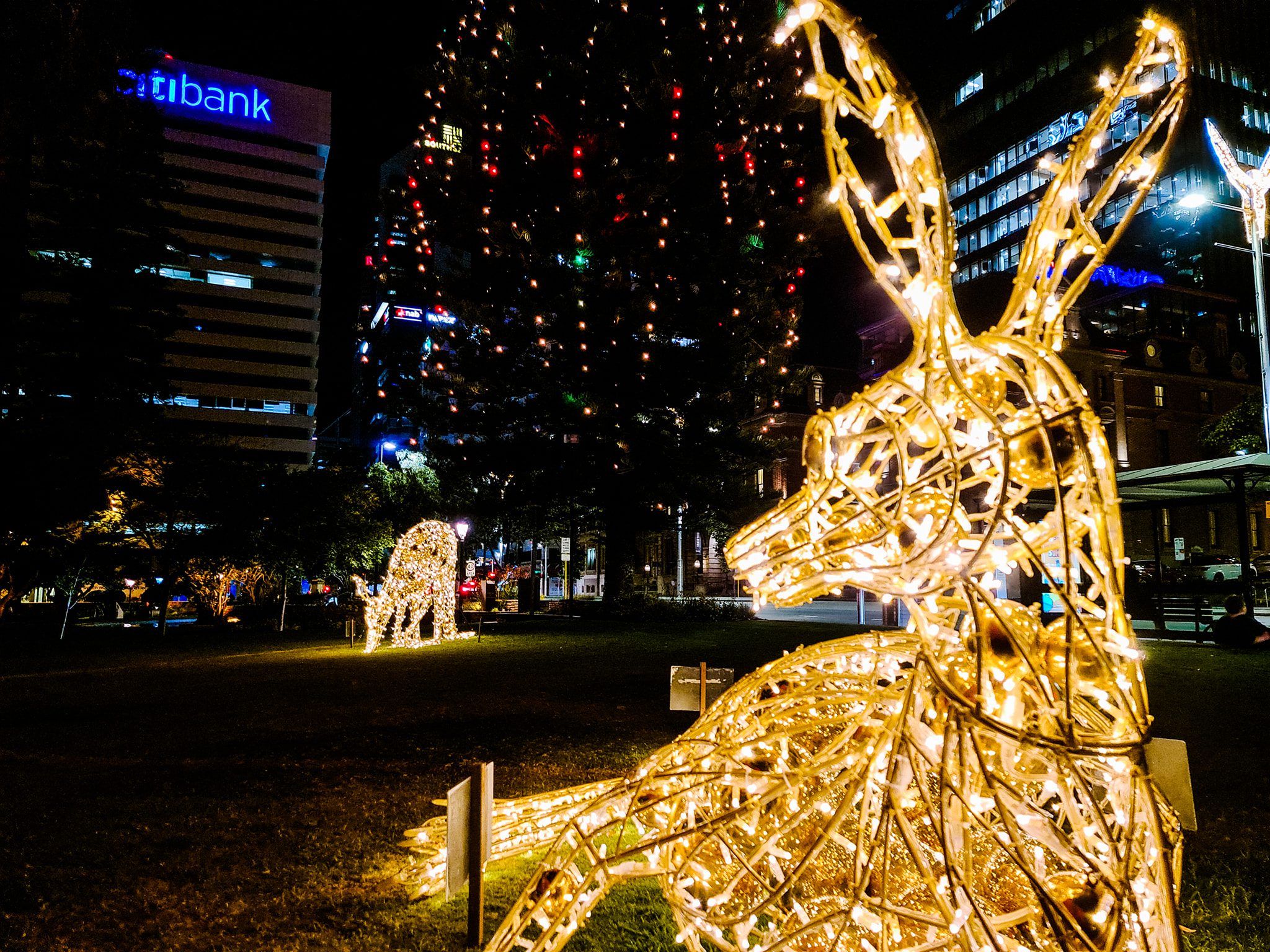 #22 COUNCIL HOUSE LIGHT SHOW, Council House
It's all happening on St Georges Terrace! Make sure you look up to check out the fun Christmas festivities lighting up iconic Council House from sunset onwards each night. What Christmas characters can you spot?
#23 HORSE & CARRIAGE, Barrack Square
Practice your best royal wave when you take a seat in the back of this stunning carriage fit for a King or Queen.
#24 MAGICAL SWANS, Elizabeth Quay
Be enchanted by the family of swans who have found their way into the Elizabeth Quay inlet. Delight in their beauty and check out mother swan as she stands at five metres tall watching over her family.
#25 FESTIVE PEACOCK, Elizabeth Quay
Marvel at the giant shining feathers of this beautiful, proud peacock. With over 23,000 lights, you'll see this festive bird lighting up Elizabeth Quay.
#26 TREE OF JOY, Brookfield Place
Appearing for the first time ever, discover the specially designed 14-metre tall Poinsettia Christmas Tree of Joy.
Don't forget to look out for some fun characters along the route who are happy to play games with the kids and pose for photos!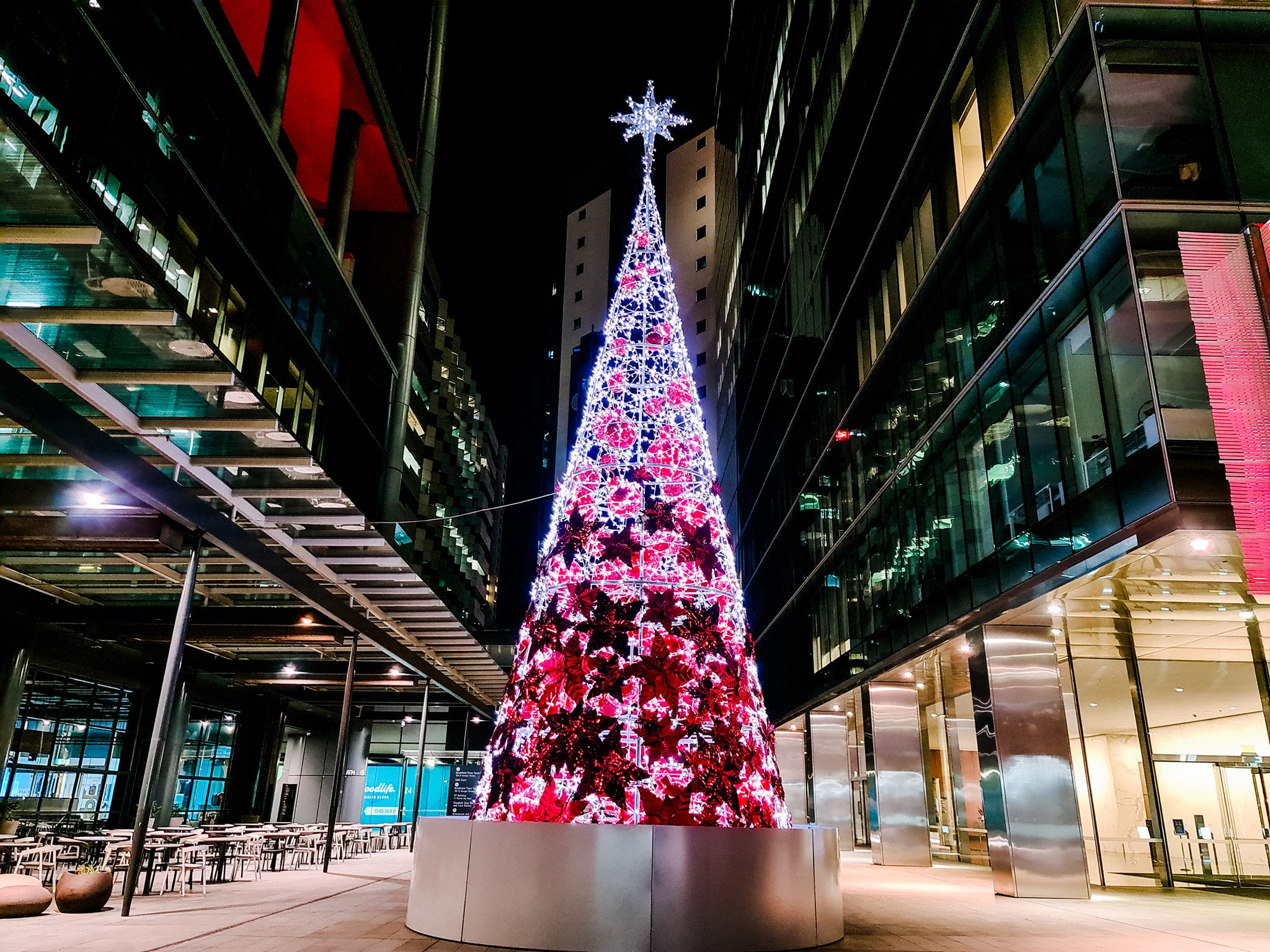 The Christmas Lights Trail took us a little over 3 hours to complete. I would highly recommend bringing a pram or stroller (I took our Kmart beach trolley) and wearing comfortable walking shoes. You can download the map online or pick one up from the iCity kiosk to ensure you don't miss anything.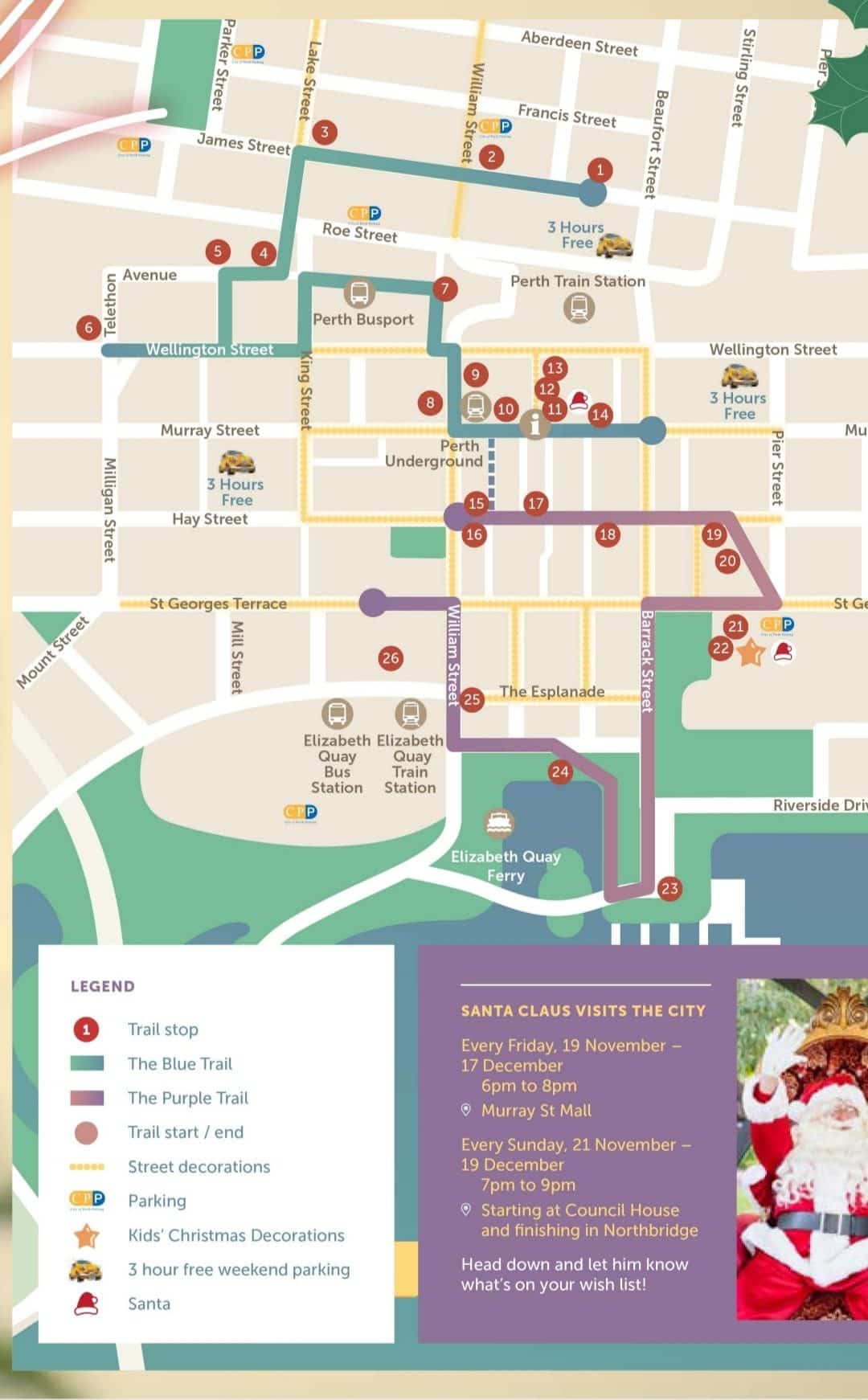 The City of Perth Christmas Lights Trail
The Christmas Lights Trail is FREE and can be experienced every night from 6pm 19th November – 2nd January 2022
Find more things to do in Perth this Christmas
Find more Christmas Lights in Perth