The City of Perth Christmas Lights Trail is back for its fourth year. From the 20th November 2020, the city will shine brighter this Christmas with 30 mesmerising light installations and vibrant Christmas decorations bringing Christmas joy and lighting up the evenings.
Click here for Buggybuddys list of Christmas Lights across Perth 
The Christmas Lights Trail includes some from favourites from last year, plus plenty of new installations, West Perth has been added to the trail too. There are four mapped out journeys, that take you throughout the Perth CBD, Northbridge, West and East Perth.
#1 RUSTY HOLDEN UTE, WA Museum Boola Bardip
Experience the Rusty Holden Ute right out of the classic Aussie Christmas jingle, which has parked itself outside the new WA Museum Boola Bardip.
#2 CHEEKY COCKATOO, Perth Cultural Centre
Say hello and get a photo with the Cheeky Cockatoo that's perched on a branch in the heart of the Perth Cultural Centre?
#3 CHRISTMAS TREE SNAKE, Northbridge Piazza
What'sss that? A giant, friendly Christmassss Tree Snake has slithered its way into Northbridge all the way from the North Pole..
#4 REINDEER PLAYGROUND, Kings Square
When Santa's Sleigh is not in the night sky, his reindeers like to rest and play at Kings Square! Come and say hi to three of his favourites; Rudolph, Vixen and Cupid. Climb aboard these three metre long, illuminated reindeers and snap a fun Christmas photo.
#5 CONSTELLATION TUNNEL, Yagan Square
Enjoy an immersive music and light show under a constellation of 16,000 lights. The 32 metre long tunnel connecting the city and northbridge creates the ultimate Christmas-themed sensory experience and is always a fan favourite.
#6 GEOMETREE, Raine Square
Be mesmerised by this nine metre tall geometric Christmas tree as it transitions through stunning visual sequences that are projected onto the facade and accompanied by a fun, festive soundtrack. This is one not to miss!
#7 FESTIVE PEACOCK, 140 Perth
Marvel at the giant shining feathers of this beautiful, proud peacock. With over 23,000 lights, you'll see this festive bird lighting up the walkways of 140.
#8 SNEAK A PEEK, 140 Perth
Turn the handle to get a glimpse of the magical Christmas activities going on behind the mysterious door that has appeared in Railway Lane. What will you see when you sneak a peek?
#9 CITY OF PERTH CHRISTMAS TREE, Murray Street Mall
Sing along while you check out this impressive Christmas tree that's playing a range of classic and modern Christmas favourites. This is the tallest installation on the trail, standing at over 12 metres high!
#10 SNEAKY RUDOLPH, Murray Street Mall
Whose cheeky face is that popping out of the pavement? It's Rudolph! That giant red nose is unmistakeable as you walk along the Murray Street Mall. Make sure you stop and take a selfie with him!
#11 MANNI'S WORLD, Forrest Chase
Wander through an immersive and whimsical world of all things Christmas in the city. Presented through a giant virtual window to this world, on Padbury Walkway Level 1 Forrest Chase.
#12 BIG TED, Forrest Chase
Make sure you pay a visit to Big Ted, sitting at four metres high, overlooking all the visitors on the street below.
#13 UNWRAP CHRISTMAS, Murray Street Mall
Oh no, one of Santa's gifts has fallen out of his sleigh and landed in the Murray Street Mall! Find it on your journey and take a snap to let Santa know what you want for Christmas.
#14 HOLIDAY POLAROID, Hay Street Mall
Capture the perfect polaroid photo to remember the 2020 holiday season by. Don't forget to hashtag #thecityatchristmas!
#15 JOLLY SANTA, Hay Street Mall
Ho, ho, ho – it's Santa visiting the Hay Street Mall! Standing at over five metres tall, you won't be able to miss him shining bright with over
10,000 lights.
#16 LIFELINE CHRISTMAS TREE, Hay Street Mall
Experience Lifeline WA's enchanting tree decorated in thousands of bright lights and wrapped in a ribbon, representing the connection found when calling Lifeline's 13 11 14 number.
#17 LIBRARY LIGHTS, City of Perth Library
Stand under the bright cascade of lights hanging from the outside of the beautiful City of Perth Library.
#18 CHRISTMAS PROJECTIONS, St George's Cathedral
A favourite every year! Captivating animated projections will light up the facade of this historical building. See a traditional nativity
scene and some iconic Western Australian locations with a fun Christmas twist. The projections will be sure to add bright pops of colour to St Georges Terrace. From 7.30pm to midnight, music concludes at 10pm.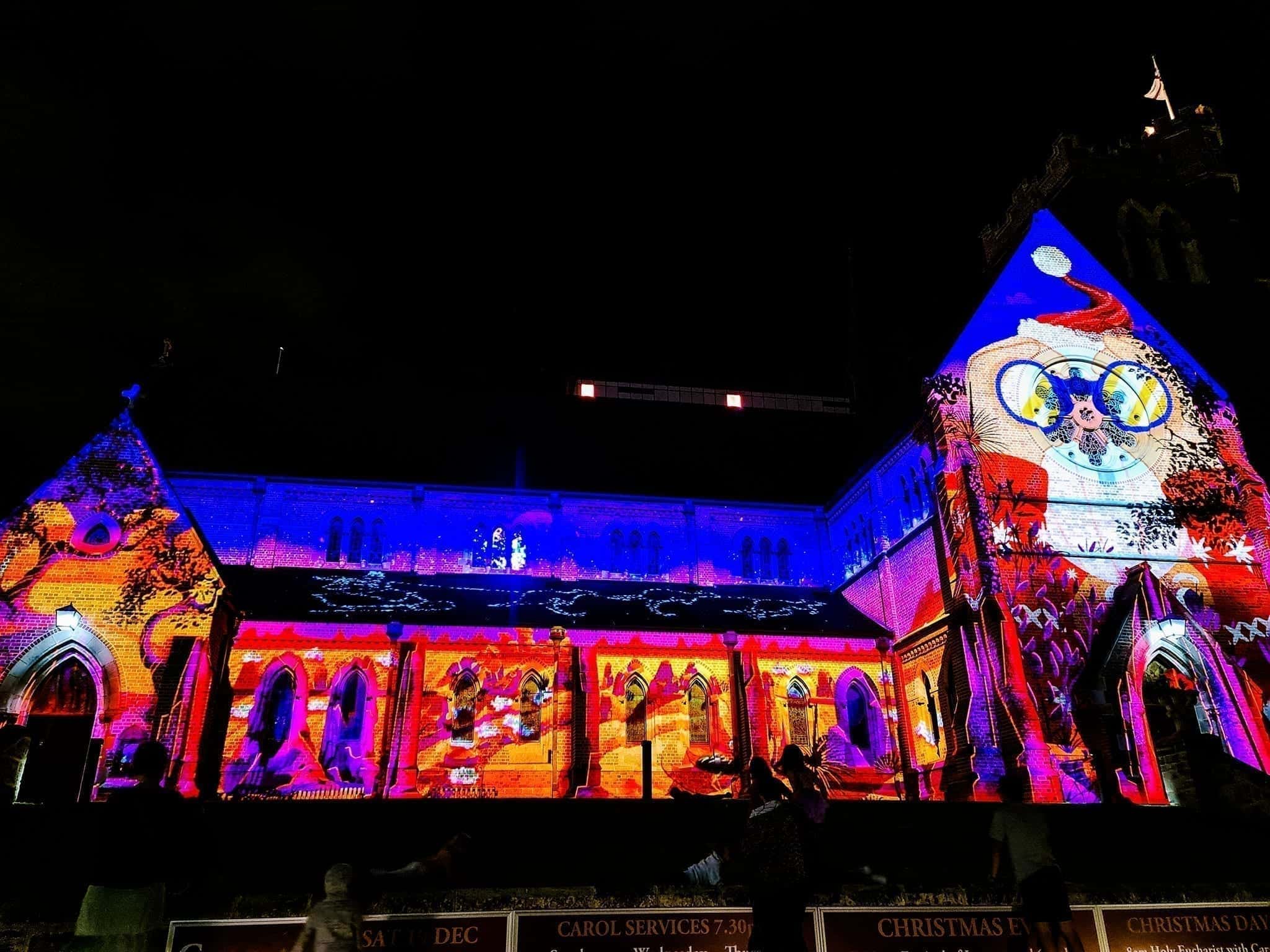 #19 MOODITJ YONGAS, Council House
That's not something you see every day! A mob of seven illuminated, festive kangaroos have found their way into the city, making it a truly
Aussie Christmas.
#20 COUNCIL HOUSE CHRISTMAS SHOW, Council House
It's all happening on St Georges Terrace! Take five and check out the fun Christmas festivities lighting up iconic Council House. What
Christmas characters can you spot?
#21 CHRISTMAS CANVAS, Council House
Watch as the footpath transforms into a giant piece of interactive wrapping paper! Be mesmerised by all the different festive
patterns and vibrant pops of colour, while you help call the shots on the Christmas Canvas with your movements.
#22 FESTIVE FRAME, Stirling Gardens
Snap a festive group picture with your family or friends in the giant photo frame, complete with the beautiful Stirling Gardens as the backdrop.
#23 MAGICAL SWANS, Elizabeth Quay
Be enchanted by the family of swans who have found their way into the Elizabeth Quay inlet. Delight in their beauty and check out mother
swan as she stands at five metres tall on the water watching over her family.
#24 GINGEY, Enex
Catch a glimpse of this eye-candy, standing at over three metres tall! A giant gingerbread man is visiting St Georges Terrace and he is
sure to give you a sugar rush.
#25 SANTA'S SLEIGH, Brookfield Place
Enjoy the perfect photo opportunity sitting in Santa's 13 metre long sleigh alongside his reindeer. Santa's Sleigh even looks stunning
by day, so this stop is one not to miss.
#26 COUNTDOWN CLOCK, Claisebrook Cove
Tick, tock goes the Countdown Clock. Do you know how many sleeps there are until Christmas? Head down to Claisebrook Cove to find out.
#27 LIGHT UP CHRISTMAS, Claisebrook Cove
This modern take on the classic Christmas tree will dazzle as it lights up Claisebrook Cove.
#28 GIANT BAUBLE, Claisebrook Cove
Check out this giant festive bauble reflecting on Claisebrook Cove – a favourite every year.
#29 SANTA'S THRONE, West Perth
Have a quick rest on Santa's personal bauble throne and while you're there, don't forget to take a happy snap.
#29 SANTA'S BOOT, West Perth
Uh oh, Santa's lost his boot in West Perth and it's started growing a Christmas Tree! This colourful festive feature is lit up with nearly
14,000 bright lights.
Don't forget to look out for some fun characters along the route who are happy to play games with the kids and pose for photos!
The Christmas Lights Trail took us a little over 5 hours to complete all 4 trails, that includes stopping to Visit Santa at Myer Santaland, we walked the first 2 trails and drove to East and West Perth to complete the last two trails.  I would highly recommend bringing a pram or stroller and wearing comfortable walking shoes. You can download the map online or pick one up from the iCity kiosk to ensure you don't miss anything.
The City of Perth Christmas Lights Trail
The Christmas Lights Trail is FREE and can be experienced every night from 6pm 20th November – 3rd January 2021
Find more things to do in Perth this Christmas
Find more Christmas Lights in Perth