Balingup Heights Hilltop Forest Cottages is located 240 kilometres south of Perth. The property encompasses 6 newly renovated secluded cottages set in 25 acres of Jarrah and Marri Forest, perched high on a hilltop, offering stunning views over Balingup and the Blackwood River Valley. It has won the Gold Award for Best Self Contained Accommodation at the Perth Tourism Awards two years running and it's not hard to see why!
Balingup Heights Hilltop Forest Cottages is owned and run by Brian and Deb Vanallen who reside in the gorgeous stone farmhouse located on the property. They are incredibly warm and welcoming hosts and fabulous with kids.  I particularly appreciated receiving an email from them a few days before we arrived detailing local events that were taking place during our stay and opening times of nearby shops and restaurants.
Entry to Balingup Heights is via a steep and mainly unsealed 800-metre driveway. It's a little daunting when you first lay eyes on it, but we made it up to the top no problem in our sedan. The views from the top are breathtaking!
If you are looking for peace and tranquillity you'll find it here! Each cottage is located in its own corner of the forest, far away from any of the other cottages. You may just notice the twinkling of lights of your neighbour through the trees in the evening.
All the cottages have recently been renovated with new open plan kitchens, bathrooms and floor coverings. I must say the shower had great water pressure and the water was lovely and hot! Three of the cottages cater for families sleeping up to 5 people.
Balingup Heights is the perfect place to visit all year round. During the cooler months you can enjoy the cosy, pot-belly log fire. It was nice to sit in front of in the evening, keeping warm and watching the hypnotic flames. The cottages also have reverse cycle air-conditioning and a ceiling fan in the main living/kitchen area so you won't overheat in the warmer months.
In the warmer months, you can relax on your own jarrah timber decked balcony area and enjoy the sweeping views of the Blackwood River Valley. Each cottage has its own gas BBQ on the deck.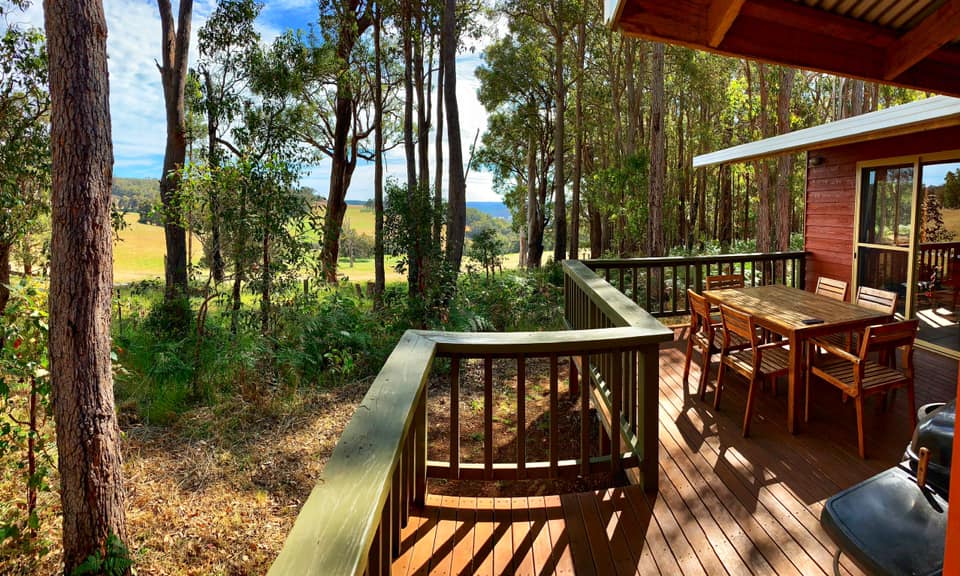 The cottages are spotlessly clean and the beds super comfy with crisp white linen and warm blankets. There are even electric blankets on the beds to keep you toasty during the colder months.
The kitchen is well equipped including plastic plates and bowls for the kids. Along with a microwave, there is also a slow cooker and rice cooker provided. But please be aware that there is no oven, only a gas stove top.
If you are feeling a bit lazy and don't fancy preparing a meal or even breakfast you can order a breakfast hamper or evening meal platter in advance. The produce is sourced from a range of local cafes, a local caterer and Newys Fruit & Veg!

I was very impressed with the additional homely touches that are provided to guests. Both the kids' beds had cute teddy bears placed on them that they could look after for the duration of their stay. A small box of toys was also provided in the cottage along with board games, books and dvds.
If you are staying on the property during certain times of the year, you may be lucky to experience the magical mist that shrouds Balingup in the early mornings. The mists are a common occurrence between May to August.
Balingup Heights is the perfect place for kids to get back to nature. A highlight of the stay is the animal feeding that takes place every day 8.15am. During animal feeding, you are able to interact with all the resident farm animals.
They include:
Spick, Speck and Hippo the Sheep.
Top Deck the Llama
Princess, Raphee and Jacko, the three rescue horses.
Several Guinea Pigs who love a carrot and a cuddle
Chicken and ducks. We even got to enjoy a couple of freshly laid eggs for breakfast – delicious!
The chickens also enjoy a cuddle!
And we can't forget the gorgeous farm dog, Maddy, who followed us around the farm on our walks.
It is recommended that you bring along some old clothes and gumboots/walking shoes, as it's tough to stay clean when feeding the animals!
In the centre of the forest on the property is a magical Secret Garden which has been inspired by Nature Play WA. Think bush cubbies, fairy gardens and a little bit of magic all rolled into one space! The kids loved spending time in the area (along with Maddy the dog) and letting their imaginations run wild!
The property also features a guests only lookout which offers a 270-degree panoramic view over the valley below. It's pretty spectacular, and I could have sat there all day just gazing at the view! A night walk to the lookout is recommended as the clear air offers a fantastic view of the Milky Way. It's also the perfect spot to enjoy a glass of wine in the evening!
During the cooler months you may get an invite to one of Balingup Heights Bonfire evenings. The kids enjoyed roasting marshmallows on the bonfire and it was nice to get the opportunity to chat to our hosts and other guests staying at the cottages.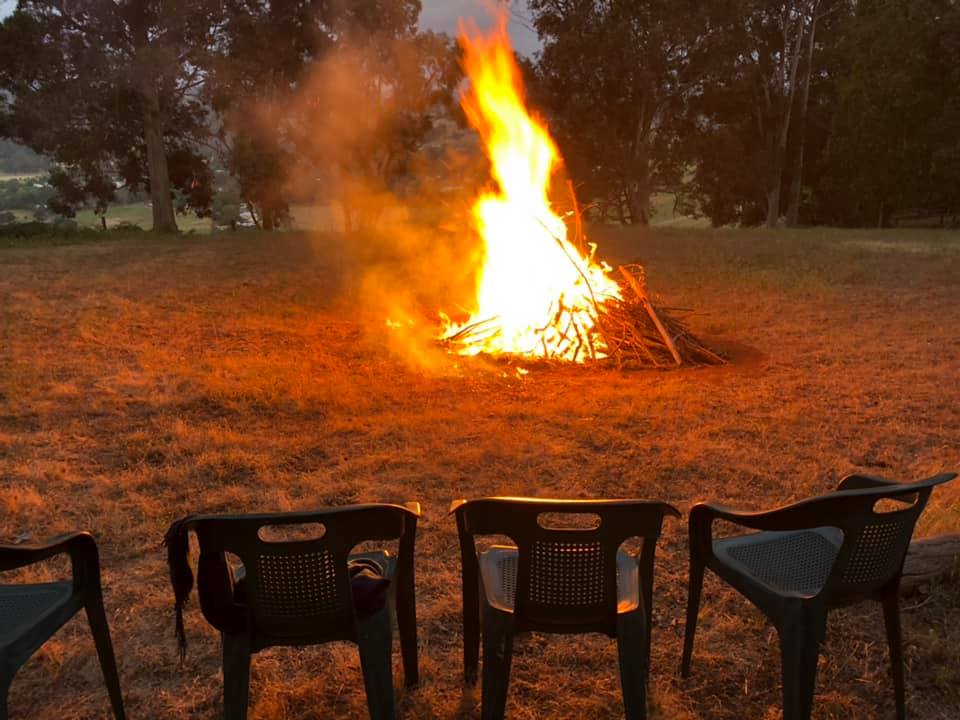 If you do wish to tear yourself away from Balingup Heights, you'll find plenty of things to do in and around Balingup and the Blackwood River Valley. You might enjoy a stroll through the Golden Valley Tree Park, a swim in Greenbushes Pool, a visit to the Balingup Museum or the kids won't want to leave the Apple Fun Park in nearby Donnybrook. We really enjoyed taking a drive along the Balingup – Nannup tourist drive. The scenery is stunning! For a full list of activities click here.
Balingup Heights Hilltop Forest Cottages would like to offer a special offer to Buggybuddys followers
A stay at Balingup Heights is a great way for your family to take a break from technology and reconnect. There's plenty of space for kids to explore and for parents to unwind. Take advantage of this great offer which is only available to BuggyBuddys followers!
Balingup Heights BuggyBuddys Package – Kids Stay Free – only $450 – Stay any two nights between now and 31st March, 2019 and save $200! (Package value – $650)
Includes :
2 nights accommodation in a cosy two bedroom Cottage – valued at $550 (based on 2 adults and 2 children)
Complimentary Gourmet Breakfast Hamper valued at $100
Daily animal feeding session
Excludes Christmas, New Year and public holiday weekends.
BOOK NOW at www.balingupheights.com.au and enter the promotional code – BUGBUD to access this great offer or phone Deb or Brian on 08 9764 1283.
Buggybuddys were guests of Balingup Heights Hilltop Forest Cottages.