At one time, the Donnybrook Apple Fun Park was the largest free entry playground in Australia. This beloved playground has now reopened (October 2021) with a thoughtful and fun transformation! We were lucky enough to get a look the day before it opened to the public. And it gets a massive tick of approval from us.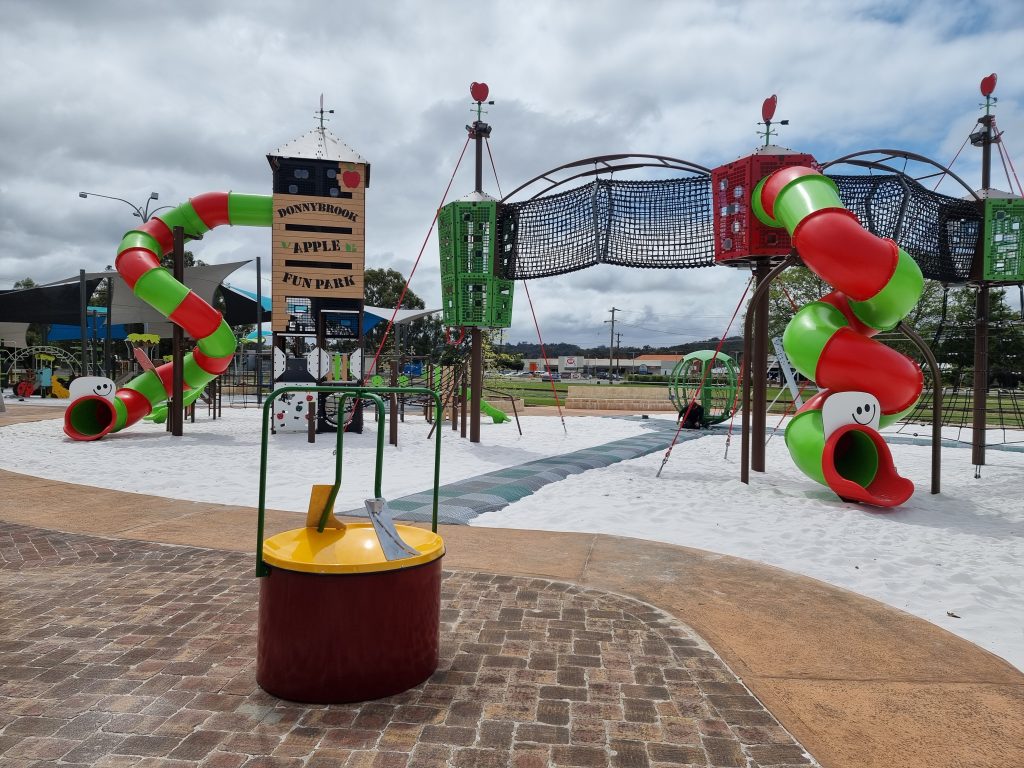 Donnybrook Apple Fun Park is approximately two and a half hours drive south from Perth city. Situated in the heart of the country town of Donnybrook, famous for its apple growing, the huge playground has a fruit theme running through it. From the enormous apple crate climbing tower, to a tractor and fruit n veg shops!
The redeveloped Apple Fun Park has something for children of all ages from tiny tots to tweens (a pump track will be built soon too). The fully fenced playground has a shaded area dedicated to toddlers, with a small slide and low equipment on soft-fall rubber matting.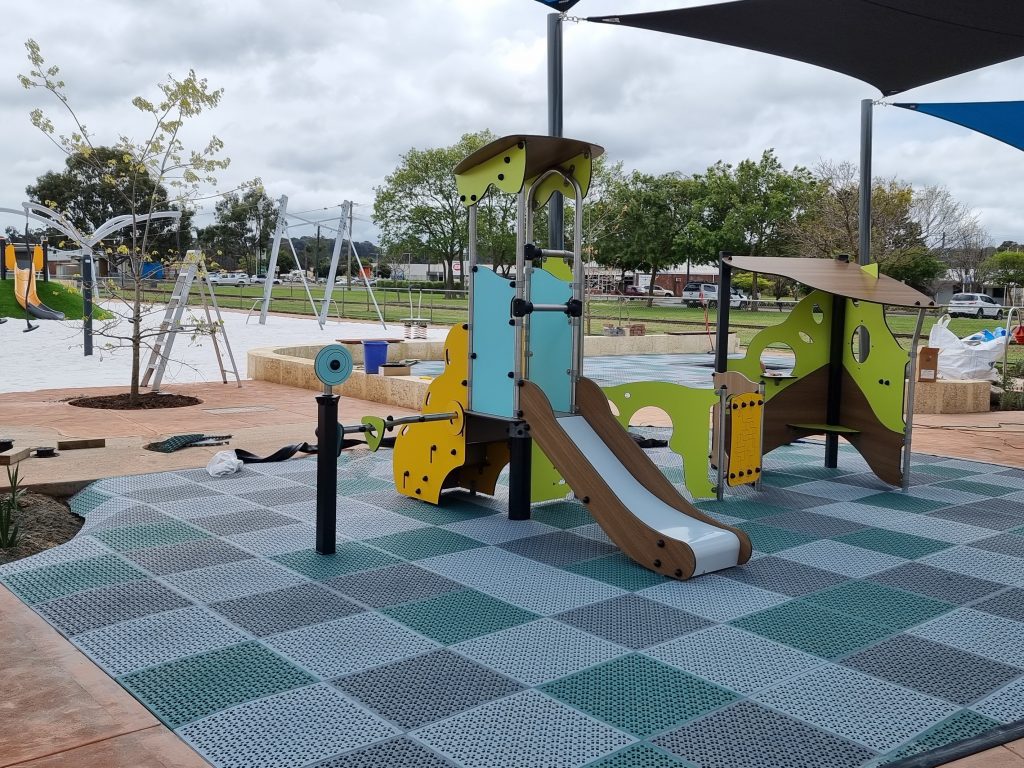 There's lots of musical elements too. I love that the xylophone comes complete with a song book – so kids can play their favourite tune.
At the other end of the park, there is an area that kindy aged children will love!
This sandy space includes plenty of sand-play equipment too.
My favourite feature is this low ride-on mini train, that little ones can sit on and chugg around the circle. I've never seen this in a playground before! It has a nifty bake system that will release when kids sit on the little vehicle.
Plus there are more kinds of kiddie swings than you can shake a stick at!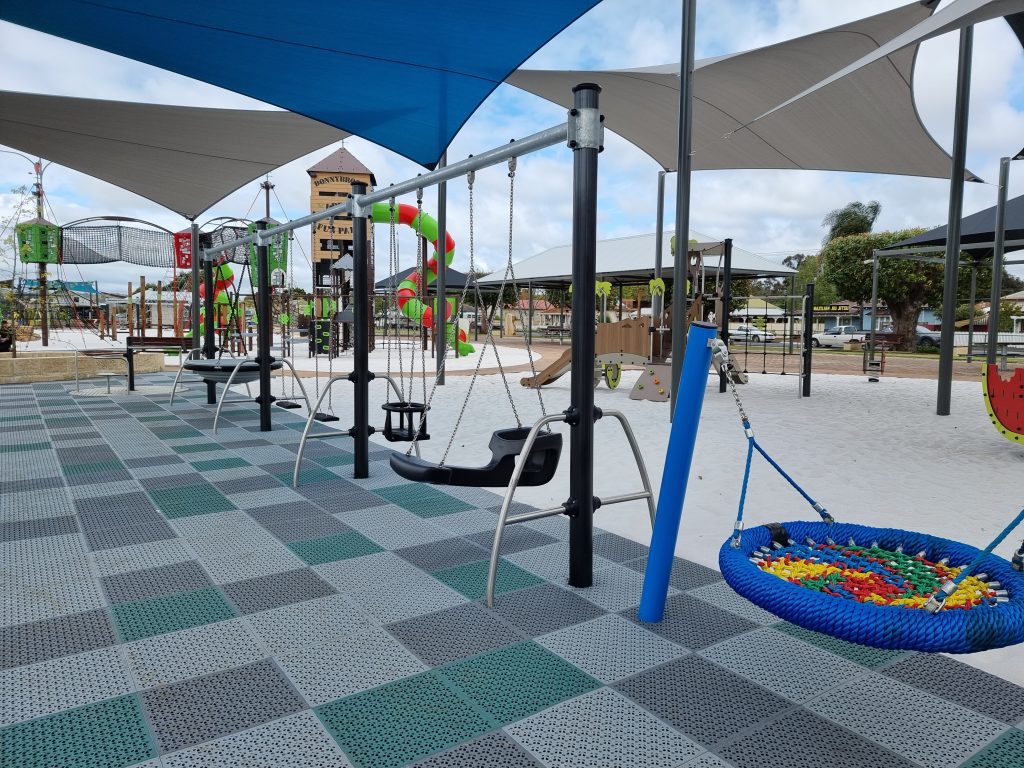 A big red tractor has pride of place and Little Chef LOVED the hamster wheel.

The main attraction, as always, is a multi-level climbing tower complete with big twisty slides, rope bridges and much more.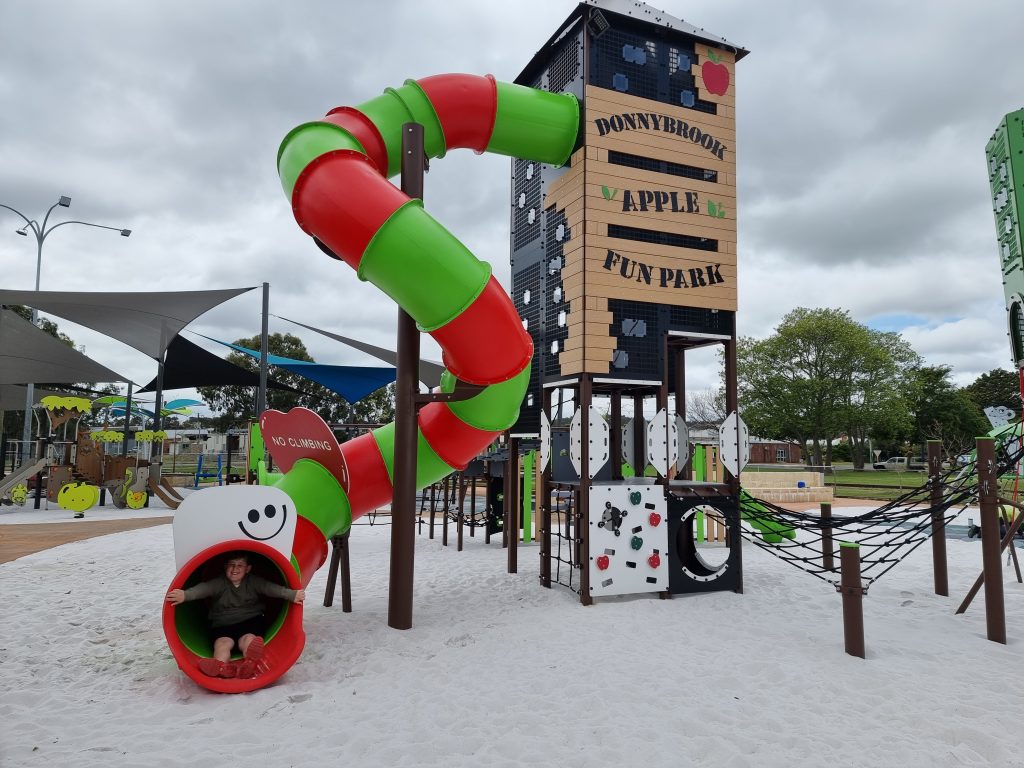 There's a flying fox too!
The playground also a big climbing net.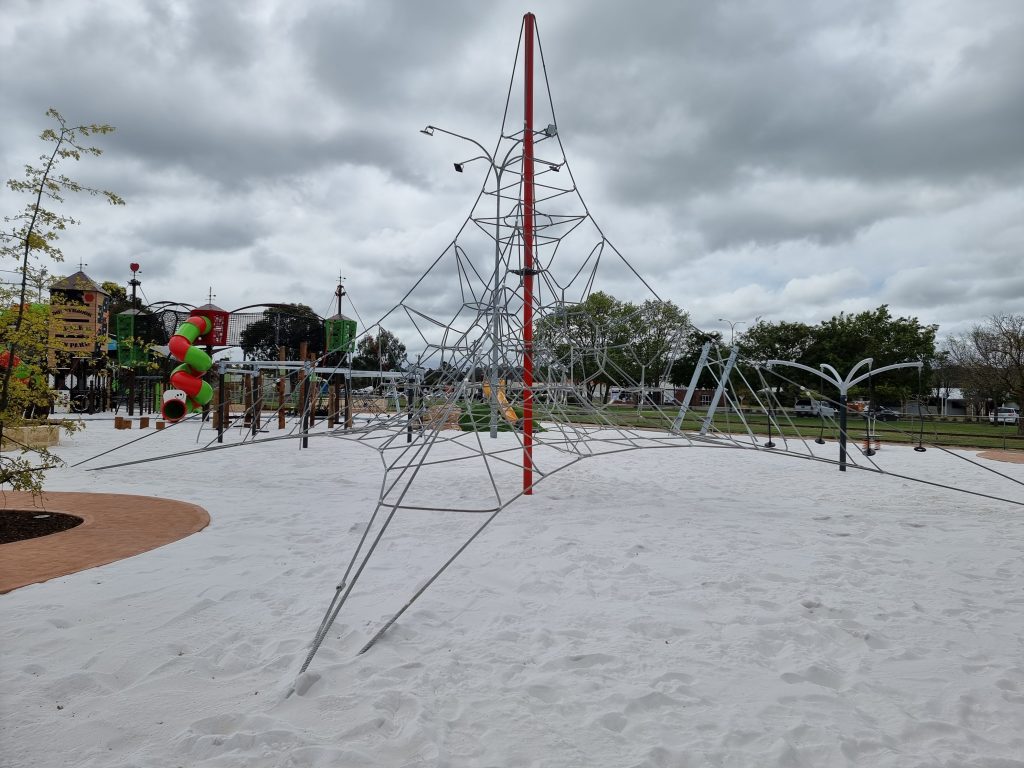 At the side of the playground is a large covered picnic area. Here you'll find picnic tables, electric BBQs, water fountains and a grassy area perfect for throwing down a picnic blanket.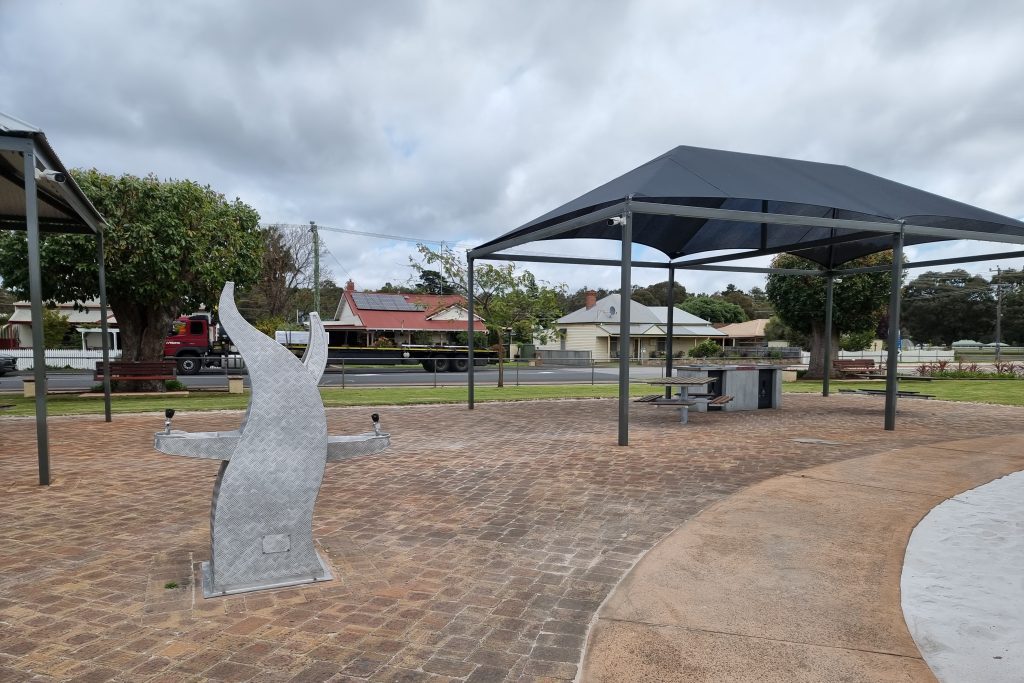 There are toilets too, complete with vibrant mural.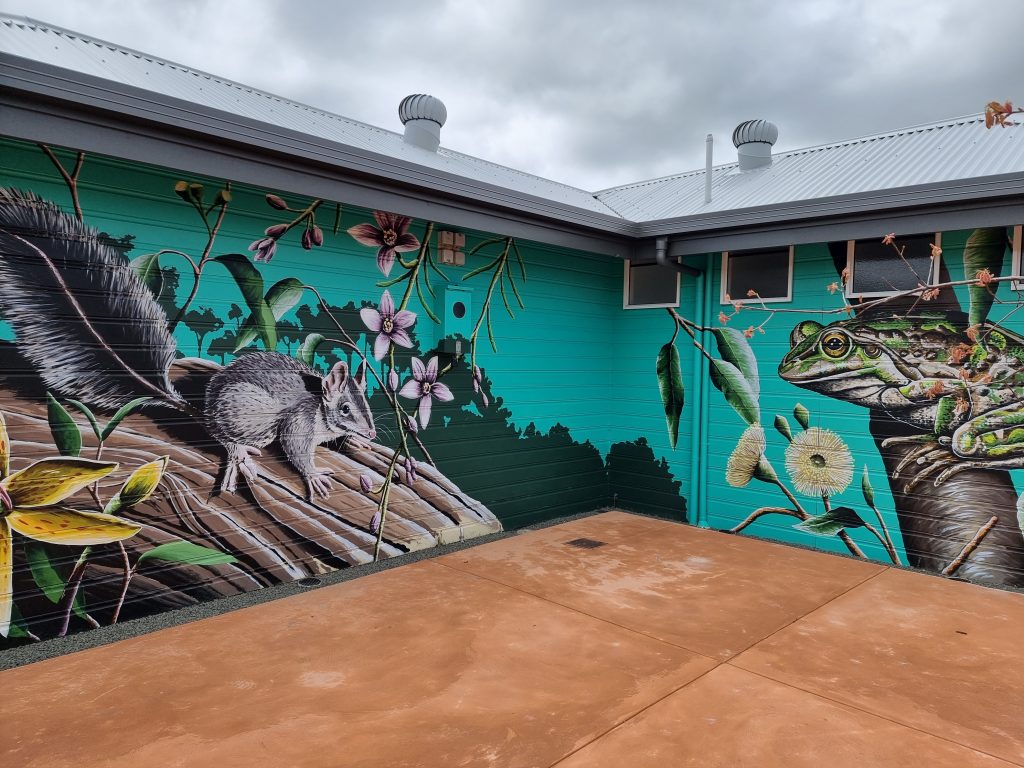 The playground is part of a wider precinct that also includes a new café (PARK), and tourist information centre. The Park Cafe has a large grassed area with garden games, as well as a kids menu.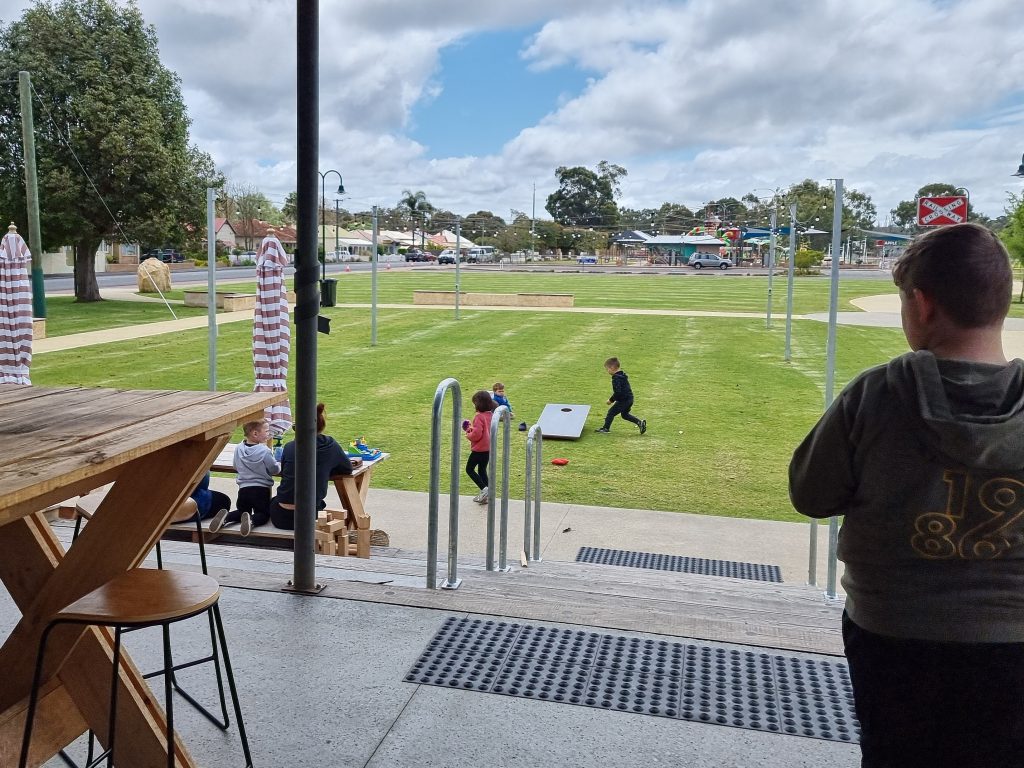 While many areas are provided with shade from sails, some of the playground does not have any shade, so be sure your kids have sun cream and a hat on. There's certainly more shady spots than the old playground, as well as fun new elements to discover, like in ground trampolines.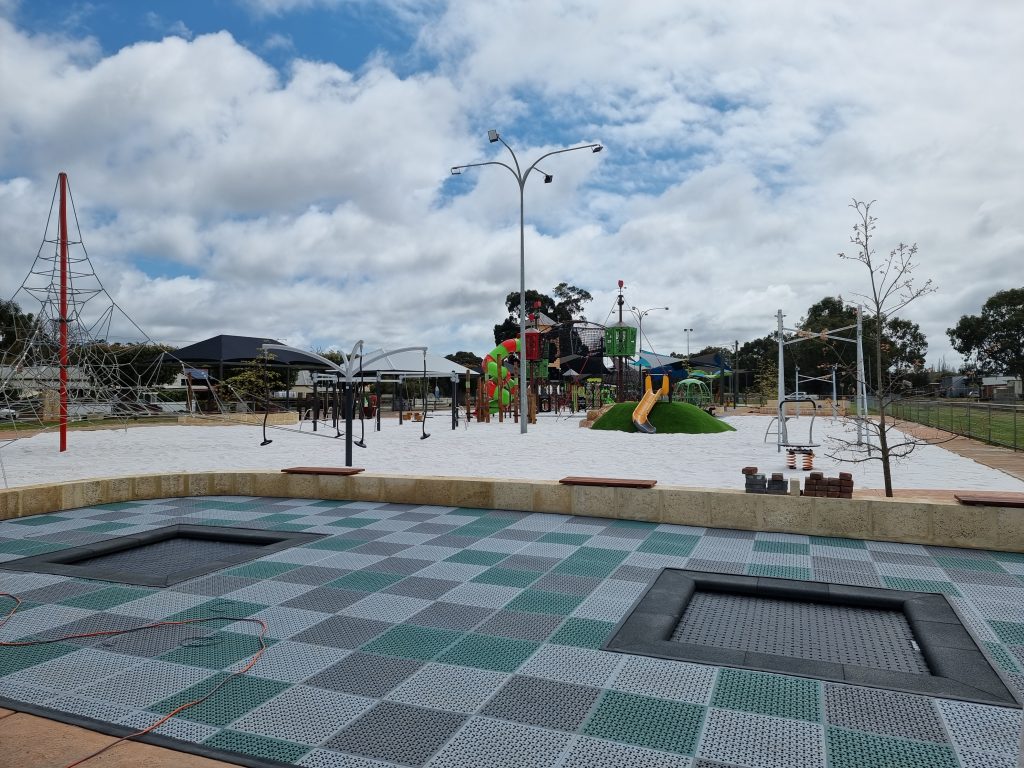 Whilst the old playground was great, this wonderfully themed and thought out play area has really stepped everything up a notch. The equipment is well spaced out, allowing for large numbers of children playing, as well as there being thought put into equipment for children of all abilities, even pathways through the sand, for children in wheelchairs and strollers, to still feel like they can explore and interact.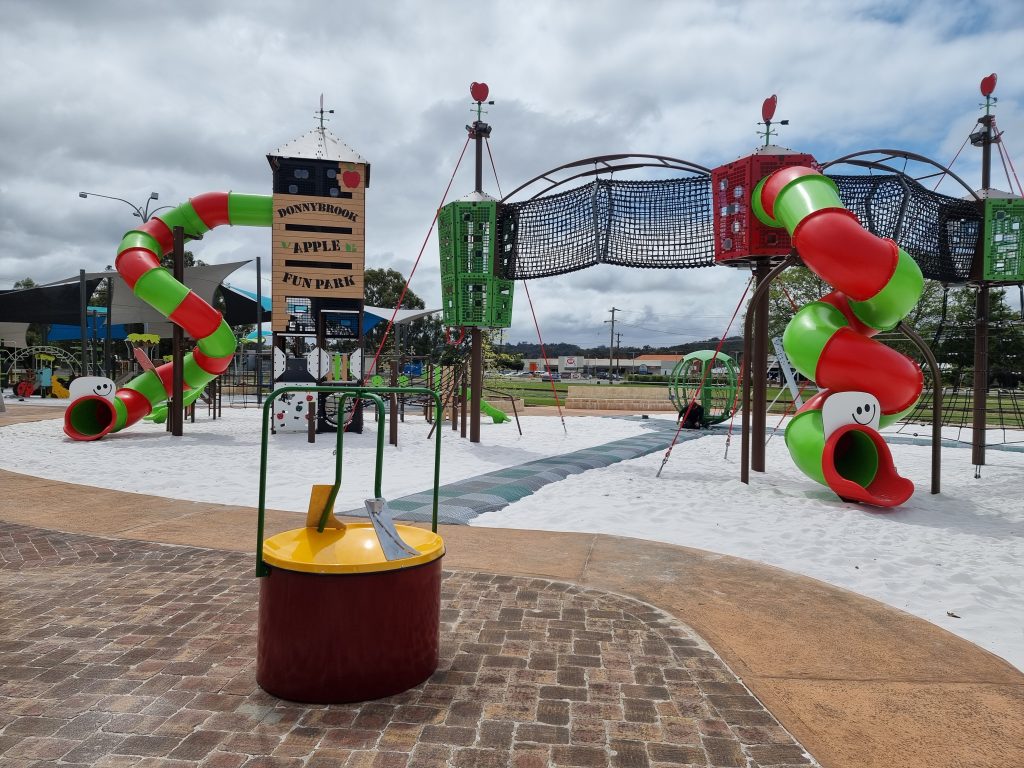 The only problem with the Donnybrook Apple Fun Park is that it is so amazing your child will never want to leave! For those that live in the southern suburbs, you might like to take a drive down for the day, otherwise it is a fantastic place to stop if you are travelling to Bridgetown, Manjimup or Pemberton. Best of all, the friendly apple and pear are still there to greet the kids!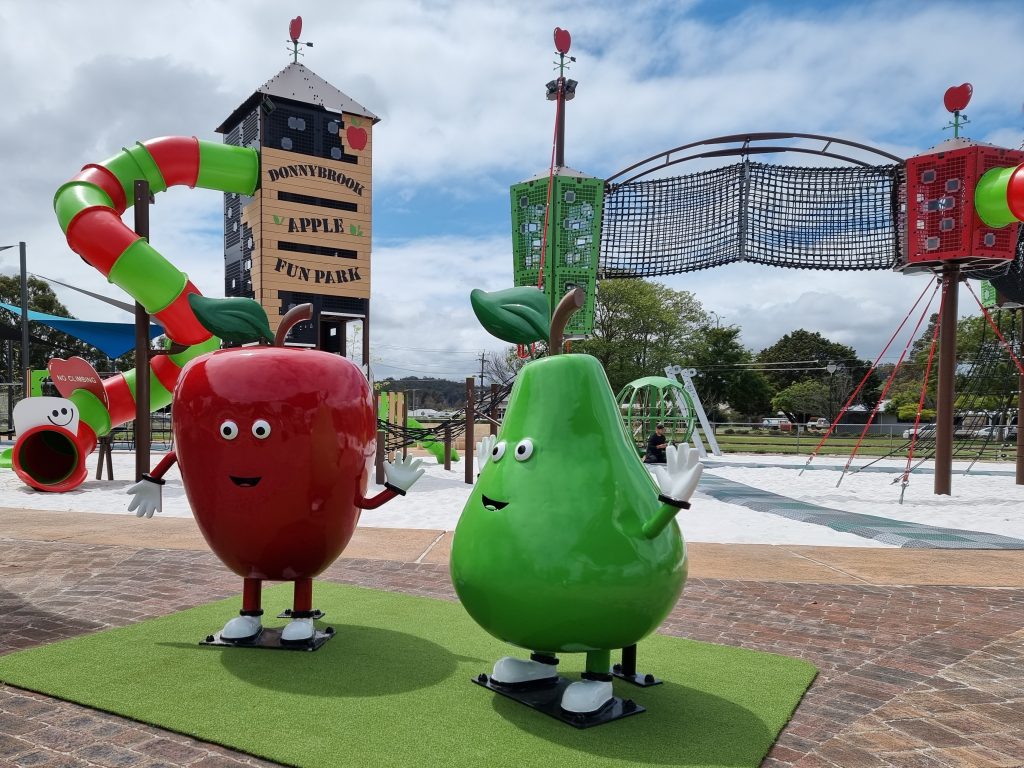 Find more playgrounds in Perth
Location
No Records Found
Sorry, no records were found. Please adjust your search criteria and try again.
Google Map Not Loaded
Sorry, unable to load Google Maps API.
Member Reviews