Monsterella is a suburban pizzeria with a warm, laid back feel. The bustling Grantham Street eatery has a hip a rustic interior and lively, family-friendly atmosphere. We were lucky to get a booking at the incredibly popular spot. We needed to come in early, which was fine with us, as we're early eaters anyway. We got there at 5.30pm and it was soon heaving with diners.
As soon as we sat down, a friendly waitress brought our menus as well as a blank pizza box with a load of textas for Little Chef. That's a very cool alternative to your usual colouring book! He soon set to work, busily designing his own pizza box. Monsterella was named after the way that the owner's little girl pronounces mozzarella cheese. How cute is that?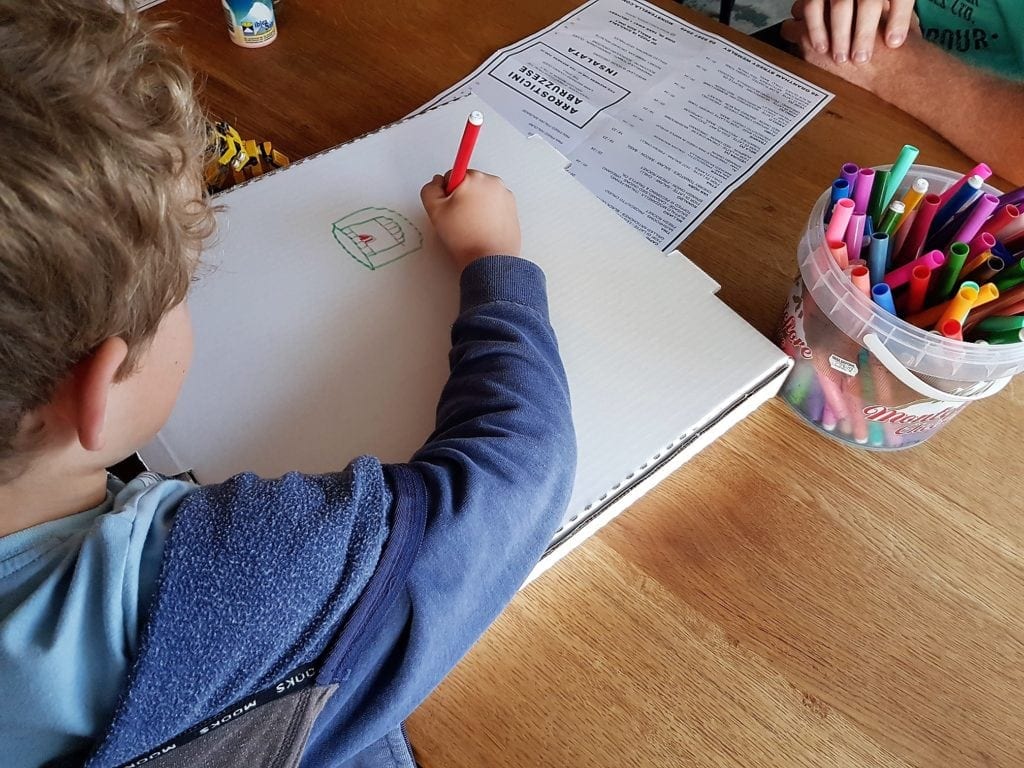 In no time the eatery was buzzing with busy tables and lots of people coming in for takeaway pizzas too. Their focus is on handmade wood-fired pizza with traditional toppings, though there's also some tastebud tempting traditional Italian street food on the menu. Chef and Little Chef both tucked into some crusty garlic bread ($6), with just the hint of a black edge, from being cooked in the roaring wood fire in the open kitchen.
Chef, ever the meat-lover, chose the pizza which appeared to have the most meat… the Hunter ($24). The light and fluffy pizza bases are simply stunning and this was topped with salami, prosciutto, Italian sausage and smoked mozzarella. He'd not even finished his pizza when he announced he'd be coming back for more. This was washed down with a bottle or two of beer, it's BYO at Monsterella.
Kids will find the "Bambini" menu very tempting with four different pizza toppings to choose from, as well as pasta dishes and dessert. High chairs are available for little ones.
Little Chef chose a kids "Bambini" pizza ($12) with ham and cheese. It was a decent size and kept our 8 year old very happy! Monsterella's Napoli-Australian style pizza bases make them sturdy enough to get your hands dirty and eat them with your fingers. There's none of that silly "eat your pizza with a knife and fork" business here!
And much to my delight, they offer gluten free bases. Yessss! Even better, their GF bases taste so close to the real deal, I barely even realised. My lip smackingly delicious Milliano was topped with buffalo mozzarella, Italian fennel sausage, caramelised onion, oregano, pecorino cheese and truffle oil.
We left with full, contented tummies and Little Chef was stoked his pizza box was placed on the wall of fame!
Monsterella nails their wood-fired pizza. Head to Wembley for some top-notch Italian eats – you won't be disappointed by their simple, yet delicious offerings.
Find Monsterella at the corner of Grantham Street and Jersey Street, Wembley.
Find more family-friendly restaurants in Perth