Matagarup Bridge Climb Review
The Matagarup Bridge Climb is one of Perth's newest, landmark attractions.
Matagarup is the Nyungar name for the area around Heirisson Island, and means "place where the river is only leg deep, allowing it to be crossed"
The pedestrian suspension bridge links East Perth to Optus Stadium The climb is challenging but provides an opportunity to take in the stunning views of the Swan River and Perth city skyline that is unrivalled. The climb can be done by anybody aged 8 and over, in good physical health. You do not need previous climbing experience or to be extremely fit.
Matagarup Bridge was not originally built for people to climb, when I heard this while making the climb I was low key freaking out and second-guessed my choice to climb. But I'm so glad I did.
It's a 314 step trek up the bridge's main arch, ascending 72 metres to the sky view platform where you can take in the beautiful view and get some memorable photos.
It's a 45-degree climb and to reach the top, you will be required to climb, crawl, shimmy and squeeze through some very tight spaces.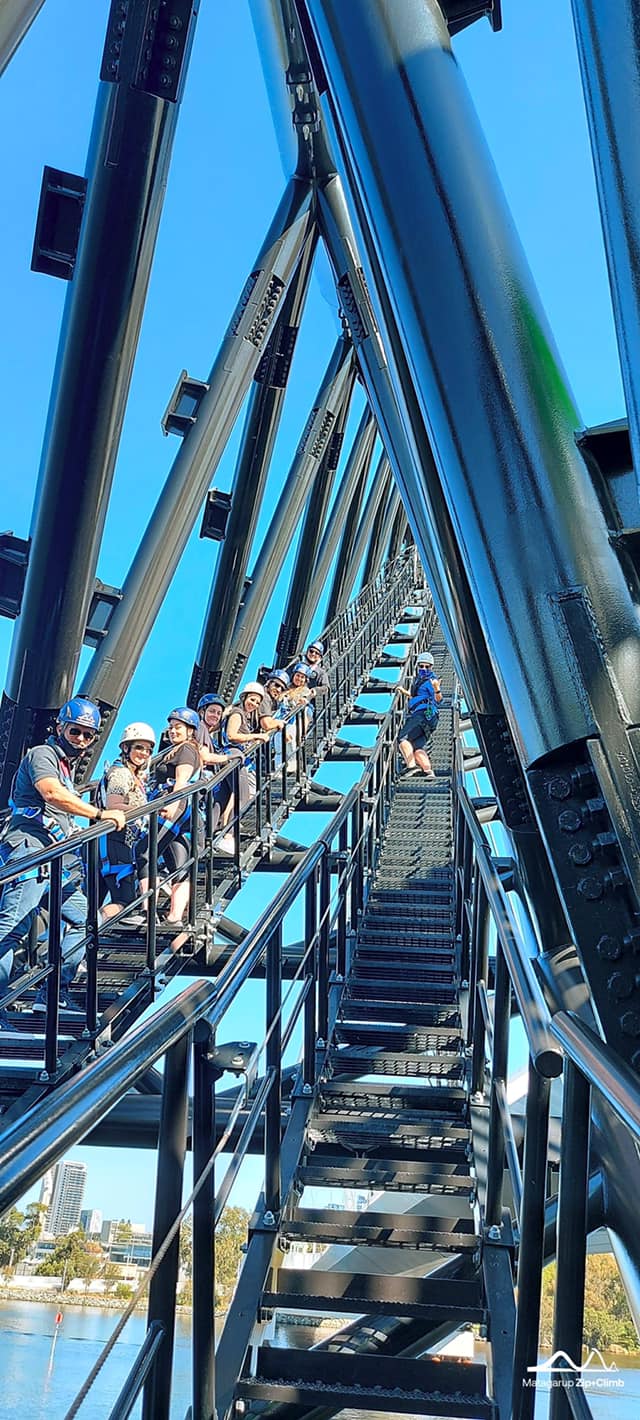 Matagarup zip+Climb is located at Optus Stadium on the Ground level, near Gate D. On arrival, check-in at Zip+Climb HQ before you undertake a safety induction and fitted with a full-body harness, helmet and a bridge latch device with a tether to ensure your safety at all times. Once you are clipped on to the bridge, the adventure begins!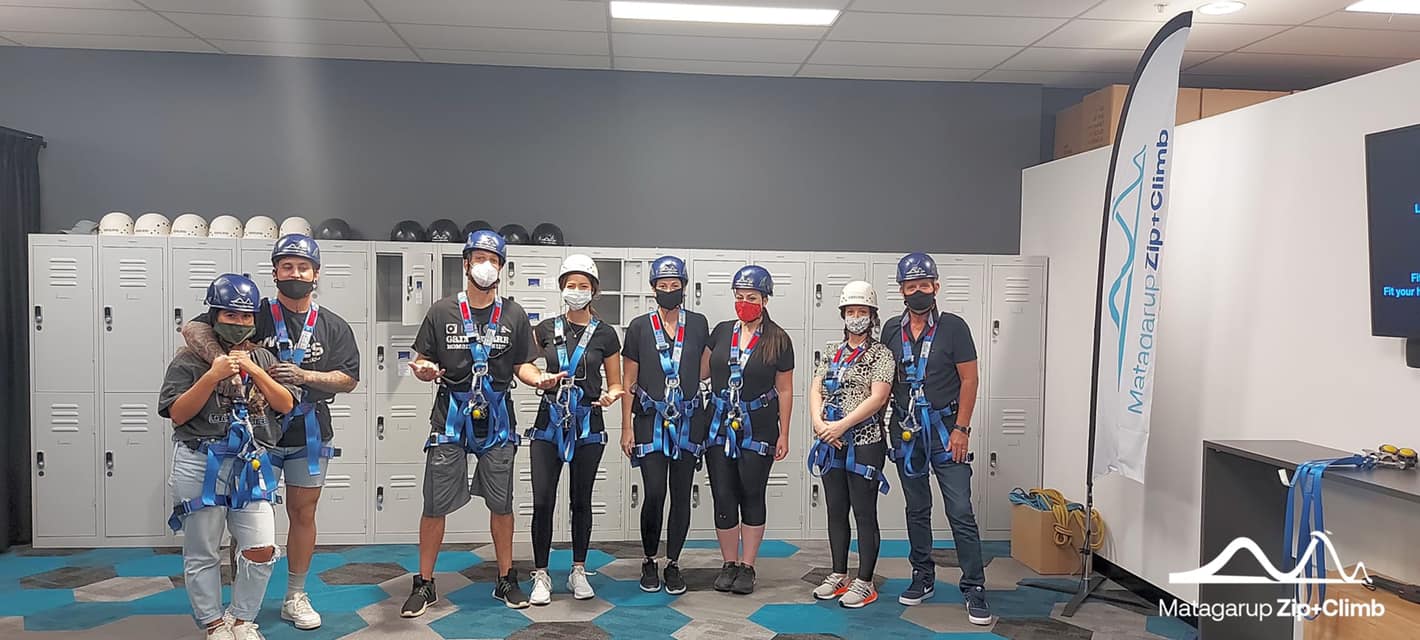 Your guides will escort you up the eastern side of the main arch to the midway point, allowing for everyone to catch their breath. You will be entertained with interesting stories of the Swan River area as you are ascending the bridge.
It was very interesting to know how everything came about and a great little touch to the climb.
The second part of the climb will take you to the sky view deck. The SkyView Deck is an open-air viewing platform, complete with Perth's first glass-bottom platform, suspended 72 metres above the Swan River. You will be 100% enclosed, allowing you to safely untether and walk around the deck to enjoy the 360-degree panoramic views of Perth.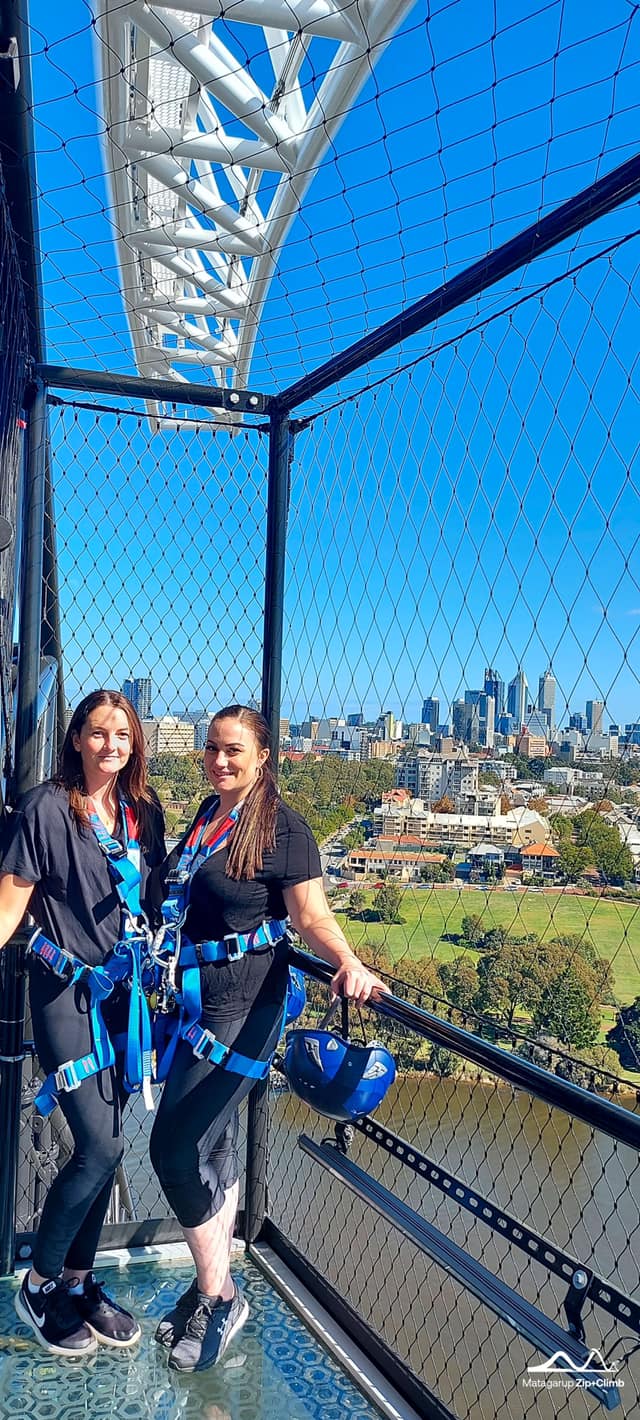 From this position, your guide will share more interesting stories about the city as you view it from an entirely new perspective. You will spend approx.15 mins at the Sky-View deck.
You will then Descend the bridge down the western side of the main arch to the launch platform and prepare for an adrenaline rush. If you are doing the zip line (due to open June 2021), your guide will safely prepare you for launch, double-checking all equipment and when you are ready, take off and feel the thrill as you soar through the sky at up to 20 metres per second!
You will be brought in for a safe landing on the eastern banks of the Swan River. You will be escorted back to HQ to return your gear and receive your free photos and video of your amazing experience.
If you are not doing the zip line you will continue down the other side of the bridge until you reach the ground.
All up everything takes Approx 2hours. If you're looking to do something different and fun I highly recommend this bridge climb to add to your bucket list.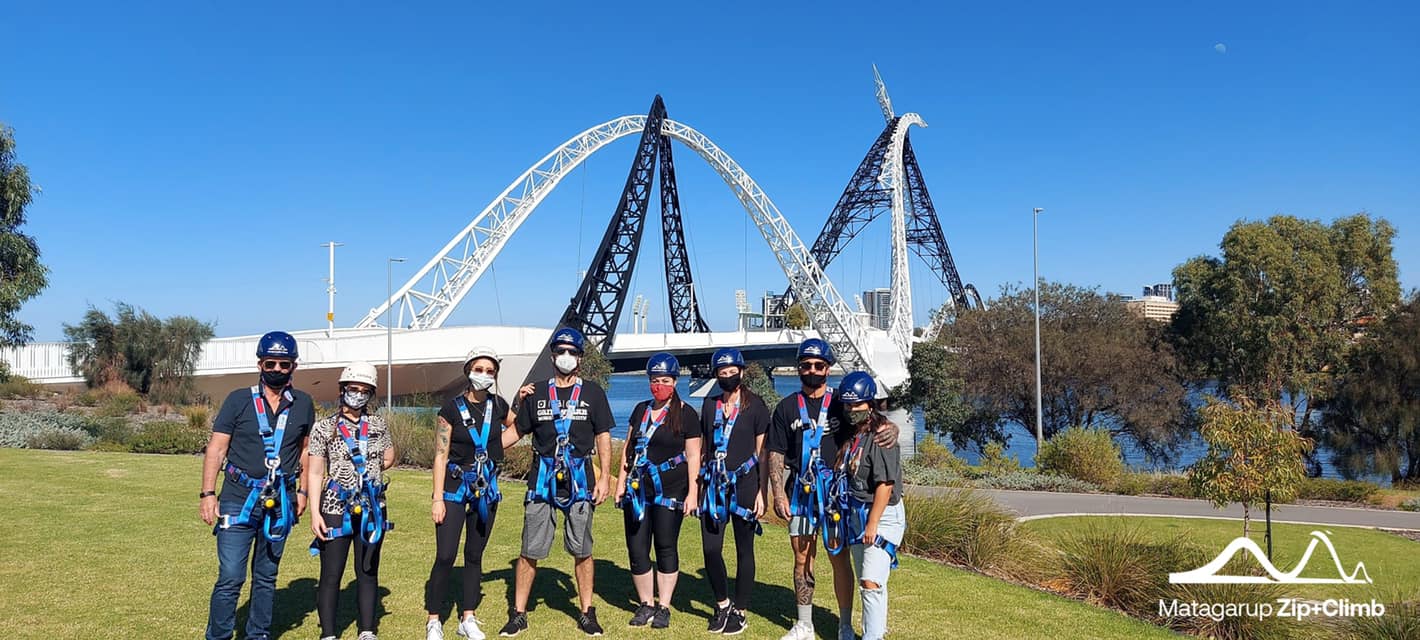 What are the requirements to climb the Matagarup Bridge?
Ages requirements for the bridge climb and zip lines are:
Bridge Climb: Min 8 y/o – Max 75 y/o
Zip Line: Min 10 y/o – Max 75 y/o
Height for the climb is Min 120cm (4ft) Max 210cm (7ft) and Max weight 140 kg
Can you take your phone on the climb with you?
You are not allowed to take your phone on the climb but your ticket includes free photos of your experience and is emailed to you directly after your experience. The photos they take are great they know all the best spots on the bridge to capture that perfect picture. There are lockers provided so you can store all your personal belongings which is free of charge.
What should I wear?
Wear activewear with enclosed shoes. No hats and a strap is given to you if you want to wear your sunglasses to stop them from falling off. The climb is done in all
weather
types so if you book and it's raining the climb will still go ahead.
Is there parking nearby?
There is free parking at Optus Stadium on none event gays. When there is an event there is no parking from 9 am regardless of the time of the event. So plan ahead. We walked from the casino along the water it is such a nice peaceful walk and also warms your legs up for the important climb.