Inflatable World Joondalup is the perfect place to burn off some energy! Inflatable World is located in Joondalup (inside Bouncers), with a sister branch in Ballajurra, Leeming, Mandurah and Shenton Park.

You can expect the kids(and adults) to have a huge adrenaline rush when they see the large inflatables that boast slides, climbing walls, obstacles and more… A fun time is virtually guaranteed!
There is a NO SOCKS, NO PLAY policy at Inflatable World Joondalup. All ages are permitted. Your entry fee allows you free play for a 2-hour session. It's plenty of time as believe me the kids will hardly sit still and will be burning off calories faster than you can blink! On entry, you will be given a colour wristband that indicates when your session expires.
There are about 10 huge inflatables of which only a few cater to the younger kids (under 3s). The rest of the inflatables are more challenging so there are Supervisors to make sure that the younger kids don't climb on them and get hurt, and that a limited amount of kids go on them at a time – ensuring a safe play environment. But it is still advisable to keep a close eye on your younger kids.
There is an Under 5's area atInflatable World Joondalup with soft play shapes to climb on and build with. This area is not fenced off so supervision is important if you have a feisty toddler. Nearby are the tamer slides and bouncy inflatables for Under 5's.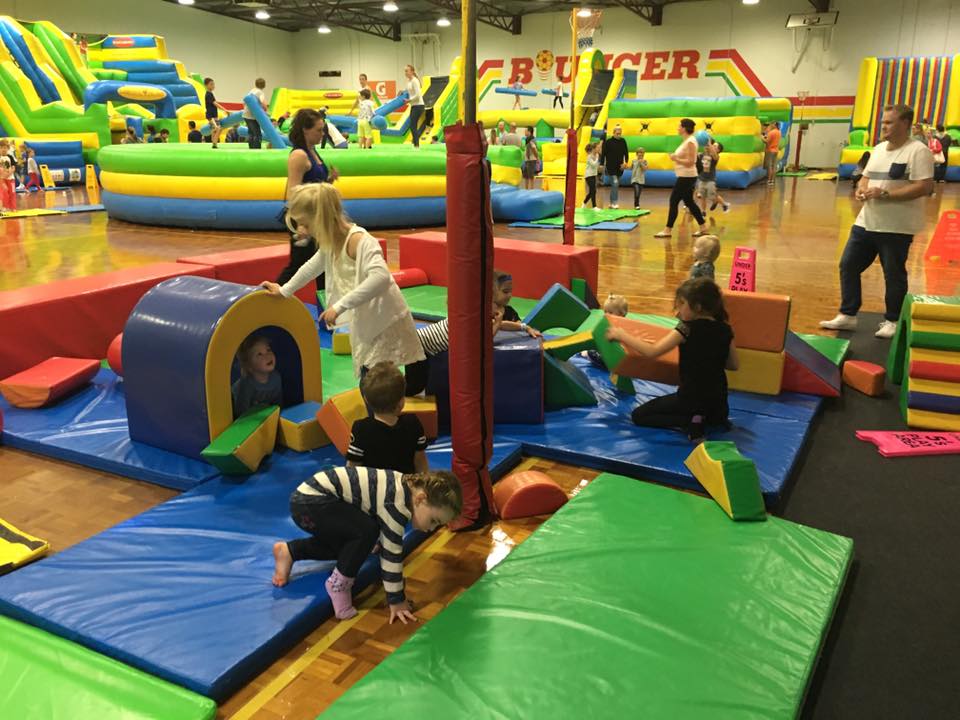 Check out some of the exciting Inflatables –
Jousting Balance Challenge
Minion themed Inflatable
Tractor Inflatable (suitable for little ones):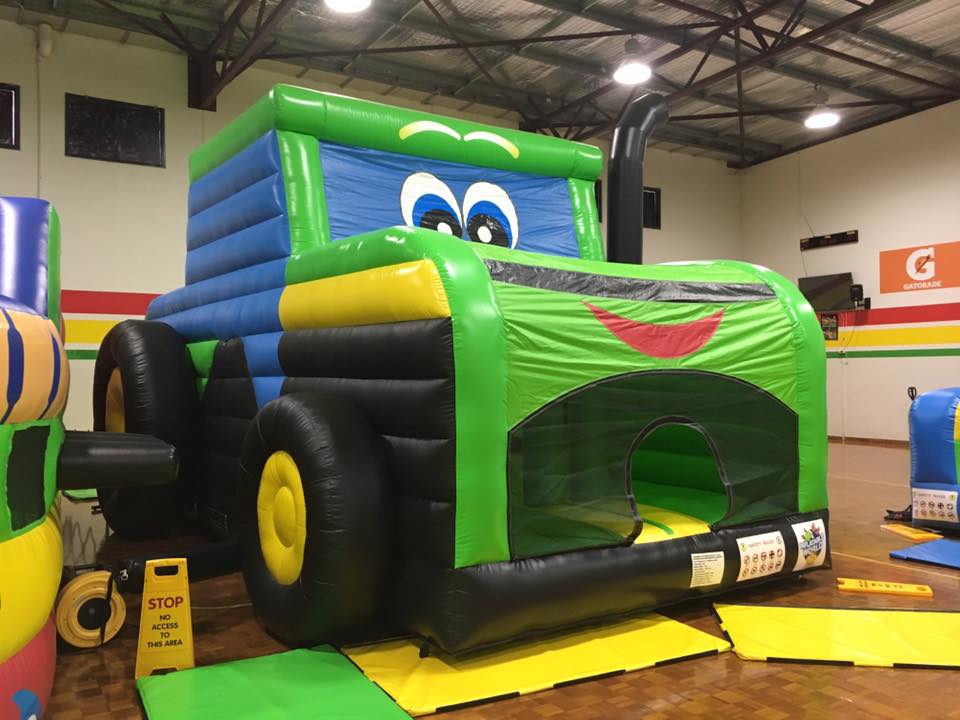 Big Boat (suitable for little ones):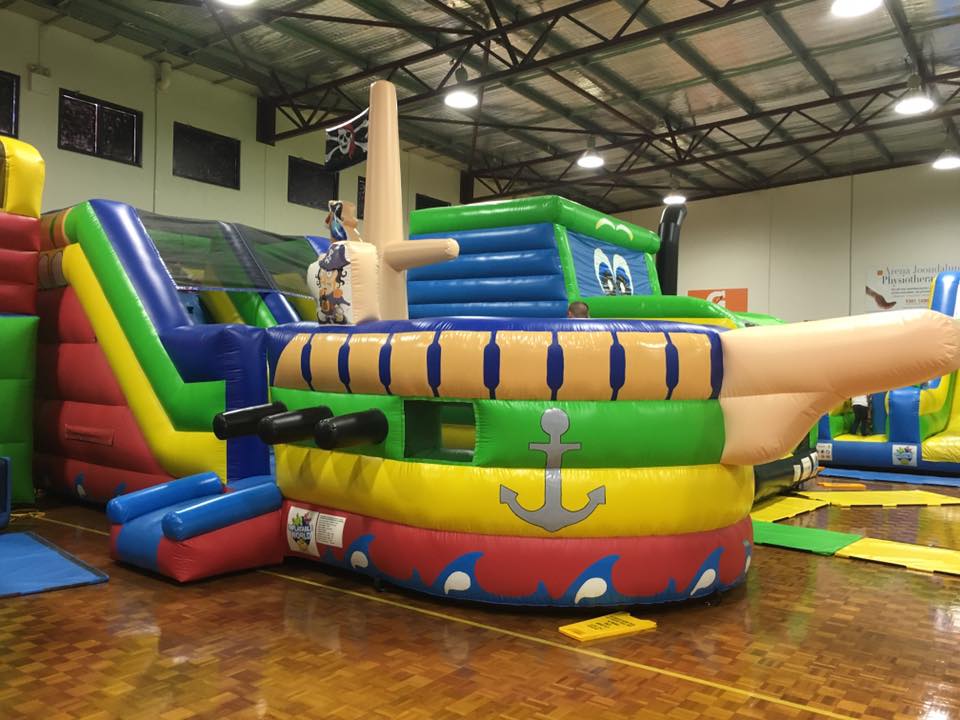 Sticky wall – for this a supervisor helps you put on a special Velcro suit and you then throw yourself at the wall to stick to it – Hilarious!
Inflatable World Basketball challenge:
Lily Pad Leap Frog: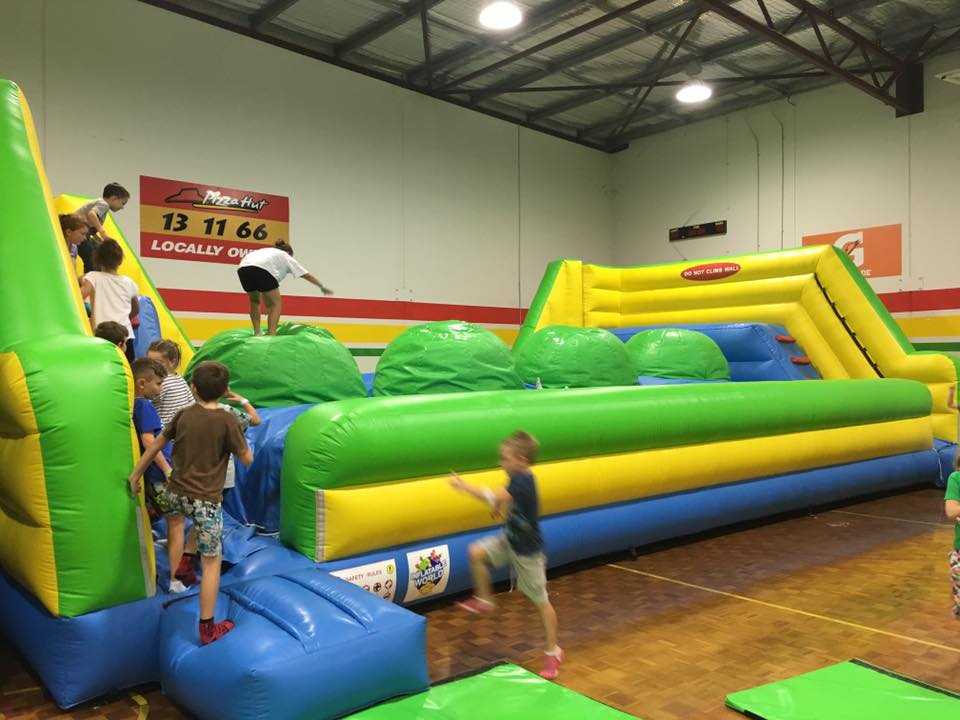 Jousting Arena:
Slides:
Alongside the inflatable area are a scattering of tables and chairs and a few spectator benches for mums to set up camp. Rosie's café within Bouncers serves light meals including toasted sandwiches, hotdogs and hot chips which they will bring to your table once you have ordered and paid (cash only – a cash atm is available). Good coffee and other refreshments are also plentiful. Drinks and food are not allowed in the Inflatable area – only at the upper tables.
There are toilets alongside the Inflatable area, which are easy to access if you are busting. But there was no baby changing facilities when we visited.
Inflatable World Joondalup
4 Elcar Ln, Joondalup WA 6027
Find more things to do in the school holidays