If you're looking for an activity to keep the kids busy, engaged and moving then you can't go past Craigie Leisure Centre. It was hours of fun for us and our little one and you can make a day of it by bringing a picnic, using the barbecues provided or dining in the cafe.
Inside there is a leisure pool and a lap pool. The leisure pool is designed for people of all ages to enjoy, with one side being tailored for younger children with a gradual incline entering the paddling section and some small fountains, where toddlers were having a blast.
This gets deeper for slightly older children who also enjoy the tall tower with water buckets, which fill then tip into the pool. There were many squeals of delight as the water splashed down on waiting heads. Our toddler's delight was when it landed on Daddy's head!
There's a little wall partially dividing this pool, ensuring the younger children don't suddenly end up out of their depth. There were a few pool noodles and boards around, we weren't sure if they belonged to the pool but there were no objections from anyone when we played with them.
Outside there is a lovely water playground for the little ones. This is set on an aqua splash pad and consists of a range of fountains, sprays, spouts and tipping buckets to run through, dash under, jump over or aim at each other.
There are buttons to control different sections and they turn off after a period of time until the button is pressed again. My toddler loved this area and spent ages running through it and jumping in puddles.
Do be aware of bees on the ground however as we saw so many. This area is great as it's also mostly shaded by sails. There are a few benches to sit on along the window, and near the doors to access the inside pools. While we were there the heavy doors to inside were shut and the larger outdoor lap pool is fenced off. This makes the area fairly safe although you need to keep your eyes on the children at all times as people coming in and out open the doors to the main pool area. Children under the age of 11 require direct adult supervision at all times and children under 6 need to be accompanied in the water and within arms reach of an adult at all times.
Past the water playground is a large 50m lap pool with a large section available for older children. We were there on Saturday during the school holidays and there was a huge inflatable obstacle type course on the water which looked like a lot of fun for older kids and teens. This is usually up on a Sunday afternoon.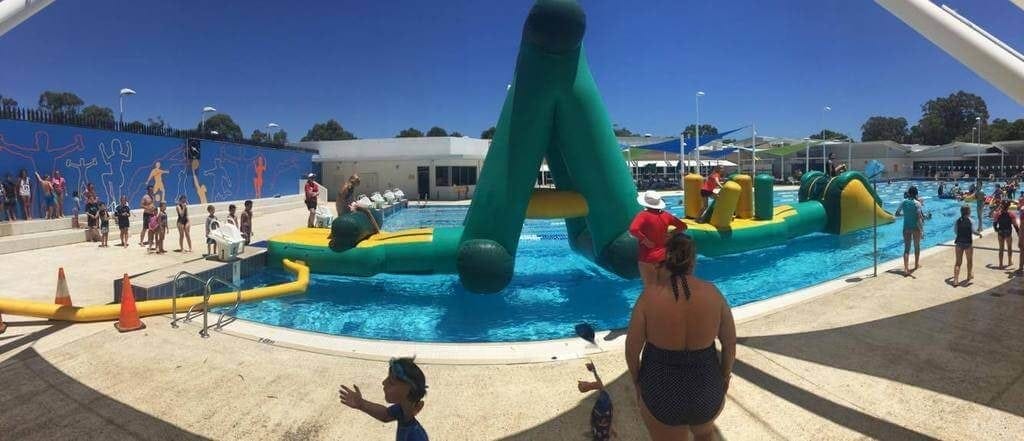 In this area, there is some shaded grass to lie on or picnic on and even some sun lounges. There are barbecues available in this area and separate toilets and change rooms too so you don't have to go inside.
Inside, there are lockers available, toilets, showers and change rooms, and especially handy when trying to keep tabs on a few children are some showers for rinsing off next to pool area.
There's a cafe inside, overlooking the pool area and in the foyer. They offered things like toasties, sausage rolls, chips and some muffins, cakes and sandwiches. Hot drinks are available along with a selection of soft drinks, juices and ice creams. Tables, chairs and high chairs are all available.
Craigie Leisure Centre
For more information visit https://joondalup-leisure.com.au/
Find more Aquatic Centres in Perth