Costco Perth Review
Costco is a members-only warehouse selling a massive variety of items including bulk groceries, electronics & more. Launched in Australia in 2009 there are currently 12 Costco warehouses in Australia across Sydney, Melbourne, Adelaide and Perth. The first and only Western Australian Costco opened its doors in March 2020 and is located in Dunreath Drive, right next door to Perth Airport and
DFO Perth
.
How much is a membership to Costco Perth and is it worth it?
To shop at Costco you need to be a member of the Costco Club, you cannot shop without a membership. There are two types of membership options: Costco Gold Star Membership, for $60 per year, or Costco Business Membership for $55 per year. To access the business membership you will need a valid ABN number. Membership is available to anyone over the age of 18 and it is easy to sign up online or you can visit the membership counter in store to sign up in person.
Membership is for individual use and you will be given a membership card which has your picture printed on it which you will need to show on entry to the store and when you go through the checkouts. Costco membership also comes with a 'free household card', which means you receive a free membership card for either your spouse, partner or another immediate family member.
Being a member also means you can bring in two other individuals with you to the store, children not included in the headcount.  Be aware that only you can purchase the goods unless you have a Costco Business Membership, so you will need to pay for your guest's shopping.
Costco also states that if at any time, you're unsatisfied with your membership, they'll refund you your membership cost.
What can you buy at Costco Perth?
At Costco Perth offers an eclectic range of products.  You can buy anything from day-to-day groceries, cleaning products, toys and bulk buy toilet roll to giant teddy bears, televisions and even $800k diamond rings and swimming pools! Think Aldi special buys x 1,000,000!
First things first, if you are planning to shop at Costco don't forget to bring along a gold coin or shopping cart token. Recently Costco Perth has added coin locks to all their shopping trollies.
Most things at Costco are only available to purchase in bulk or in larger quantities than you would normally find in your local supermarket. So great if you find yourself going through tomato sauce, or in my case Nutella, at a rate of knots! Be warned, you may only put a few things in your oversized trolley and then receive bill shock at the checkout as you are having to buy large quantities of everything. I find it great for purchasing school snacks such as crisps and muesli bars.
You'll also find some interesting and unusual food items that your local supermarket doesn't stock.  |We love the ice coffee premix and the mini cinnamon scrolls (pack of 24) are divine. On my last visit, I spotted this Ice Cream party box ($19.99) which looks like great fun.
If you are planning a birthday party or gathering, Costco has you covered. Their bakery offers birthday cakes which you can pick up off the shelf or order in advance for a personalised option. They also have a range of food platters such as mini sliders, buffalo chicken wings, taco kits and sandwiches.
At the centre of the store, you'll find a range of adults and children's branded clothing, shoes and underwear for sale. The stock for this changes regularly so if you see something you like be sure to snap it up as it can't be guaranteed that it will still be there on your next visit.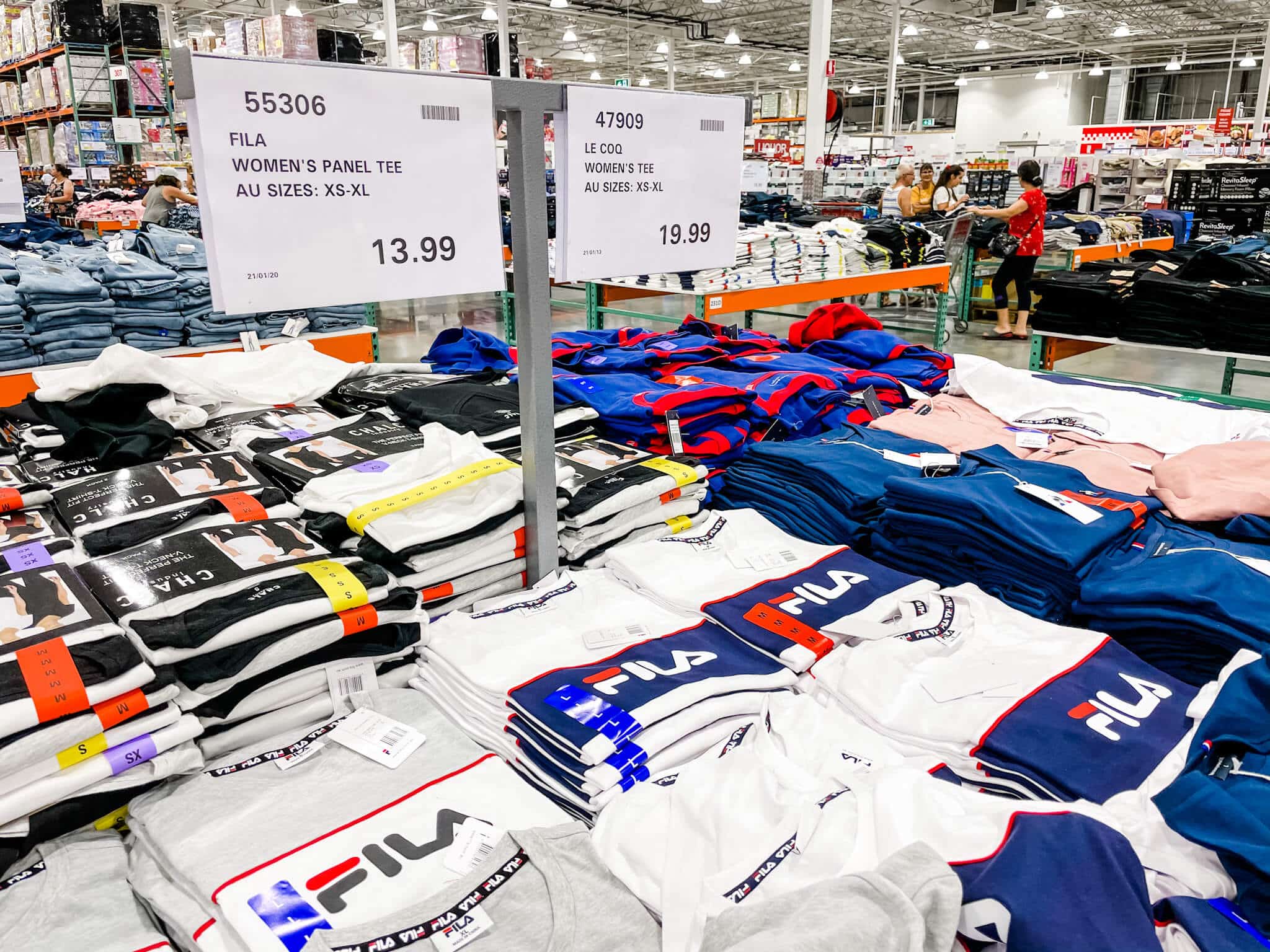 Every two weeks a number of products will attract further discounts which are advertised instore.
Costco Perth also has an area selling alcohol. The Mama Mango Moscato wine is hugely popular with the members of the Costco Perth Fans Facebook group! All alcohol needs to be purchased separately.
COVID regulations permitting, you can usually find store workers handing out samples of different products.
Costco Perth is also home to an optical centre, hearing centre and tyre fitters, all offering cheaper prices than traditional outlets.
Food Court
The food court at Costco Perth is super cheap and we are big fans of their cheese pizza! You can order and pay using the touch screens located in front of the counter. The menu is limited and includes Hotdog with bottomless soda at $1.99, Chicken burger $6.99 and a range of pizza slices, which are huge, for $2.99. If you are wanting to feed the family for dinner you can pick up one of their whole pizzas for $15.99 – winning!
Fuel Station
Having a Costco membership also lets you use their fuel station, which claims to offer the lowest possible prices. The fuel station is located right next to the warehouse. There is no manned pay station so you will need to insert your membership card into the fuel pump and then pay for a preset amount before you fill-up.  If you don't manage to full your tank to the preset amount the difference will be refunded to you usually within a couple of days.
Parking at Costco Perth
Free long term parking is not available at Costco Perth due to its proximity to Perth Airport. Parking is free for the first hour. The second hour is $3 but the fee is waived if you purchase something in-store and scan the barcode on the bottom of your receipt at the pay station or boom gate at the exit.
The pay stations are located at the exit of the store, opposite the food court, you will need to have your registration plate on to validate your entry time. You can also validate your parking at the boom gate by scanning the bar code on the receipt, so make sure you have it handy. Don't leave it in the boot with your shopping!
Top tip: By paying at the pay station you will receive an extra 30 minutes free, which is great if you are approaching your two-hour time limit and still need to fill up with fuel.
Costco Perth
Costco Perth is located at 142 Dunreath Dr, Perth Airport WA 6105
Costco Perth Opening Hours
Sun

10:00 AM – 06:00 PM

Mon

10:00 AM – 08:30 PM

Tue

10:00 AM – 08:30 PM

Wed

10:00 AM – 08:30 PM

Thu

10:00 AM – 08:30 PM

Fri

10:00 AM – 08:30 PM

Sat

9:30 AM – 06:30 PM
For more information visit www.costco.com.au
Have you shopped at Costco Perth? Do you think it represents good value for money? Tell us in the comments below.
Find more places to shop in Perth