A new nature play area has opened at Warradale Park in Landsdale, built in memory of toddler Sam Trott. This lovely playground honours those who came together and embraced a community strength and spirit that will never be forgotten. It is located on the Southmead Drive side of Warradale Park.
The playground is great for toddlers as it is fully fenced with one double-gated entry point, and has play equipment suitable for a range of ages. There is a combination of some traditional play equipment and a lot of nature-based elements. The traditional elements include two slides, rockers and a sand digger as well as a set of conventional swings, which are always a favourite.
The play area has 3 picnic tables with benches, but they do not have roof covers. One bench and plenty of low walls and logs allow for plenty of sitting opportunities for those parents who can. Several trees provide shade but a large part of the playground is in the open with no shade sails. Under the trees, the ground is covered in woodchips, and the main playground is sand based. There is a patch of grass lawn that can be used to throw down a picnic rug. For now, it is in full sun, but trees have been planted to provide shade in the future. The whole area has been landscaped with attractive native plants.
In the centre of the playground is a medium height hill that allows for various climbing ways to reach the top – steps carved out of a log, limestone block steps, wooden balancing steps, and a slope of grass. Once at the top you can meander around and then choose between two slides to go down again. One is a double slide good for young children. The other is a faster longer slide with a bump halfway down which causes much laughter.
A lovely imagination area allows kids to pretend they are on a bus, with vertical sides provided loosely, steering wheels to drive, and rows of log chairs for passengers.
For budding musicians, there are two percussion instruments – a hand drum, and a small wooden marimba that makes beautiful sounds.
Another fabulous area is a sand and water play section. There is one water pump that can be activated by pushing a button to release a gentle stream of water. A large sandpit directly next to it allows for creative mixture making and sand castle building. Excess water cleverly runs down a slope to irrigate the native plants below.
Other play equipment inWarradale Park includes a basket swing (slow moving), and two rockers (one is a popular white horse).
There are plenty of logs and small limestone rocks to climb on and stepping logs and wooden platforms scattered below the trees make fun balancing pathways to go back and forth on. A wooden teepee provides a great climbing opportunity for bigger kids.
The cement pathway that winds around the enclosed play area provides an opportunity for scooters and smaller bikes to be used, but when the park is busy this may be tricky with lots of people about.
One drinking fountain is located near the entrance. There are no toilets due to this being a residential park.
As of June 2017, Warradale Park has gained a new attraction: a new rope and nature playground. Everything is made up of rope and wood, and designed like an obstacle course for active kids.
The playground features a series of rope ladders and balancing structures surrounded by a thick bed of wood chips.
Miss 3 immediately gravitated to the rope bridge. She had several goes crossing this, which is great practice for her coordination and balance. Adjacent to this were two other rope bridges without hand rails for kids who want that next level challenge.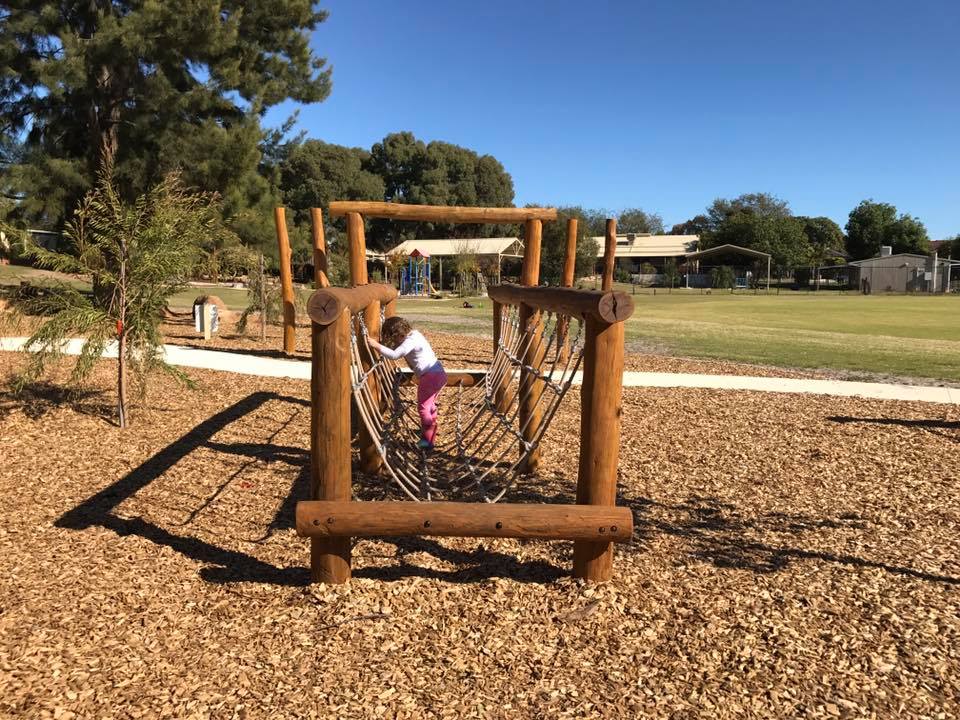 The other big hit was the double slide. This has a huge concrete tunnel base, a rope net to climb up, and two tall bumpy slides. The top of the platform from the rope to the slides is covered on astroturf, which will hopefully make it a little gentler for little knees when climbing up.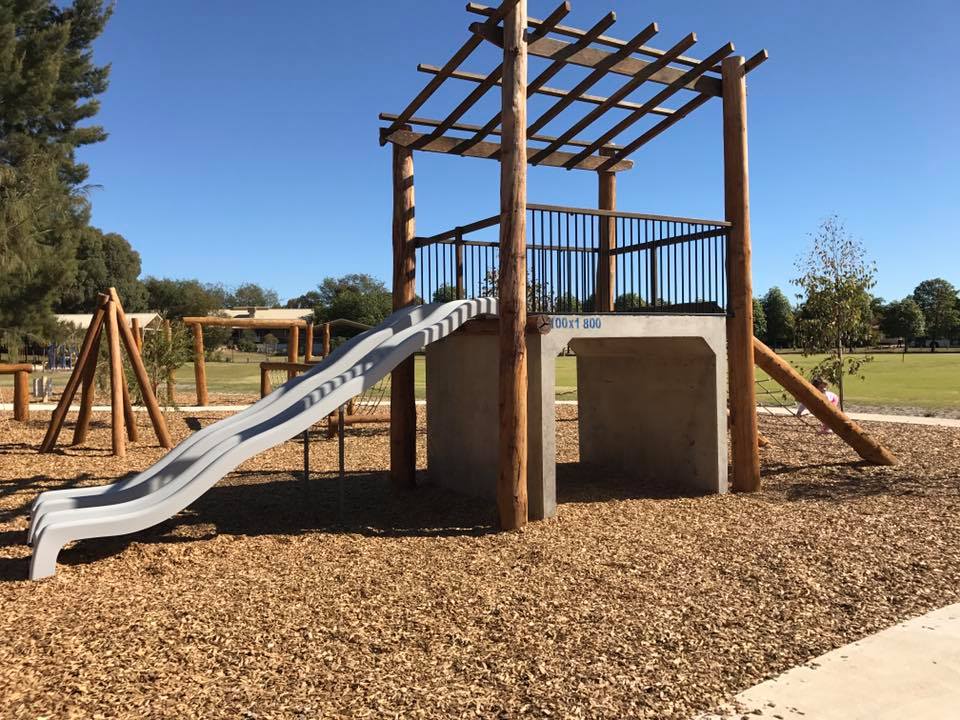 We found a wooden teepee, similar to that found at Sam's Playground, and a series of balancing beams. Miss 3 had a crack getting up into a rope nest, but ended up asking for a lift up with her legs were long enough. She also tried climbing over one of the rope ladders, but wasn't confident to climb backwards down the other side.
In addition to these, there is a plastic birdsnest swing, some gymnastics-style bars and a pole with a ring at the top to grip and swing off like we grown ups did with the old Hill Hoist as kids. We found balance beams and more logs to balance on across the path, adjacent to the tennis courts.
Overall, I'd say this play area would be best suited to kids aged from 3 years and over. It isn't fenced off, but it is set far enough away from the road that I felt Miss 3 was safe and unlikely to run onto the road. As the playground backs on to Landsdale Primary School, there is the possibility of sharing the space with much older kids. We found this to be a positive experience when we visited, with the bigger kids sharing nicely and being aware of Miss 3 running around with them, but it's always best to supervise just in case.
Find more playgrounds in Perth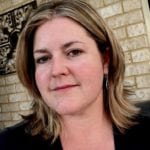 Georgia Millad is a busy mum of two gorgeous girls. She contributes reviews of kid-friendly places and events around Perth, and has a mild obsession with grammar rules and spelling. Georgia has recently qualified as an EA, expanding on her mum skills to support kids in the classroom.
Location
No Records Found
Sorry, no records were found. Please adjust your search criteria and try again.
Google Map Not Loaded
Sorry, unable to load Google Maps API.
Member Reviews