Miss 5 loves to climb. As a toddler, she showed no fear in scaling to the very top of every climbing frame she encounters giving me several heart stopping moments in the process. As her love of climbing has continued over the years we decided to try out Indoor Rock Climbing so we headed to Summit Climbing in Malaga.
Summit Indoor Rock Climbing Centre is located in Malaga. They have a series of climbing walls that are suitable for both beginners, intermediate and advanced climbers. Children are welcome to go along from the age of 5.
Before you can climb you must complete a Liability Waiver Form. This can be done online before you visit or at the reception when you arrive.
Once that is completed you are taken to the climbing area. There are free lockers available to store your belongings. You are each given a harness to wear and there are special smaller harnesses for younger children.
Before you can start to climb you must complete the induction where one of the instructors will take you through how to use the ropes and carabiners to climb and belay. This is where I realised that as the Belayer I would have the hardest job! The Belayer holds the rope for the climber and their life is literally in your hands! You have to be over the age of 12 to Belay so that meant that I was unable to climb myself that day as I had no one to belay for me. If you wish to climb yourself make sure you go along with another adult.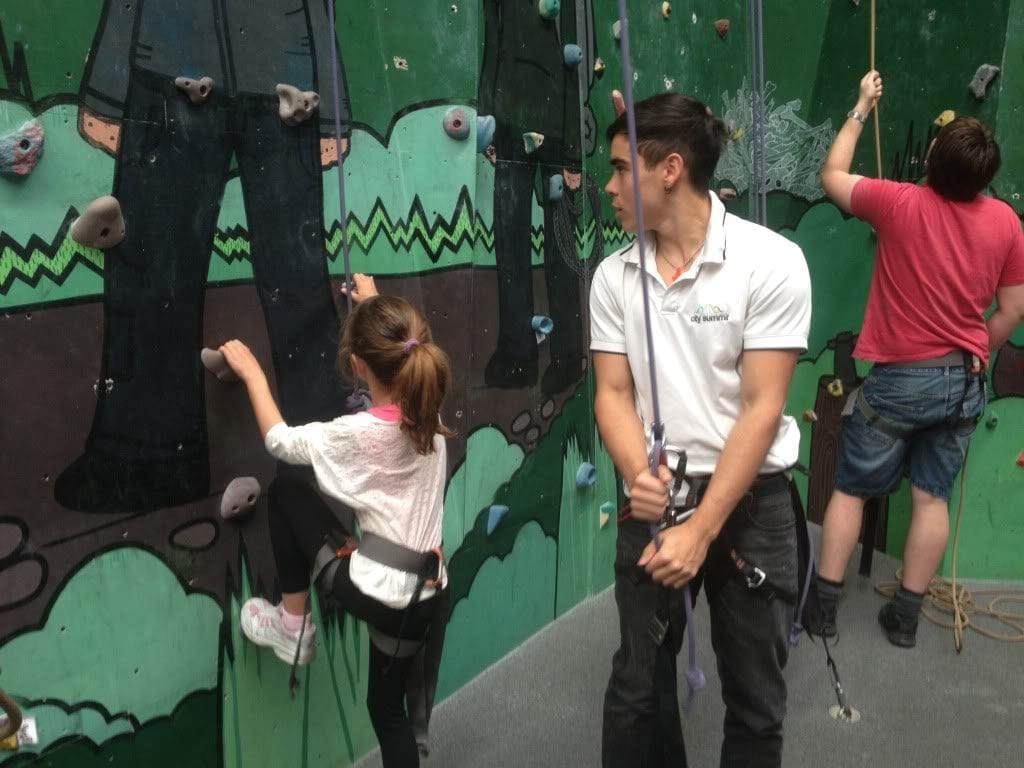 I did find the process of belaying a little overwhelming at first and was convinced that I would never get the hang of it! But as with most things, after a couple of practices, it started to become second nature and I felt confident in my role. The instructor will not let you move on until they are sure that you have the skills and confidence to tackle the climbing walls on your own.
After completing our orientation we were free to climb any of the walls around the centre. The walls vary in difficulty and structure.
The wall nearest the entrance is the easiest and both Miss 5 and her friend who was 7 managed to climb quite high up the wall during our visit. On each climb, they managed to get that little bit higher.
The walls at the back of the centre are also suitable for beginners but both girls struggled to get past the first few foot holes so much to Miss 5's disappointment we ended up admitting defeat and returning to the first wall.
In the middle of the Centre is a free climb area (bouldering) where you climb with no ropes or harness. The walls are not that high and there are big crash mats around the area to break your fall. Miss 5 and her friend found this area quite enjoyable and so did I as it gave me a break from belaying.

All that climbing and belaying is VERY hungry work and thankfully Summit has a great cafe situated on the Mezzanine floor overlooking the climbing area. I found the food prices very reasonable and the food was served with great presentation.
I ordered a bacon and egg muffin and the girls both had a sausage roll which came with a small salad and a generous serving of tomato sauce. Both were very yummy as it was great to be able to sit and enjoy a bite to eat whilst watching the other climbers.
I was surprised at how much we enjoyed our visit to Summit Climbing. It wasn't an activity that we would usually think of but I really enjoyed the way in which we had to stay completely focused on the task and work together as a team. Next time I will make sure I go along with another adult so I get the chance to climb the walls myself! And I am sure there will be a next time as Miss 5 cannot stop talking about it and has already set her sights and getting to the very top of that climbing wall!
https://summitclimbing.com.au/Find more rock climbing centres