With Book Week just around the corner, it's time for you to start thinking about costume ideas for yourself or your child. This exciting annual event pays homage to the literary world, encouraging people of all ages to engage with and appreciate books, authors, and characters. A standout costume can make this literary celebration all the more memorable.
As you delve into your favourite stories, consider which characters resonate with you most. Whether you're looking for something whimsical, adventurous, or even a bit spooky, there are endless options for embodying your favourite literary figures. Classic characters, contemporary heroes, or lesser-known gems – there's something to suit everyone's tastes.
Keep in mind that your costume doesn't have to break the bank. With some creativity and resourcefulness, you can transform household items and basic clothing pieces into an imaginative ensemble. Explore DIY options, thrift store finds, or even items from your own wardrobe to create a Book Week costume that is both authentic and budget-friendly.
What is Book Week?
Book Week is an Australian tradition, originating in 1945, that celebrates Australian authors and illustrators that have an impact on children and young adults.
In schools and libraries across the country, children (and teachers) are invited to dress up as their favourite book character and partake in a range of activities aimed to highlight the importance and joy of reading.
Book Week 2023 runs from 19th to 25th August with the theme for 2023 being READ, GROW, INSPIRE. The stunning artwork for Book Week 2023 has been created by artist Matt Ottley.
Parents across the country are usually divided into two camps – those who love it and those who find it a nightmare trying to pull together a suitable book-related costume. Fear not … whether you love it or hate it, we've put together a list of Book Week costume ideas.
Book Week 2023 READ, GROW, INSPIRE Costume Ideas
The Book Week 2023 theme is "Read, Grow, Inspire". This theme focuses on the transformative power of reading and how it can help children grow, learn, and become confident individuals. With a theme so full of potential, you have ample opportunities to come up with creative and engaging costume ideas for your child's Book Week celebrations.
To stay true to the theme, you could consider dressing your child as a character from a book that has inspired them or helped them grow. For instance, if your child loves Harry Potter, they could dress as their favourite character from the series, showcasing their appreciation for a tale that has sparked their imagination.
Another approach could be choosing a book that contains essential life lessons, such as Dr. Seuss's "Oh, The Places You'll Go!" or Roald Dahl's "The BFG". Dressing as a character from such books will not only demonstrate their attachment to the story but also highlight the valuable teachings they've gained from reading it.
Lastly, it's important to consider the message behind the theme "Read, Grow, Inspire". You can use this event to introduce your child to influential people who have made a difference in the world through their writing or actions. For example, encourage them to go as Malala Yousafzai, the youngest Nobel Prize laureate and activist for female education, or as Mahatma Gandhi, a symbol of peace and non-violence.
Whatever direction you choose, remember that the goal is to promote a love for reading and affirm its importance in nurturing children's personal growth. Keep the costume ideas meaningful and connected to the theme, and enjoy celebrating the wonders of literature during Book Week 2023.
If your child is not sure about what to wear, we have some costumes ideas for you right here!
Classic Costumes
Choosing a classic book character for your Book Week costume is a timeless choice. Here are some suggestions:
Alice in Wonderland: You can wear a blue dress with a white apron, black shoes, and a headband with a bow.
The Cat in the Hat: This is a fun costume that is easy to put together. Wear a black jumpsuit, a red bow tie, and a tall striped hat.
The Very Hungry Caterpillar: This costume is perfect for younger children. Wear a green onesie or shirt with green leggings, and add some antennae to your head.
Where's Wally?: This is a costume that is easy to recognize. Wear a red and white striped shirt, a blue hat, and round glasses.
The Gruffalo: This costume is perfect for fans of the popular children's book. Wear a brown onesie, add some fur to your arms and legs, and wear a Gruffalo mask.
The Lorax: This is a fun costume for Dr. Seuss fans. Wear an orange onesie, add some fur to your arms and legs, and wear a Lorax mask.
Matilda: This is a great costume for book lovers. Wear a blue dress with a white collar, and carry a stack of books.
Peter Pan: This is a classic costume that is perfect for adventurous kids. Wear a green tunic, brown leggings, and add a feather to your cap.
The BFG: This is a fun costume for fans of Roald Dahl's classic book. Wear a white shirt, brown trousers, and add some giant ears and a horn to your head.
You may already have an array of Disney dress-ups lurking in your child's closet that can be brought out such as Beauty and the Beast, Alice in Wonderland or Peter Pan.
Contemporary Costumes for Book Week
If you'd rather dress up as someone more contemporary, consider these modern book characters:
Greg Heffley from Diary of a Wimpy Kid: This is a popular contemporary costume. Wear a white t-shirt, black shorts, and a backpack with a diary sticking out.
Katniss Everdeen from The Hunger Games: This is a great costume for fans of the book and movie series. Wear a black jacket, black pants, and carry a bow and arrow.
Percy Jackson from Percy Jackson and the Olympians: This is a fun costume for fans of the book series. Wear a Camp Half-Blood t-shirt, jeans, and carry a sword.
Magnus Chase from Magnus Chase and the Gods of Asgard: This is a fun costume for fans of the book series. Wear a Viking helmet, a leather jacket, and carry a sword.
Auggie Pullman from Wonder: This is a great costume for fans of the book and movie. Wear a helmet, a dinosaur t-shirt, and carry a Star Wars toy.
Greta Thunberg from No One Is Too Small to Make a Difference: This is a great costume for fans of the environmental activist. Wear a yellow raincoat, jeans, and carry a sign that says "Climate Strike."
Ada Twist from Ada Twist, Scientist: This is a great costume for fans of the book. Wear a lab coat, safety goggles, and carry a science experiment.
Where's Wally is always a popular book week choice. Boys and girls can choose to dress up as Wally or Wanda and should be able to find a Where's Wally costume in an array of sizes in all of the big stores like Big W, Red Dot and Kmart.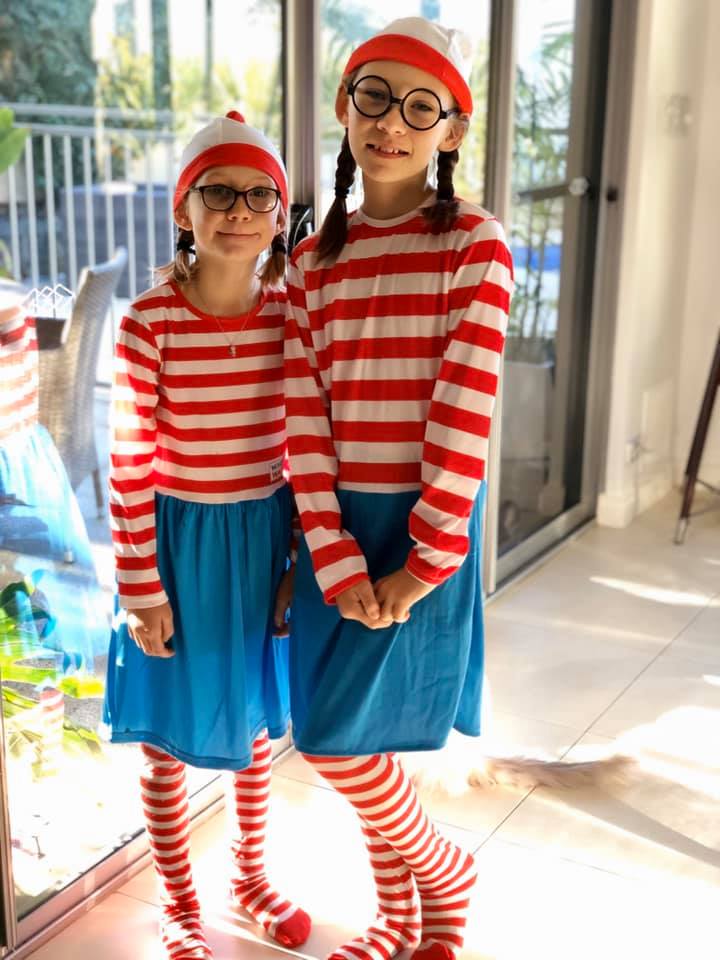 Australian Book Characters
For those who want to truly celebrate Australian literature, consider these beloved Aussie characters:
Snugglepot and Cuddlepie by May Gibbs: Dress up as the iconic gumnut babies by wearing green clothing and attaching fabric gumnuts to your outfit.
Blinky Bill: Become the adventurous koala by wearing grey clothes, a red scarf, and creating some koala ears and a nose.
Possum Magic by Mem Fox: Choose between Hush or Grandma Poss by wearing brown clothing and adding possum accessories, like a tail and ears.
Remember – your costume doesn't have to be elaborate to show your devotion to the literary world. Your creativity and enthusiasm will make your Book Week costume one to remember!
Easy DIY Costumes for Book Week
With a little imagination and a mask, your child can easily transform into their favourite storybook character during Book Week.
Costumes can be super simple, consisting of an animal headband or mask. View the range of masks and headbands.
Unicorns are incredibly popular at the moment, and you'll be able to pick up a unicorn headband quite cheaply like this $2 one from Target. Team it with a pink T-shirt and leggings, and you have Thelma the Unicorn!
If Diary of a Wombat is a bedtime favourite in your house then mothernatured.com has a free Wombat mask that you can download and print out.
Creative Costumes for Book Week
If you are an arty parent then why not get creative and make your own Book Week costume? Our blogger Estabelle has created these amazing costumes for her son over the past few years.
DIY Costume Tips
Organise Your Materials: First, gather all the materials you'll need for your costume. This may include fabric, sewing supplies, glue, and any accessories or props. Make a list of everything you need and check it off as you acquire each item.
Choose a Simple Design: If you're new to making costumes, stick to a simple design that doesn't require a lot of intricate sewing or complicated construction. This will help ensure a successful outcome and boost your confidence for future costume projects.
Be Resourceful: Look for ways to repurpose items you already have at home. Old clothes, accessories, and even bedsheets can be transformed into creative costume pieces with a little imagination.
Use Online Tutorials: There are countless online tutorials and guides for making costumes. These resources can help you with specific techniques, such as sewing, painting, or creating accessories. When in doubt, search for a tutorial to guide you through the process.
Start Early: Don't wait until the last minute to begin your costume project. Give yourself plenty of time to find materials, make mistakes, and perfect your costume. This will help reduce stress and improve the overall quality of your creation.
Take Measurements: Before cutting any fabric or materials, make sure to take accurate measurements of the person who'll be wearing the costume. This ensures a proper fit and avoids the need for time-consuming alterations later on.
Practice Patience: Creating a DIY costume can be a rewarding experience, but it may also be frustrating at times. Remember to be patient with yourself and take breaks when needed.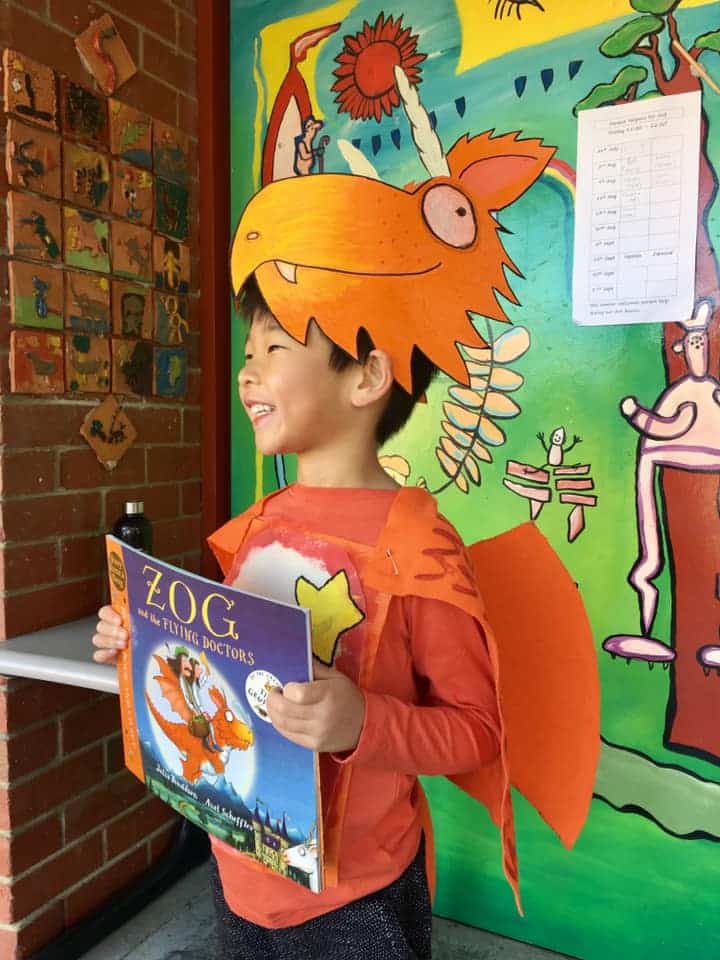 Book Week Nail Art
Parents and teachers can still join in the fun of book week without having to dress up in costumes. One fun and creative way to celebrate the occasion is by getting your nails painted with nail art inspired by your favourite books.
There are so many book-inspired nail art designs to choose from. For Mr. Men fans, your could opt for a colourful design featuring Mr. Happy, Mr. Tickle, or any of the beloved characters from the series. For fans of The Hunger Games, you could choose a design featuring the iconic Mockingjay symbol or the District 12 logo. And for fans of The Very Hungry Caterpillar, you could opt for a cute and colourful design featuring the beloved caterpillar himself or the fruits and foods he munches on throughout the book.
The possibilities are endless when it comes to book-inspired nail art, making it a fun and creative way to celebrate Book Week. It is s a great way to show off your love for literature and spark conversations.
For more inspiration for Book Week Nails visit iwantthosenails.com
With these tips in mind, you're well on your way to creating a fantastic Book Week costume that you'll be proud to show off.
For Book Week-themed events taking place across Perth visit our events calendar