Staying fit is extremely important for any individual, but keeping the entire family in shape is even more important. Engaging in activities that improve your and your family's physical condition is always fun and enjoyable. You don't have to engage in tough, strenuous workout routines to stay in shape especially when there are kids around who won't engage in anything unless it is fun.
Having these family activities not only improves physical health but is also a great way for the family to bond. So, here are six (6) family activities that are both entertaining and beneficial for all ages.
Outdoor games are a great way to spend quality time with your family while also getting some much-needed exercise. Nothing gets the adrenaline pumping faster than a good outdoor game. Croquet, ring toss, bocce ball, horseshoes, and other games will have the entire family working up a sweat and enjoying themselves. Another reason this is a fantastic idea is that it is a game that people of all ages can enjoy.
This is yet another enjoyable family activity with numerous health benefits. Swimming improves muscle strength and endurance. It also increases cardiovascular fitness, helps to maintain a healthy heart, lungs, and body weight, reduces stress, and most importantly, teaches your kids team-building skills. Also, teaching your kids to swim at a young age gets them ready to be active adults, which helps them stay focused.
This is a very beneficial activity for anyone of any age. Australia boasts some of the finest fitness centres around the world, and you can try out a variety of exercises and fitness routines to your satisfaction. Participating in these fitness classes has numerous advantages. It will help you and your family settle into a routine and incorporate it into your weekly schedule. The experts at Yoga Mats Australia advise families to use mats for fitness activities such as yoga and light exercises. Participating in this and other physical fitness activities is a good way for you and your family to stay in shape.
Regular walks or bike rides also help to keep the body in good physical condition. One way to make it more enjoyable while still benefiting your body's health is to try out new biking routes and count objects, colours, people, or specific features as you go. You can also take things a step further by substituting regular bikes for skateboards or scooters, depending on what family members prefer.
Host a Family Dance Party
If you don't want to go out but still want to get some exercise, try having a dance party at home. Play upbeat music to get everyone in the mood for dancing and grooving in the living room. You can even amplify things by adding disco lights to create the right atmosphere.
Turn your daily chores into bonding time by asking everyone to participate. This way you will have extra hands, chores will be done faster, and everyone will burn some calories. To get them actively involved, come up with fun ideas such as cleaning away the 'dust aliens' on the furniture.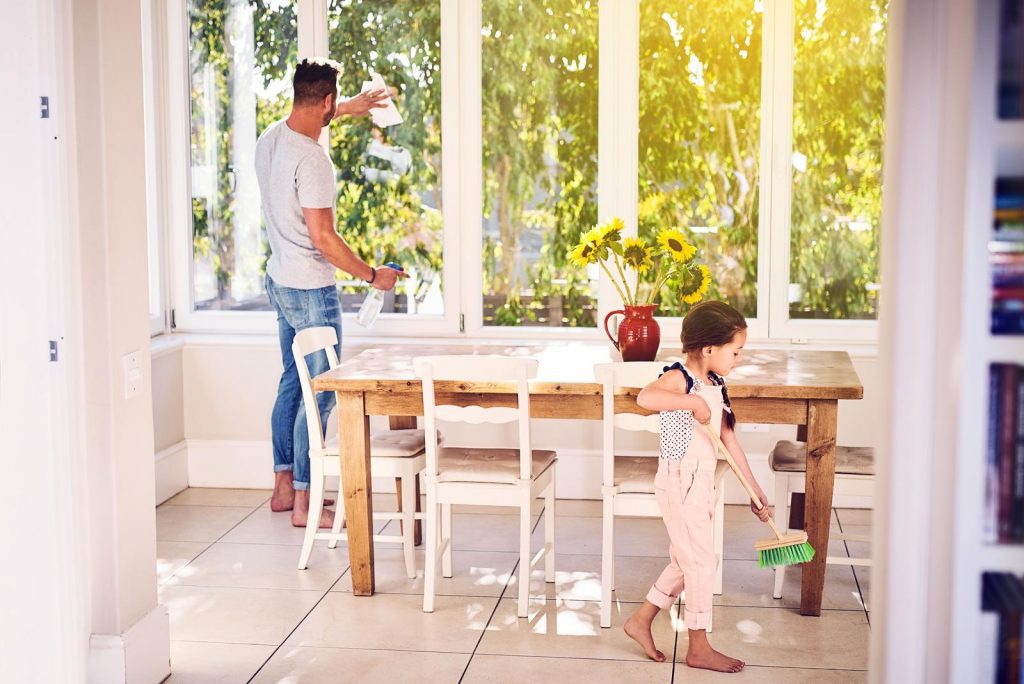 Keeping fit as a family is easier than you might think if you approach it in the right way. If you try any of these and they get bored along the way, you can always pick something else from the list and try it again. It is important to get everybody active so that you won't have to worry about their physical health.