Marillina Drive, Golden Bay, Secret Harbour, Golden Bay
Wow, wow, wow! Shipwreck Cove park in Golden Bay, has totally nailed it! What a fantastic family space and visually it looks stunning! A beautiful green parkland along Golden Bay foreshore, right next to the Indian Ocean.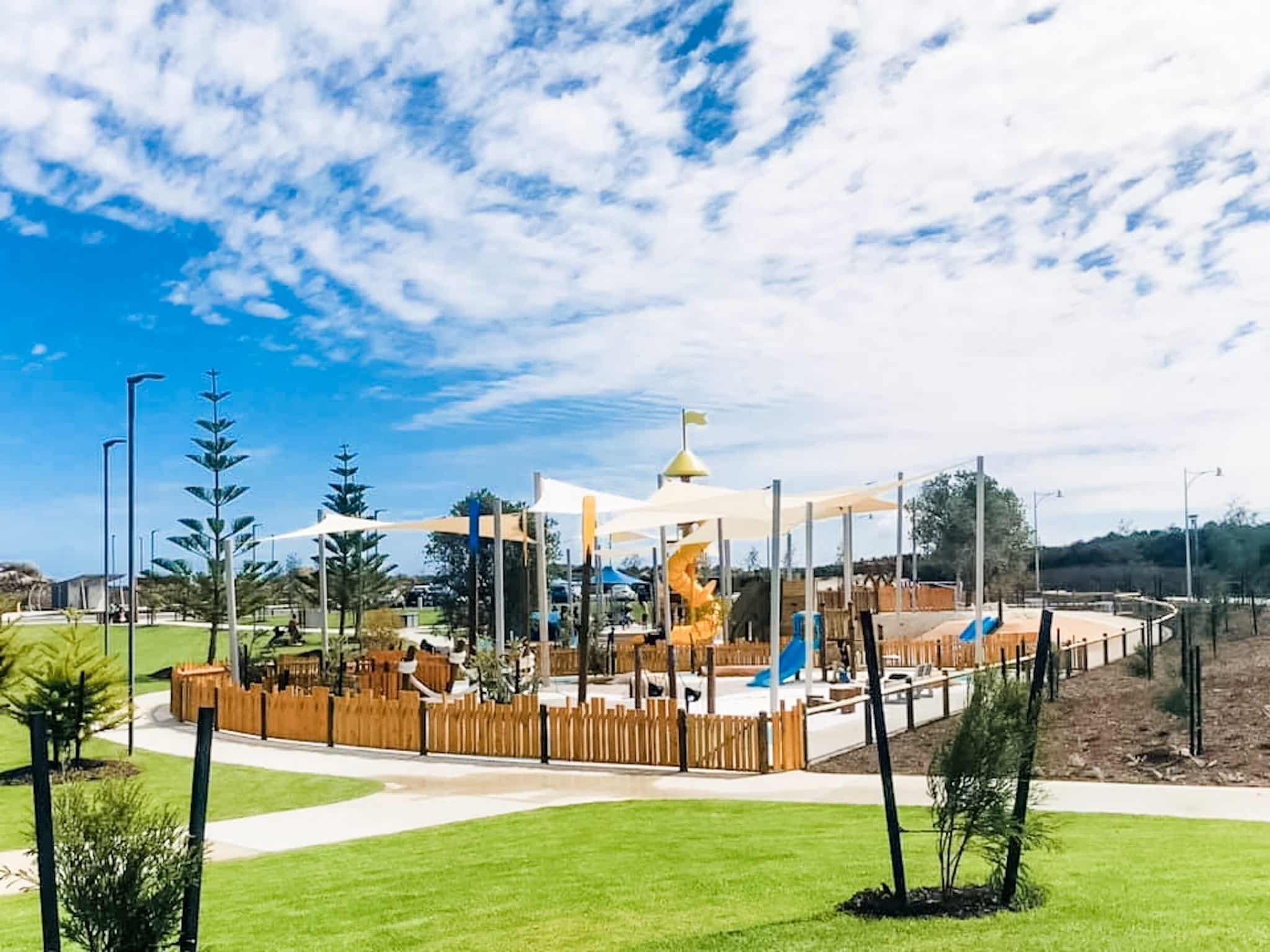 The shipwreck themed park has a playground including a separate fenced area for toddlers, a cool pump track, a cycle and scooter circuit, BBQs, shaded picnic tables, toilets, showers, lots of parking, a stunning new lookout point and beach access. What more could you want!
We started our morning at the pump track, my little humans loved watching the older kids roll up and down the circuit of rollers and banked turns. It's a great size and has been really well designed giving the riders space and various types of rollers and turns making it accessible for different levels of riders.
We preferred the underwater-themed flat bike and scooter circuit, next to the pump track. This is a fabulous area designed for little kids, to build up their confidence and have fun on before they try out the pump track. The turtles and manta rays direct you around the circular course and because it's flat it is suitable for bikes, balance bikes, bikes with training wheels, scooters, cars and trikes!
Next, it was onto the play park. My one year old and miss two absolutely loved the fenced toddler area and I could actually relax while watching them play. The area is a fabulous nature play area with all the equipment being nautically themed. Everything was height and age-appropriate so although the balance beams, logs and climbing equipment was challenging for them it was at the perfect level.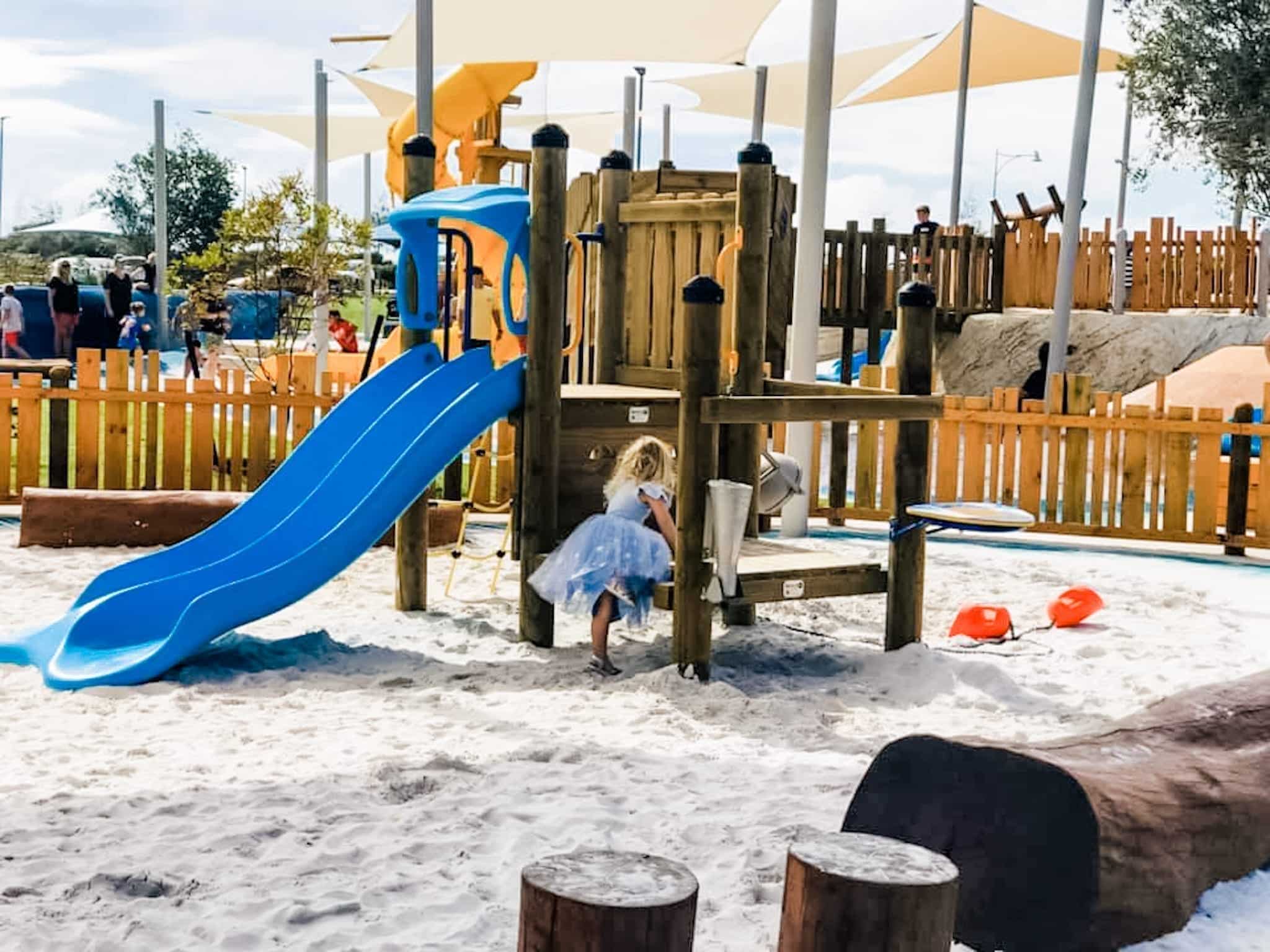 There is a barrel to climb through with netting over the top providing serious play options. There are two small swings, wooden boats, sand diggers and sieves, a climbing net and a wobbly hammock which was a total favourite. The area is all sand-based, cushioning those hard landings and providing sensory heaven for my one year old! Again it has been really well designed and finished including shade sails.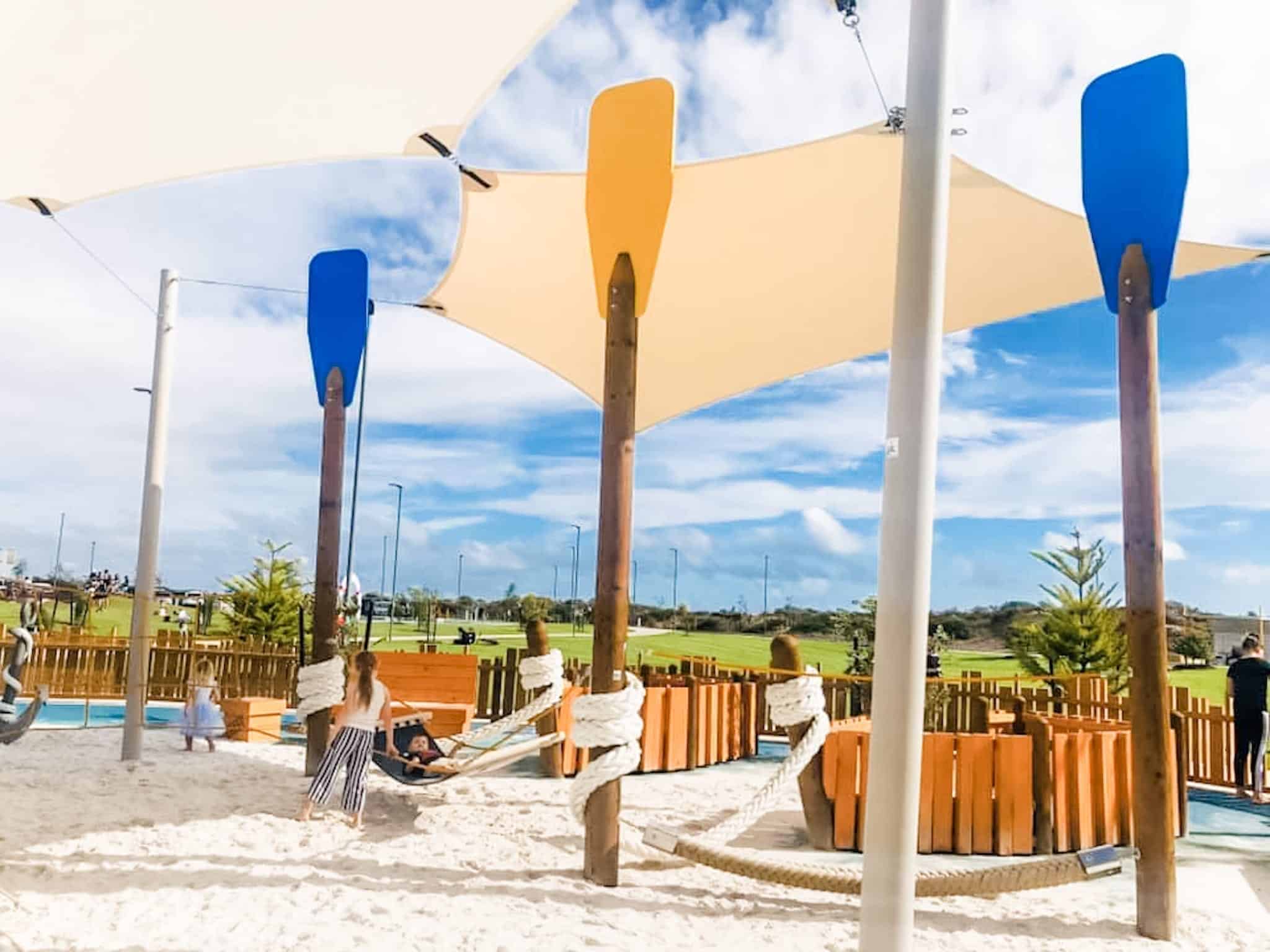 From here there is a connecting gate that leads into the main play area. Here is the pirate ship complete with a brilliant tube slide which is awesome and is definitely the main feature of this area. Either side of the slide you'll find two wooden pirate ships great for climbing on, hiding under and balancing across into other sections of the park.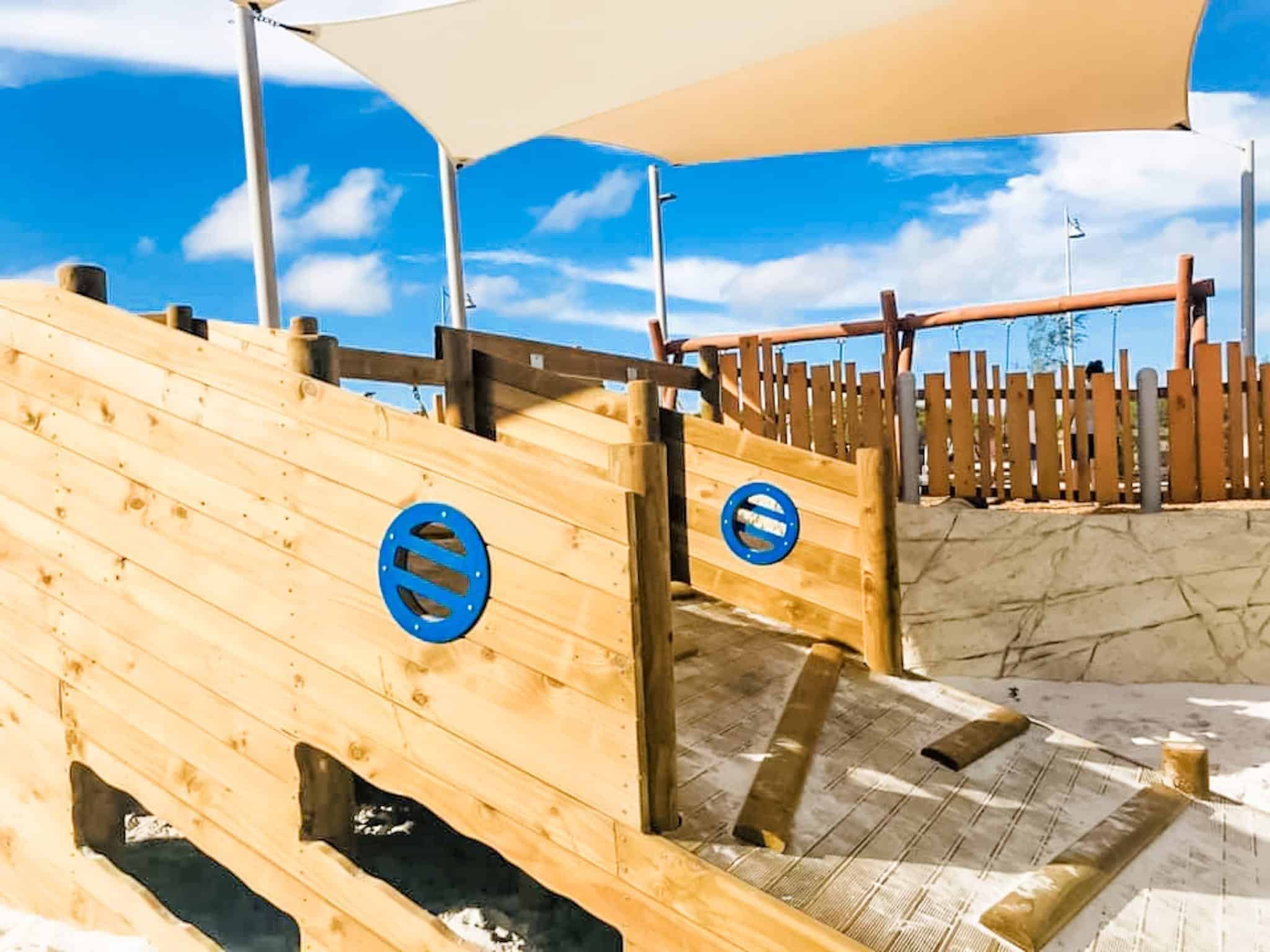 There are banks to climb up and slides to come down, lots of levels to explore. A cool rubber mound, double wave structure made to look like the ocean. Perfect for trying out a bit of parkour on or running through and hiding in! At the back, you'll find an awesome double rope swing made just for two and another swing set in a separate fenced area.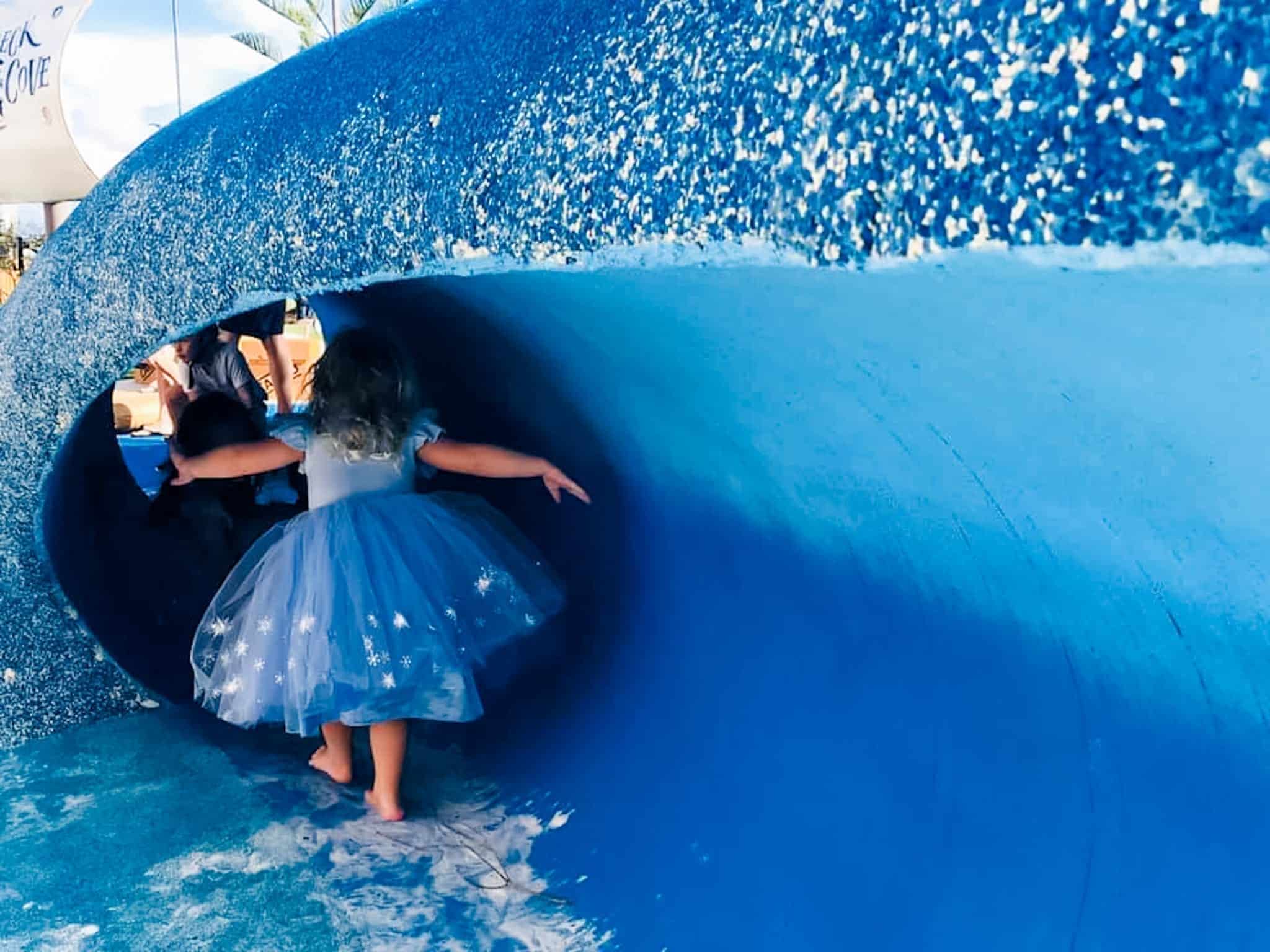 Next to the play area, there are four large picnic table with umbrellas and bbq facilities.
All of this is set in a beautiful big open green space perfect for ball games and picnics. There are more covered picnic tables around the edge along the pathway on the other side from the play areas. This is the beach access area which features a brand new toilet block with showers more parking and a viewing platform.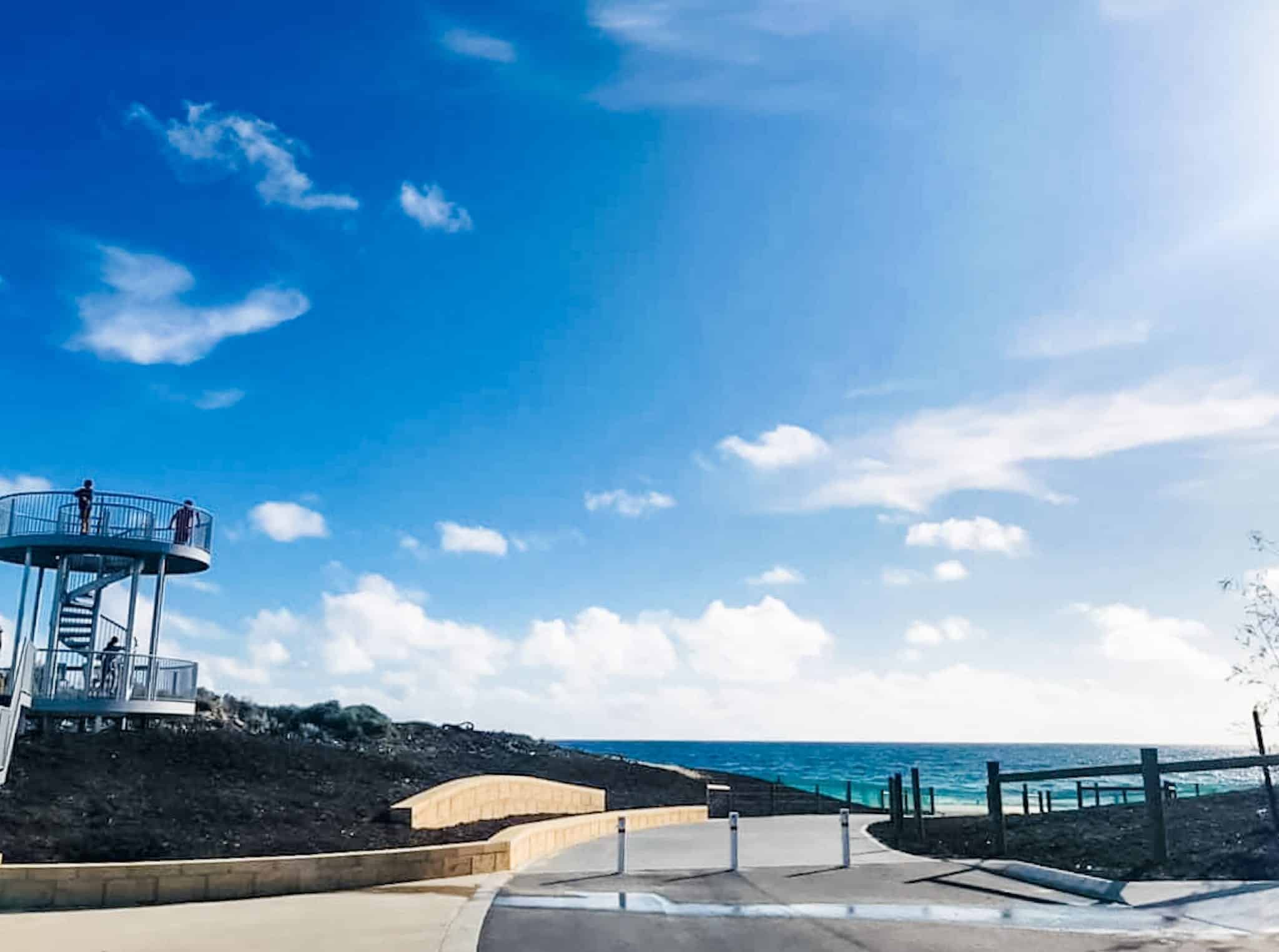 The viewing platform has two tires with the lower having a picnic table and a few stools, for you to sit back and soak up the beautiful views. The top tire is higher again giving you that elevated view across the ocean. It's at this entrance to Shipwreck Cove that you can decide who you will be Captain Cove perhaps or maybe Goldie the parrot! All in all this is a suburb park and one that we shall be making our new go-to!
The park is located just off Marillina Drive, Golden Bay.
Find more playgrounds in Perth
Location
No Records Found
Sorry, no records were found. Please adjust your search criteria and try again.
Google Map Not Loaded
Sorry, unable to load Google Maps API.
Member Reviews