Drumpellier Drive, Brabham
Whiteman Parks' newest playground is now open! Pia's Place has been designed to allow ALL children the opportunity to play and explore in an inspirational nature-based inclusive play space. This state of the art playground definitely takes the meaning of ALL ABILITIES to a whole new level!!!
Located at Mussel Pool East, opposite the dog park, the 8,000sqm playground is accessible by car with plenty of parking available or by tram with a tram stop directly out the front. The Playground is fully fenced and includes toilets, BBQs, picnic shelters, drinking fountains and pathways to easily navigate throughout the play space.
Pia's Place was named after in memory of baby Pia Maeve Rudd who died suddenly from SIDS, the lighthouse that sits centre of the play space and resembles a beacon of light and hope for not only Pia's family but all other families experiencing heartache or difficulties. For many children, the 13 meter tall lighthouse and twisting tunnel slide will be the highlight of the playground. My children said it is the biggest slide they have ever seen, and loved the scary ride to the bottom.
Children who don't want to or can't climb the lighthouse can still enjoy the 360° views 13 meters in the sky from the ground through tv screens located under the lighthouse. There is also a speaking tube, so they can talk to kids at the top.
Pia's Place is inspired by Whiteman Park's transportation heritage and includes an old carriage.
An old vehicle with steering wheels, a gear shifter and mirror which is great or sensory play.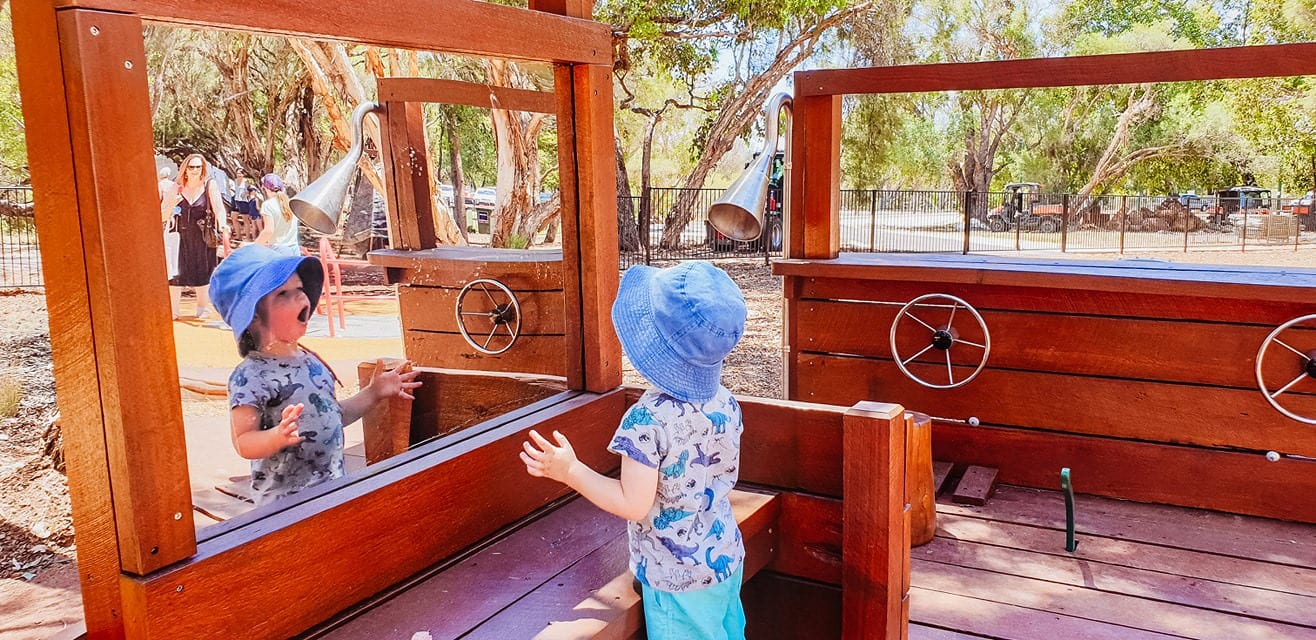 A large wheelchair-accessible wooden ship with a steering wheel, cargo nets, and bridges.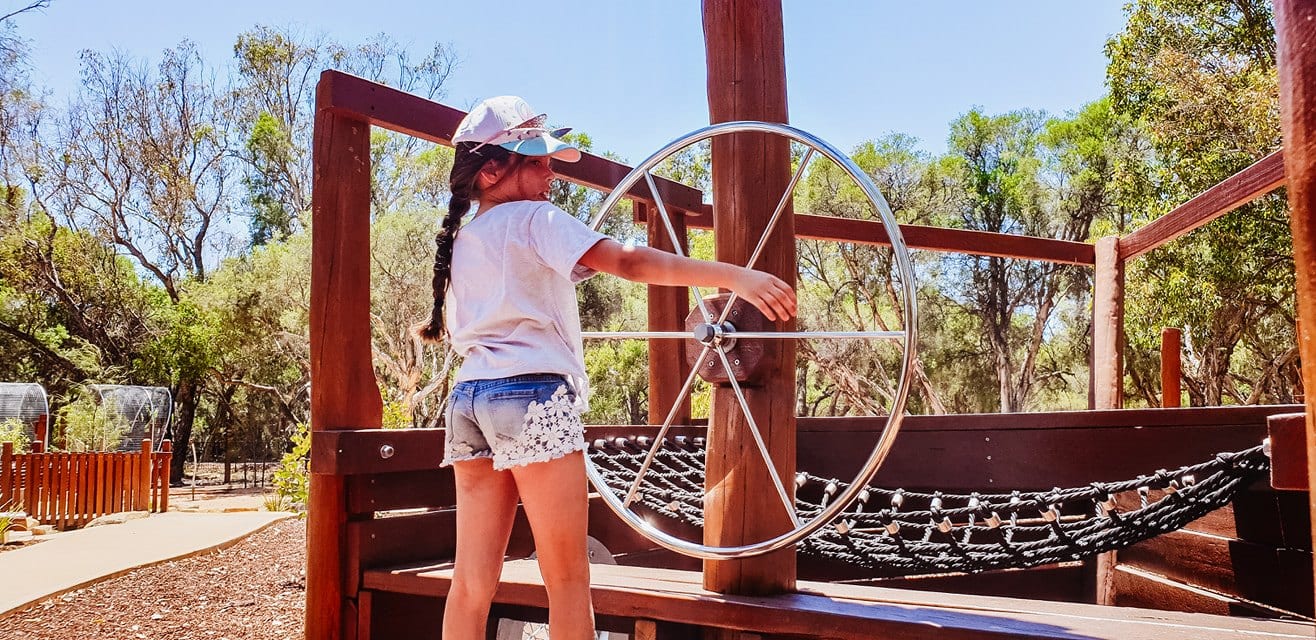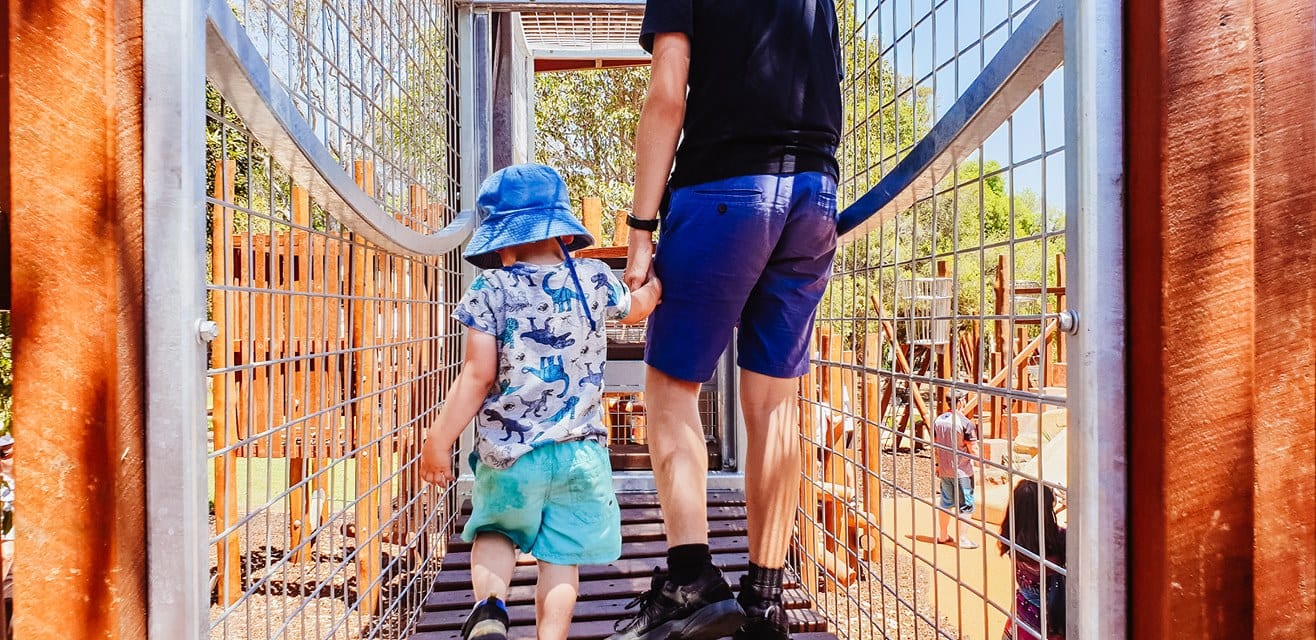 Stepping and balancing logs are dotted throughout the whole playground.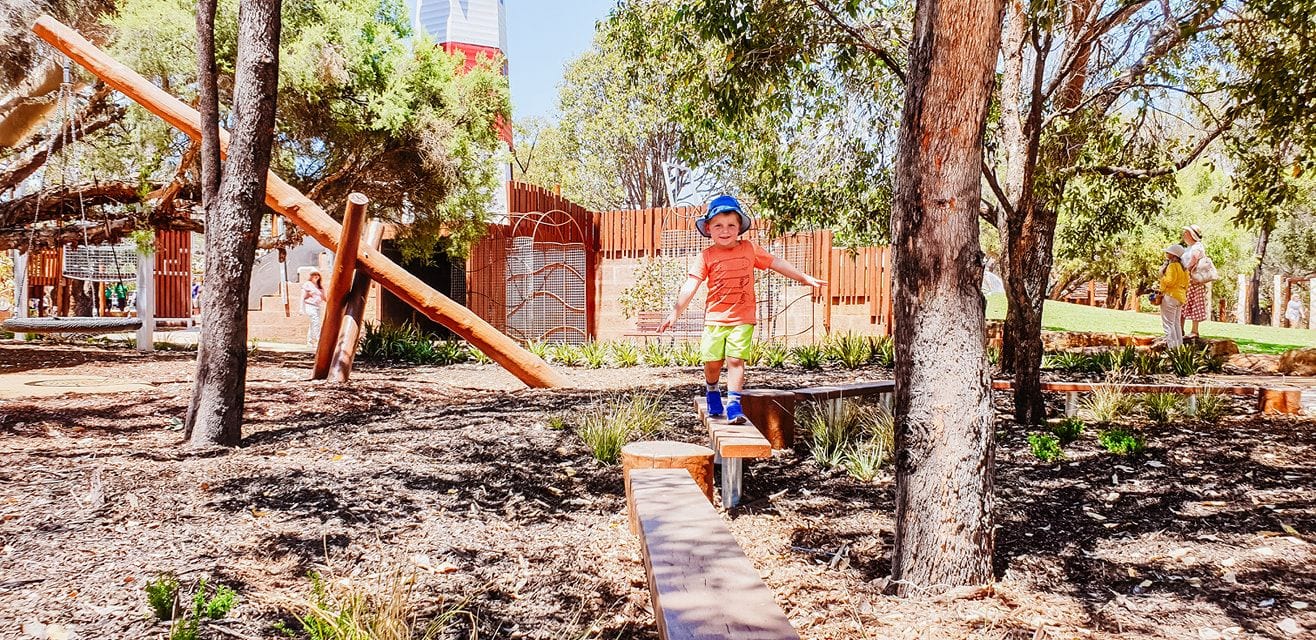 Rope bridges.
Straight and curved monkey bars.
A double flying fox, with one accessible harness seat.
Pogo swings – these are very cool and something I haven't seen before.
Wheelchair-accessible roundabout.
Birds nest swing.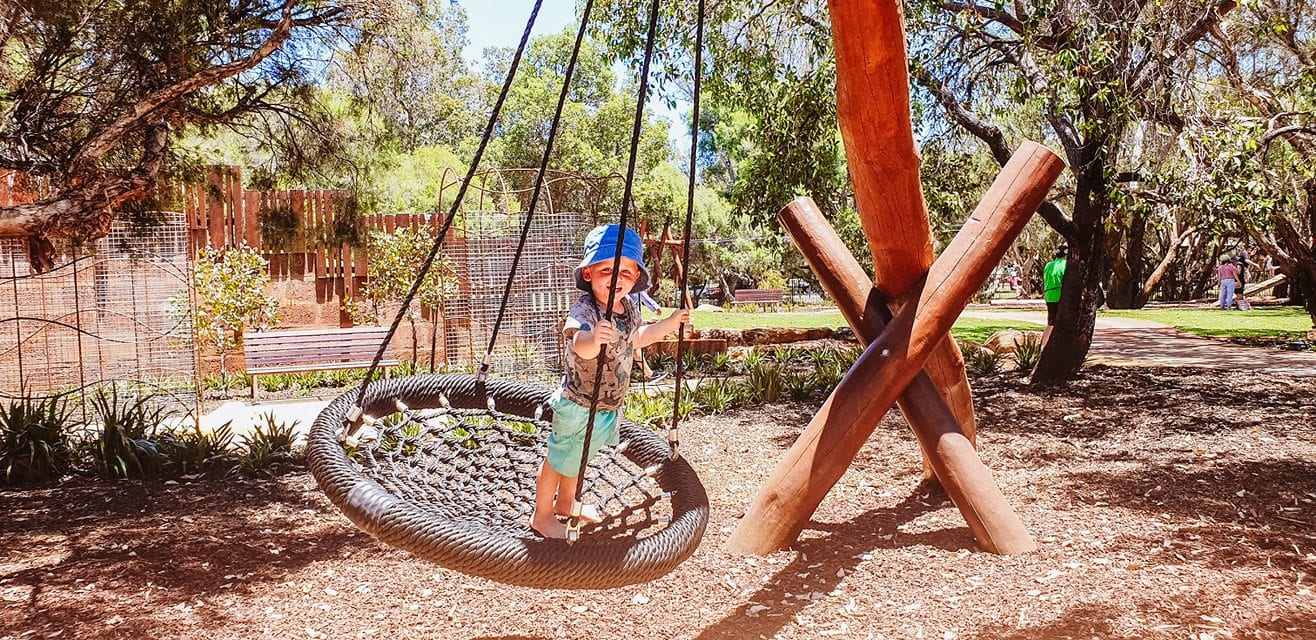 Regular swings.
Sway fun glider.
Lots of rocks and obstacles to climb. Polished concrete slides.
Lookouts.

A water play table.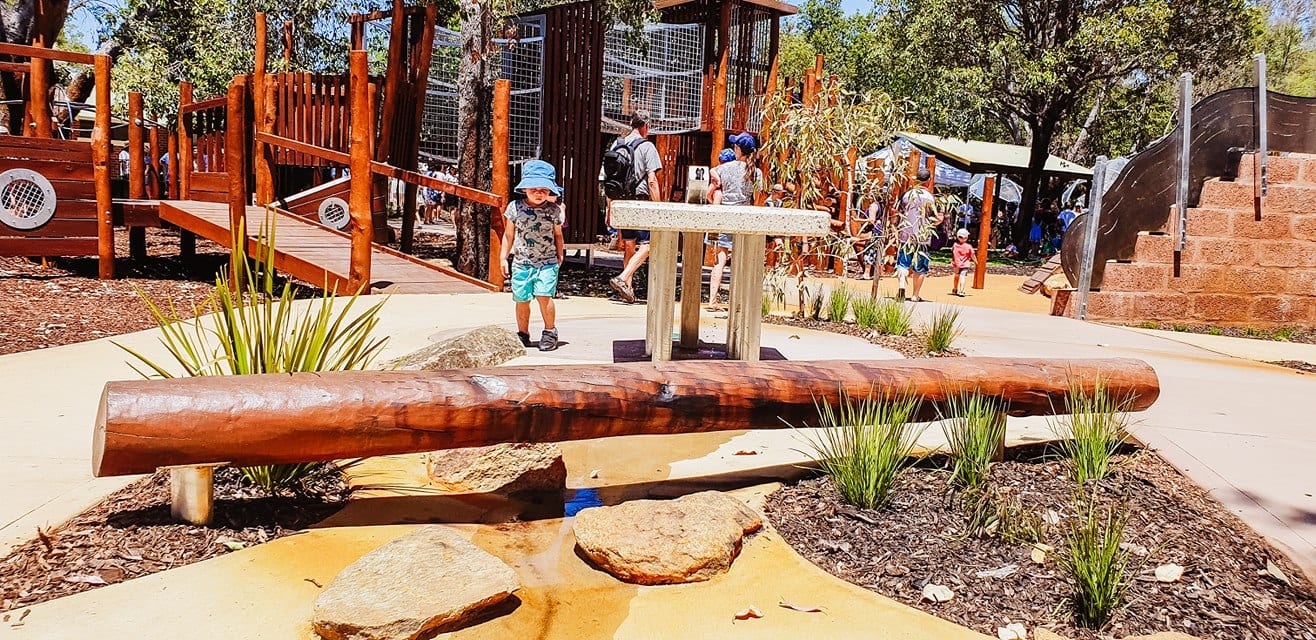 Teepees.
Fun pops of colour.
Quiet spaces.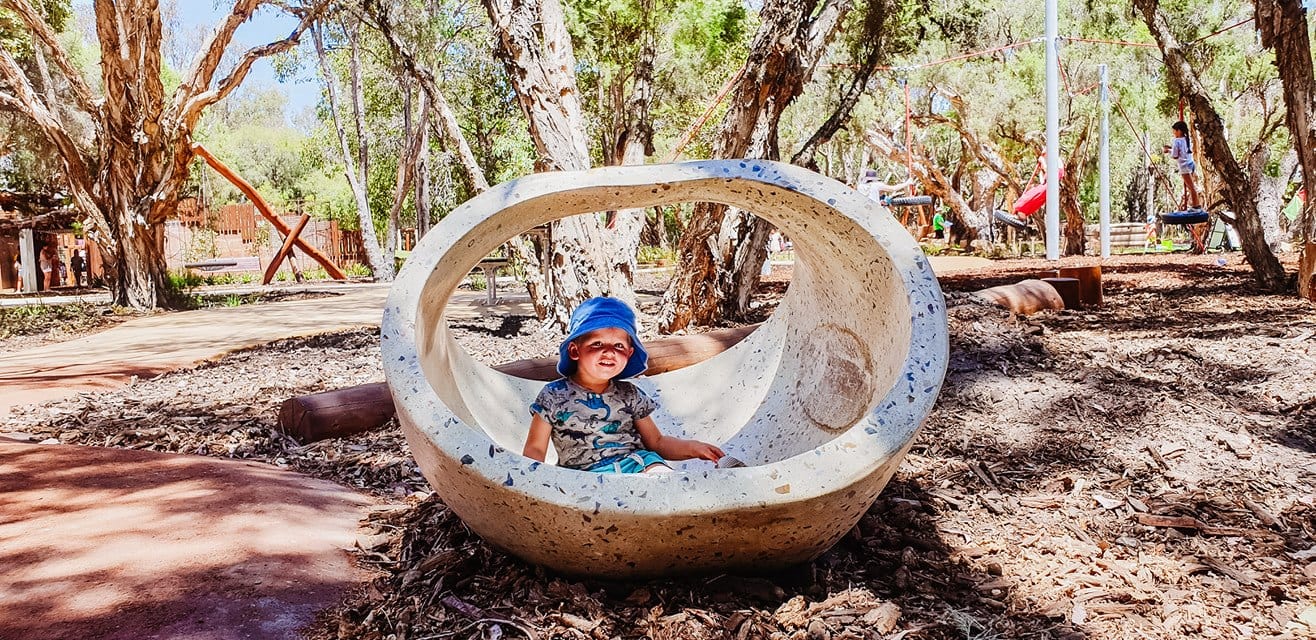 Shady nests.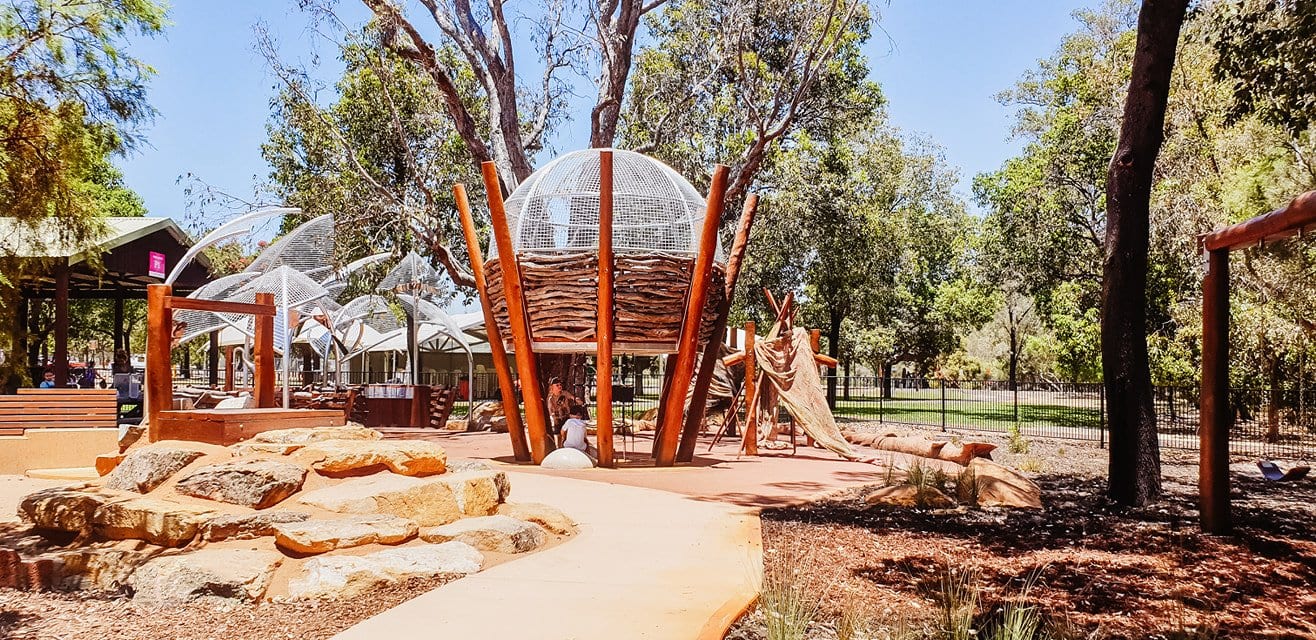 Music play.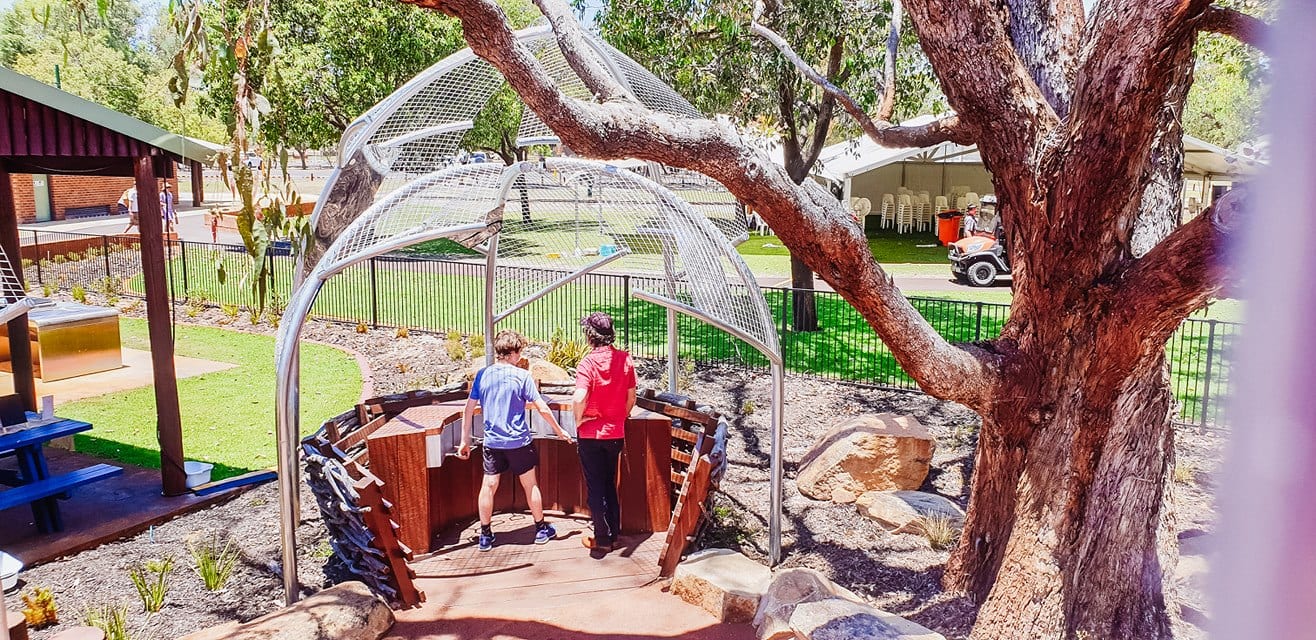 A toddler-friendly space, with a wooden structure, smaller polished concrete slide and sand play table.
Pia's Place is jampacked full fun and exciting things, it is the type of playground where you will discover something new every time you visit.
Pia's Place
Entry off Drumpellier Drive (formerly Lord Street) or Beechboro Road North, Whiteman.
Open 8.30am – 6.00pm
The playground is naturally shaded by mature trees but I would highly recommend hats, suncream & closed in shoes.
Location
No Records Found
Sorry, no records were found. Please adjust your search criteria and try again.
Google Map Not Loaded
Sorry, unable to load Google Maps API.
Member Reviews