Jull Street, Mount Richon
In the heart of Armadale, you will find Memorial Park. As of September 2018, the City of Armadale has reopened the park with a new train theme, which is sure to be a hit with kids of all ages!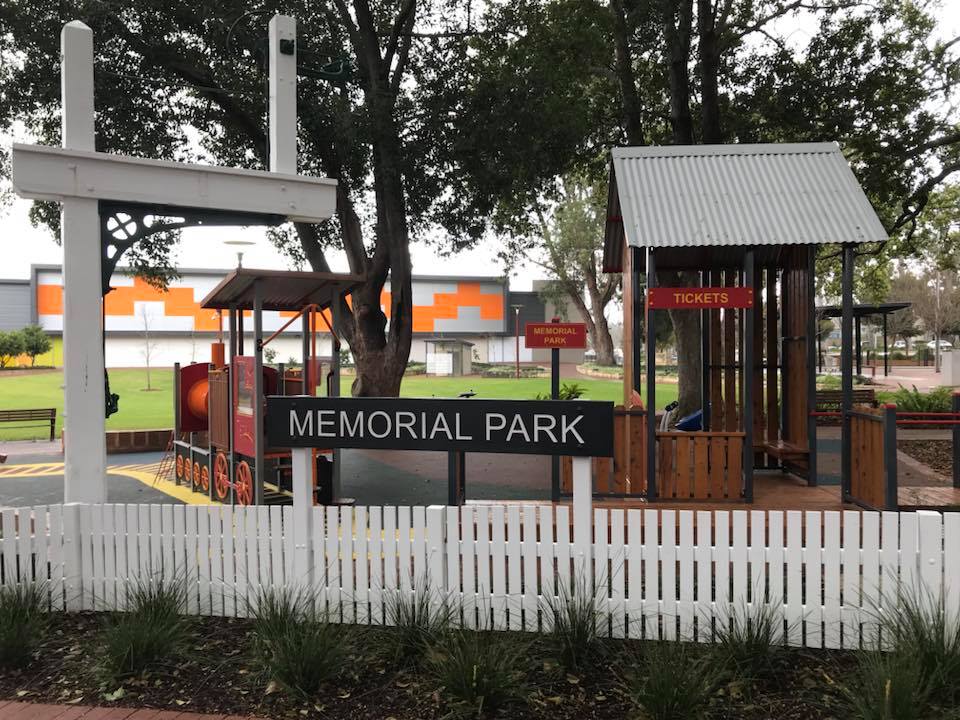 The first part of the playground we saw on approach was the train-shaped play frame and the station. The train is designed around an old steam engine and features platform steps to climb up inside, a tunnel down the middle where the boiler would be to crawl through, and small rope ladders to climb at the front. The underneath of the train behind the wheels is also hollow, so kids can crawl or hide beneath it as well.
The wooden station has seating inside and a ticket window with a clock. This is great for imaginative play. Children can pretend they are catching the train and going on a journey.
An antique signal stands nearby and a train line pattern in the softfall beneath the train adds to the railway motif.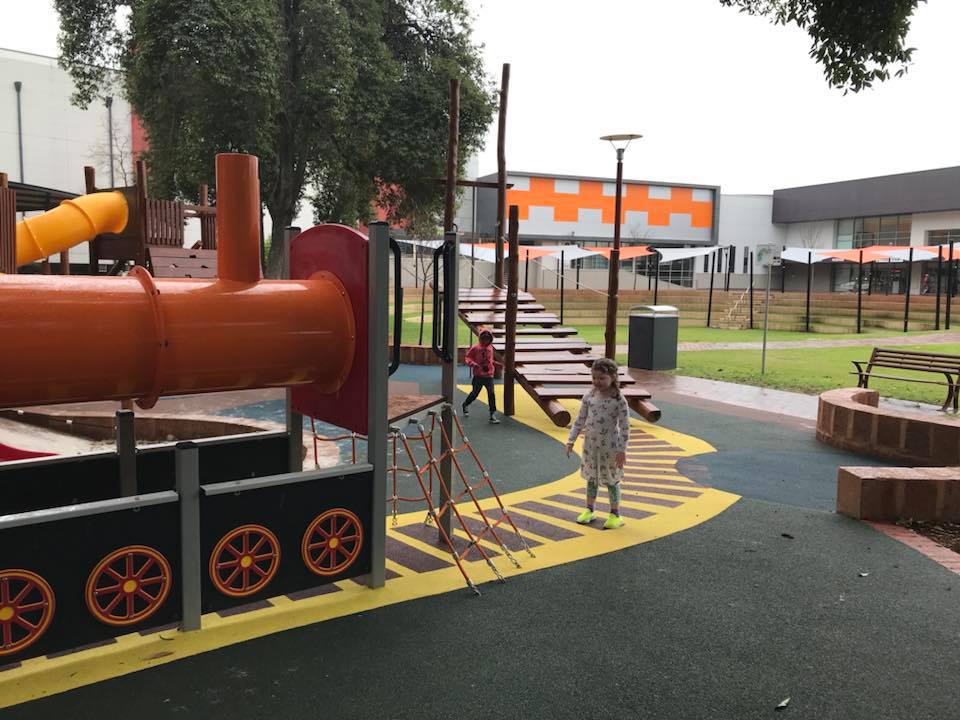 Beside the train there is a small slide suitable for younger children. This is surrounded by sand, with some nature-play balancing logs on one side and an abacus of colourful blocks on the other.
There is also a spacey looking four-seater spring rocker with egg-shaped seats.
A larger, twisting slide stands beyond this and is more suited to older, more confident climbers. The top platform is accessible via a wooden climbing wall, a log ladder or a rope netting ladder. Miss 4 gave all of these a go and only struggled with the log ladder. It was a damp day when we visited, so she wasn't confident of her footing, even with me standing behind her.
Adjacent to the slides we found a tall fireman's pole with a ramp ladder and rope hand-holds. Whilst it was taller than she was used to, Miss 4 also confidently gave this a go, as did the other kids aged between 4 and 10 who were enjoying the park too.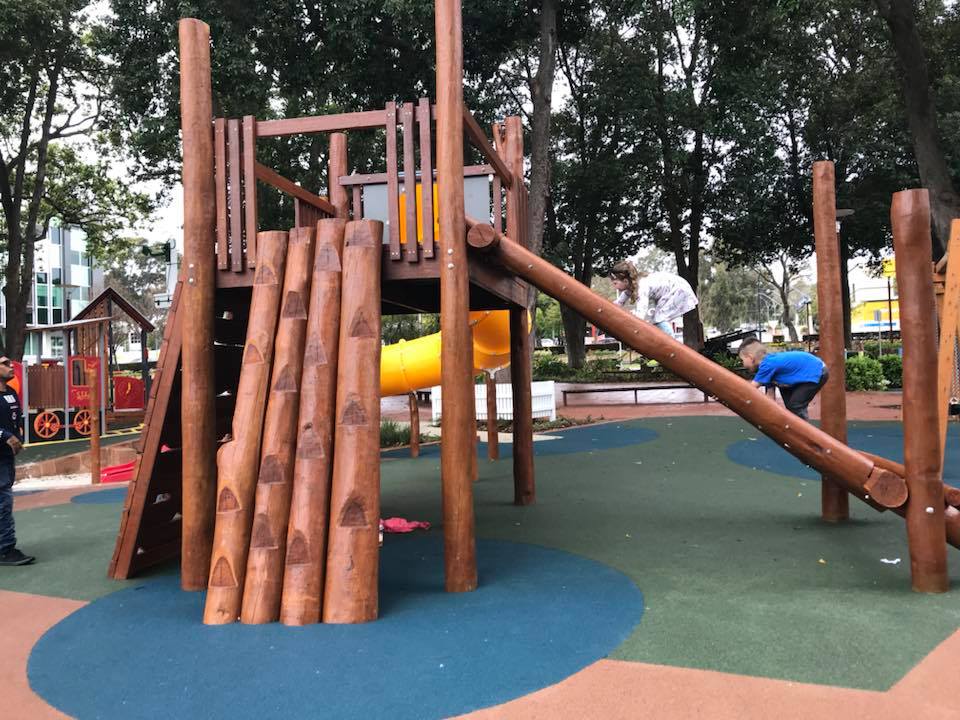 Memorial Park also has a number of swings available. A wooden swing set is close to the slides, and includes two regular swings and a toddler swing. Set a little further back is a bird's nest style swing, perfect for swinging with a friend or sibling.
A climbing frame made up of three multi-sided shapes with hand and foot holds stands next to the bird's nest swing. From a distance, this looks a little like some kind of modern art sculpture! It stands quite tall and would more suitable for older, more confident climbers.
To top off the nature play component of Memorial Park, we also found a sand table. This has two bowls to collect sand in and a bucket that slides up a railing to add more sand. Had it not begun raining during our visit, I have no doubt that Miss 4 would have gotten good and grubby with making sandy creations.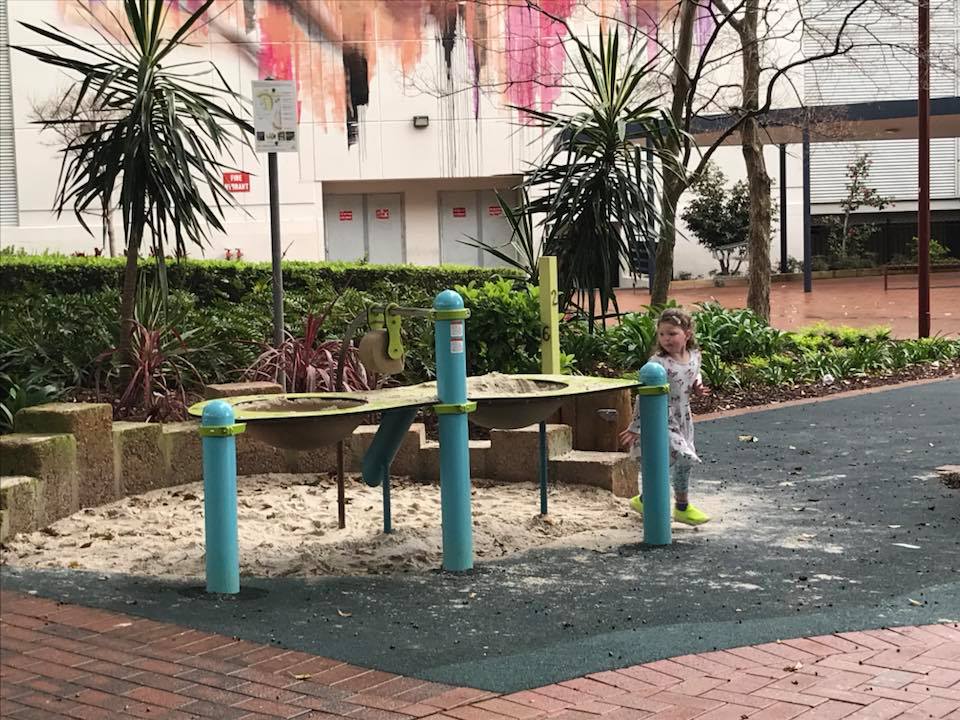 In case you haven't guessed, Memorial park takes its name from the prominent war memorial which stands to honour our fallen soldiers. This is used each Anzac Day for services but would be a good educational place to discuss war history if your child shows an interest.
If you find yourselves in need of snacks or lunch, Memorial Park backs onto Armadale Central Shopping Centre, with food outlets and toilet facilities available inside. There is also a cafe, Bello, up a path at one corner of the park with indoor and outdoor seating. Otherwise, there are lots of grassed areas to spread out a picnic blanket.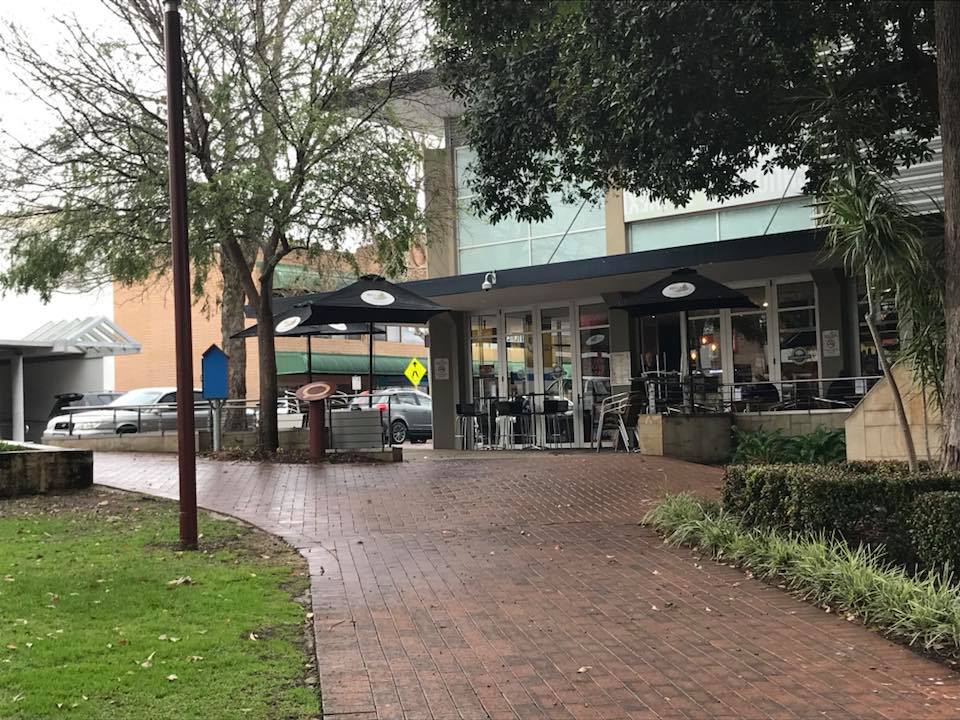 The park is naturally shaded by tall, well-established trees. Some of the newer equipment may not be shaded all year round, but the train and nature play is well covered by the trees. So pack a hat and sunscreen just in case.
Memorial Park is also not fenced, but is set away from the road. If your child is inclined to bolt as mine sometimes does, best to keep a close eye on them as the two streets seemed quite busy.
Memorial Park is located on the corner of Orchard Avenue and Jull Street, Armadale.
An additional skate and bike park, suitable for older children and teenagers, is located across the street on Orchard Avenue, behind the City of Armadale offices. Handy if you have an older child who is over playgrounds, but still wants to hang out at the park.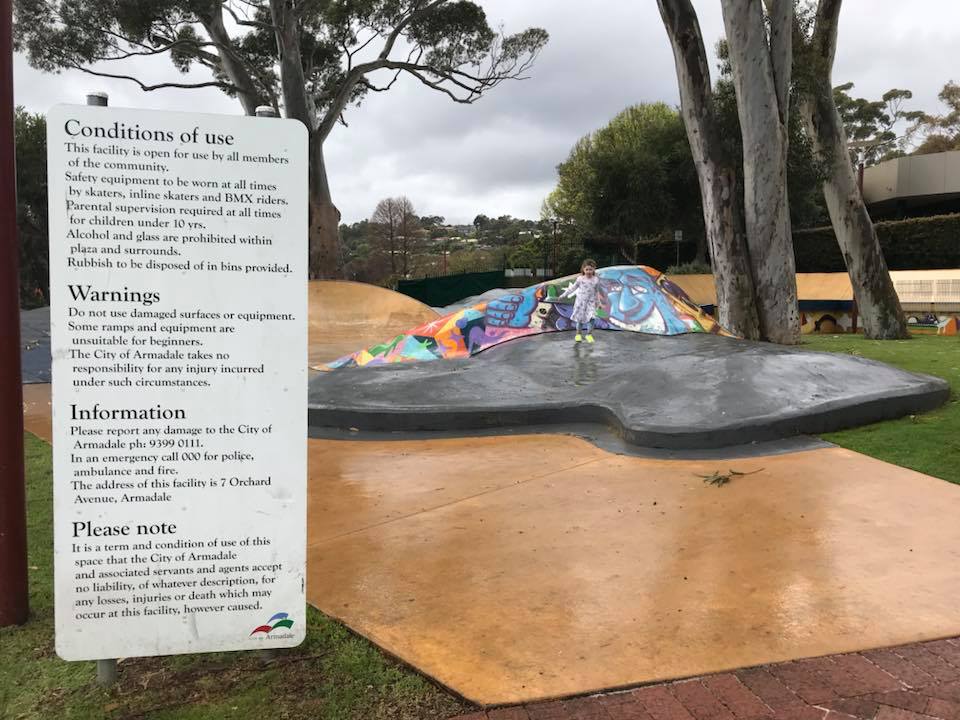 Find more playgrounds in Perth
Holly Clark is currently a stay at home mum of one, a self-confessed coffee addict and a baker of sweet treats. She studied Professional Writing and Editing, and occasionally writes on her recipe blog, Lucky Star's Kitchen
Holly Clark is currently a stay at home mum of one, a self-confessed coffee addict and a baker of sweet treats. She studied Professional Writing and Editing and occasionally writes on her recipe blog, Lucky Star's Kitchen
Location
No Records Found
Sorry, no records were found. Please adjust your search criteria and try again.
Google Map Not Loaded
Sorry, unable to load Google Maps API.
Member Reviews