Cutting your hair at home rather than at a salon can save you money. On top of that, you could give yourself a cool and nice cut with the correct equipment and careful cutting!
To that end, if you were planning to cut your hair at home, here are 6 easy to follow steps on how to do it!
Get the proper tools
Once you get the proper tools, your haircutting process can start more smoothly and professionally. There are a variety of different tools, and you should make sure you get at least the essential ones. For example, scissors in general can take care of the majority of the job for you, but when we say "scissors" we mean different types of scissors. Rather than cutting your hair all over, thinning scissors are meant to help thin your hair without cutting it in length. They have special blades that are recommended in addition to normal scissors. They should be tiny and pointy, and not longer than 15 cm.
Normal scissors, on the other hand, can be used, however, they will only do occasional work and will be more difficult to use because of their big size. Naturally, you will need a comb, which is actually the simplest instrument for manoeuvring your hair while cutting it. To that end, ensure you get these essential barber tools as soon as possible! It is vital to use the correct equipment for getting a proper haircut for no one wants to rip their hair out because their scissors aren't sharp enough!
Choose a haircut style
You will be more focused and less prone to make mistakes if you know what sort of haircut you want before you begin. Check out celebrity photographs online; peruse haircut magazines, experiment with your hair in the mirror to see how it appears in various lengths; print your photos, and draw different haircuts on your face to help you decide on a style. Once you have a clear idea in your mind, the haircutting process will be much easier.
Wet or dry hair
Make a decision on whether you want to dry your hair or receive a wet haircut. Many specialists advise cutting your hair while it is still damp since it is simpler to manage and regulate. Cutting your hair dry is also recommended by some specialists since it allows you to see the results of the cut right away and adjust to any whims, such as curls.
If you cut your hair while it's wet, make sure it's at least a few centimetres longer than you want it to be, because it will shrink and appear shorter after it dries. Conversely, uneven hair is a common result of dry cuts.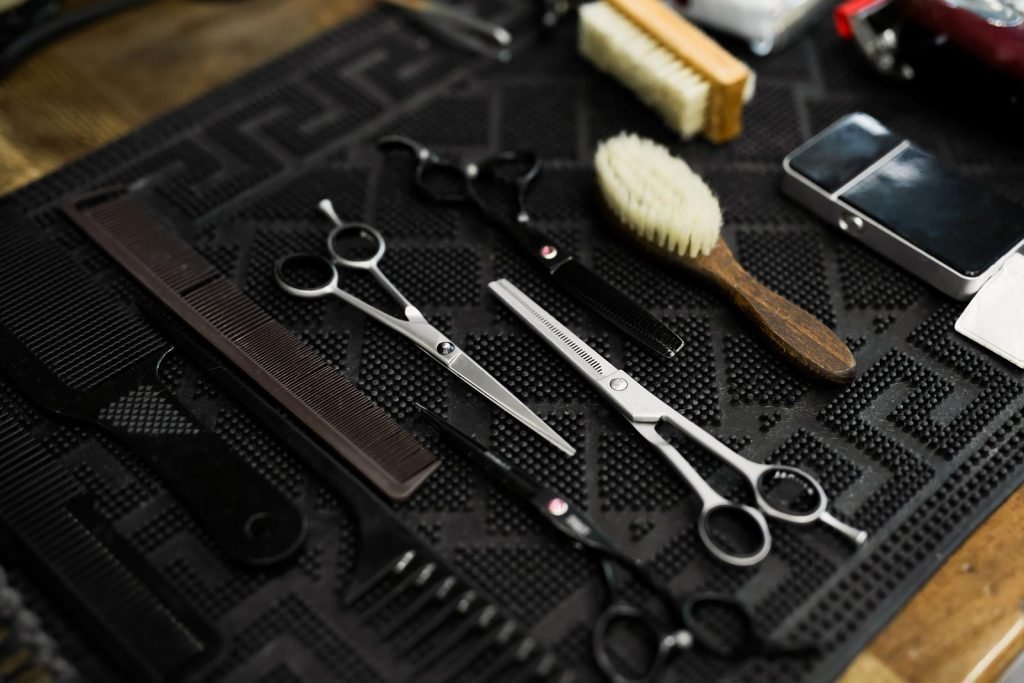 Know where to start from
There are many different kinds of haircuts. Depending on the haircut, you will start from a specific place on your scalp. To give an illustration of it, for basic men's haircuts, you may start with the sides because they are the most straightforward to cut. However, you will have to be conscious of the transition zone, which is the line that divides your head's bottom and upper parts. Be extra careful with this area and don't hurry at all. A smooth transition from shorter to longer hair is achieved only with special care and balanced cutting. Afterwards, move on to the top of the head once you've done the sides and backs.
Be prepared
By the same token, many people are so excited about their new haircut that they start unprepared. Make sure that before you start, you check if you have everything you need and you are prepared. For example, ensure that your hair is clean, and make sure you don't put any product in it after you shower. Likewise, if you're cutting your hair with scissors, try cutting it while it's still wet, and when speaking of scissors, if you're going to use one, be sure they're sharp! Likewise, you need to set up a place where you can have your hair trimmed, and make sure you're in a well-lit, distraction-free environment. Finally, prepare some good hair care products!
Avoid common mistakes
When cutting your own hair, it's incredibly simple to make a mistake, especially if it's your first time. Here are a few frequent blunders to stay away from. Avoid cutting too much, too quickly, or too high. Instead, make sure you take things slowly and patiently. On the other hand, the common mistake when cutting hair at home is a misunderstanding. This commonly happens when you let your partner give you a haircut, without making sure he or she understood you properly beforehand! Therefore, to prevent undesired results, make sure you inform the home barber of exactly what you want.
Hopefully, with these tips, you will get better, avoid common mistakes, be more professional, and enjoy your new haircut as a result!
Find kids hairdressers in Perth