Point Fraser Foreshore Reserve is a must visit if you're heading into the city for the day with older kids. The equipment in this park is more suited towards school-aged children due to the equipment and steep hills around the landscape of the park.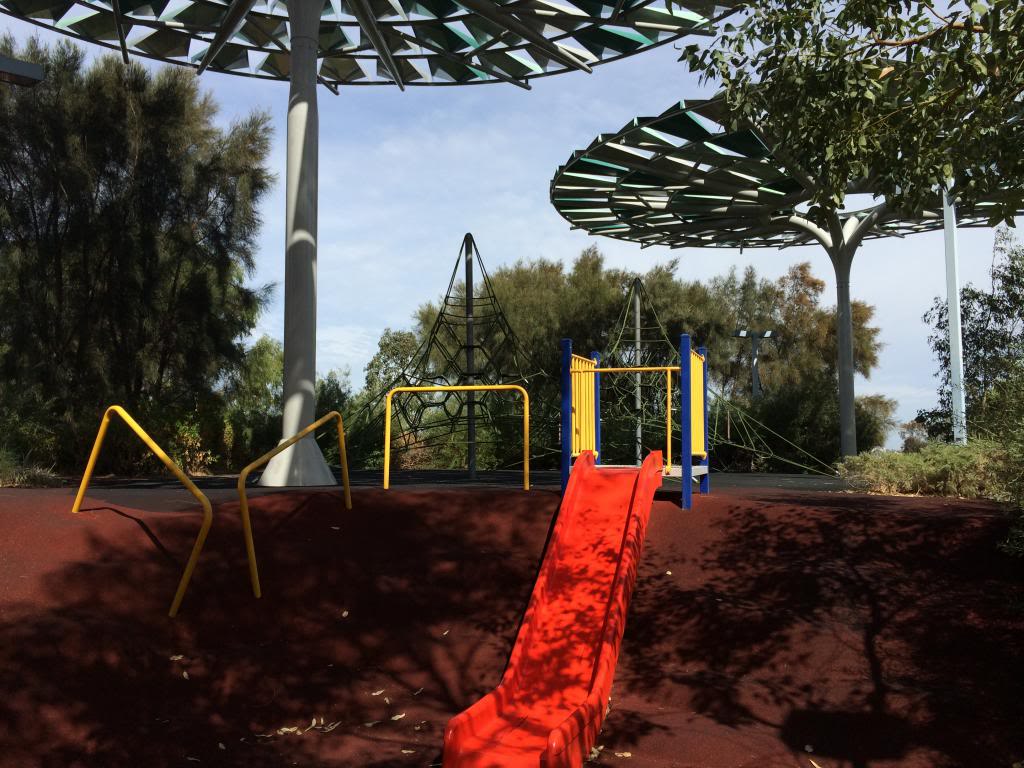 We made our journey to the Point Fraser Reserve directly from the city, it's very easy to find if you just follow the river edge.
We came across a boardwalk which headed out towards the centre of an inlet from the main river.  The kids enjoyed the walk and spotting wildlife in the river and the many varieties of birds.  A good pair of binoculars would have been good.  The boardwalk isn't finished so doesn't go across to the main park but it was fun navigating around the inlet and working out if we were going to make it across or not.
We had to walk back on ourselves and joined the main pathway again to the main park area.  You can't miss the huge "flying saucer" structures in the park, I have no idea what they're supposed to be or their purpose but the kids were fascinated by them and they do provide a little shade to this area.
The park consists of two large climbing net structures, an extremely steep and fast slide, a climbing wall and rope wall which are both set on a steep asphalt hill.

My nearly 6 year old was happy to challenge himself on the rope nets and managed to get to the top, on several occasions, to his delight.
Also at the park is a mobility swing, baby swing and kids swing.
My nearly 6 year old quite enjoyed the balance beams and curvy bridge which surround the park.  The equipment is quite spaced out and hidden from one another so it's not easy to watch the kids from one spot.
Parking is easily accessible from the main car park but it is pay and display and may be expensive as it is in the city.
Point Fraser Reserve is located off Riverside Drive in East Perth.
Find more playgrounds in Perth
Location
No Records Found
Sorry, no records were found. Please adjust your search criteria and try again.
Google Map Not Loaded
Sorry, unable to load Google Maps API.
Member Reviews