Mawson Park Playground is a little treasure of a park for parents of toddlers and kids who aren't prone to running off into the road or lake and love climbing!
There are more swings than you can possibly want in a park and lots of great intricate playframes and structures.
Lots of swinging action to be had in this park.


Great little fantasy play area in the "Outback Cafe"
A great place for the kids to hide in and climb trees.
There's a large sandpit set alongside the main playground so don't forget to bring a bucket and spade and dumper trucks for the kids to bury.
There is a large lake with ducks and black swans in it. Mawson Park is also great for kids parties and scooters.  There are a few BBQ's and shelters and plenty of nearby parking as well as a toilet block.
Find more playgrounds in Perth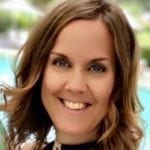 Lorraine is co-owner of Buggybuddys and is a mother to Blake (9) and Lollie (6).
Lorraine is co-owner of Buggybuddys and is mother to Blake (10) and Lollie (8).  Lorraine is passionate about health and fitness and loves exploring Western Australia in her Caravan.
..MORE IDEAS ON WHAT'S ON IN PERTH
Location
No Records Found
Sorry, no records were found. Please adjust your search criteria and try again.
Google Map Not Loaded
Sorry, unable to load Google Maps API.
Member Reviews