Keith Holmes Reserve is located off the Mandurah Quay Footbridge. It is a rather quirky playground overlooking the man-made beach making this a great little spot for a playdate, family BBQs, picnics and parties.

There are two adjacent play areas atKeith Holmes Reserve. One area is more suited to older kids and had some unusual play frames and features.
The second play area is suited to toddlers and is also shaded and consists of a rocker and small playframe and slide (which was very steep/fast).
Both playgrounds are next to the man-made beach which is ideal for kids as it's very shallow and no waves!  The feature for this area is this huge boat and ramp set in the sand.  We saw a few families having their lunch in it and could imagine it would be great for a child's pirate themed birthday party.  It wasn't shaded when we visited and imagine it gets very busy!!
Behind the pirate ship are a few BBQs and picnic shelters.
Find more playgrounds in Perth
Find more things to do in Mandurah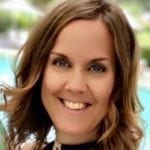 Lorraine is co-owner of Buggybuddys and is a mother to Blake (9) and Lollie (6).
Lorraine is co-owner of Buggybuddys and is mother to Blake (10) and Lollie (8).  Lorraine is passionate about health and fitness and loves exploring Western Australia in her Caravan.
Location
No Records Found
Sorry, no records were found. Please adjust your search criteria and try again.
Google Map Not Loaded
Sorry, unable to load Google Maps API.
Member Reviews