Boddington Community Resource Centre, Wuraming Avenue, Shire Of Boddington
When driving to the Great Southern town of Albany, we took a little detour off Albany Highway to visit the NEW Hotham River Foreshore Adventure Play Park in Boddington.
Found on the banks of the Hotham River, the fantastic playground truly has something for kids of all ages, as well as providing a welcome rest stop for a picnic.
As we arrived, Little Chef ran straight for the double flying fox, with one pommel seat and a harness seat for littlies.
Clamber up the big boulders to the top of the hill where you can explore the tunnels. There is a rail around the top tunnel, a great safety feature, although this playground isn't about wrapping your kids in cotton wool. There are loads of huge boulders to climb over, and uneven ground, so you'll want to keep a close eye on very young children.
The play space provides lots of climbing opportunities for older kids, with an aerial rope walkway…
And huge red net. The only way to get to the top of this is to climb up the wooden poles – which is a challenge.
There is lots more fun equipment too! A wide slide for racing your friends, as well as swings and rockers.
The nature play space has logs, stumps, ropes, and even a little water play.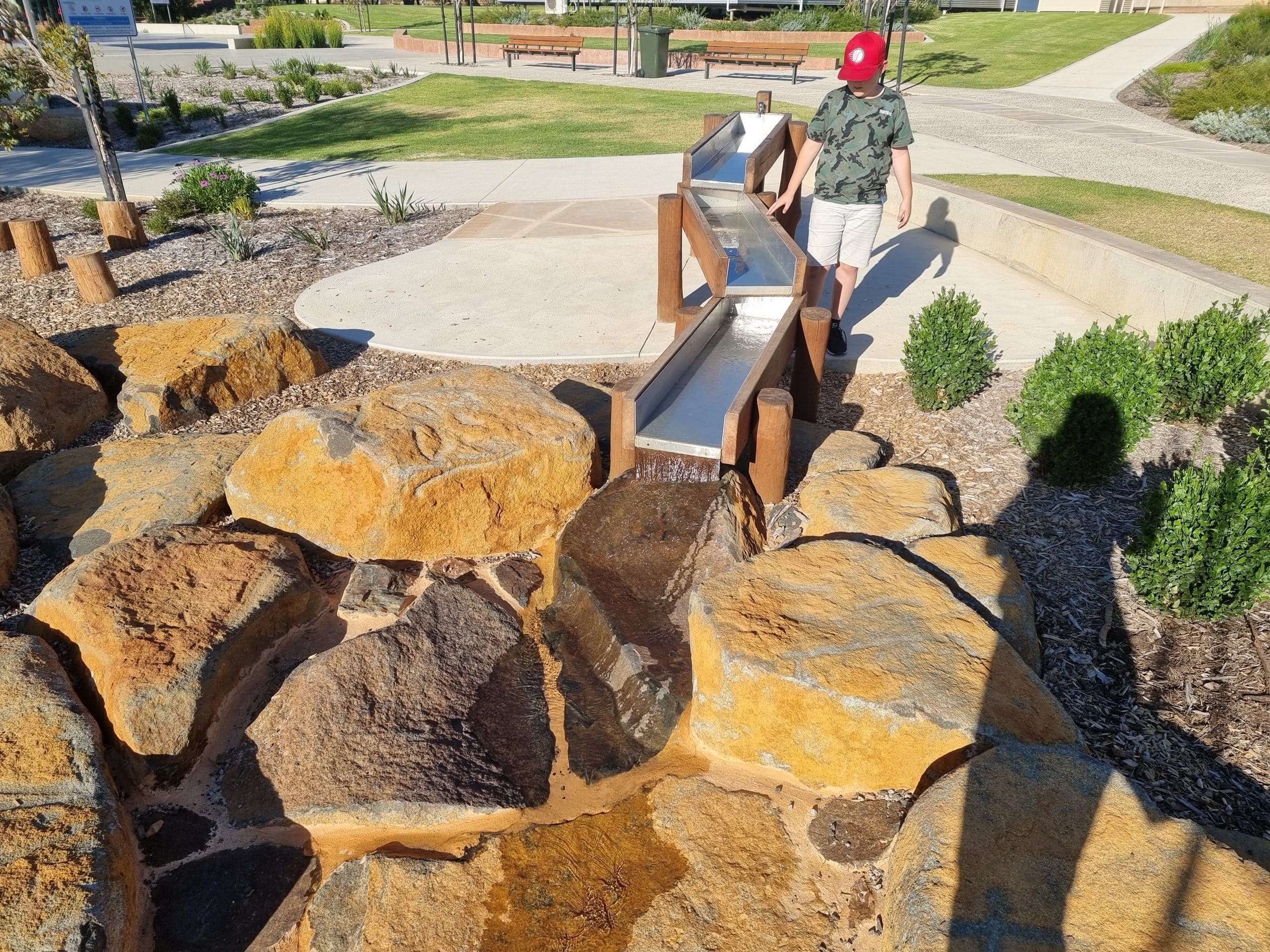 The water pump, stream and dam walls will keep children entertained, paddling and exploring for hours!
Hotham River Foreshore Adventure Play Park also features a little sand play.
More Fun-tastic Features…
Be sure to plan ahead and bring along a scooter, skateboard or bike – there's lots of two wheeled fun to be had! The skate park is very popular.
There's a very hilly pump track too.
Challenge the kids to a ball game on the basketball court…
or check out the outdoor gym. The Hotham River Foreshore Playground is fantastic for active families.
There are BBQ facilities, picnic shelters, drink fountains, lots of parking and clean public toilets. The river has ramp access for kayaks and SUP boards.
The playground, which opened in November 2020, is 130kms (1hr 40mins) south-east of Perth. It's well worth the slight detour off the main route to Albany. Boddington is also a popular spot for a day trip or weekend getaway, being less than two hours drive from Perth CBD.
Find Hotham River Foreshore Adventure Play Park at Wuraming Ave, Boddington.
Discover more things to do in WA here.
Find more playgrounds in Perth
Location
No Records Found
Sorry, no records were found. Please adjust your search criteria and try again.
Google Map Not Loaded
Sorry, unable to load Google Maps API.
Member Reviews