Eden Beach Playground in Jindalee is one of many of the new playgrounds opening up in the Northern Suburbs by local land developer Satterley.
Located next to the primary school playing field, Eden Beach Playground feels nice and open and airy.  There's plenty of seating around the playground including formal benches, huge picnic tables (great for kids parties and family sunset dinners) and a low-lying wall all around the equipment. The BBQs overlook the picnic area and park so you can keep an eye on the little ones whilst throwing some snags on.
The shade in the playground is these awesome sails covering the picnic benches and the play equipment.  They make a beautiful pattern on the ground and benches, again great for parties!  Despite all this shading because it's not tree shading it did feel hot by mid-morning in Summer and it's not complete cover, as there are huge holes in the shades.
The play equipment is very funky and almost industrial and scaffolding like.  LOTS of climbing, swinging, balancing and jumping around on the rope structures.  The little tunnels and fortresses are great for fantasy play!
There are two slides in the park and one is on a smaller toddler appropriate playframe.
We're seeing the nest swing a lot in many of the newer playgrounds and this one also comes with one although not with shade over the top.
There's a huge grassed area right next to Eden Beach Playground so great for picnics and ball games.
Parking is on Marlinspike Boulevard and Reflection Boulevard Jindalee but there isn't much for such a huge park which I'm sure will be very popular during cooler months.
Find more playgrounds in Perth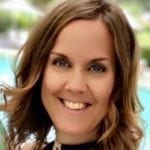 Lorraine is co-owner of Buggybuddys and is a mother to Blake (9) and Lollie (6).
Lorraine is co-owner of Buggybuddys and is mother to Blake (10) and Lollie (8).  Lorraine is passionate about health and fitness and loves exploring Western Australia in her Caravan.
Location
No Records Found
Sorry, no records were found. Please adjust your search criteria and try again.
Google Map Not Loaded
Sorry, unable to load Google Maps API.
Member Reviews