Katanning Street, Bayswater, City Of Bayswater
Claughton Reserve, Bayswater
Claughton Reserve, Bayswater, is a picturesque park located by the Swan River. This play space features a nature play area that kids of all ages will love. In addition, there is a colourful fairy trail to be explored.
The new playground area at Claughton Reserve was completed in December 2020, and designed to provide a sense of adventure and challenge for children aged 2-12. The design includes accessible pathways and a basket swing to ensure children of all abilities have the opportunity to enjoy the play space.
On arrival, Miss 7 headed straight for the playground area. This is made up of logs and ropes to climb, and has wood chips as a base. So no shoes full of sand to go home!
Miss 7 enjoyed the balancing logs and ropes, and climbing the wooden fort. This has a ladder or a climbing wall to ascend, and a slide to come back down.
Adjacent to these, we found spider web ropes. Perfect for kids who wish to play Spiderman games! We also found a turtle made of logs and cement cylinders.
In addition, the play space also includes three swings; a toddler swing, a regular swing, and a basket swing all children can enjoy. The basket swing was Miss 7's favourite.
Barbeque facilities surround the play area, making it a great spot for a family get together or a birthday party. There's no shade sails over these or the play area. However, the tall existing trees have been preserved and offer plenty of natural shade.
During our visit, we also explored the fairy trail. This was our main reason for wanting to visit Claughton Reserve, and it adds a delightful touch of whimsy to this gorgeous park. The fairy trail is designed in a loop leading from the play space and back again. Small windows, doors and stairways have been added to various trees along the gravel pathway. These are all the colours of the rainbow. Moreover, adding to the whimsy, there are ladders and flags and other colourful embellishments that add to the illusion of a fairy village. Some of these go high up the trees, so you have to look to find them.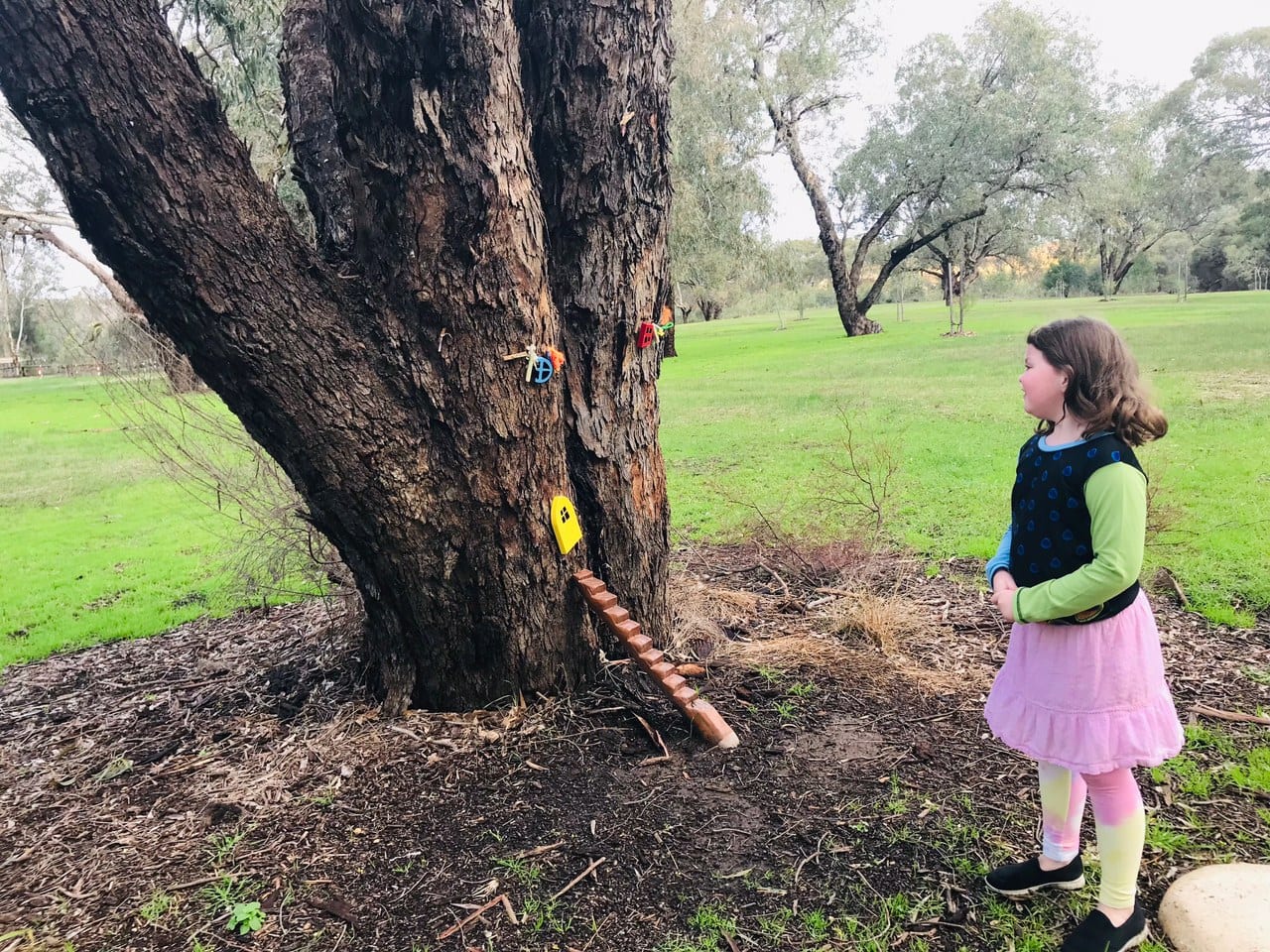 All this has been designed around a brilliant blue tree, one of the Blue Tree Project tree. This sits at the heart of the fairy trail. It's bold, and one of the first features of the part that we noticed as we drove in. The missions of these trees is "to help spark difficult conversations and encourage people to speak up when battling mental health concerns." So if you're needing to open a dialogue around mental health or just reinforce the message that "it's OK to not be OK", these trees are a great talking point.
In addition to the fairy trees, there is a pair of fairy houses set in one of the garden beds adjacent to the playground. They're like something from an Enid Blyton novel and sure to spark children's imagination.
Beyond the fairy trail, there's open space and trees. There's plenty of room for kids to run or to walk the family dog. The park is full of green space, and we heard so many birds during our visit; kookaburras, bellbirds and a variety of parrots.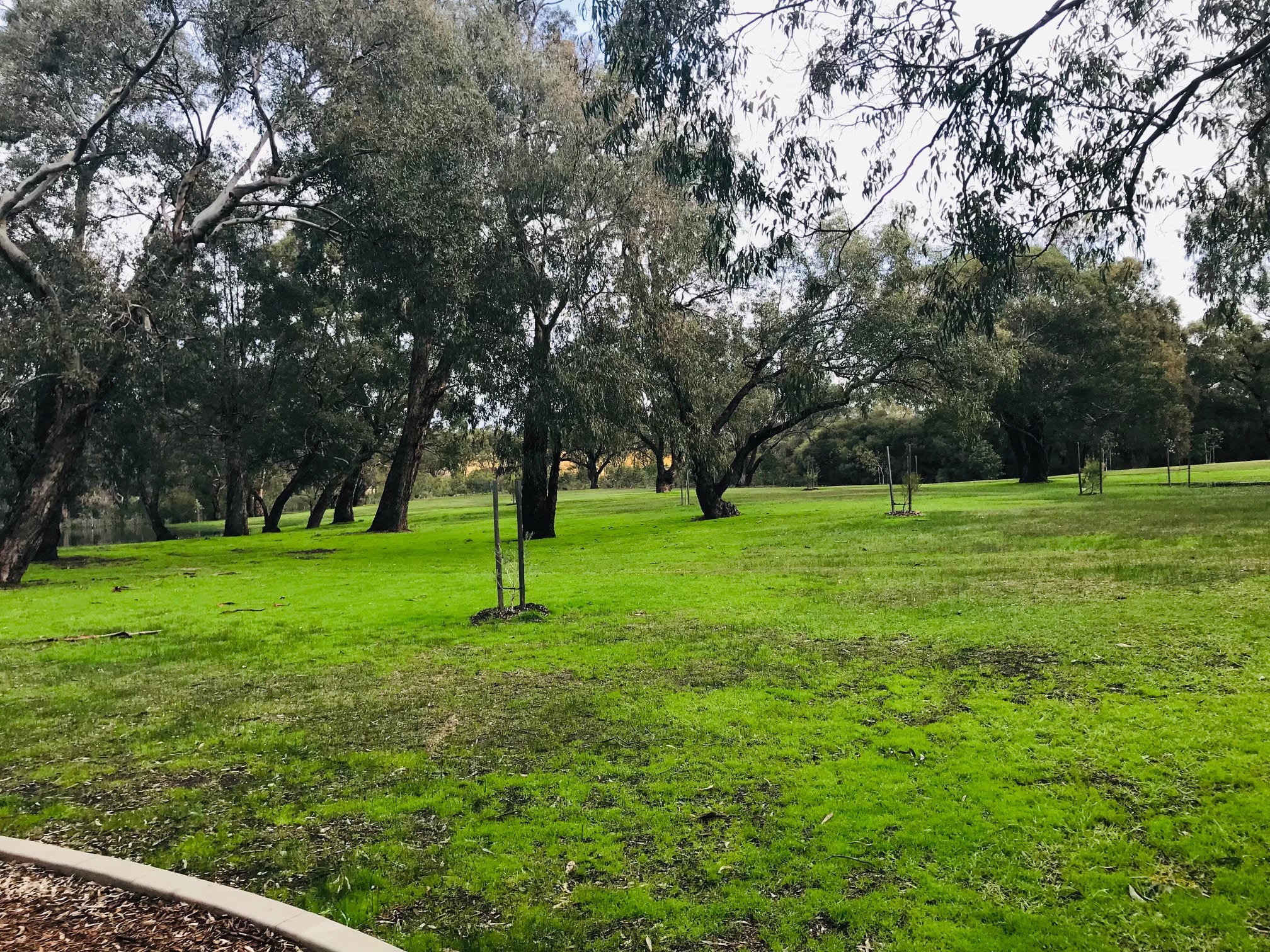 Another striking feature we spotted as we drove into Claughton Reserve was the toilet block. Normally I wouldn't make a point of writing so much about toilets, but this one is an architectural work of art. The building is designed around native flora and fauna. The roof design for example is based off a tortoise's carapace. A stone egret stands at each corner of the building. The entrance to the Men's and the Women's is covered with bright coloured tiles, and the window tiles are covered in bright splashes of colour. Between the two toilets, there is a tap and bowl for watering your dog. It could also be used to refill a water bottle.
Across the road, we found another swing set. We found more barbeques and picnic tables.
The river here also has beach-style entry points where kids could paddle in the warmer weather. Swimming further out might be a little tricky as there is a boat ramp at the end of the street. It also appears to be a fishing spot, with a special bin for hooks and line mounted here. So best to keep an eye on little toes.
Looking across the river, we spotted a number of airplanes flying in and out. If, for instance, this is something your kids love but they don't like the noise factor, this is a picturesque spot for plane watching.
Something to bear in mind when visiting the playground at Claughton Reserve is that there are no fences between the play space, the road and the open water. That is to say, if you have a child who wanders off or bolts from you, you may wish to keep them close. Apart from the beach entries, I am unsure how deep the water is along here.
Miss 7 enjoyed her play here, and I loved being so close to nature. The fairy trail is lovely and whimsical, and a delightful break from the seriousness side of life. If you're still into rock painting and hiding like we are, then this is a spot I would suggest. Likewise, I would definitely consider meeting friends for a barbecue here, too. It's a great family friendly location.
Claughton Reserve, Bayswater
Located at the bottom end of Katanning Street, Bayswater.
Parking is available and, as mentioned above, toilet facilities are available on-site.
Why not combine a visit to Claughton Reserve in Bayswater  a visit to one of the nearby eateries such as Sherbert Cafe and Bake Shop in Maylands, Dome Cafe Bassendean, or Bamb Binos Coffee & Ice Creamery?
If you kids are keen to spot more gnomes and fairies, there's also our list of other fairy trail locations around Perth.
Find other Things To Do With Kids in Perth.
Location
No Records Found
Sorry, no records were found. Please adjust your search criteria and try again.
Google Map Not Loaded
Sorry, unable to load Google Maps API.
Member Reviews