The brand new $1 million Steam Train Adventure Playground at Millars Landing Estate in Baldivis celebrates the area's early association with trains and timber milling. The playground has so many fantastic features it's hard to know where to start so we'll go with the biggest first.
That is the 12m slide and it's super fast!  The huge tower is inspired by steam train water stop tower.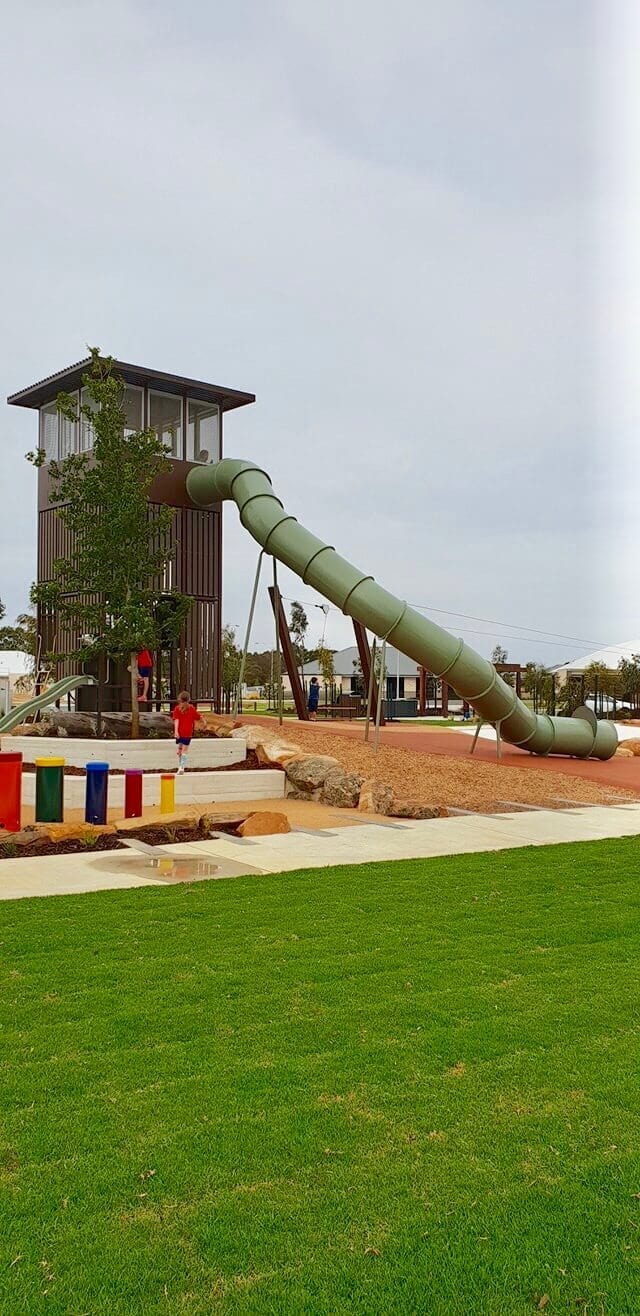 To get to the top you can walk up the wooden stairs, climb up the net ladder or race your friends up the double climbing wall.
For the less adventure slide users there is also a smaller slide and ladder.
The view from the top of the tower is pretty impressive!
The gorgeous steam train engine is climbable inside, on top, around and just everywhere.  Let your imagination run wild!

Behind the stream train engine there are 2 carriages, one has lost its load creating a lovely balance beam track with the wooden beams.
The playground features Dual flying foxes – the only true way to win the bragging rights of Flying Fox Champion!  Featuring a pommel seat and an all abilities seat this allows the flying fox to be accessible for all ages and abilities – including adults.
In the sand-based area there is a traditional swing that includes an all abilities/child seat with a latch across.
Always popular with kids is a birds nest swing and this one has quite a wide arc.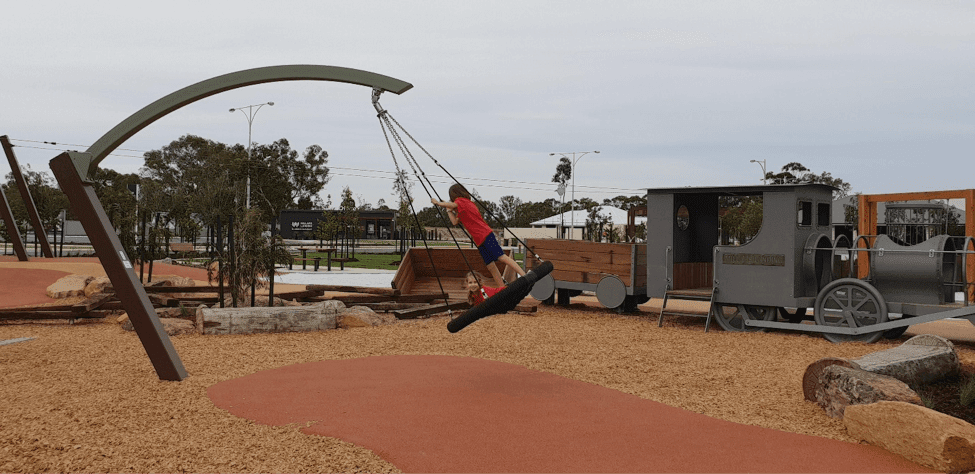 For the musically inclined there is a row of bongo drums, a large xylophone and a set or musical chime tubes.
There are 2 shaded areas with picnic tables and chairs and free gas bbqs.
The rooves of the picnic shelters are a stunning bespoke art piece based on engine clogs. On sunny days that is going to make some fantastic shadows.
There is plenty of seating throughout the park.  I loved the cut-out log seats.
You'll also find a huge grass area with plenty of trees that will grow to provide shade, makes it ideal to set up your picnic area or play with the balls & frisbees.
There is a water fountain and bike racks at the Steam Train Playground, however there are no public toilets.  The ground is a mix of sand, wood chips and soft matting with paths for prams, wheelchairs, bikes and scooters.
Steam Train Adventure Playground
Millars Landing Estate
Btw Kulija Rd & Millars Rd along Baldivis Rd,
Baldivis, Western Australia 6171
Location
No Records Found
Sorry, no records were found. Please adjust your search criteria and try again.
Google Map Not Loaded
Sorry, unable to load Google Maps API.
Member Reviews