Harborne Street, Wembley, Town Of Cambridge
Harborne Ruislip Playground, Wembley
Harborne Ruislip Playground is a neat fenced park in Wembley. It may be small, but it's packed with features kids will enjoy!
The first thing that grabbed Miss 8's attention was the wooden play structure. The main feature of the playground, it has a baby swing and a birds nest style swing. There's a climbing wall and stairs made of logs of various heights. There's a bridge to cross over, and a slide or fireman pole to come down.
In the sandpit, there is a recycled tree stump. The stump has been set into the ground and studded with rock climbing holds.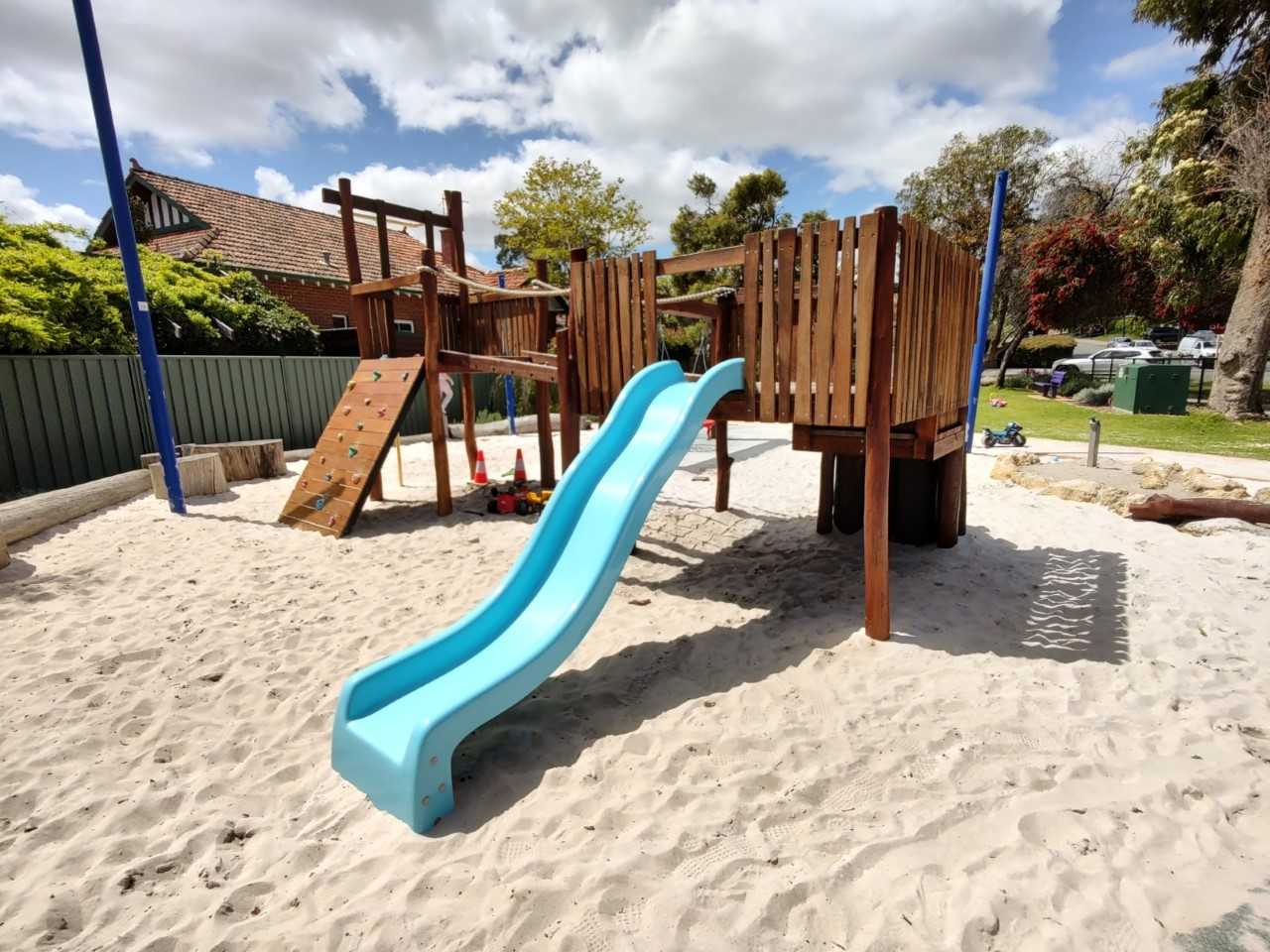 Surrounding the main play structure and the climbing tree, there are balancing logs of all sizes. Similarly, this appears to be recycled wood, perhaps reclaimed from when the playground was created. Miss 8 enjoyed doing laps of these like a balancing circuit.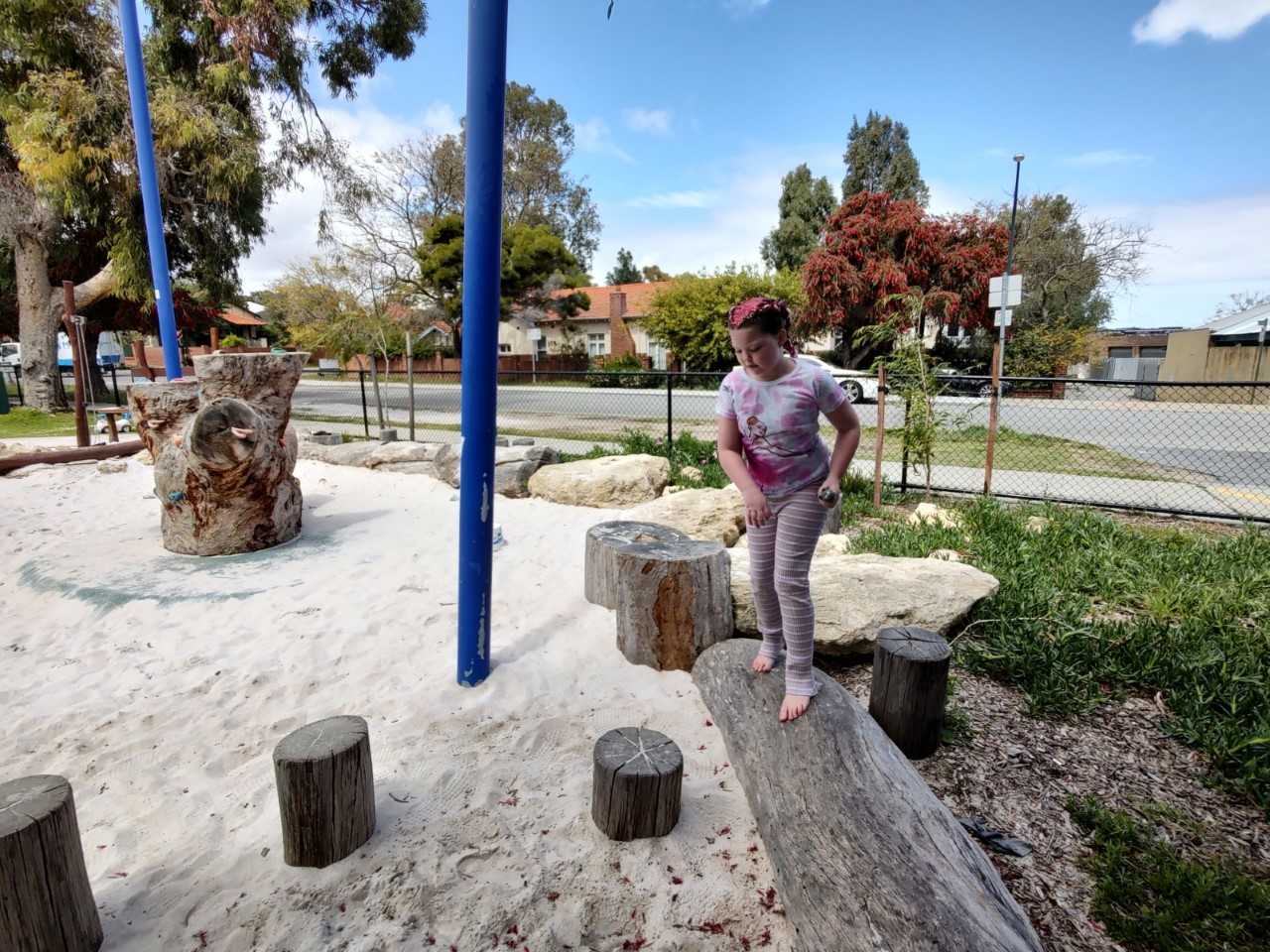 On entering the gate, there is a sand kitchen with a water fountain adjacent. So kids can make a stream in the sand or mix mudpies to their hearts content. Local families have left some trucks here in the sand which adds to the fun.
In addition to the sand toys, local families have left some ride on cars, Little Tykes cars, and some trucks and sand castle toys. Miss 8 loved then, although she's getting too big for these things now. Another smaller child was living his best life on one of the ride on when we arrived.
The other half of the park is a lovely green grassed area with gardens surrounding. There's a couple of benches placed in the garden areas adults can comfortably relax while the kids play. There's also a picnic table adjacent to the playground. With these facilities available, the park would be a great spot to meet up with some Mum friends and their kids for a playdate for example.
At the time of our visit there were no shade sails, but the provisions are there for them to go up in the summer months. Otherwise the surrounding tall trees provide some shade, depending on the time of day. With this in mind, we'd suggest packing sunscreen and hats just to be safe.
As a parent of a kid who used to run towards roads, I love that this pretty playground is fully fenced and has mag-lock gates to keep children contained. Therefore, with this in mind, it would be a good playground for toddlers and kindy kids.
To sum up, Harborne Ruislip Playground is packed with fun features most kids will enjoy. The day we visited, the playground was a great spot to stop and run off some energy for an hour or so after an appointment. Miss 8 loved getting messy in the sand and climbing all the climbable things. It's conveniently close to cafes, so you could grab a coffee or bring down a picnic to enjoy. In short, with this in mind, we will likely be back sometime soon.
Harborne Ruislip Playground, Wembley
Located on the corner of Harborne Street and Ruislip Street, Wembley.
Parking is available on Ruislip Street. Please be considerate of local traffic.
As it's a small pocket park, please be aware there are no public toilets here. The nearest toilets would be at the nearby BP Service Station on the corner of Harborne and Cambridge Streets.
Location
No Records Found
Sorry, no records were found. Please adjust your search criteria and try again.
Google Map Not Loaded
Sorry, unable to load Google Maps API.
Member Reviews