Cedric Street, Innaloo, City Of Stirling
Stirling Civic Gardens
Stirling Civic Gardens is a hidden gem. Concealed from the road, it is a lovely park with manicured gardens and plenty of shade provided by the large trees. The playground area has recently undergone an upgrade, and there is now more play equipment than ever for your children to enjoy.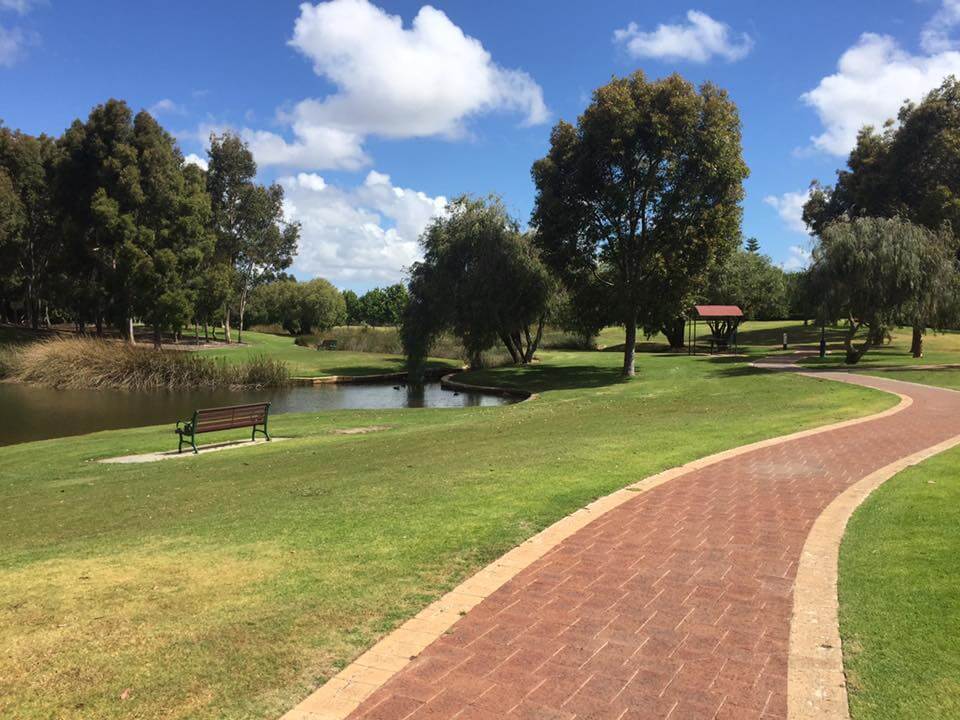 The park features small lakes and water features, home to ducks and other water birds. There are paved paths winding their way through the gardens. These are perfect for gentle walks and help make the park more pram and wheelchair friendly. On the other hand, Stirling Civic Gardens Park also would be great location for little ones to practice their scootering or bike riding.
Stirling Civic Gardens seems quiet on weekdays, however there is always a birthday party or two come the weekend. There are a couple of barbecues located near the playground area. In addition to these there are covered picnic shelters and a larger covered area with tables.
This park would be a lovely spot for a summers night barbecue or picnic as there are lights dotted all around the park and playground.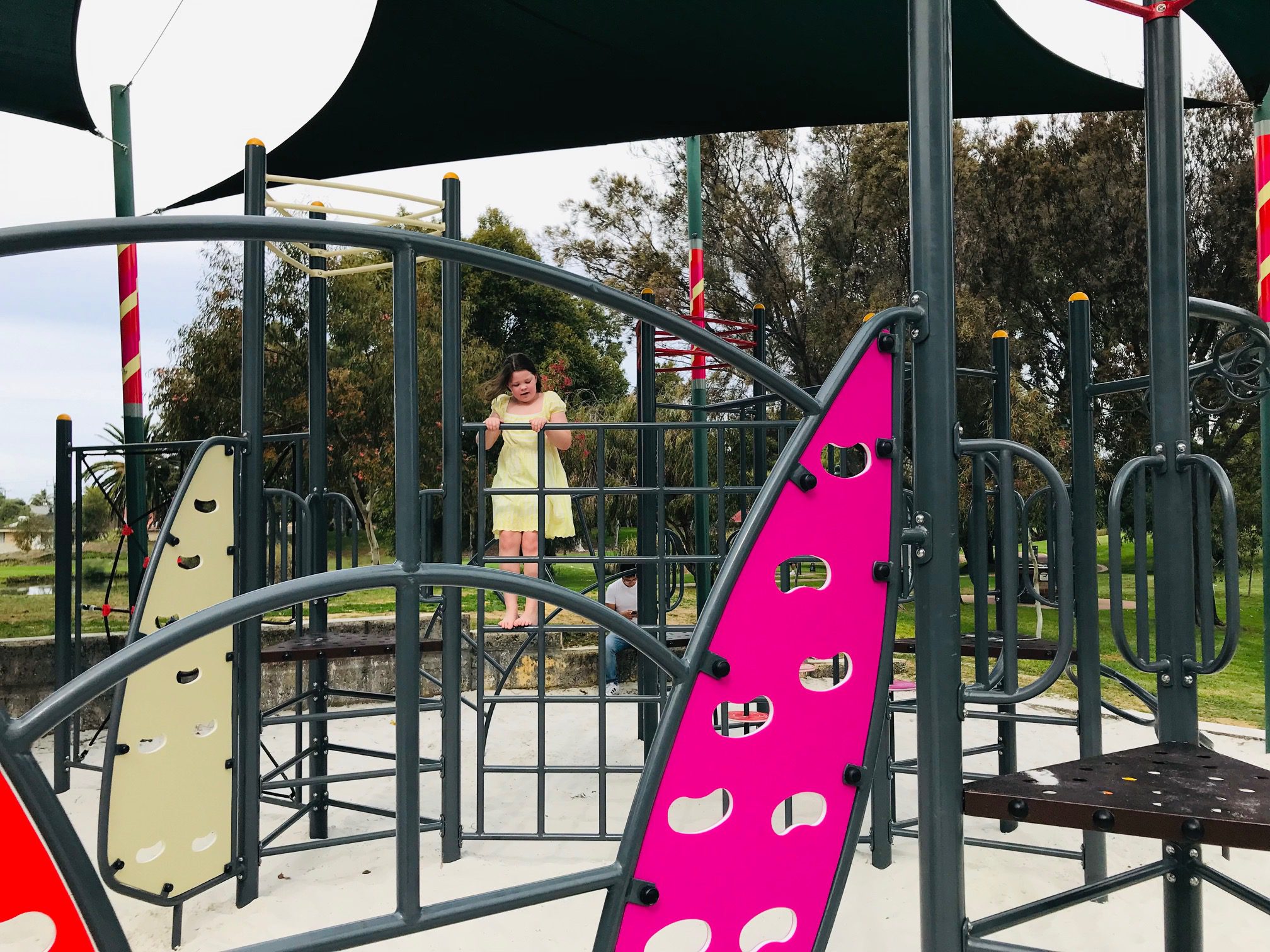 The playground is large and is covered with shade sails. The new equipment is very much geared towards children who love to climb. It now features monkey bars and ladders of different varieties, rope webs and climbing walls.
There is a large curly slide for bigger kids, in addition to smaller slides for tiny tots.
Adjacent to the smaller slides is a sandy area with rocks and a see-saw and a spring rockers.
There are also swings in this area too: A birds nest swing, a toddler swing, as well as a regular swing. There is something for everyone!
If the playground is not your thing or your kids are outgrowing them, then there is also plenty of room to kick around a football or play some cricket. My Miss 7 has also had loads of fun just rolling down the "tellytubby hills" with her friends.
On the other hand, while you're taking a walk, why not stop at the War Memorial? This spot is a good opportunity to reflect and discuss history with your children. There are also beautiful rose gardens to appreciate.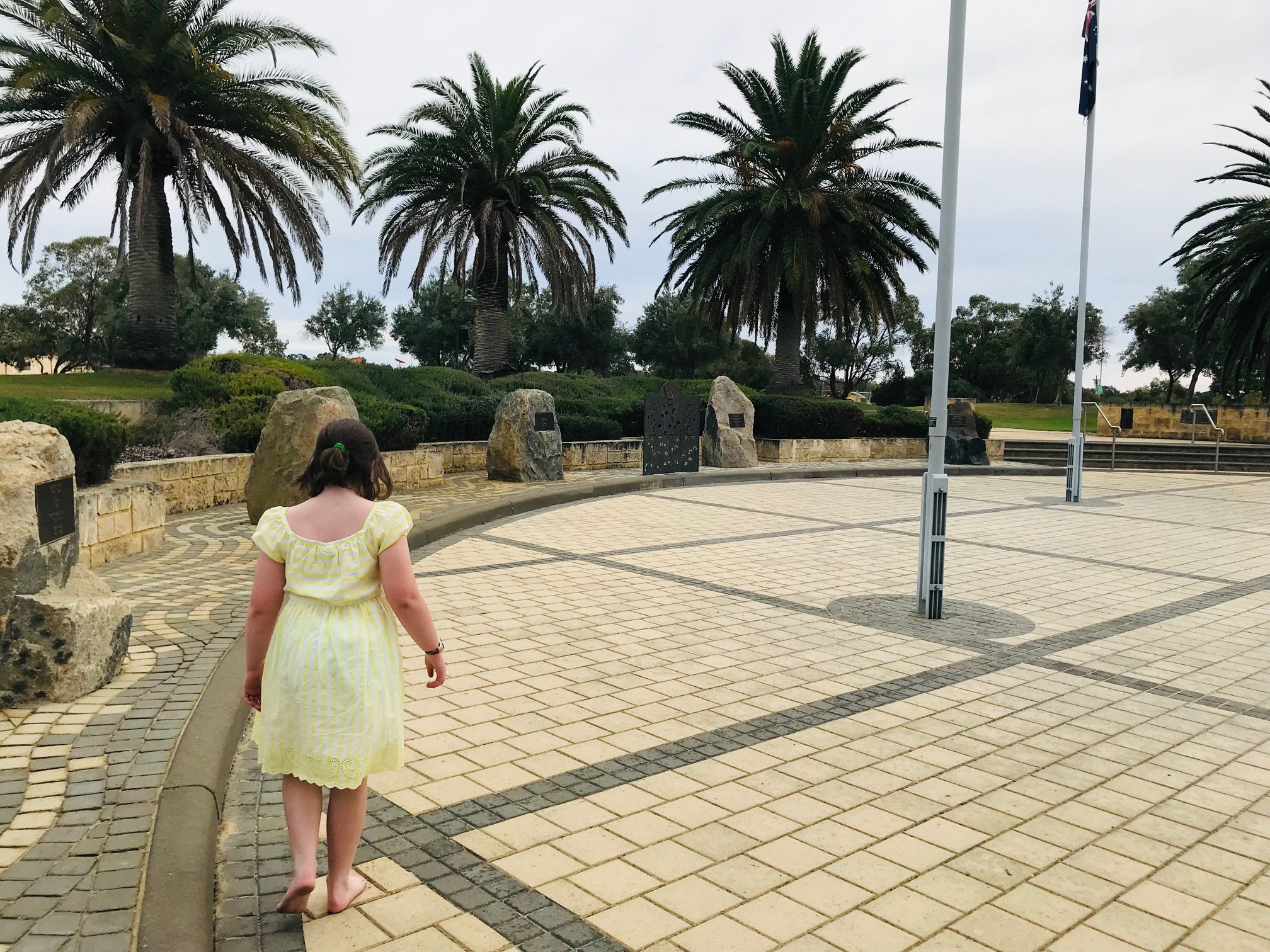 In summary, Stirling Civic Gardens has lots of offer, from playgrounds to biking to entertaining. So why not organise a family picnic or a catch up with friends here soon?
Stirling Civic Gardens
Located at 2A Cedric Street, Stirling.
Stirling Civic Gardens has toilets situated near the playground and barbecue area. There is plenty of parking available just off Cedric Street, and the park is also close to public transport with buses and trains running nearby.
Find more playgrounds in Perth
Penny is a stay at home mum and photographer who homeschools her 2 children. She is a self confessed stationary nerd and a bit of a journal junkie. She also enjoys blogging about her homeschooling journey on www.learningthroughlife.com.au
Location
No Records Found
Sorry, no records were found. Please adjust your search criteria and try again.
Google Map Not Loaded
Sorry, unable to load Google Maps API.
Member Reviews