New playground equipment has been installed at Rayment Park in Lathlain. The large open space has been well used and now has three separate play areas, a basketball hoop, open space for running, ball games and a ping pong table.
The new junior playground at Rayment Park is fully fenced with entry by a Magna lock style gate and is covered by shade sails. It was mid-morning on a warm day when we visited and most of the equipment was covered in shade, just the outskirts of the playground were in full sun. 
Inside the fenced area, there are two toddler swings and a round swing. The round swing was in the sun so a little hot to sit on.
The main structure had slides, tunnels and climbing and Miss 3 tried everything. If your child loves to spot aeroplanes then this is a good park as while we were there one flew over every few minutes. There is also a free-standing see-saw. All the equipment is on the soft fall rubber. Next to this playground is a basketball hoop. 
A walk across the park takes you to the playground aimed at older children. This has two flying fox lines, a climbing spinning wheel, round swing and large climbing frame. Although aimed at older children, Miss 3 gave everything a go and had fun on the climbing frame and flying fox. The seated flying fox was too hot to sit on. 
This one you can climb and spin or just sit inside and spin. Miss 3 liked the challenge of climbing while spinning slowly. 
The climbing structures.

Close to this is the newest play area at Rayment Park, the nature play area. This area has a boat, fort, swing and balancing logs. It is made of log structures and limestone stepping blocks. This play area is shaded by large well-established trees, has wood chip footing and paths throughout.
At one end of the nature play area is a toddler swing and a couple of sound instruments to play. 
There is a fort type structure which is surrounded by limestone and wooden stepping stones.
Miss 3 loved the balancing structure that had some solid planks to walk along and then at the end a couple that were held by chain so moved.
The main feature of this area is the boat, pebble creek and a little bridge. The boat is large and has different levels and encourages imaginative play.
Also in the nature play area is a round swing and climbing spider web. The round swing is on the edge of the play area and wasn't shaded when we visited making it a little hot to play on.
Also at this end of the play area and not very well shaded is another climbing frame and walk through t-pee type structure.
All through this area are logs and stepping stones making it fun to try and move between the different equipment. Miss 3 always loves trying to jump between the stepping stones and climbing on the logs.
The original playground is at the edge of the nature play area although the swings are out of action at the moment.
There are still further improvements planned for this park with toilets and BBQs planned. The park has some natural shade and there are a few park benches and a gazebo. The park does allow dogs on leads and there is a drinking fountain with doggy bowl included. Also, rubbish bins located around the park and plenty of street parking. It is located opposite a school so school drop off / pick up times might get busy.
Directly opposite the park is Kettle Cafe so you can have breakfast, lunch, coffee and snack before or after your play. 
Rayment Park is located on Rayment Street, Lathlain. 
Find more playgrounds in Perth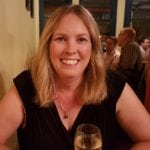 Claire Tondut is currently a stay-at-home mother of one daughter and a puppy. When she is not chasing little Miss around she loves to spend time with hubby, friends and family.
Claire Tondut is currently a stay-at-home mother of one daughter and a puppy. When she is not chasing little Miss around she loves to spend time with hubby, friends and family.
Location
No Records Found
Sorry, no records were found. Please adjust your search criteria and try again.
Google Map Not Loaded
Sorry, unable to load Google Maps API.
Member Reviews