Boronia Street, Innaloo, City Of Stirling
Millet Park, Innaloo
Around the corner, not far away from busy Westfield Innaloo, is Millet "Spider-Man" Park. This green leafy park features climbing equipment, a small traditional playground, and now a skate facility and junior bike track. There's something for everyone!
The park gets its nickname from the large climbing "web" that is a prominent feature. It has two sides with rubber crows nest type platforms near the top. In the bottom level, there are six Tarzan-style pommel swings to hang from. Kids aged four and over will get the most out of these climbing ropes.
For younger children, there is a small traditional style toddler climbing frame with stairs. In the bottom us a shop front for imaginative play, and a tunnel for climbing or crawling through. In the top section, there is a curling slide, a noughts and crosses game, a coloured window and a weather station. There is a twisty pole to climb up for more confident children. Rubber soft fall surrounds the climbing frame, and during summer shade sails are installed.
As of May 2023, the playground now features a junior bike skills track for kids aged up to 12 years. This cute track includes street signs, humps to roll over and a roundabout. There's a petrol station where tots can pretend to fuel up, a mini hardware store and a drive up café. All of which are great for imaginative play. Miss 9 wanted to pretend she was at a drive through buying coffee and a hotdog. In addition, the track includes dirt track elements and some balancing logs and rocks, and some big logs to sit on. We like this addition of nature play elements.
Adjacent to this new track is also a new skate ramp. This has a grind rail, a pump bump to roll over, a quarter pipe to drop down from and a mellow bank for a gentle start. This skate facility was super popular with kids of all ages, from tiny tots on balance bikes to teens on skateboards. Miss 9 has the wrong scooter for this ramp really – her scooter is a commuter scooter, and consequently its too long and low – but she loved rolling down the mellow bank and over the hump as best she could anyway.
Close to the playground area, barbecue facilities and toilets are available. There are two covered picnic tables, which would be great for a casual park birthday party or for a family picnic for example. A barbecue with two hot plates and benches are shaded naturally by the surrounding trees. If you just need a quick refreshment, a water fountain is right next to the toddler playground.
At the other end of the park, a garden area with a sort of nature play area set up. This is a mix of rocks, sand and logs, with paths to explore the interconnecting the areas. I would say this area is more suitable for older children as the rocks are quite tall. That said, my child was an adventurous 2.5 year old the first couple of times we visited and she still gave it a hot go to climb all the rocks.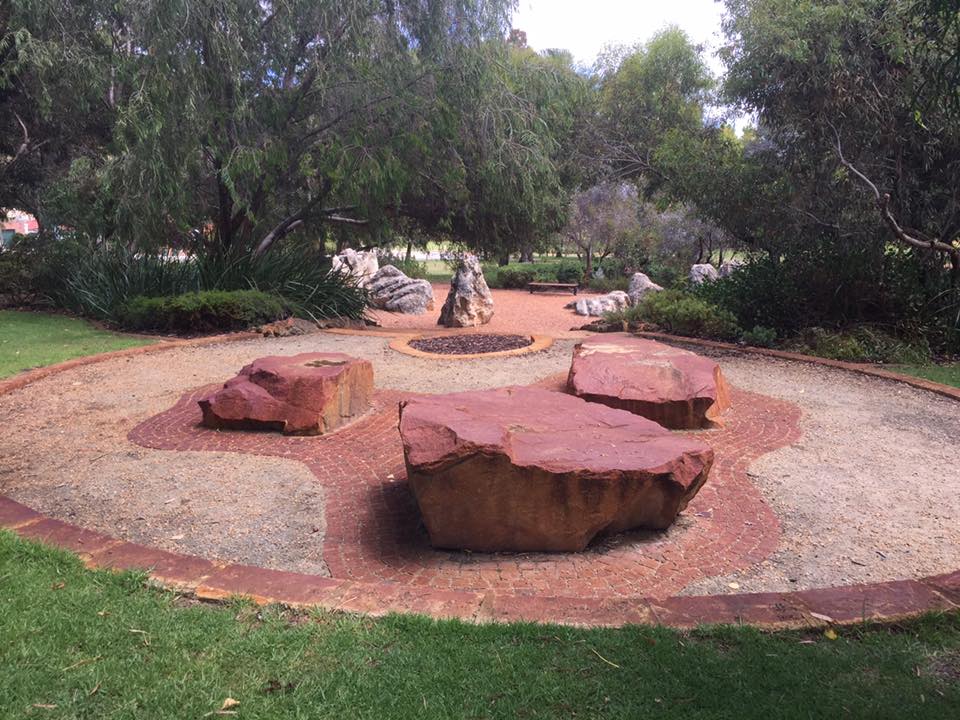 Amongst the grassed areas are lots of paths that are also great for riding bikes or scooters, or even for roller skating. The grass is good for ball games or running with the dog. Keep in mind however, dogs are prohibited in the playground area. There are also a few pieces of adults exercise equipment dotted around at the Boronia Street end of the park.
Millet Park is also a location for playing Magical Park if your children are into Augmented Reality games. The app is free for both Apple and Android phone users and can be played at selected parks around Perth and worldwide. Similar to Pokemon Go, children can see different characters in around nine different games in the app and complete various missions whilst they run around the park. If you struggle to get the kids off the couch, it's worth a go!
To sum up, Millet Park is a great park for active, adventurous kids. However, the park isn't fenced, so little runners will need to be watched. Especially on the busy Huntriss Road side of the park. With the new upgrades, there is more for everyone to enjoy.
Millet Park, Innaloo
Millet Park playgrounds is located at on Park Street, Innaloo, on the corner of Boronia Street.
A small car park which includes an ACROD bay is available on Park Street. Otherwise, parking is available on the grassed verge.
If you have coffee cravings or need snacks, Cup & Co and Brighton Fish and Chips are a block away on Muriel Avenue.
Find more playgrounds in Perth
Holly Clark is currently a stay at home mum of one, a self-confessed coffee addict and a baker of sweet treats. She studied Professional Writing and Editing, and occasionally writes on her recipe blog, Lucky Star's Kitchen
Holly Clark is currently a stay at home mum of one, a self-confessed coffee addict and a baker of sweet treats. She studied Professional Writing and Editing and occasionally writes on her recipe blog, Lucky Star's Kitchen
Location
No Records Found
Sorry, no records were found. Please adjust your search criteria and try again.
Google Map Not Loaded
Sorry, unable to load Google Maps API.
Member Reviews