Langley Park Playground is an ideal playground if you're visiting the city on a family day trip as it's conveniently located in East Perth.  The playground is suitable for kids age 3yrs plus (despite the sign saying 4yrs) and there are toilets directly next to the park.


The park is covered with shade sails and is partially fenced.  Bear in mind this playground is located on a main road and although it is fenced facing towards the road the other side of the park is open.
The park appears to be split in two with play equipment more suited to the younger ones on one side and older on the other side.
This cute ship is perfect for toddlers to explore, along with lots of fun floor motifs, kids table (great for a kids picnic) and a birds nest swing.
The other main structure including various slides is more suitable for older kids aged 4+.
My nearly 6 year old had a great time flexing his muscles on the rather challenging play equipment.  He received a full body workout with balancing ropes, balancing platforms and monkey bar rings.  It's important for kids to explore the equipment themselves and give them guidance and encouragement if they can't use it at first.  My 6 year old is very stubborn and determined and spent ages trying to make it from one of the monkey rings to the other.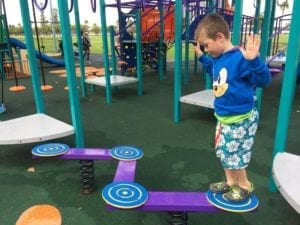 You can find Langley Park Playground on Riverside Drive (opposite Hill Street), East Perth.
Find more playgrounds in Perth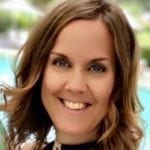 Lorraine is co-owner of Buggybuddys and is a mother to Blake (9) and Lollie (6).
Lorraine is co-owner of Buggybuddys and is mother to Blake (10) and Lollie (8).  Lorraine is passionate about health and fitness and loves exploring Western Australia in her Caravan.
Location
No Records Found
Sorry, no records were found. Please adjust your search criteria and try again.
Google Map Not Loaded
Sorry, unable to load Google Maps API.
Member Reviews