Lake Monger Reserve is a fantastic destination for a family walk in Perth with kids of all ages.
There are a few parking spots around Lake Monger Reserve, 3 of which are on Lake Monger Drive.  If you use the car park nearest St Vincents Avenue you'll see a wishing well and the largest playground in the reserve.
The larger playground is shaded and partly sand and soft fall based, it is also fully fenced and gated.   The playground has disability friendly apparatus including ramps and swing.  There's also a slide, climbing walls, swings and rocker.  The playground is quite dated and rusty in parts.

If you walk in a clockwise direction around the pathway you'll reach another fully fenced and gated playground.  We encountered quite a few of Perth's' famous Black Swans in this area so be wary as they can give you a nip or scare the kids if you/they get too close.
This second playground is sand based and includes a slide, climbing ladders, a bridge and 2 swings.  There are a few BBQs next to this playground which is also close to the toilets and another car park.  Making this an ideal place to park and have a family picnic/BBQ.
If you set off again in a clockwise direction along the path you'll come across a jetty which is a nice stop off point to check out the fish, wildlife and views of the city.  The pathway takes you all around the lake.
There's plenty of shade from mature trees on this part of the walk which is the longest walk from one playground to the next one back on Lake Monger Drive.  This is a great place for family walks and cycles, my 2.5yr old and 5yr old were happy to scoot and walk the whole way round, whilst occasionally distracting them with a different view of something or a quick snack along the way.
The third playground on this walk is a little more modern looking, sand-based, shaded but no fence or gate.  It is set back from Lake Monger Drive but quite close to the lake so be wary if you have little ones prone to running off.  There are a BBQ, shaded picnic areas, benches and lots of shade from mature trees near this playground.  The toilets are a little further away along Lake Monger Drive.
Find more playgrounds in Perth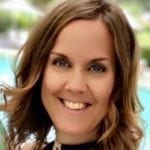 Lorraine is co-owner of Buggybuddys and is a mother to Blake (14) and Lollie (11).
Lorraine is co-owner of Buggybuddys and is mother to Blake (14) and Lollie (11).  Lorraine is passionate about health and fitness and loves exploring Western Australia in her Caravan.
Location
No Records Found
Sorry, no records were found. Please adjust your search criteria and try again.
Google Map Not Loaded
Sorry, unable to load Google Maps API.
Member Reviews