Katanning All Ages Playground is a one of a kind playground, the type of playground that creates memories that last a lifetime! Originally constructed in the early 1980s by locals, before the days of OH&S… I'm sure I'm not the only 80's kid with fond memories of burning my bum doing down the GINORMOUS metal slides!
The iconic playground designed for adults (or maybe even giants) has recently undergone a $5 million upgrade, thankfully many of the giant features that make Katanning All Ages Playground more than your 'typical park' have been refurbished, meaning the playground still offers unforgettable BIG equipment for BIG kids! There's also plenty of BIG fun for little kids too!
As we arrived the kids ran straight towards the 10 metre tall bright red spiral slide, I lost count how many times they went down but I'm not sure they could walk straight by the time they were ready to try the next slide. My 3 year old was keen to give it a go too, the first ladder step is pretty high, which means little kids need a boost, which I thought was a great safety feature… although this playground isn't about wrapping your kids in cotton wool – there's signs reminding you that you play at your own risk.
Next to the spiral slide is a big slide tower featuring a double and single slides.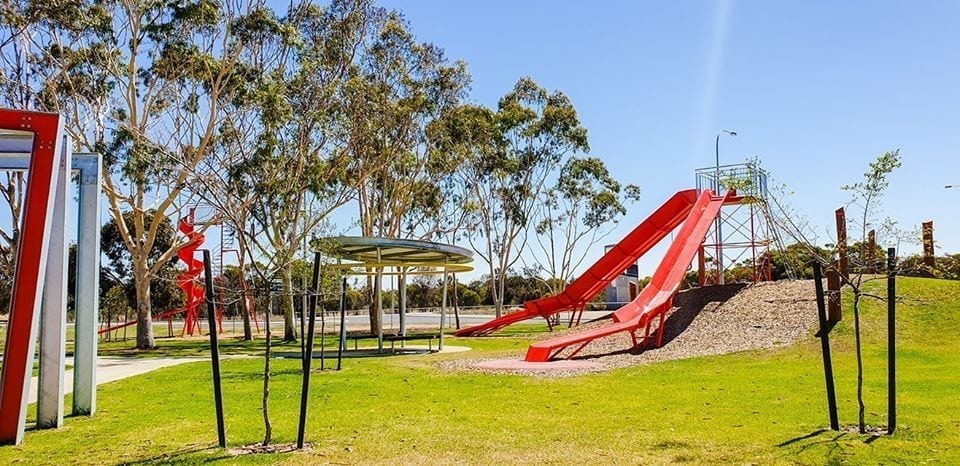 The main BIG slide is a whopping 11 meters tall and 24 meters long, like the rest of the slides, not for the faint-hearted! I was ready to chicken out before I even reached the top – funny how the older you get the more fearful you become.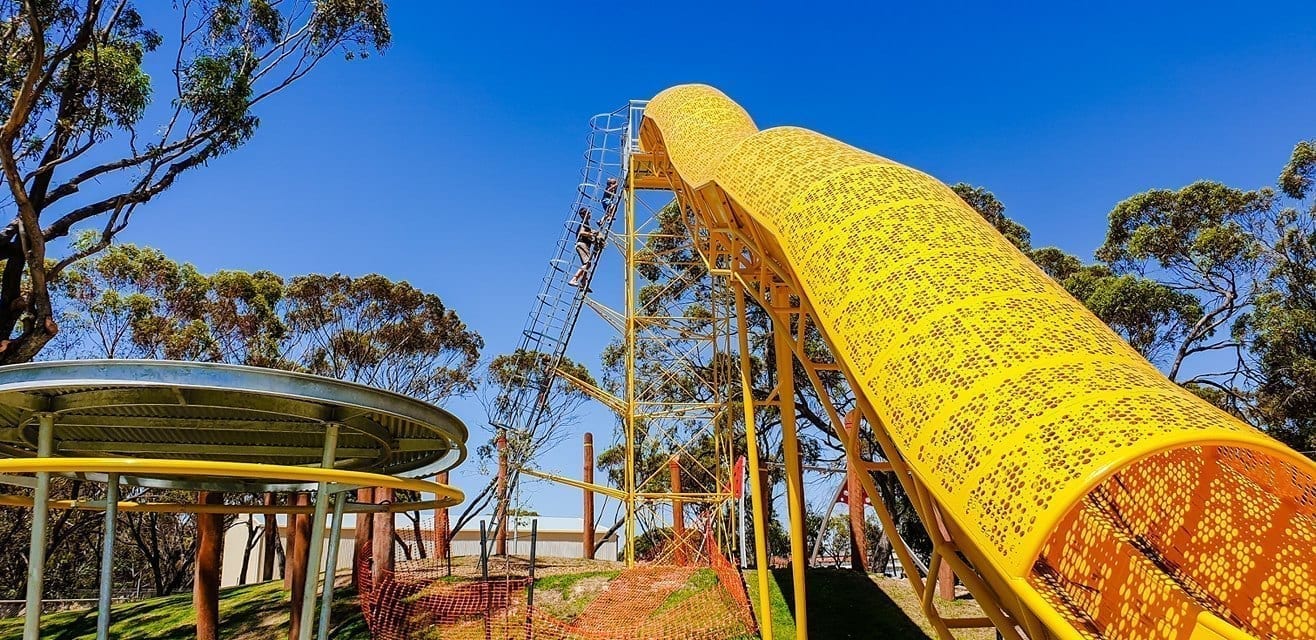 There are other BIG attractions too! A BIG seesaw, spinner, swings and rockers.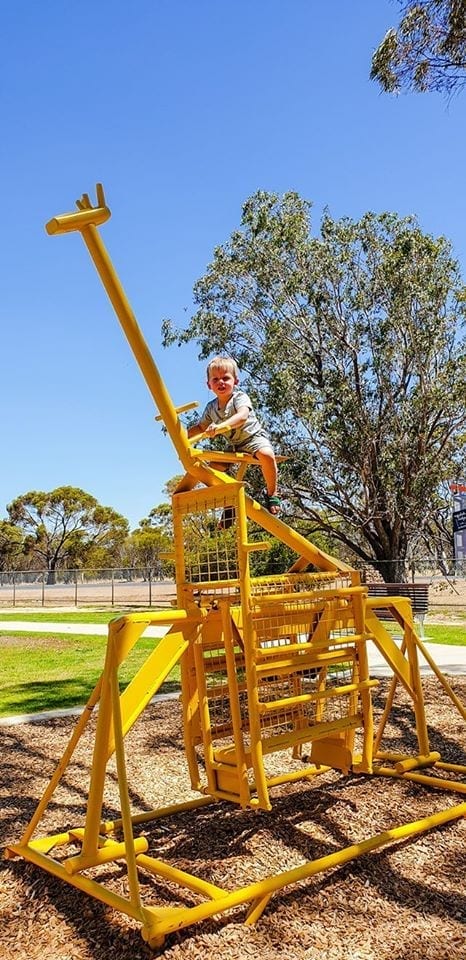 As well as a giant oscillating rotating cone, which was my favourite as a child, so it was special to share the experience with my children.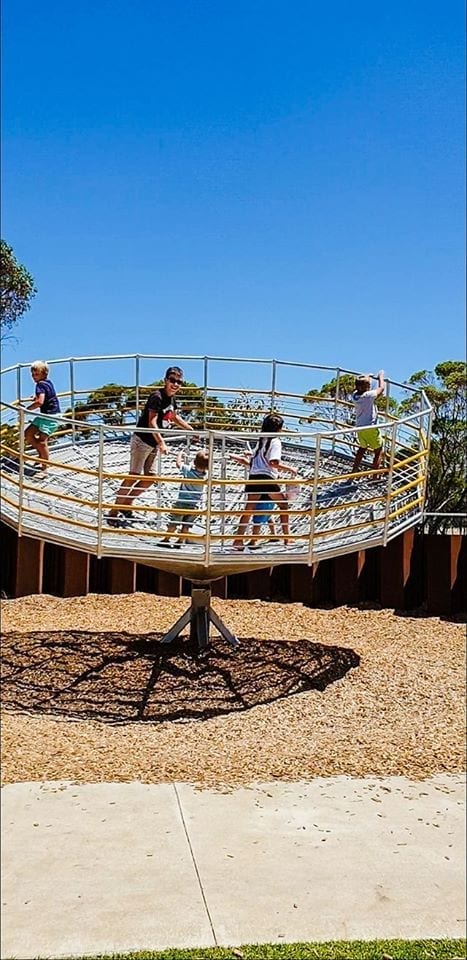 Katanning All Ages Playground also includes a double 30m flying fox with one pommel seat and one harness seat.
The 35m long aerial walkway includes climbing ropes and speaking tubes big enough to stick your whole head in.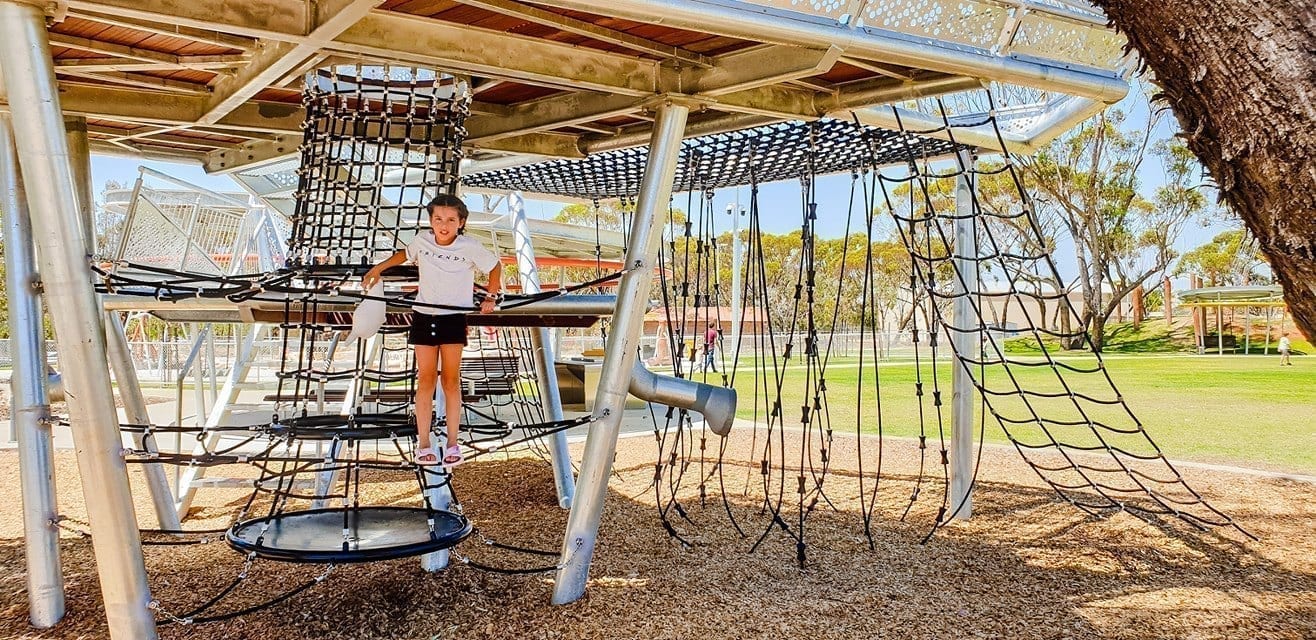 Near the oscillating rotating cone is a smaller slide, which is still bigger than most suburban playground slides, a small nature play space with ropes, rocks to climb and a skysurf which requires two riders and rotates horizontally while pivoting in the middle giving you a similar sensation to windsurfing.
For smaller kids, there is a fully fenced space with a wooden climbing frame, tunnel slide, stepping logs, tractor types, seesaw, music play, swings and plenty more to keep younger children entertained and exploring for hours!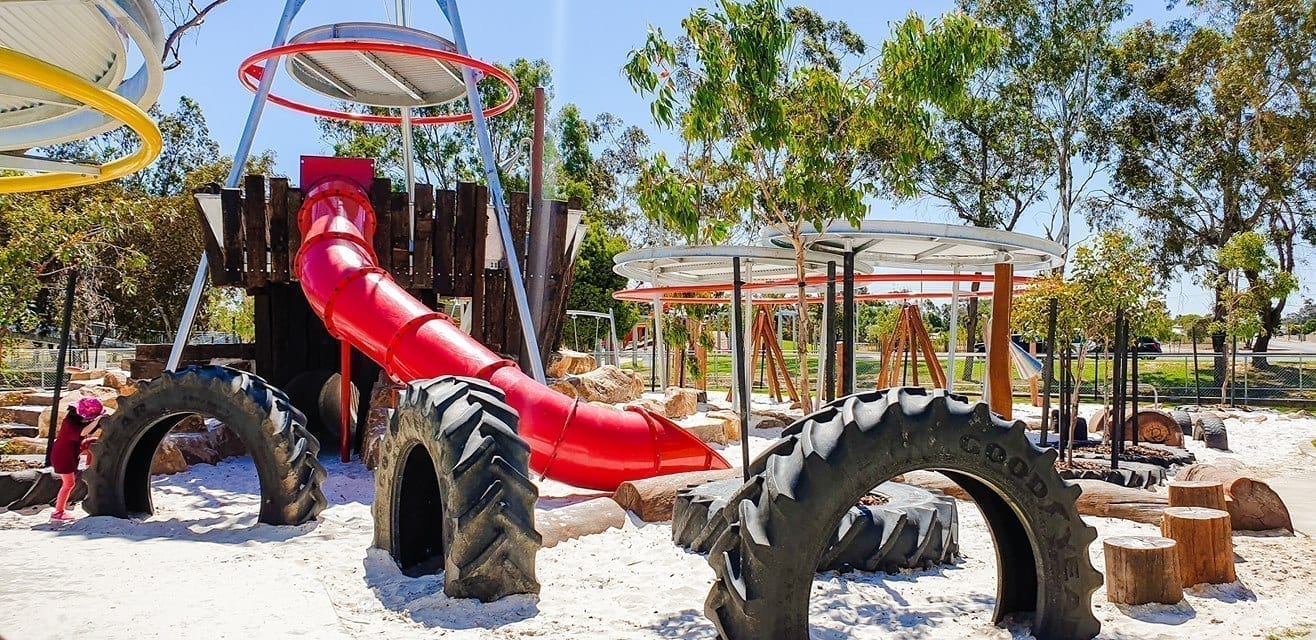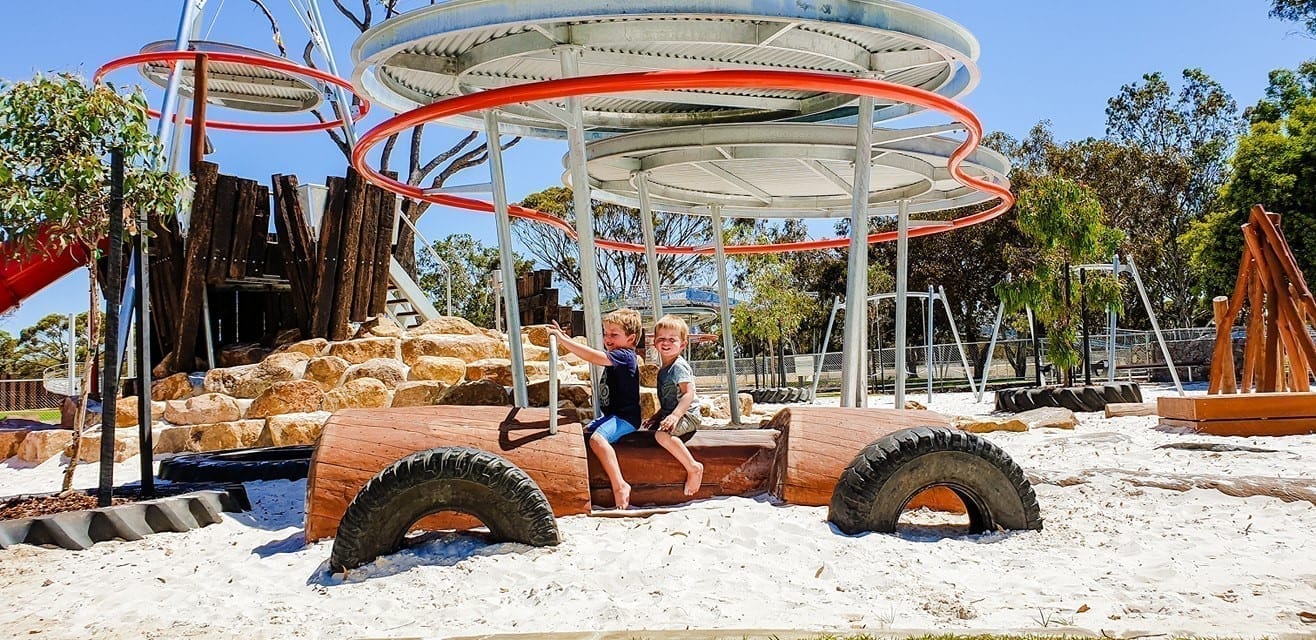 Katanning All Ages Playground is home to the Katanning Miniature Railway which operates on every 2nd and 4th Sunday of the month from 11.00am – 4.00pm. Covered shoes are required, and I believe you can only pay in cash. For regular updates see the Katanning Miniature Railway Facebook Page.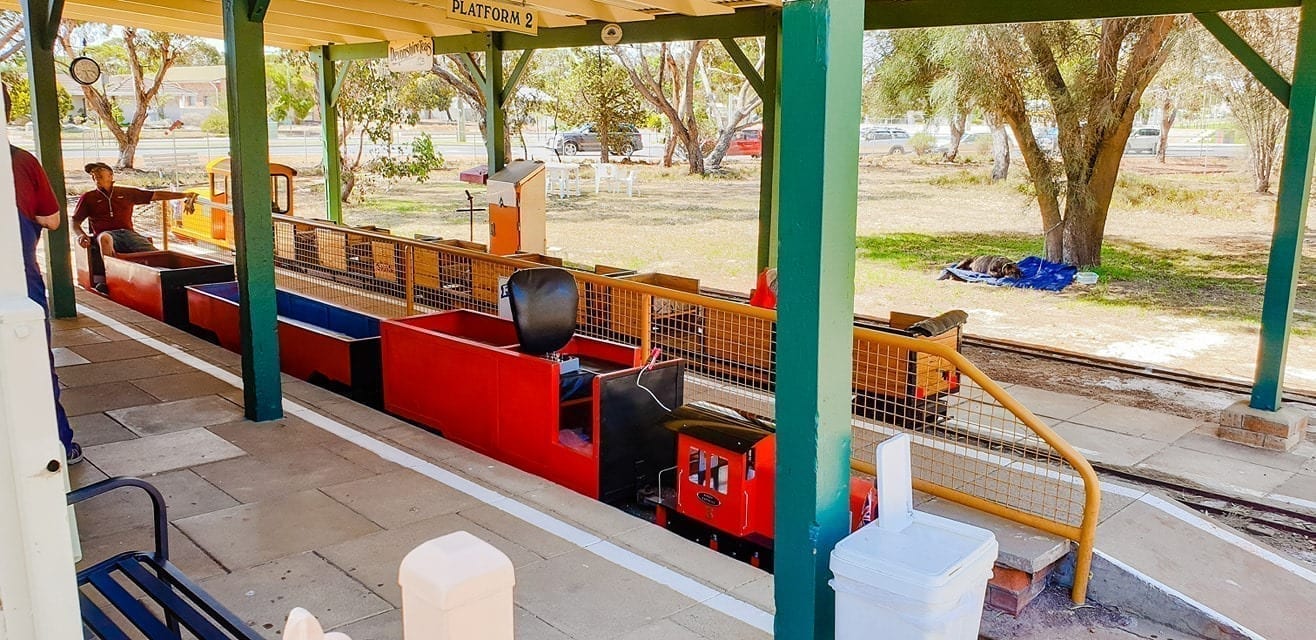 There are BBQ facilities, picnic shelters, drink fountains, public toilets and a skatepark nearby featuring rails, halfpipes and parkour areas.
Katanning All Ages Playground is definitely one for the bucket list, the Shire of Katanning and everyone involved did a fantastic job bringing a much loved old playground back to life! The playground is located 290km south-east of Perth, and well worth the slight detour off the main route to Albany.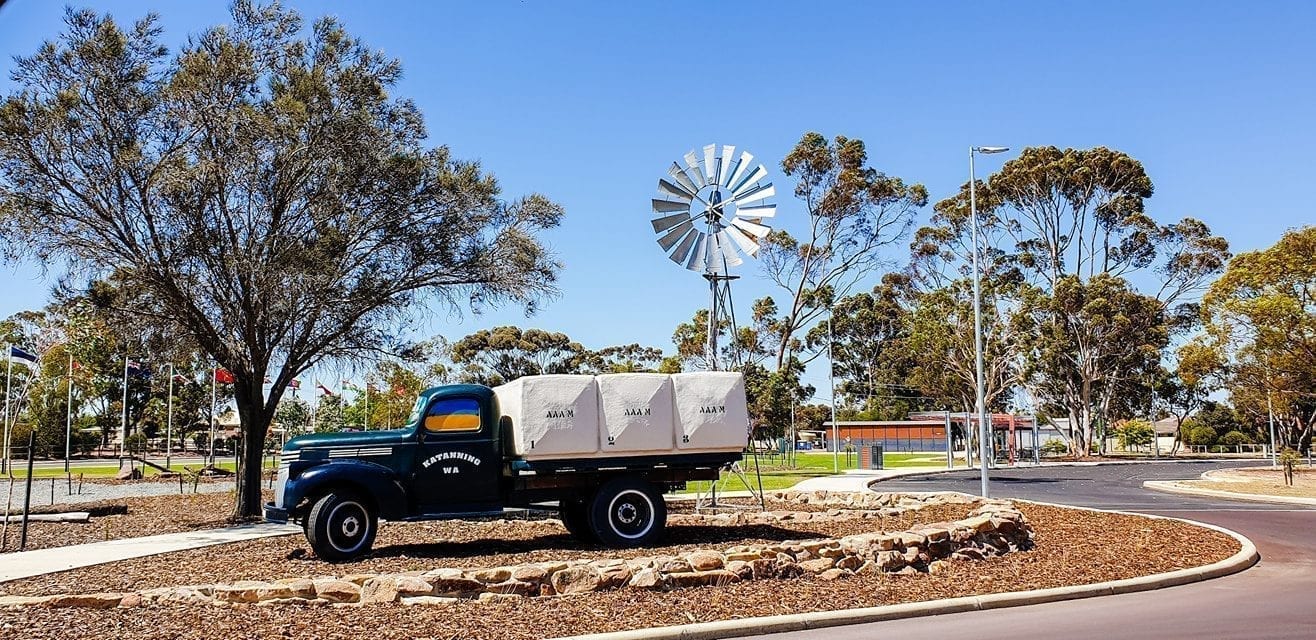 Katanning All Ages Playground
Corner of Clive Street & Great Southern Highway, entry via Albion Street.
Lots of parking available.
www.facebook.com/allagesplayground
Find more playgrounds in Perth
Kellie Elliott is a stay at home mum of 4 she enjoys adventuring around Perth with her children and sharing her journeys and experiences on Instagram at Perth Mum Adventures.
Kellie Elliott is a stay at home mum of 4 she enjoys adventuring around Perth with her children and sharing her journeys and experiences on Instagram.
Location
No Records Found
Sorry, no records were found. Please adjust your search criteria and try again.
Google Map Not Loaded
Sorry, unable to load Google Maps API.
Member Reviews