Jackadder Lake Reserve is a lovely family park ideal for a morning or afternoon of fun play and scooting/cycling around the beautiful lake and spotting the wildlife.  The playground is suitable for kids of all age and is set in a mixture of sand and soft play flooring.
Kids can enjoy wiggly slides, straight slides, and curly slides all of which aren't particularly steep so great for the toddlers.
There's a few steps up to some of the structures and lots of platforms and climbing fun.
The platform walkways surround the main structure and the kids enjoyed some fantasy play around bridges and crocodiles.
There are some structures for older kids such as the monkey bars and flying foxes, my 6 year old managed to reach up to one or two but need some assistance so probably more suitable for tall 7 year olds +
The park was shade free when we visited in the winter but there are shade poles there for summer time.  There are a few picnic shelters and benches around the park so you can watch the kids in comfort.
There are only two swings in the park, a baby swing and normal swing overlooking the gorgeous views of the lake!
Jackadder Lake Reserve is a great spot for a picnic/bbq as there's plenty of shade from the mature trees around the main playground and lake.
We started and ended our visit to the park on scooters as there's a concrete pathway all around the lake.  There is a few local cafe/restaurants walking distance to the reserve, we enjoyed a family lunch at Bada Bing Cafe just across the road making this a perfect weekend family trip.
Find more playgrounds in Perth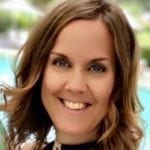 Lorraine is co-owner of Buggybuddys and is a mother to Blake (9) and Lollie (6).
Lorraine is co-owner of Buggybuddys and is mother to Blake (10) and Lollie (8).  Lorraine is passionate about health and fitness and loves exploring Western Australia in her Caravan.
Location
No Records Found
Sorry, no records were found. Please adjust your search criteria and try again.
Google Map Not Loaded
Sorry, unable to load Google Maps API.
Member Reviews