G.O. Edwards Park on Burswood Road has recently had continued to have improvements and additions since the new playground opened in May 2018. The playground is now a nice mix of traditional playground equipment and nature play, more recent additions include exercise stops and a fenced dog park. Parking is available in the car park off Burswood Road.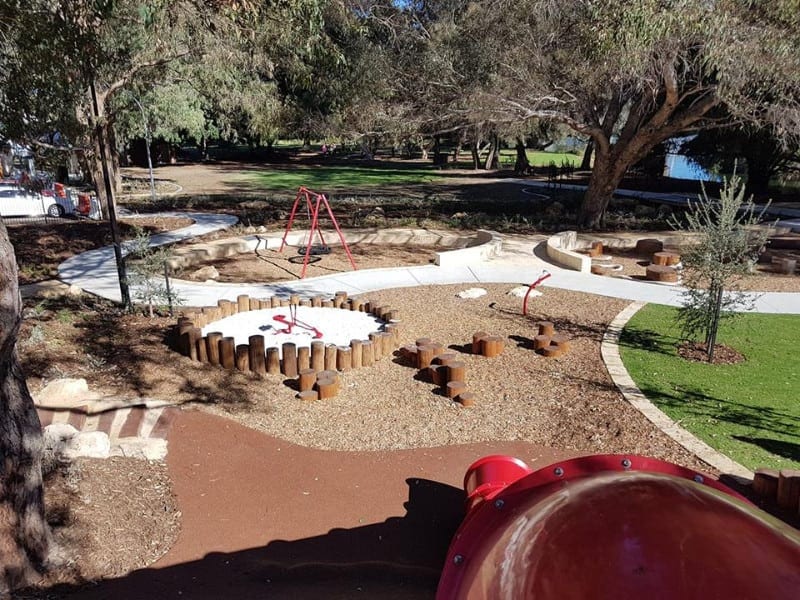 The first thing we noticed about the park was the steep red slide. As soon as our daughter was out the car she ran straight to this slide. The slide is built on softfall base and is enclosed. The slide is steep and fast but lots of fun.
There is a bird's nest swing on a wood chip base. There is also a double swing set which is in a sand base area and has a toddler swing and a regular swing. Other equipment includes a sand digger and music-making pipes.
Another feature of the park is a large log climbing structure. There are also lots of wooden steps logs and stones throughout the park.
In the middle of the play equipment was a small grass area with some park benches. There are also a couple of other benches around so plenty of seating options for parents.
The park has been created using a number of different bases, sand, softfall, wood chips and even a couple of large pebbled areas in the walkways.
The wider park area has large grassed areas, picnic tables, bbq and toilets. There are lots of large trees providing natural shade. The park is fenced along Burswood road but if you have a runner be aware there is a lake nearby and the busy Great Eastern Hwy is across a large grassed area.
Just past the playground towards the highway there is an exercise area with a large climbing feature. We found there are a number of exercise stops throughout the park. They didn't all have the same equipment which was good.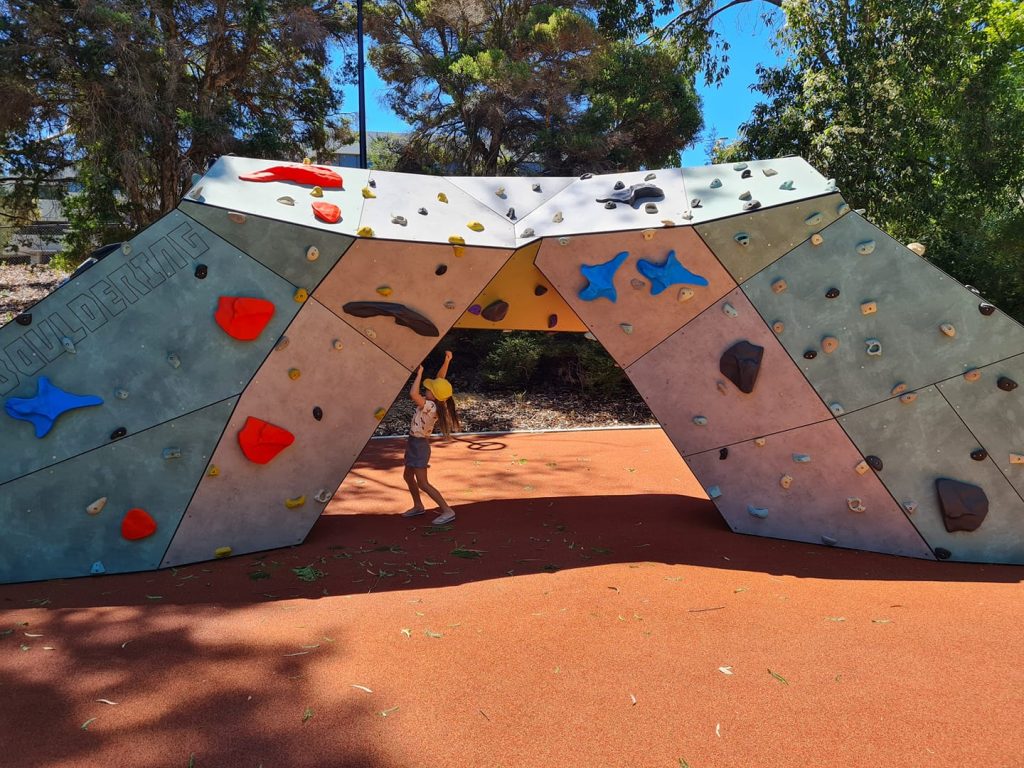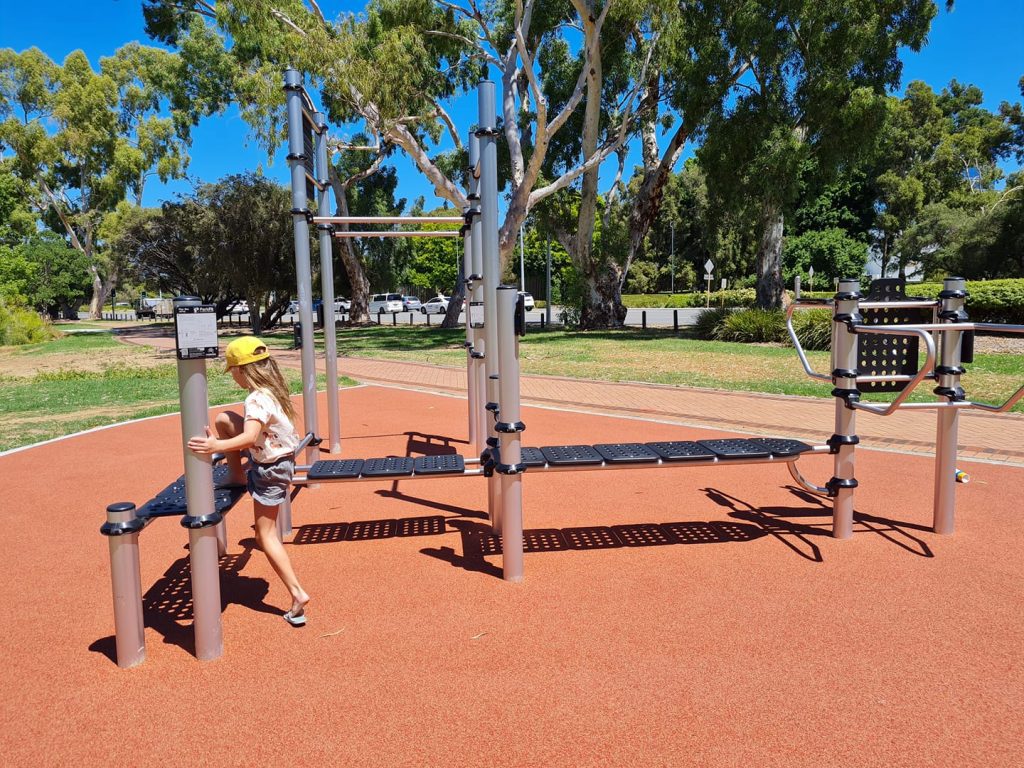 We continued following the pathway down the highway towards the causeway and came to the fenced dog park area. There are two enclosed areas with some agility style equipment in each. A good feature here was the shaded sitting areas in both areas for the humans. Luckily we took our own water bowl and water for our dog as I didn't see any at the dog park area, I also didn't see any poo bags so take your own. My daughter had fun getting our dog to try some of the agility equipment but a lot of it was too big for our small dog.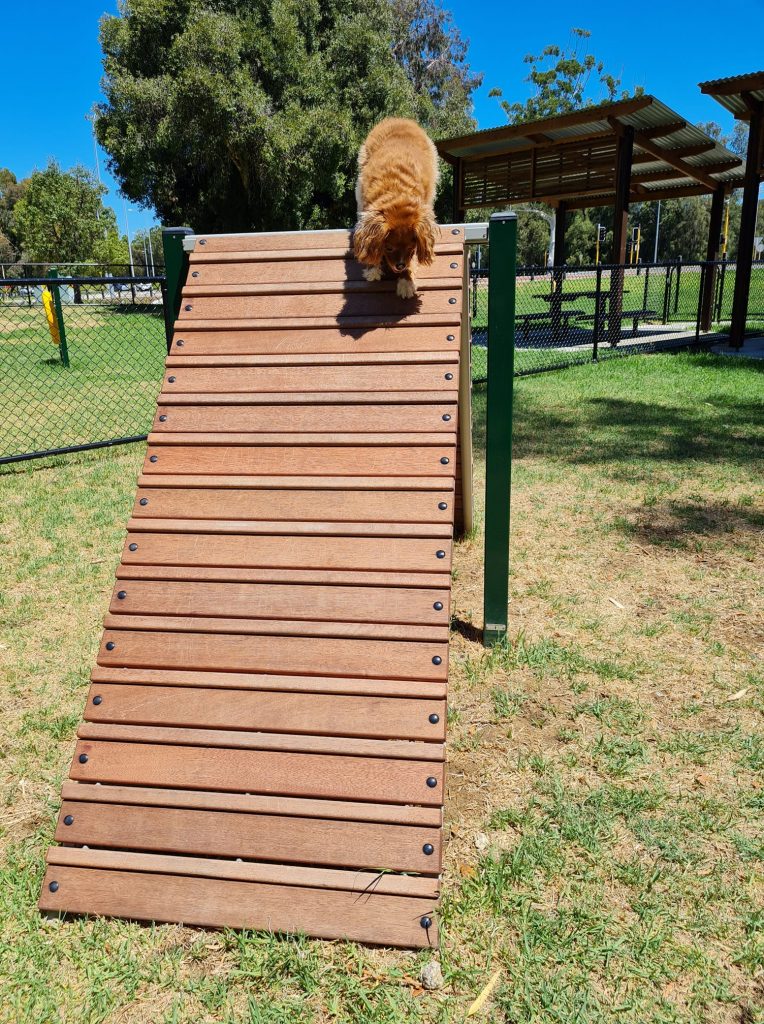 After the dog had had a play we continued on the path back towards to park We passed the nature play area which had rocks and logs for balancing and also some more seating.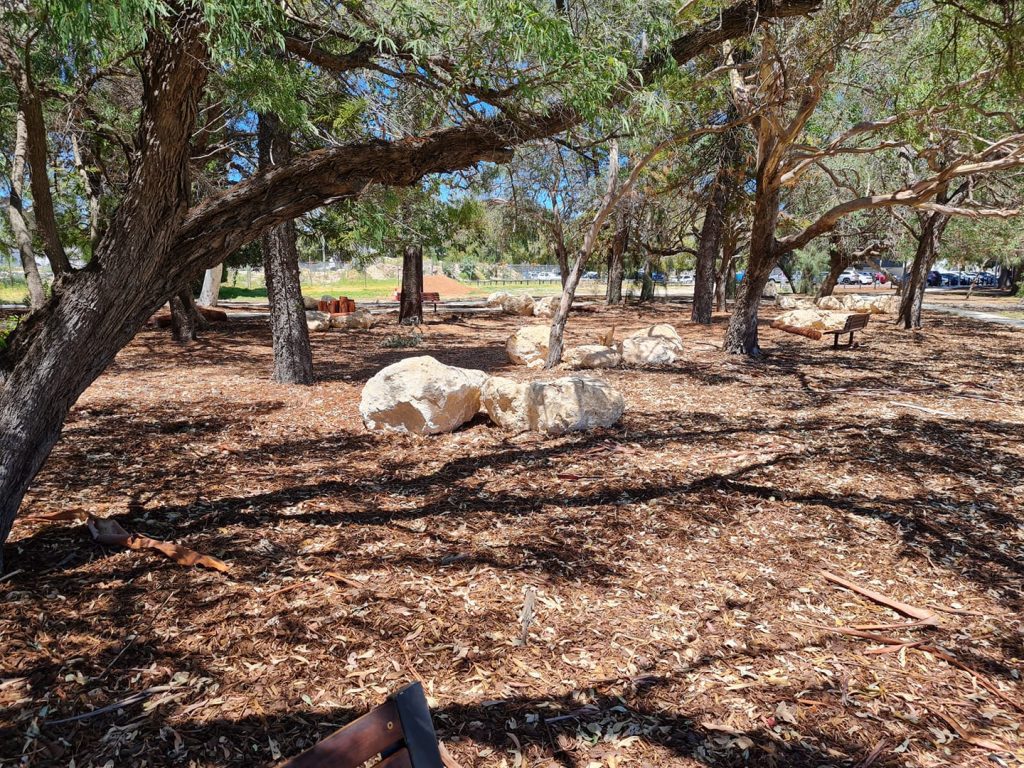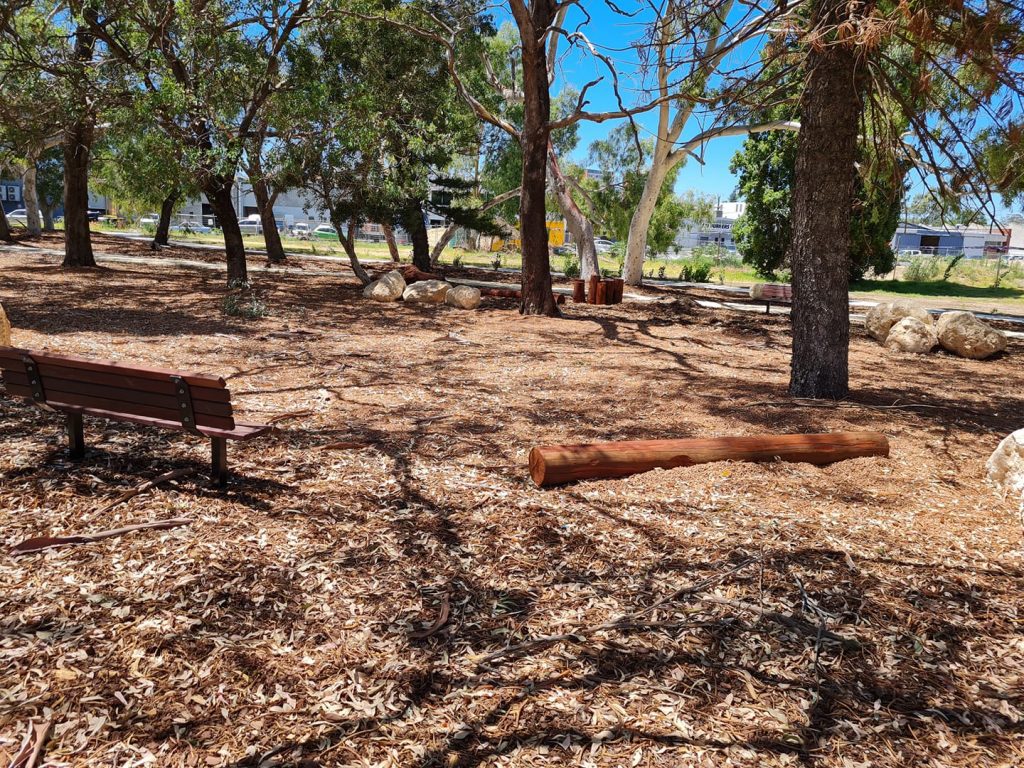 There is also a viewing area near the lake, this is a wooden platform with two tall panels with viewing windows – a safe way for little ones to view the lake and fountain. There are always lots of birds in the trees at the lake if your little one likes bird watching. There are a lot of benches scattered around the play area and other areas of the park. There is also a lot of open grassed space for kids to run.
With exercise equipment, playground, grassed space, pathways for cycling or scooting and the dog park, this large park really does have something for everyone in the family.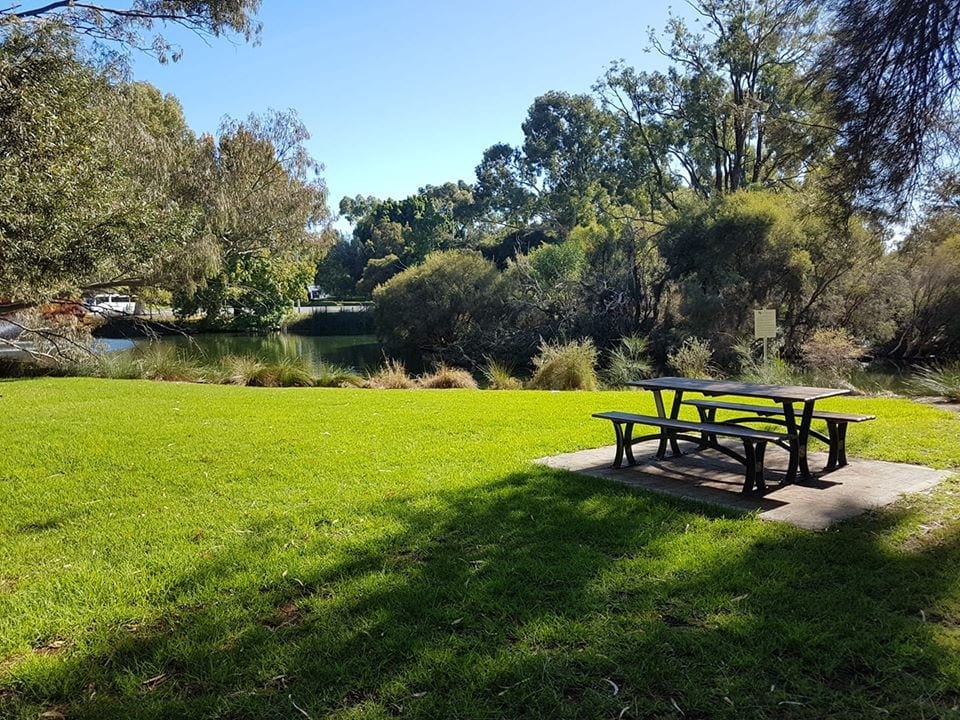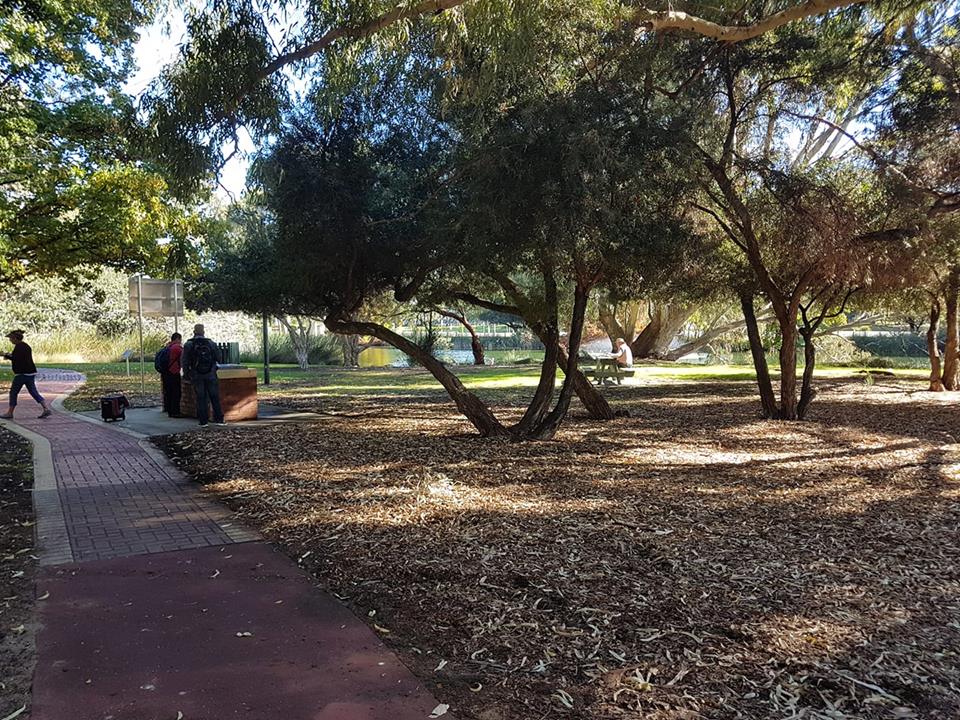 G.O. Edwards Park
Located – 173 Burswood Road, Burswood
Find more playgrounds in Perth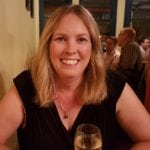 Claire Tondut is currently a stay-at-home mother of one daughter and a puppy. When she is not chasing little Miss around she loves to spend time with hubby, friends and family.
Claire Tondut is currently a stay-at-home mother of one daughter and a puppy. When she is not chasing little Miss around she loves to spend time with hubby, friends and family.
Location
No Records Found
Sorry, no records were found. Please adjust your search criteria and try again.
Google Map Not Loaded
Sorry, unable to load Google Maps API.
Member Reviews