Nature Play Area, Edgewater Drive, Edgewater
Just off Ocean Reef Road, there's a fantastic playground found at Edgewater Park in Edgewater! There's many fun elements to this playground including a traditional play structure and a little nature play too. And good news if you've just cleaned your car… there's no sand! Found next to the Edgewater Shopping Centre, there's plenty of parking and facilities here. The IGA makes it handy to grab a drink or snack to enjoy in the park.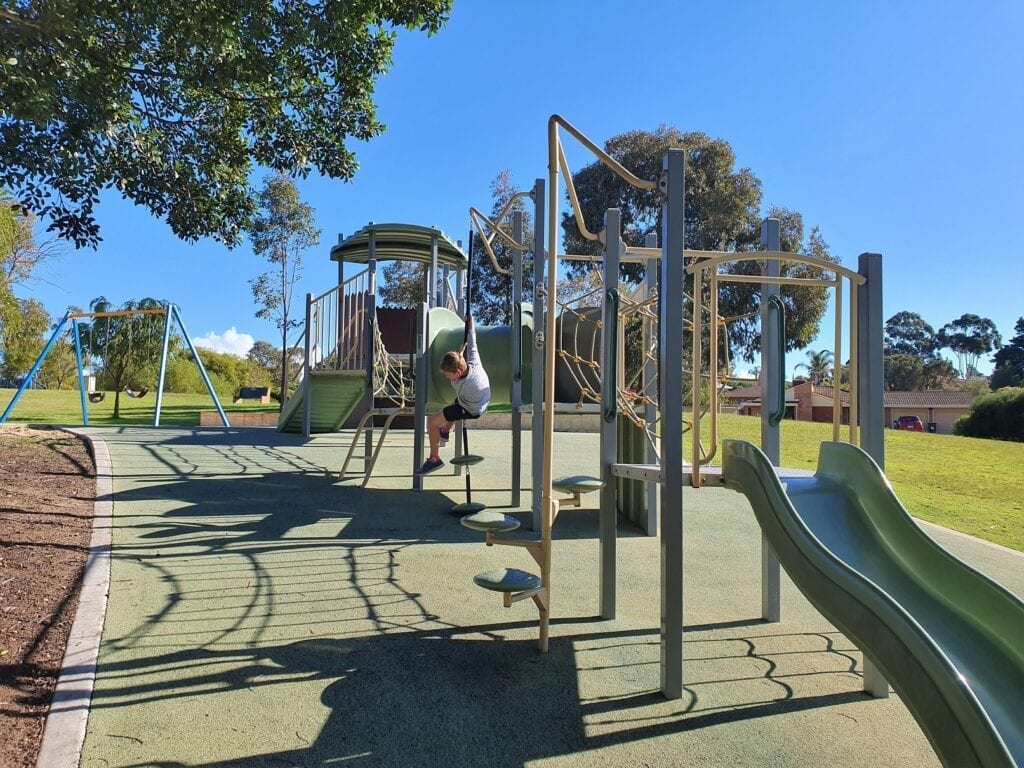 The dual metal slide is perfect for racing a friend! It's quite fast, surrounded by soft fall, making it easy to scramble up the slope for another ride on the slide.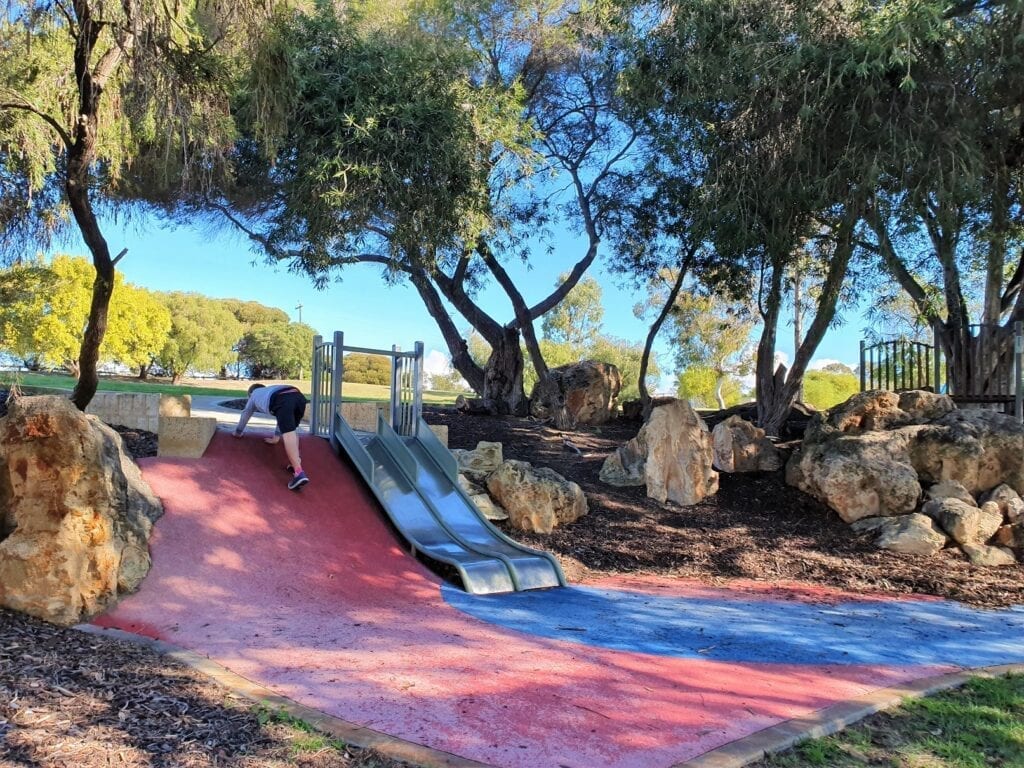 This area is shaded in the afternoon by trees. There are many boulders around, great for climbing. Low branched trees are easy to climb too.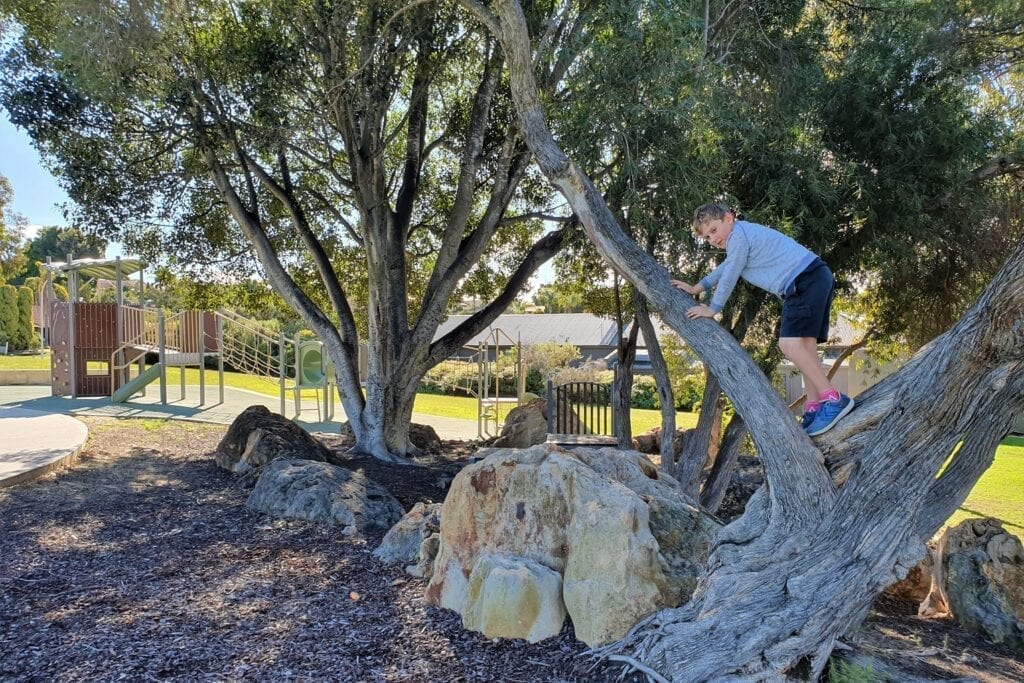 I love the way that playing in nature always ignites Little Chef's imagination. He thought this tree root looked like a zombie hand coming out from the ground – spooky!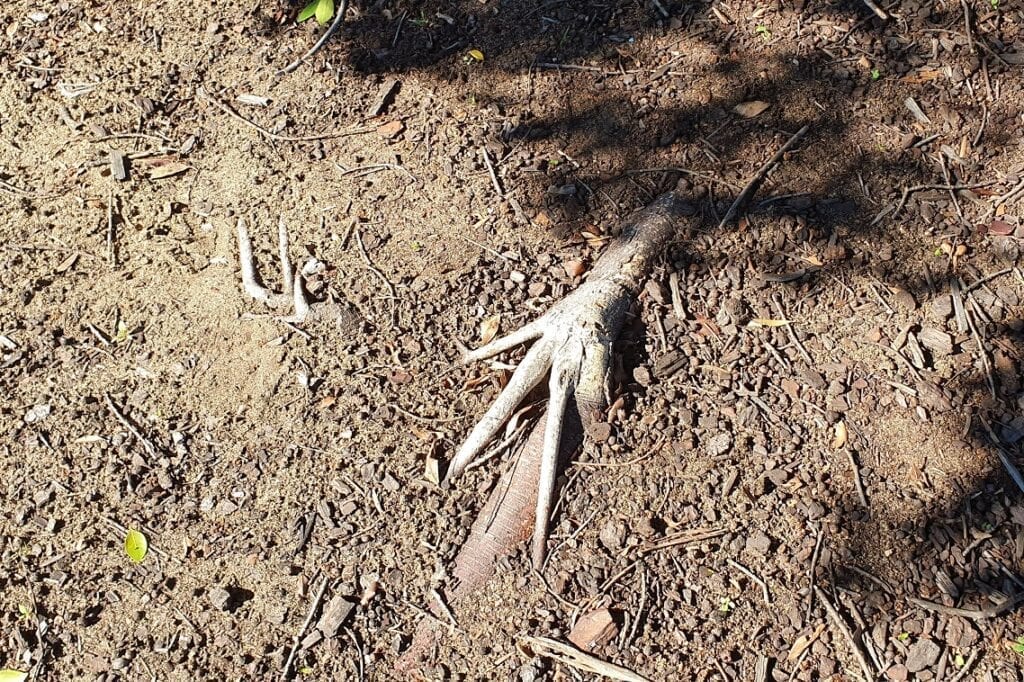 The large play structure is built on a slope. It has a "fort" look about it and kids will love using this as a cubby.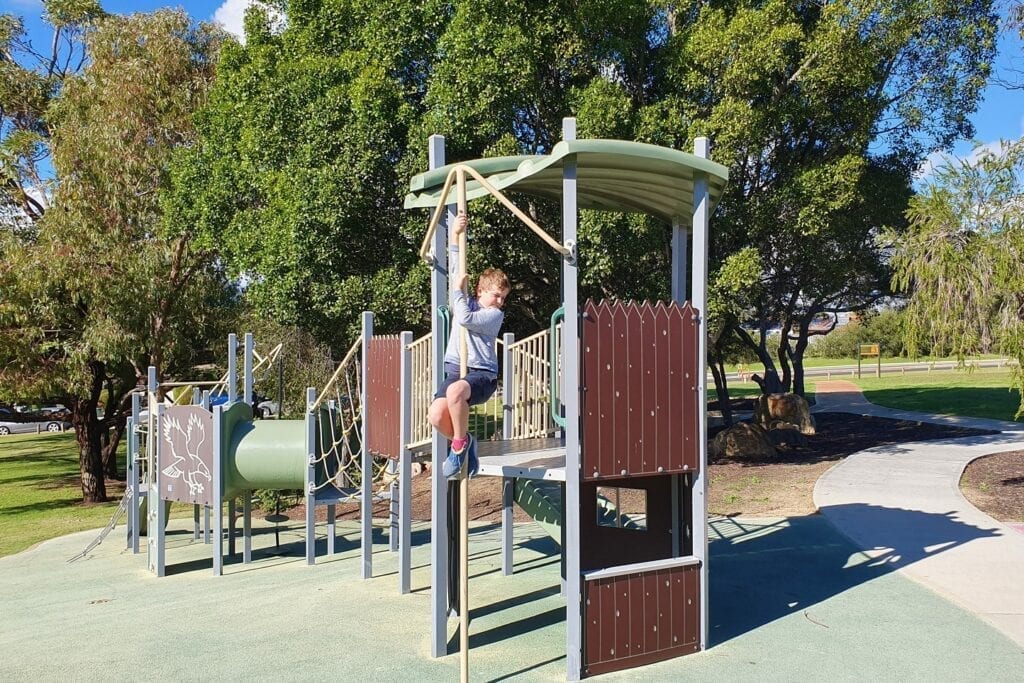 Kids can climb the rock wall (or easy steps for little ones) at the top, and make their way through several different obstacles, a bridge, tunnel, rope walk, fireman's pole and more – and there's a slide at the end.
As well as all that – there's a set of swings too, which includes a toddler/baby swing.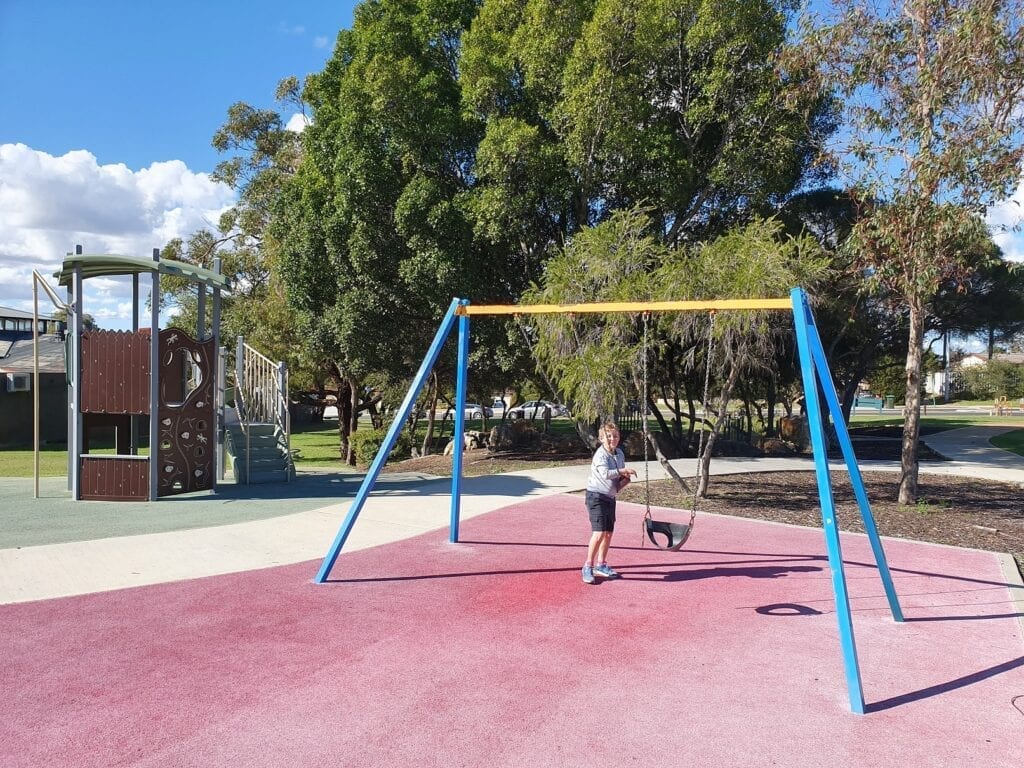 Take along a ball to kick about on the wide open spaces.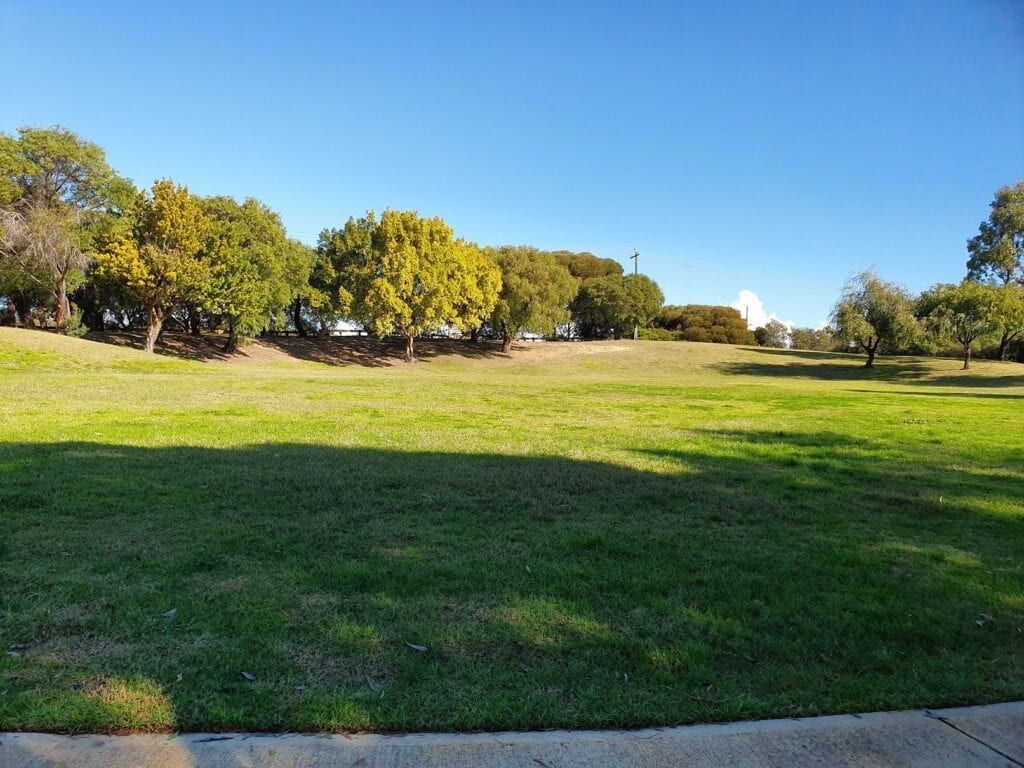 Edgewater Park is recommended for children that are aged 2 to 12 years old. It's a great playground in the northern suburbs for a mix of nature play and traditional equipment to climb.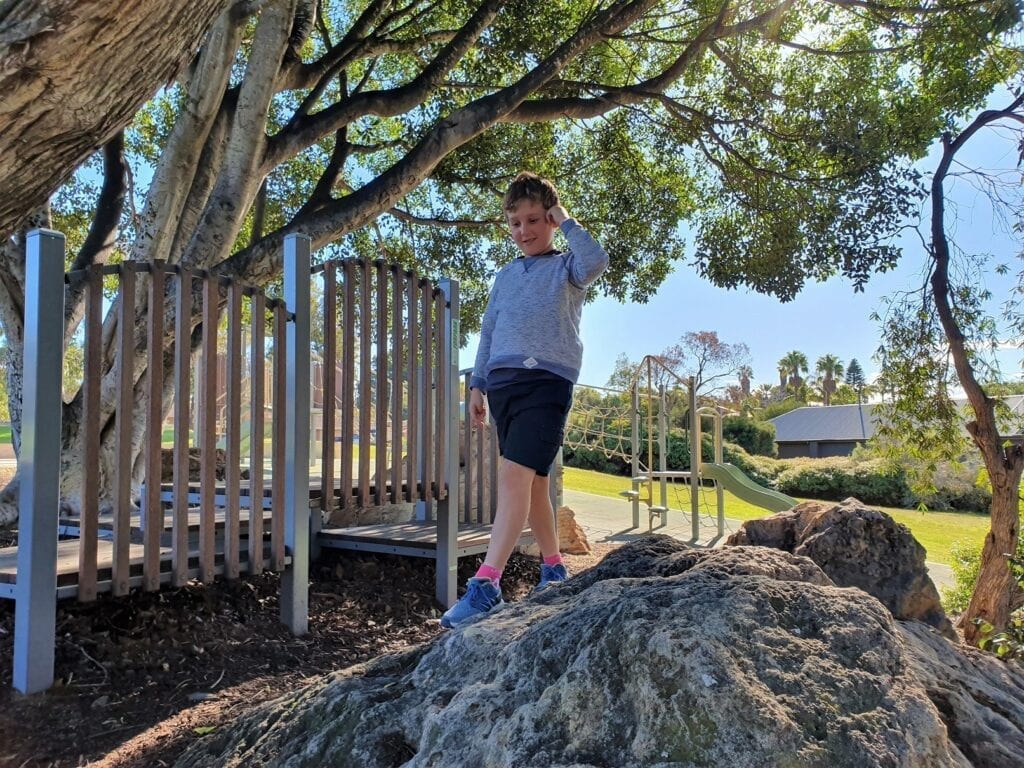 Find Edgewater Park on the corner of Ocean Reef Road and Edgewater Drive, Edgewater.
Location
No Records Found
Sorry, no records were found. Please adjust your search criteria and try again.
Google Map Not Loaded
Sorry, unable to load Google Maps API.
Member Reviews