Charles Riley Rd Before North Beach Rd
The Charles Riley Reserve is tucked away in North Beach alongside the local Community Centre and sports fields. There are rolling manicured lawns and landscaped gardens surrounding a small war memorial, and behind this, you will find a fun new playground that is sand-based with additional purple soft fall surfaces. The playground is covered by several shade sails in tones of blue and looks very inviting.
We visited Charles Riley Reserve on a school morning and the playground was bustling with toddlers under 4. There were several grandparents helicoptering and getting involved in sand play and swinging – which was lovely to see.
With plenty of clean white sand, it is a helpful idea to bring along some sand toys. Otherwise there is a fabulous sand-play apparatus that consists of scales, buckets and conveyor belts, designed to encourage children to explore and be hands-on with the sand.
There is also a sand digger to sit on and manipulate to pick up and move sand.
This playground has plenty of swing choices if you have a child who loves movement.
There is a great 20m Flying Fox with sand under it to cushion any falls. This has one regular rope like swing for confident kids to hang onto tightly while sailing down the rail; and a high-backed swing with safety belts (designed for bigger disabled kids). Nevertheless, toddlers were being strapped in and having a whale of a time on their safe ride with a parent ready to stop them.
There are two regular swings, one basket swing and another set of two swings (one is a baby seat) in the sand area.
A Hammock swing invites you to lie down and lazily sway from side to side.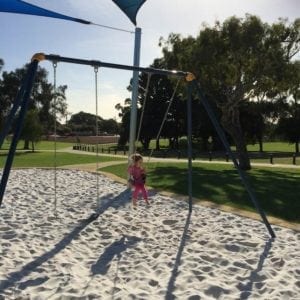 There is a small spinner to stand on that rotates and bounces at the same time.
Two rocket rockers encourage fun imaginative play.
The only downside to this playground is that the big playframe that boasts the only slide is definitely geared towards older kids who are more confident with climbing and not scared of heights.
The only way to reach the slide is via ladder ropes with large gaps, a challenging twisted ladder or a steep climbing wall. I witnessed many tears as little ones attempted to climb up to use the slide and then got stuck too high up – in fact I struggled on tiptoes to reach my child's feet to help her along the ladder ropes to reach the platform, only for her to panic and freeze, refusing to come down the slide until I rescued her.
But for older kids, this playframe is full of daring challenges with the thrilling outcome of being high up.
At Charles Riley Reserve there are three large and shaded picnic tables with bench seating, as well as two gas barbeques – all close to the playground, making this a good choice for birthday parties or a family picnic day out. There is no shortage of parking as there is a large carpark behind the playground. There is no fence, but the play areas are set back along a pathway and screened by planting and young trees, so I didn't see any kids tempted to wander off.
Find more playgrounds in Perth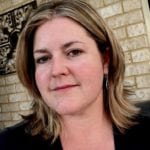 Georgia Millad is a busy mum of two gorgeous girls. She contributes reviews of kid-friendly places and events around Perth, and has a mild obsession with grammar rules and spelling. Georgia has recently qualified as an EA, expanding on her mum skills to support kids in the classroom.
Location
No Records Found
Sorry, no records were found. Please adjust your search criteria and try again.
Google Map Not Loaded
Sorry, unable to load Google Maps API.
Member Reviews