Baldivis is a hub for adventure playgrounds, from the Steam Train Adventure Playground at Miller's Landing to The Rivergums Adventure Park, there is no shortage of community spirit and amazing play opportunities! Brightwood's brand new Adventure Park has stepped it up a notch and is nothing short of EPIC! The $3 million playground includes an adventurous climbing structure, slides, double flying fox, swings, nature play, scooter/bike track and more!
The 13-metre high brightly coloured sphere tower is not for the faint-hearted! The structure combines the challenge of climbing and the thrill of heights followed by the excitement of two ultimate slides, including a 7.8m straight slide and a 13.4m twisting slide.  My 8 year old couldn't wait to scale the tower, my toddlers who have just turned 2 & 3 quickly followed after her with zero hesitation, I was a little concerned they'd get stuck and need rescuing but they aced it, however, my 8 year old did talk me into giving it a go… you only live once right?!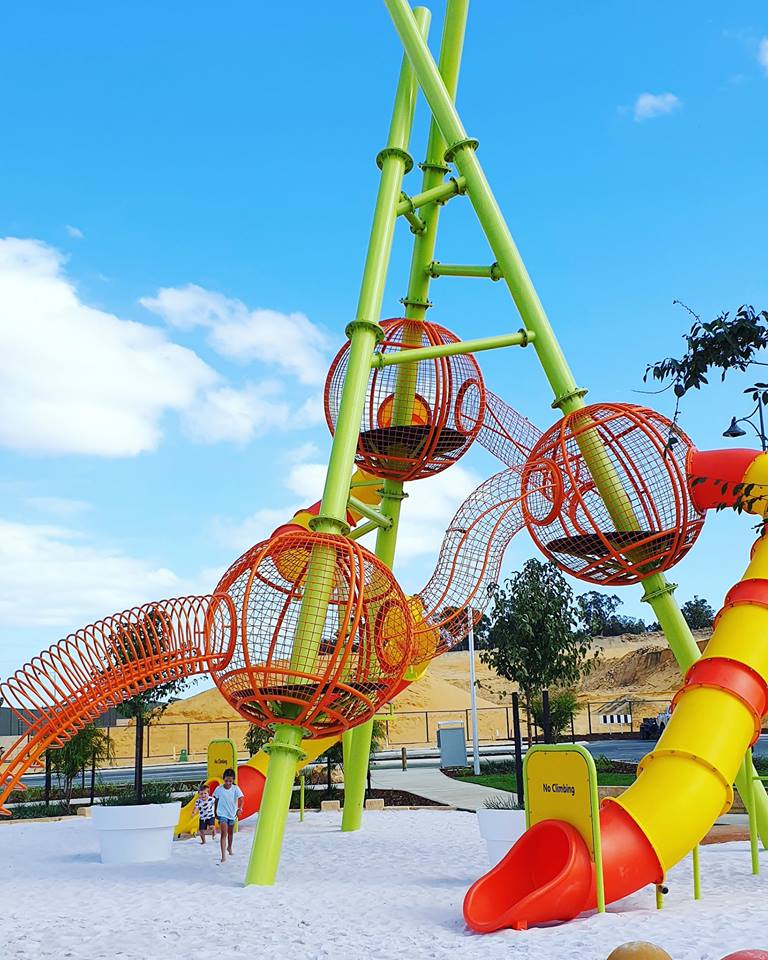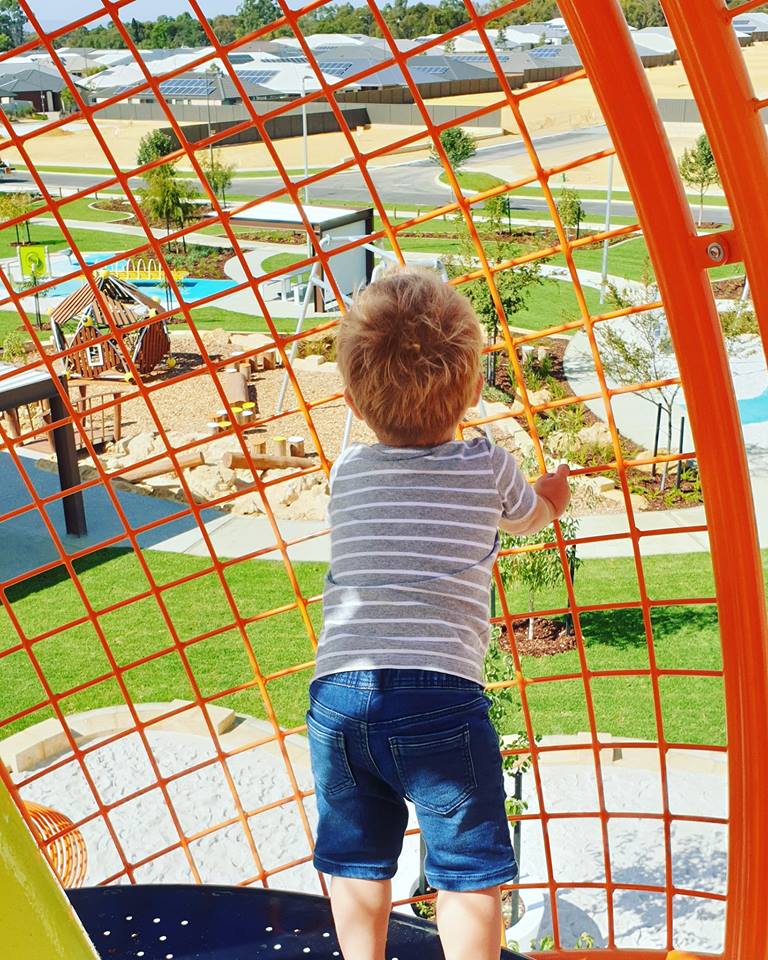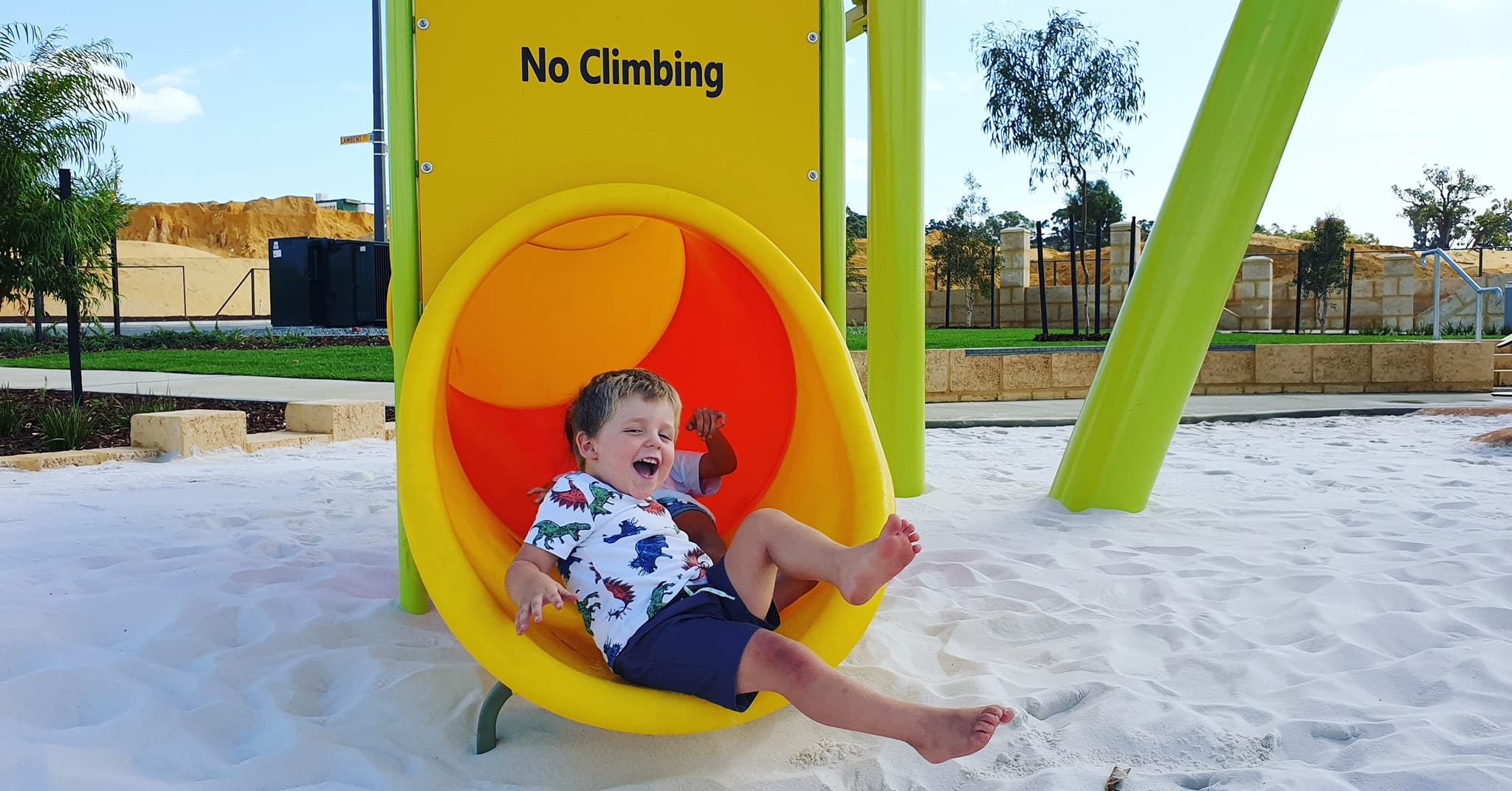 The sand area surrounding the sphere tower includes a variety of play equipment including a double rocker, sand digger, soft fall steppers and sensory equipment. The area also includes large pots with trees, once matured they will offer plenty of shade, and bench seating for parents to sit back and watch their kids play.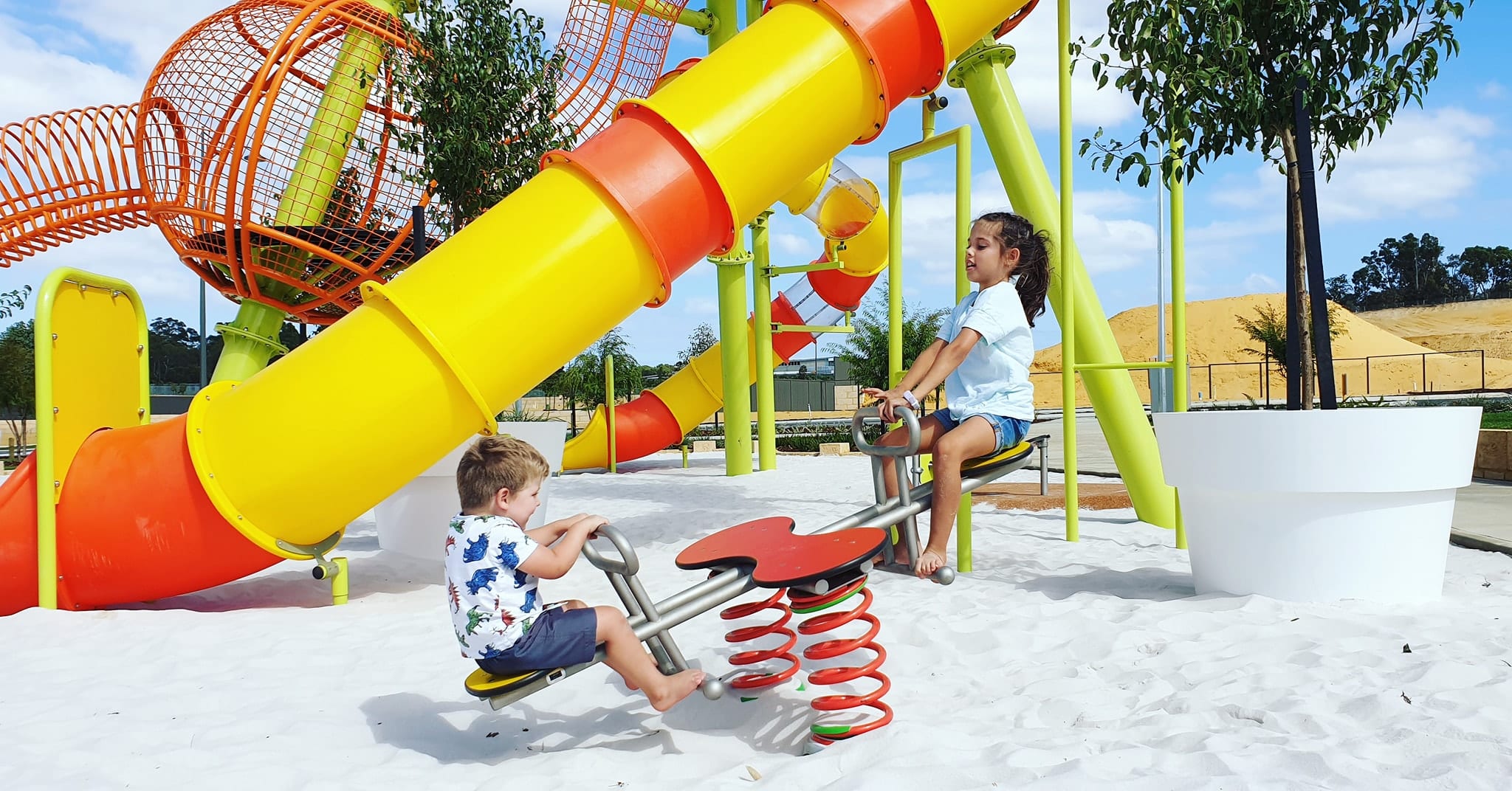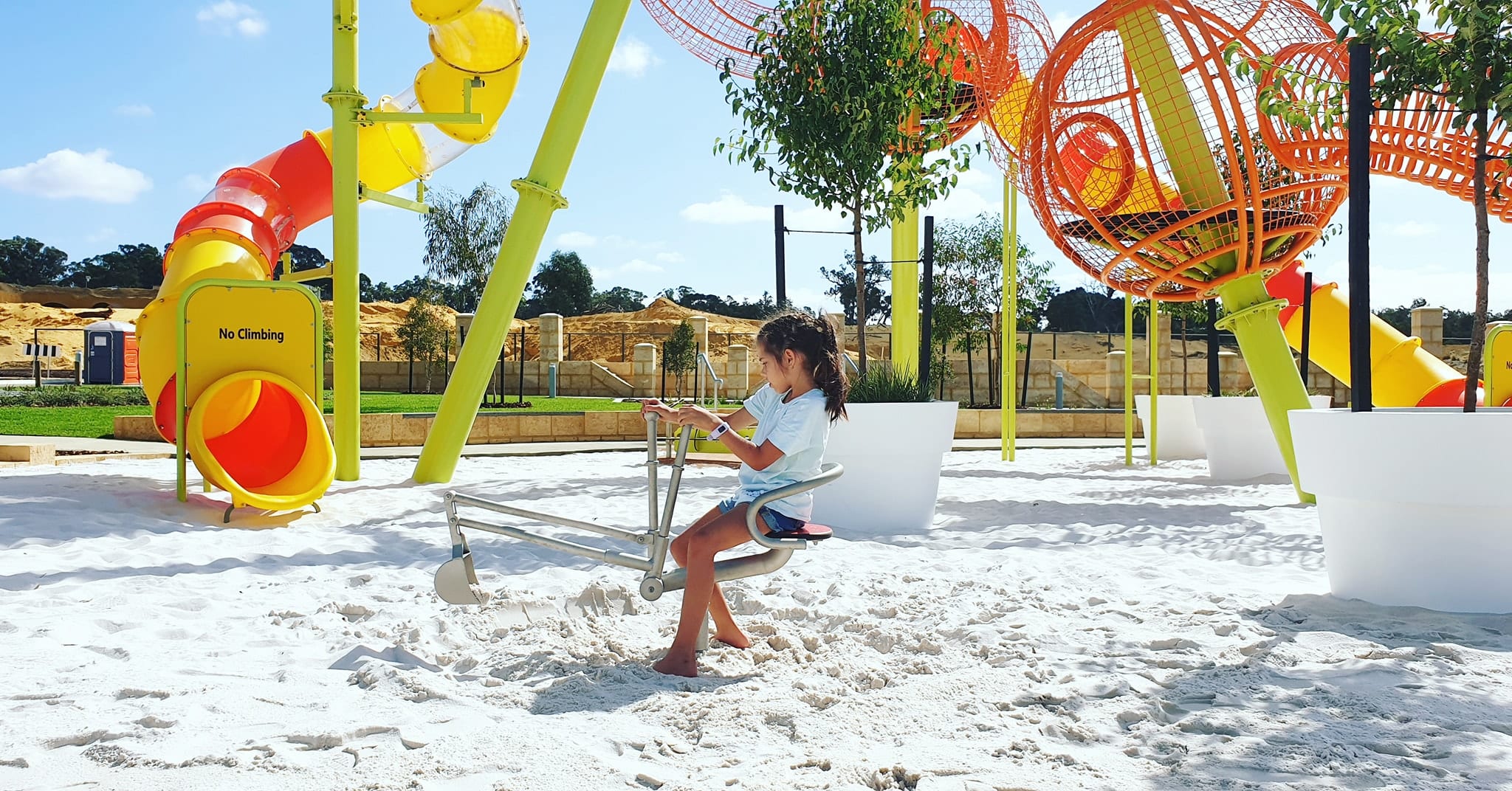 The next area we explored was the nature play area, which includes rocks, wooden stepping logs with colourful plates, a bridge, viking swing and cubby house with climbing ropes inside.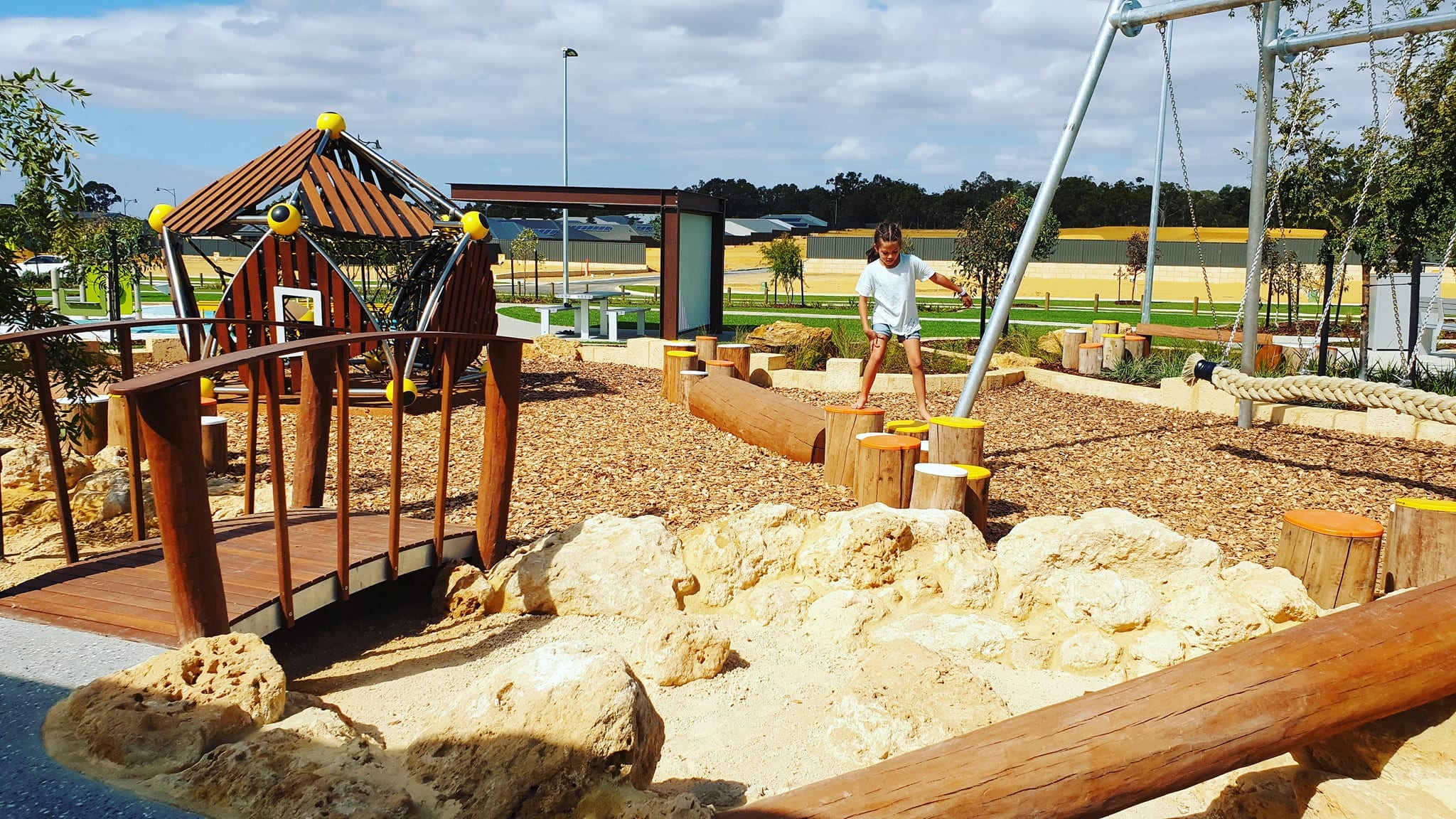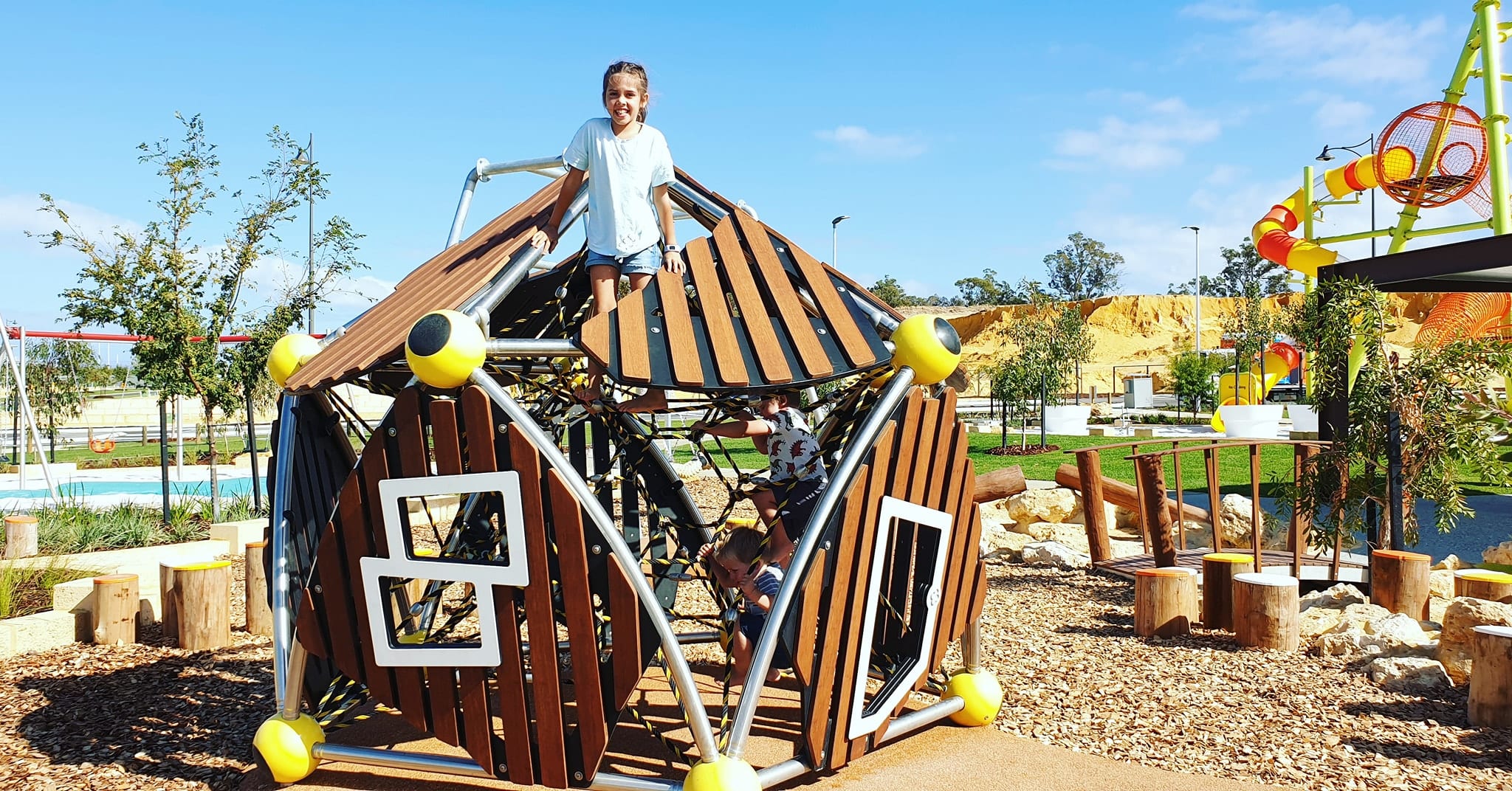 Behind the nature play area is a set of 3 swings, consisting of 2 regular swings with front bars making them great for older toddlers as well as big kids and 1 toddler bucket like a swing.
Another big feature at Brightwood's Adventure Park is the 40-metre flying dual flying fox with one pommel seat and one all-abilities seat which is also great for toddlers.
There is also an area dedicated to the toddlers, features include a small birds nest swing, sensory activities, a soft fall caterpillar with a tunnel, spinning cup and a roller table – which is a great inclusive addition to the playground, my kids loved finding different ways to use it too.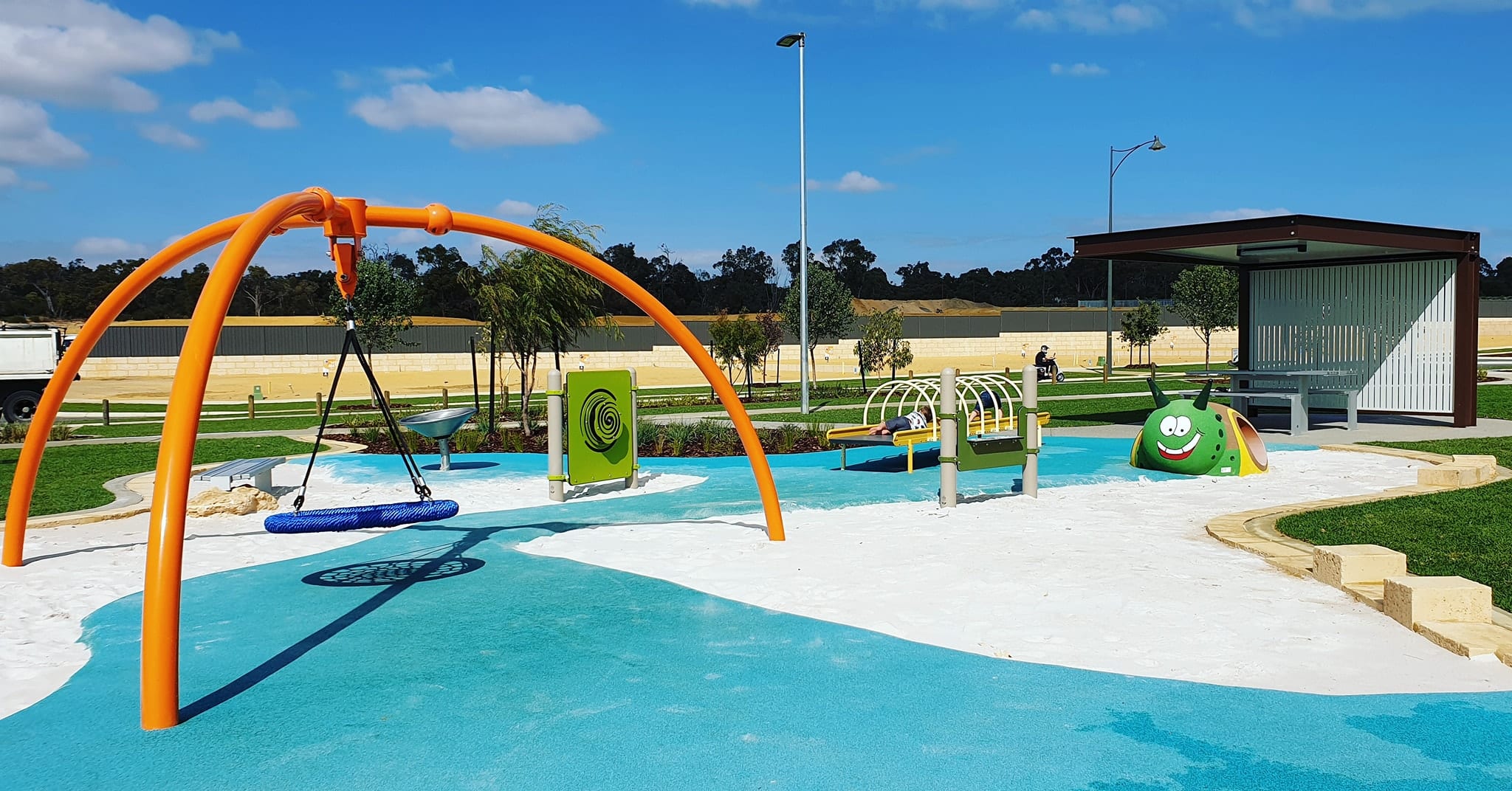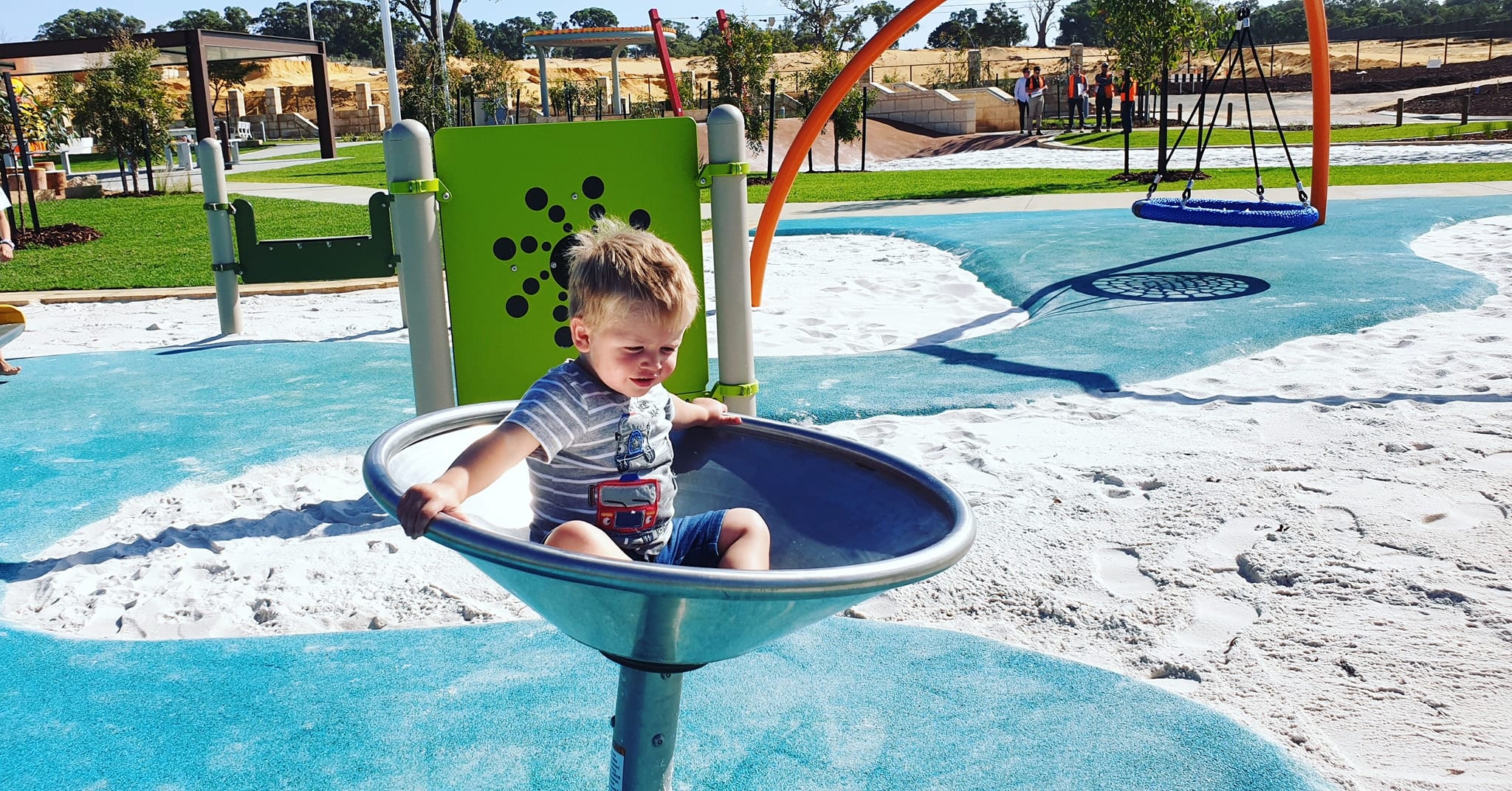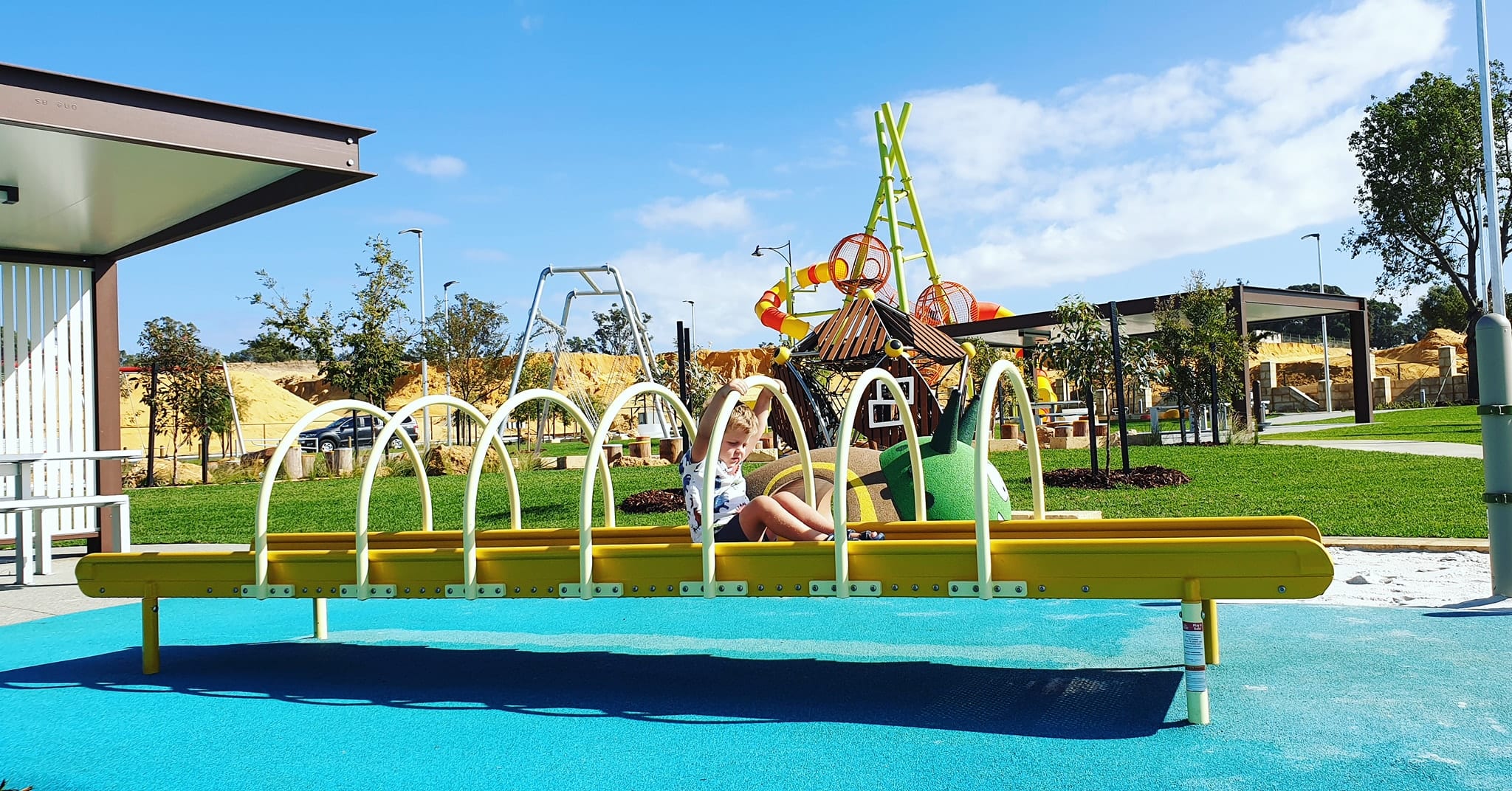 Brightwood Adventure Park was build in two stages, the first stage which was completed in 2017 includes a great web climbing structure with slide, stand-up seesaw, oodle swing, roundabout, saddle spinner and soft fall steppers similar to what is found in stage 2.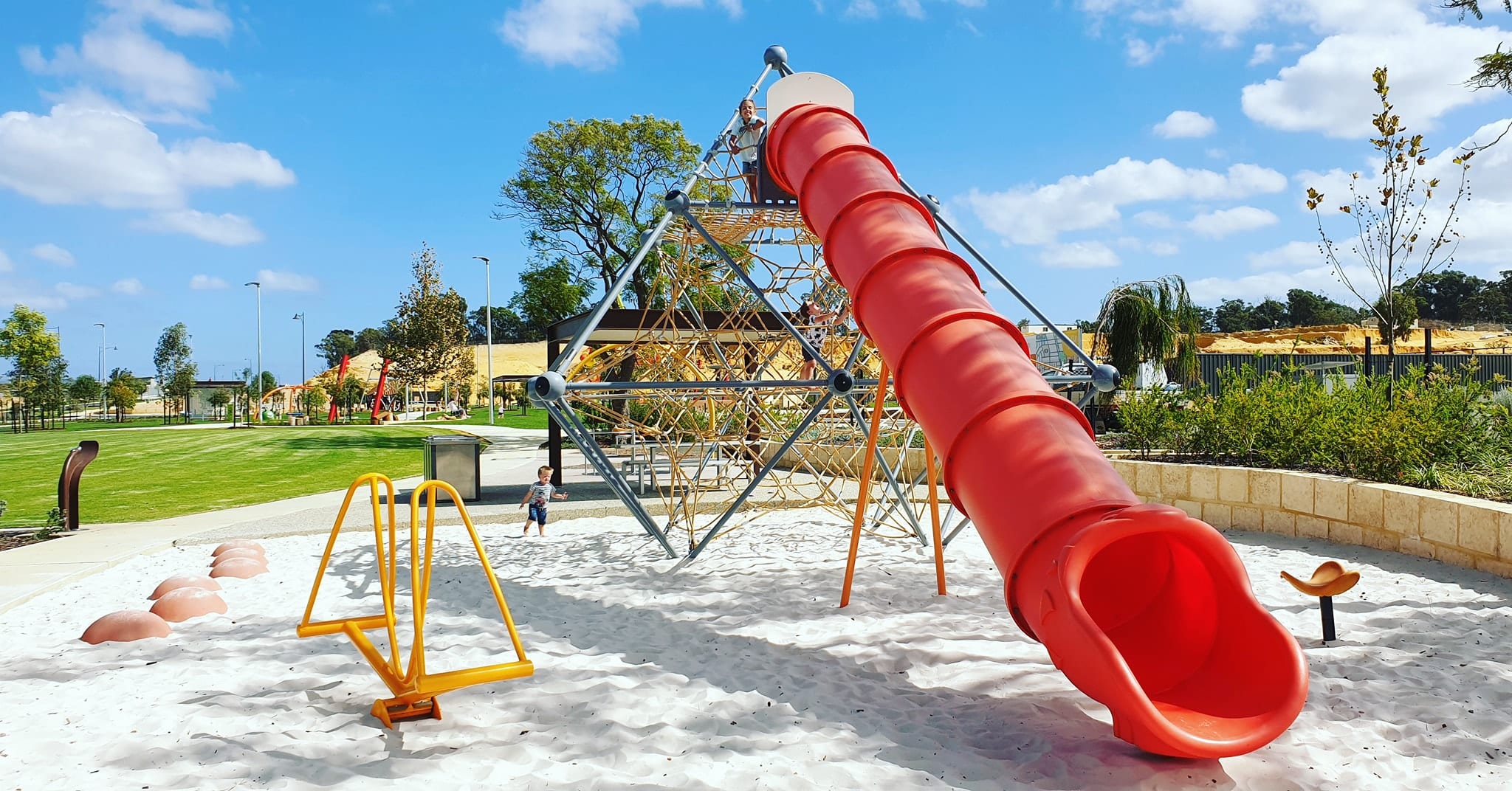 There is also a great scooter/small bike track, my boys would have loved this had we packed their scooters.
There are two sheltered picnic areas within stage two and other in stage one with a BBQ and power facilities. There is a drinking fountain with a dog bowl and plenty of glassed areas for picnics and to kick a footy. Currently, there are no toilet facilities, although the Development Manager has told me the underground work has been done in the hope the City of Rockingham will approve toilets in the future, for the next few months, two portable toilets have been placed at the park for visitors to use.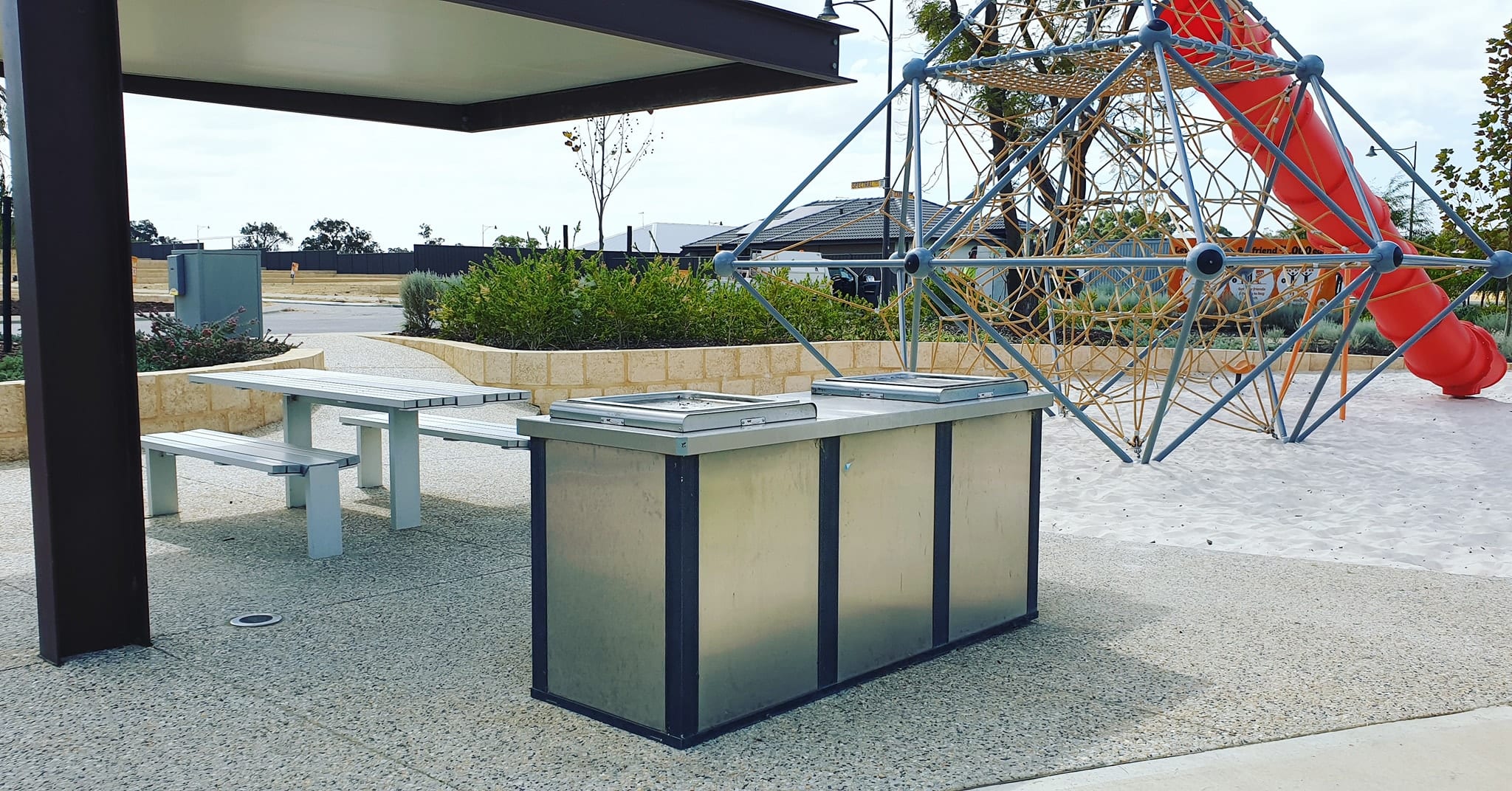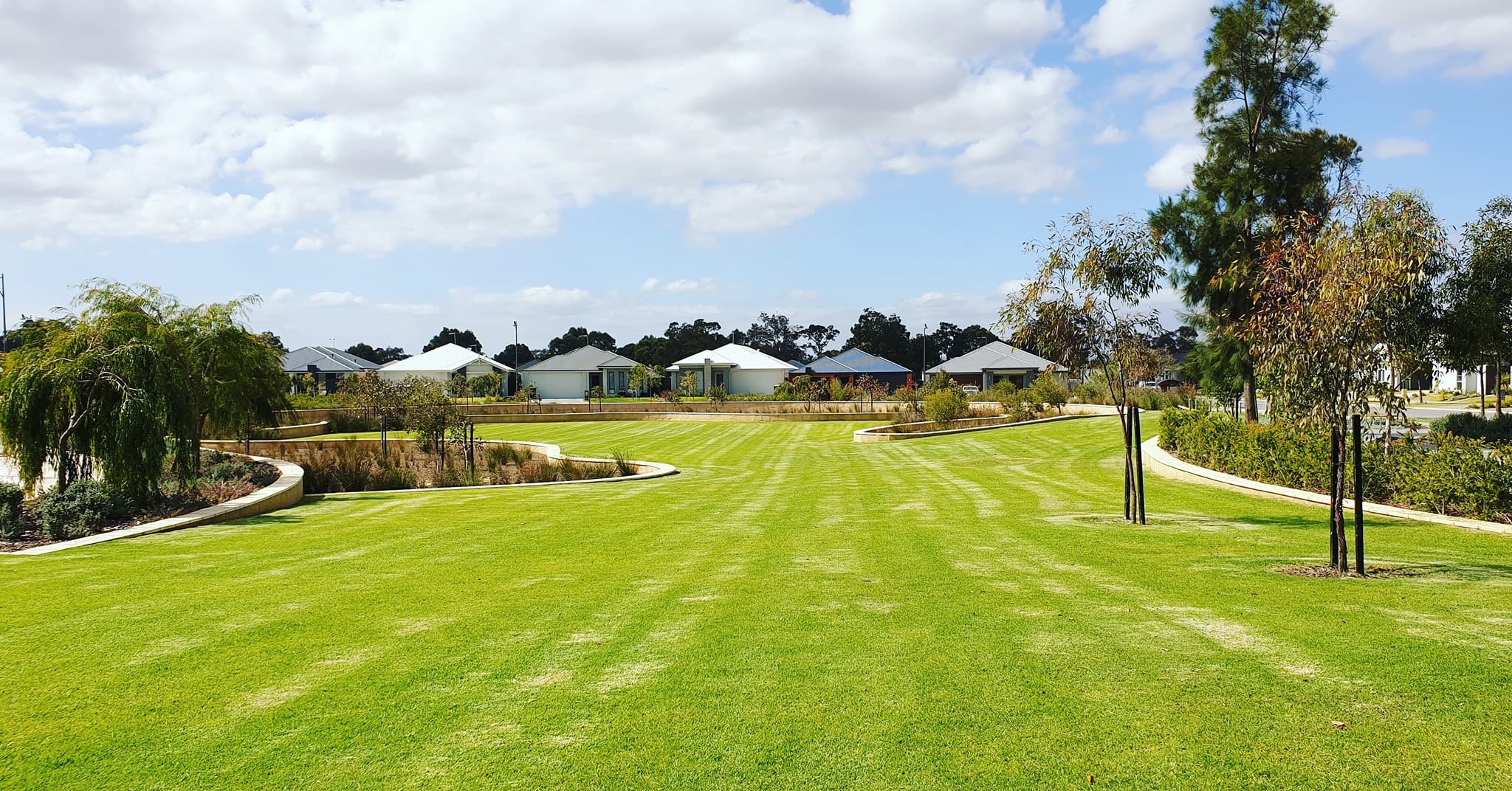 Brightwood Adventure Park
Solis Boulevard, Baldivis.
Some street parking available. Only 40 minutes from Perth CBD, 20 minutes from Mandurah.
Find out more about Brightwood here.
Location
No Records Found
Sorry, no records were found. Please adjust your search criteria and try again.
Google Map Not Loaded
Sorry, unable to load Google Maps API.
Member Reviews