Cafe Cafe is bright, modern cafe opposite Subiaco train station, and is situated conveniently close to SJOG Hospital and Domain Stadium.
On entering the cafe, we found a neat little table for the two of us. Little Miss found the large side windows intriguing, watching people outside pass by. If you're going with a larger group, there is a booth-style table with padded seating around it in the rear, or if dining with a pram in tow it's probably best to pick a spot outside so you have a bit more room to maneuver.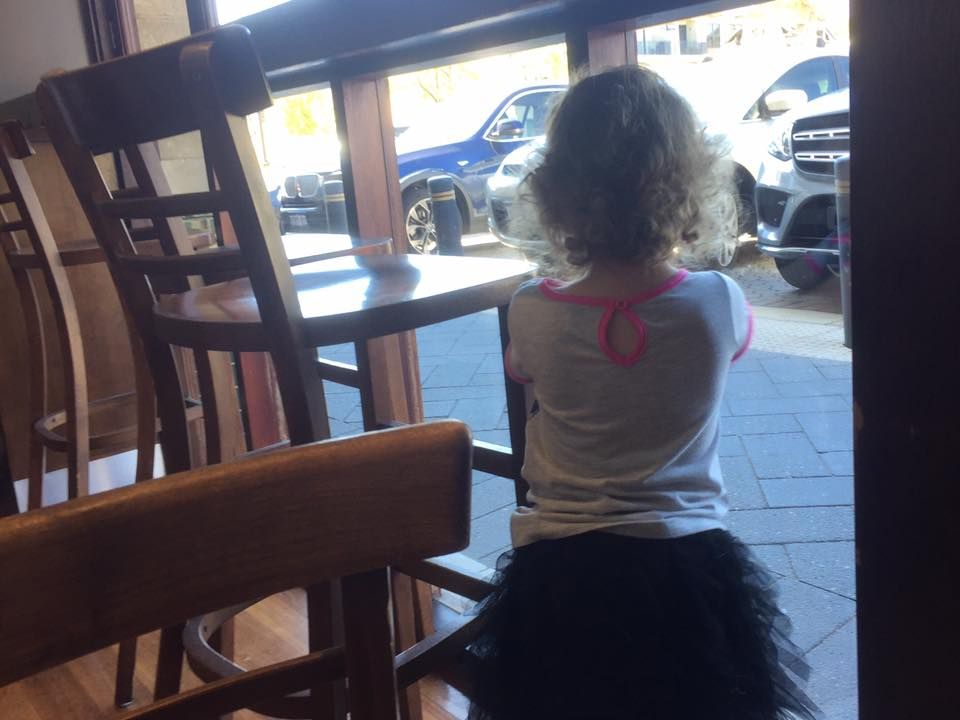 We found lots of food options to choose from between the menu and in the glass case at the counter. In addition to the usual cafe favourites on the menu such as bacon and egg toasties, croissants and fruit toast, Cafe Cafe serves fresh fruit salads, raw food balls, a range of pastries and salads, a smoothie of the day, and amazing illy blend coffee.
For our visit today, we chose a latte and ham and cheese croissant for me, and a melting moment biscuit for little Miss. This cost us around $16.90. The coffee was excellent! A very smooth, fruity blend.
The staff who brought our order were polite and friendly, and everything came out quickly.
Cafe Cafe has a kids menu available:
Drinks
Kiddie chino for $2.00
Warm chocolate, granita, milkshake, orange juice or ice chocolate for $4.00
Food
Cup of chips or wedges, OR hash browns, OR ice cream with flavouring for $4.00
2 pancakes with maple syrup, OR fish and chips, OR nuggets and chips, OR quiche slice, OR a ham and cheese toastie for $8.50 each
For our visit, we chose to sit inside, but there is outside undercover seating. It was a little noisy the day of our visit owing to some building work going on over by the Woolworths opposite. Otherwise the cafe itself was busy, but relaxing.
The cafe has a stack of colouring and water painting books available towards the back in the window. Unfortunately when we visited the pencils and crayons had been lost or taken, and the staff were unable to find more. We managed to improvise with a glass of water and fingers though. Miss almost 3 thought it was a good game to finger paint with mummy! It's worth considering packing a little pencil case in your bag case if you plan to visit, just in case you find yourself in the same situation.
On leaving, Miss almost 3 was visit interested in this fountain across the street by the train station. She would have gone running through it if she'd had her way!
Overall we enjoyed our visit, and I'd definitely go back for the delicious coffee at Cafe Cafe.
Cafe Cafe is located at Shop 20, 29 Station Street, Subiaco Square.
Cafe Cafe is open 6am to 7pm Monday to Friday, and 6am to 6pm Saturday and Sunday.
Paid parking is available on Subiaco Square or in the Shopping Centre car park. You'll need to take coins or download the parking app.
https://www.facebook.com/cafecafesubiaco/
Why not combine a stop at Cafe Cafe with a visit to Market Square Park? There is a lovely little playground and a small amount of parking is available on Dublin Close.