Tucked away off James Spiers Drive is Regent Waters Playground, a small suburban playground. The location borders on Lake Joondalup and is very peaceful and pretty with birdlife and clusters of shady trees.
Regent Waters Playground is sandbased and surrounded by plenty of grass with three large sheltered picnic tables scattered at intervals. There is a gas barbeque under the trees for public use, making this a good spot for a family picnic or event. There is no shade over the playground itself but plenty amongst the trees.
The main play structure is a bit aged and stained from irrigation but is in good condition. It is well suited to toddlers with a small ladder and steps to reach the top of the red twisty slide. For more adventurous climbers there is a climbing net to reach the slide, as well as a climbing wall for older kids.
A spinning flower design provides some entertainment on the top platform. Down below features include a car steering wheel for role play and a house/shop window for imaginative games.
Other play equipment includes:
Two swings – one being a baby seat.
A small flying fox.
A spinning pole with grips.  (When we visited, this item was leaning at an angle in the sand, so we weren't sure if that was on purpose, but it didn't seem to be a safety issue and it didn't stop the fun – in fact making the spinning motion speed up suddenly).

A small seesaw:
Mushroom-like stepping stones:
A witch's hat climbing frame:
A set of whisper poles:
There are two ponds adjacent to the picnic area at Regent Waters Playground, but the trees hide the water's edge so the water is not easily accessible unless you let your child venture into the bushes that hide it. Instead, you can take a pleasant stroll on the pathway to a wooden walkway that leads to a bridge over the two picturesque ponds. There are signs not to feed the local birdlife, but you can watch them gliding peacefully over the water. There are also a few benches to sit and watch.
The wooden walkway also leads to a double storey lookout that offers lovely views across the wetlands all the way up Lake Joondalup.
It is advisable to be aware of snakes in the summer months. Stick to the paths and the open grass areas.
Parking is on the road verges only – there are no specific off road parking spots, as the area mostly caters for residents. There are also no toilets for this reason.
Find more playgrounds in Perth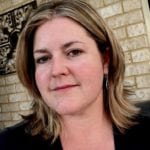 Georgia Millad is a busy mum of two gorgeous girls. She contributes reviews of kid-friendly places and events around Perth, and has a mild obsession with grammar rules and spelling. Georgia has recently qualified as an EA, expanding on her mum skills to support kids in the classroom.
Location
No Records Found
Sorry, no records were found. Please adjust your search criteria and try again.
Google Map Not Loaded
Sorry, unable to load Google Maps API.
Member Reviews